/
/
Inca Trail treks to Machu Picchu
Holiday destinations
Our grading system explained
Gentle
Gentle / Moderate
Moderate
Moderate / Vigorous
Vigorous
Vigorous / Strenuous
Strenuous
Expedition Grade
Inca Trail treks to Machu Picchu
Machu Picchu, the Lost City of the Incas, is a magical set of Inca ruins perched on top of a mountain and surrounded by snow capped peaks. It has captivated travellers since it was rediscovered by Hiram Bingham in 1911 and is now recognised as one of the New Seven Wonders of the World – trekking to Machu Picchu is truly an unforgettable experience.

Machu Picchu is usually reached by a trek on the Inca Trail, a four day hike along old Inca roadways, over high altitude passes, taking in a series of ancient Inca ruins along the way before arriving at the Sun Gate of Machu Picchu itself. Trekking the Inca Trail to Machu Picchu is truly one of the most famous walks in the world and is an essential trip to take for any trekking enthusiast.

Mountain Kingdoms offers a range of options for those interested in trekking the Inca Trail to Machu Picchu. The Inca Trail treks all include ample time for a thorough exploration of Machu Picchu, together with several days acclimatising in the Sacred Valley, where you will visit several important Inca sites. We also spend time, after trekking the Inca Trail to Machu Picchu, in the colourful and lively Andean city of Cuzco where Inca traditions combine with Colonial influences in a fascinating cultural mix.

Alongside the world famous Classic Inca Trail Trek, we offer an alternative, the Luxury Lodges to Machu Picchu trek. This shares all of the beauty of the classic Inca Trail but has the added comfort of superb lodge accommodation. We also offer a longer, more remote trek to the lost Inca city of Choquequirao - with a visit to Machu Picchu too, of course. In addition we also have a cultural tour – The Peruvian Explorer - the highlight of which is a visit to Machu Picchu. If none of our trips is quite right for you, why not design your own? We will be more than happy to put together a Tailor Made Inca Trail trek to suit your needs. However you want to get to Machu Picchu, Mountain Kingdoms have the expert knowledge to put together your ideal Peruvian adventure.
We have also introduced two new holidays, Gentle Walking Sacred Valley & Machu Picchu, which has fabulous walks on Inca Trails – but stays in comfortable hotels throughout, and Cycling the Sacred Valley & Machu Picchu, which combines all the main attractions with wonderful cycling in the Peruvian countryside.
Inca Trail treks to Machu Picchu

View our outstanding range of Inca Trail treks which include luxury and Tailor Made options for trekking the classic Inca Trail to Machu Picchu.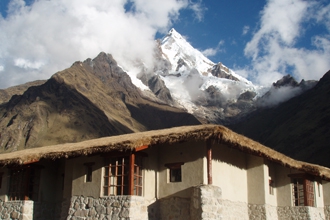 Trek the high Andes in real style, staying in four superb mountain lodges
Follow a beautiful trail, away from the crowds of the Inca Trail, with unique views of Machu Picchu
Enjoy the best acclimatisation programme with time in the Sacred Valley
Tour the incomparable Inca ruins of Machu Picchu
Extend your time in Cuzco or travel on to some of Peru's other key attractions
Flight inclusive from £5135, Land only from £3985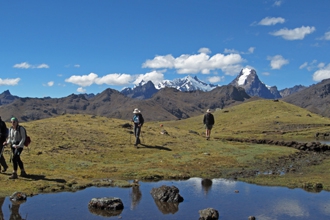 Step back in time on a superb trek in the beautiful Lares region
Enjoy your first views of Machu Picchu through the iconic Sun Gate
Explore impressive Inca sites including Machu Picchu, Pisco and Sacsayhuaman
Take a walking tour of Cuzco and an acclimatisation hike in the Sacred Valley
Flight inclusive from £3145, Land only from £1895