/
/
Article
/
Introducing Worldwide Base Camp Treks
Introducing Worldwide Base Camp Treks
There are so many incredible base camps to be discovered from the dazzling panorama of ice-caked peaks and hanging glaciers of South Inylchek Base Camp to the awe-inspiring mountain theatre of Annapurna Sanctuary.
Trekking to an iconic base camp is an incredible experience, as you follow in the footsteps of celebrated explorers you are sure to feel an overwhelming sense of achievement and gain a much deeper understanding of mountaineering and its community.
Without doubt, the most iconic of all the base camps is Everest Base Camp. However, there are so many more to be discovered, from the dazzling ice-caked peaks of South Inylchek Base Camp, to the awe-inspiring mountain theatre of the Annapurna Sanctuary. Nothing quite beats the feeling of being surrounded by natural beauty in its grandest form as you stand at the base of the world's most impressive mountains.
Here are a few of our top treks that are well worth the climb.
Everest Base Camp - 5,300m/17,388ft, Nepal
A trek to Everest Base Camp is high up on most adventure traveller's wish list, and rightly so. Whether it's to experience the breath-taking landscapes, to savour the iconic history or simply to say 'I was there' it's sure to be an adventure you'll never forget. Trek through charming villages, visit stunning monasteries and meet friendly Sherpas on the best known trail in the Himalaya with our Everest Base Camp Trek, a real joy from start to finish. We also offer a longer variant of this classic trek, Everest Base Camp and Gokyo Lakes which includes an ascent of Gokyo Ri, where you'll see the dazzling Gokyo Lakes.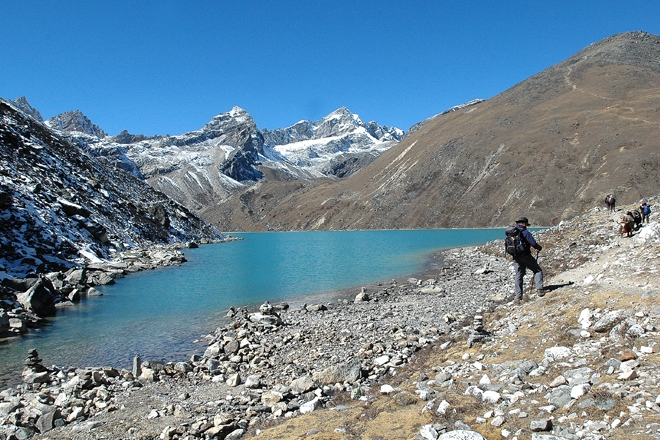 Everest Base Camp and The Gokyo Lakes
Annapurna Base Camp - 4,130m/13,550ft, Nepal
Annapurna Base Camp Trek is one of the most sought after trekking adventures in all of Nepal, unlike other high-altitude excursions the Annapurna Base Camp Trek is a comparatively moderate trip, with altitude sickness being near to unlikely. The base camp is a magnificent mountain theatre located at 4,130m/13,550ft and set below a ring of eleven of Nepal's major peaks. Embark on this unforgettable adventure with our Annapurna Sanctuary trip, the perfect first Himalayan trek that offers wonderful walking and superb views, taking you right into the heart of the Annapurnas. If you would prefer to do this trek in a bit more comfort take a look at our Annapurna Base Camp in Style itinerary which utilises luxury lodges along the way.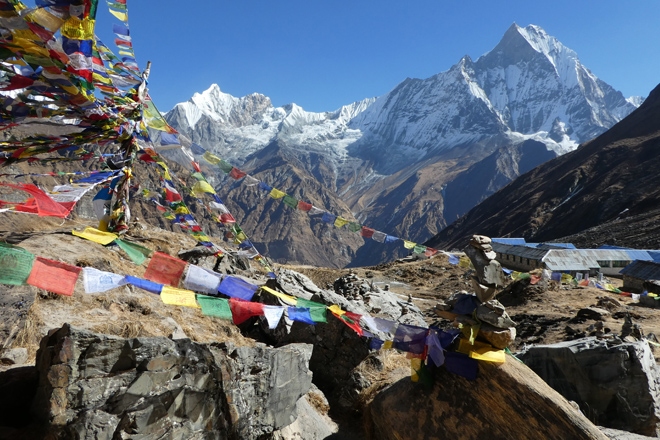 View from Annapurna Base Camp - Annapurna Base Camp in Style
Condoriri Base Camp - 4,600m/15,091ft, Bolivia
Dotted with crystal clear lakes, flocks of lamas and pristine peaks, the views at Condoriri Base Camp are highly rewarding, overlooking the Condoriri Massif, which is an immense cluster of 13 peaks all sitting at above 5,000 metres. The highest of these, Cabeza del Cóndor, features interesting twin ridges flowing from either side of the summit resembling a condor lifting its wings, hence its nickname 'head of the Condor'. Experience the classic Andean scenery for yourself as you trek the entire length of the Royal mountain range on our Cordillera Real Traverse trip, that offers what many seasoned trekkers dream of – solitude, wilderness, remoteness and natural beauty.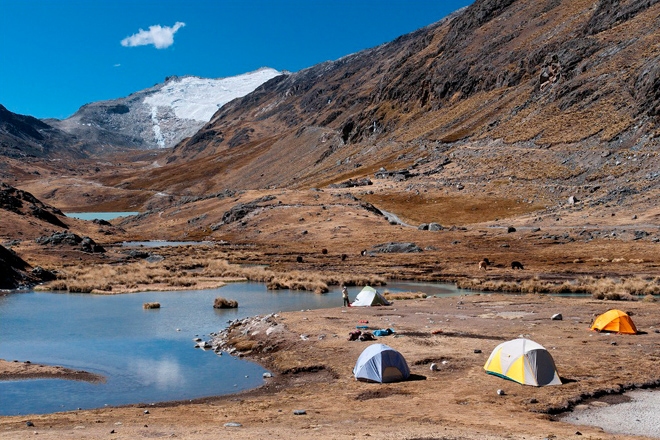 Camp at Janko Kota - Cordillera Real Traverse
Ama Dablam Base Camp - 4,576m/15,013ft, Nepal
The stunning Ama Dablam stands at 6,812m/22,349ft tall, and is one of the most loved and admired mountains in all of Nepal. It's name translates as 'mothers necklace' – the long ridges on each side like the arms of a mother protecting her child, and the hanging glacier thought of as the 'dablam', which is a piece of traditional jewellery worn by Sherpa women. The Base Camp sits at 4,576m/15,013ft on an open yak pasture beneath the west face, with a view of the summit almost straight up above and sensational panoramas of Kan Tega,Thamserku and Tawoche. Join our Luxury Lodges to Ama Dablam Base Camp for a two-week trip staying in the best lodges of the Everest region. The whole trek has magnificent mountain scenery throughout and visits some of the prettiest Sherpa villages including Namche Bazaar, the vibrant heart of Sherpa country.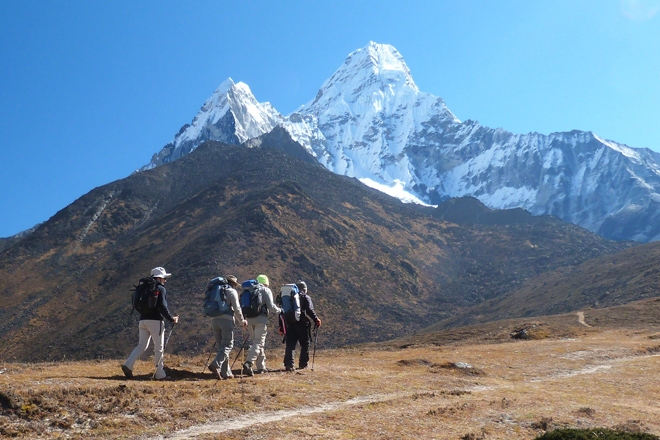 Walking to Ama Dablam Base Camp - Luxury Lodges to Ama Dablam Base Camp
Chomolhari Base Camp - 4,090m/13,416ft, Bhutan
Stand at the foot of Bhutan's second highest mountain at Chomolhari Base Camp. A heaven-like spot surrounded by rich flora and fauna as well as splendid scenery of Bhutanese Himalayas. The base camp is as close as you can get to Mount Chomolhari, as in 1994, Bhutan prohibited climbing mountains higher than 6,000m/19,685ft out of respect for locals who have spiritual beliefs that the mountains are sacred. On a Mount Chomolhari trek not only will you visit the awe-inspiring base camp you pass the breath-taking glacial lakes above base camp and return via the lesser trekked route crossing the beautiful Bonte La. After the trek you will enjoy some of Bhutan's key cultural sights including Taktsang Monastery and the Late King's Memorial Chorten.
South Inylchek Base Camp - 4,100m/13,451ft, Kyrgyzstan
South Inylchek Base Camp, sits at the base of Khan Tengri and offers a dazzling panorama of ice-caked, ice-fluted peaks and hanging glaciers in a 360° arc. Khan Tengri in particular must rate as one of the most beautiful peaks in the world, a natural phenomenon, almost perfectly formed, its marble roof produces the most wonderful colours at sunrise and sunset. It really is a stunning environment with fantastic views of the celestial mountains of the Tien Shan. Mountain Kingdoms Marketing Manager, Kerry Robins, sampled our South Inylchek Glacier to Khan Tengri trip and described it as "without doubt one of the most beautiful mountain ranges" she has ever trekked within.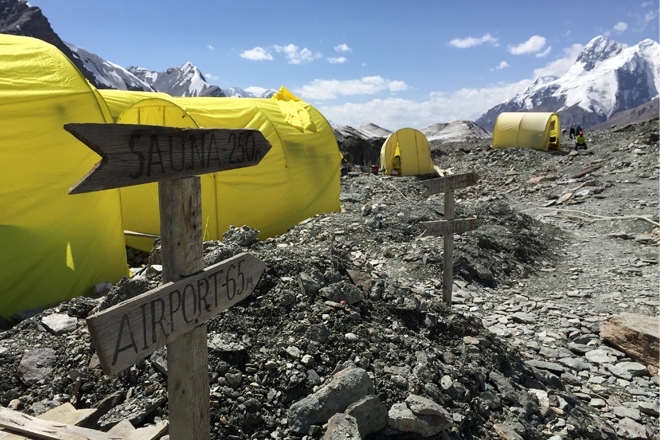 South Inylchek Base Camp - South Inylcheck Glacier to Khan Tengri
Makalu Base Camp - 4,800m/15,748ft, Nepal
The region of Makalu has remained relatively little-known and was closed off to the outside world until the 1950s, when Eric Shipton carried out an expedition there. The base camp offers outstanding natural beauty, pristine wilderness and a rugged trekking challenge. Operations Manager Niki, on her recent return from this trip recalls the immense sense of achievement of standing directly in front of the spectacular view of Makalu at the breathtaking base camp. She also enjoyed an epic panorama of some of the Himalaya's highest peaks including Everest, 8,848m/29029ft, Lhotse, 8,516m/27939ft, Chamlang, 7,319m/24,012ft, and Baruntse, 7,129m/23,389ft from a viewpoint just above the base camp.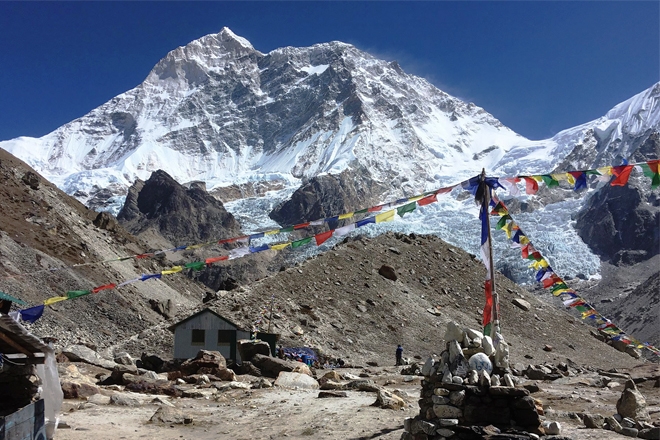 Makalu Base Camp
Kanchengjunga Base Camp - 4,903m/16,086ft, Nepal
In the far east of Nepal sits the third highest mountain in the world, Kangchenjunga, this beautiful mountain and its surrounding area offers some of the most spectacular and remote trekking in the whole of Nepal. Similar to trekking to Everest Base Camp but with hardly any people around, the trek to Kangchenjunga's two base camps is probably the most scenically jaw-dropping that you can experience in Nepal. Crossing several high passes, and travelling through culturally interesting villages, every twist and turn of the trail provides a new mind-blowing vista.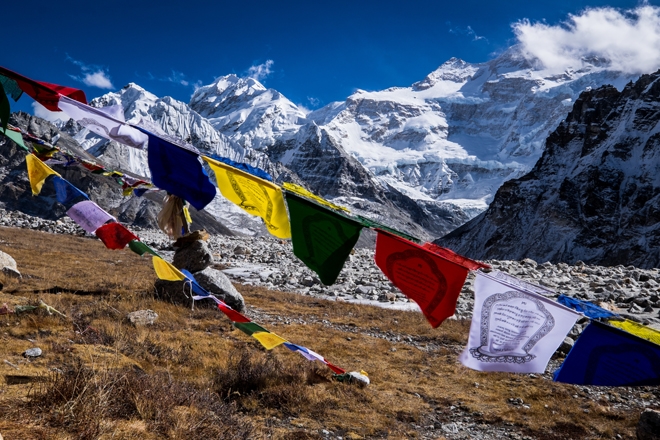 Kangchenjunga Base Camp
K2 Base Camp - 5,117m/16,785ft, Pakistan
K2 is the second-tallest mountain on earth and without doubt one of the deadliest to climb, even the trek to stand beneath is not for the faint-hearted. Anyone who loves the mountains and epic climbing tales will be familiar with the dazzling line up of big peaks that pave the way to K2 Base Camp, one of the most impressive mountain locations in the world. Follow the route taken by expeditions for over 100 years on our classic Himalayan K2 Base Camp Trek in the Karakorma Mountains that assails you at every step with a dramatic landscape of tangled granite spires, ice-clad jagged peaks and wild savage glaciers.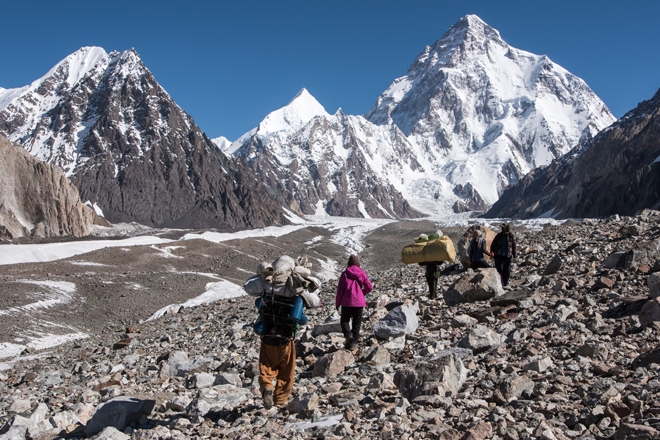 Walking to K2 Base Camp