What's included
An English-speaking Bhutanese leader
Flights between Kathmandu and Paro and hotel/airport transfers
Bhutan visa and Bhutan departure tax
Economy class return air fares from the UK & UK Departure Tax (flight inclusive only)
Single, timed group airport transfers for international flights on arrival and departure
Good quality 4* hotel accommodation in Kathmandu, on a twin share, bed and breakfast basis
In Bhutan, good standard hotel accommodation in Paro and Thimphu, on a twin share, full board basis
The use of a good quality down jacket and sleeping bag (when travelling to Bhutan via Kathmandu).
All camping facilities (twin share tents) and all meals on trek
Camp staff to carry out all camp work and all porterage on trek
All road transport by private vehicles
Sightseeing where specified
Carbon offsetting with the Ecoan Tree Planting Project (for clients taking our flight inclusive option)
A free high-quality Mountain Kingdoms kit bag
The option of joining one of our four pre-trip meets in the Cotswolds
and much more...
Call our
friendly team
Mount Chomolhari & Lingshi
Walking & Trekking
New
Vigorous / Strenuous
Vigorous: Suitable for enthusiastic hill/mountain walkers.
Strenuous: Suitable for fit individuals who have regular experience of mountain walking.
Find out more...
Grade: Vigorous / Strenuous ? Vigorous / Strenuous
Duration: 17 days from the UK
On trek: 9 days
Walks on: 1 day
Flight inclusive from £3,795,
Land only from £3,095
Book now or call 01453 844400
Magnificent high mountain trekking beneath snowy peaks, through remote valleys and across high passes.
Highlights
A fully supported, well-paced trek with excellent acclimatisation
Trek to the Base Camp of Mount Chomolhari and return via the high pass of the Yeli La
Join the celebrations at the Chomolhari Mountain Festival (October departure)
Walk to Taktsang Monastery and sightseeing in Thimphu
Enjoy first-rate camping facilities on trek and good quality hotels in Bhutan and Kathmandu
Reviews
Be the first to review this trip
new for 2021
View All
This magnificent circuit trek, takes you deep into the heart of some of Bhutan's most spectacular Himalayan scenery, to the foot of the second highest mountain in the Thunder Dragon Kingdom and far beyond. The trek in to Mount Chomolhari's base camp at Jangothang traverses beautiful and varied country, starting in the cultivated fields and villages of the upper Paro valley, and climbing through the pristine, indigenous forest of the Paro Chu Valley to the remote high mountain landscapes inhabited only by yak herders. You will have a full day at Chomolhari Base Camp with time to acclimatise and explore the mountain's glacier and the scenic area above the camp.
You then trek further into the mountains, along pristine trails to cross the Nyelela Pass and reach the remote village of Lingshi. From Lingshi you trek out via the Yale La Pass, the highest point of your trek and through more wild and beautiful countryside to reach the road head, before driving to Thimphu.
As well as fabulous scenery along your trek there are good opportunities to see wildlife, large herds of blue sheep, eagles soaring on the thermals and, if you are extremely lucky, that the most elusive of mountain creatures, the snow leopard, or at least its footprints! You may also visit local farmhouses or the tents of yak herders for a privileged glimpse into rural Bhutanese life.
In addition to some superb trekking you will also enjoy some of Bhutan's key cultural sights, including the walk up to the iconic Taktsang Monastery, known as the Tiger's Nest, and a day of sightseeing in the capital Thimphu, famed for its many artisan workshops.
The autumn departure may also visit the Chomolhari Mountain Festival which celebrates the culture, wildlife and natural beauty of the region (the festival dates are only provisional at present).
---
At a glance
Grade: Vigorous / Strenuous
Vigorous / Strenuous
Duration: 17 days from the UK
On trek: 9 days
Walks on: 1 day
Max. Altitude: 4,930m/16,175ft, Yeli La, Day 11
Guaranteed to run for a minimum of 4 clients
Maximum group size: 12
Land only joining city: Kathmandu
Accommodation types: Hotels, Camping
Festival:
October departure attends the Chomolhari Mountain Festival
Meal arrangements: Bed and Breakfast in Kathmandu and all meals in Bhutan.
Itinerary overview
| Day | Activity |
| --- | --- |
| 1-3 | Arrive Kathmandu. Fly to Paro in Bhutan. |
| 4 | Sightseeing Paro Valley. Trek to Taktsang - 5-6 hours. |
| 5 | Trek and drive from Paro to Shana. |
| 6-7 | Trek to Soi Thangthanka. Trek to Chomolhari Base Camp (Jangothang). |
| 8 | Rest and acclimatisation day. Oct departure attends the Chomolhari Mountain Festival. |
| 9 | Trek to Lingshi |
| 10 | Trek to Jimthang just before reaching the Yeli La. |
| 11 | Cross Yeli La and trek to Shodu |
| 12 | Trek to Barshong Gompa and continue to Domshesha. |
| 13 | Trek to road head and drive to Thimphu. At leisure in Thimphu. |
| 14 | Sightseeing in Thimphu. Drive to Paro. |
| 15-17 | Fly to Kathmandu. At leisure. Overnight flight to London. |
Leader: Local leader, Bhutan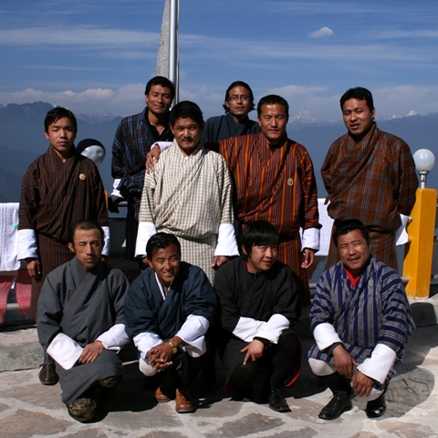 You will have an English speaking Bhutanese guide. Mountain Kingdoms have been working with the same partner in Bhutan since 1986. Their guides are some of the best in the Kingdom. They speak fluent English, as this is taught in all Bhutanese schools, and are fully qualified guides. The Tourism Authority of Bhutan insists that a Bhutanese trek or tour leader must pass his/her guiding exams in Thimphu before accompanying groups of foreign visitors. Guides receive regular 'top-up' training and 15 of our regular leaders have completed an extended training course run by Mountain Kingdoms in Bhutan.
---
Mount Chomolhari & Lingshi Itinerary
Day 1 - Fly London to Kathmandu

Depart London on your overnight flight to Kathmandu.

Overnight: In flight

Day 2 - Arrive Kathmandu.

You will be met on arrival and transferred to your hotel. You might like to venture out to Thamel for your evening meal, or eat in the restaurant if you are tired from your journey.

Overnight: Shangri La Hotel, Kathmandu

Day 3 - Fly to Paro.

Transfer to the airport for the flight to Paro. On a clear day the panoramic views of the Himalaya are sensational, including Everest, but particularly exciting is the approach through the Bhutanese foothills and the landing, including a few steep turns, to land at the tiny airstrip at Paro. You are at the mercy of the Druk air-ticketing computer, but if there is an option, try to sit on the left-hand side of the plane. In Paro you will be transferred to your hotel. There may be time for a wander around the streets of the small township of Paro, take a look at the Queen Mother's Winter Palace and go for a walk up to look at the Dzong.

Overnight: Hotel Olathang Or Similar, Paro

Day 4 - Sightseeing Paro Valley. Trek to Taktsang - 5-6 hours.

Today you visit the Paro Valley, site of the famous Tiger's nest, the Taktsang Monastery, which is perched some 600m/2,000ft up on a cliff overlooking the valley. Taktsang was said to be where the legendary Indian saint Guru Padma Sambhava flew from Tibet on the back of a tiger to defeat five demons who were opposing the spread of Buddhism in Bhutan. There may also be time today to see some of the treasures from Bhutan's National Museum. The museum was closed following the earthquake in 2011, but many of the artefacts and displays will be temporarily housed in a nearby building until renovation is completed. There will also be a chance to wander around the small township of Paro itself and to visit the market.

Overnight: Hotel Olathang Or Similar, Paro

Day 5 - Trek and drive from Paro to Shana, 2,788m/9,148ft - 5-6 hours.

You leave the hotel and walk up a hill to a village. You continue trekking along forested ridges until you reach Kyichu. You will visit the ancient temple of Kyichu Lhakang, one of the oldest in Bhutan, which was one of 108 temples built by Songtsen Gampo, an important early Tibetan king, to pin down the Bon demon that was thought to hover over the whole of Tibet.

From here it's an hour's drive to Gunitsawa from where it is a short walk through the army base to cross the river on a small bridge and walk upstream to camp at Shana.

Overnight: Camp

Day 6 - Shana to Soi Thangthanka, 3,519m/11,545ft - 7-8 hours.

Still following the river in heavily forested country, the route is dotted with isolated farmhouses and plenty of bird life. You may be advised by your Bhutanese guide to walk in pairs on this section as there are still bears in this area. You pass a junction en route, where another trail leads north over the Tremo La to Tibet. Spencer Chapman crossed the Tremo La in 1937 on his way to climb Chomolhari from Tibet.

Overnight: Camp

Day 7 - Trek to Chomolhari Base Camp (Jangothang), 4,090m/13,416ft - 5-6 hours.

It is worth getting up early to photograph the dawn colours on Bhutan's second highest mountain, Chomolhari, which is framed at the end of the valley. After about an hour's walk you slowly leave the forest line and gradually climb into a beautiful valley, passing Tengethang, a winter home of yak herdsmen. You should see lots of yaks today before you arrive at a row of small chortens and stone huts, which is the base camp for the mountain. At 7,314m/ 23,997ft Chomolhari overlooks the camp and nearby there are ruins of the old fortress which used to guard Bhutan against Tibetan invasion.

Overnight: Camp

Day 8 - Rest and acclimatisation day. Attend Chomolhari Mountain Festival (October departure).

It is highly advisable that you do some sort of walk today involving height gain in order to help with acclimatisation. There are several excellent walks to choose from today. You may walk up to the Chomolhari glacier, climb the grassy ridge just north of the base camp to reach a small peak at 4,760m/15,617ft for great views, or for an easier option walk up the valley towards Jitchu Drake base camp.

If travelling on our autumn departure, you may have the opportunity to join the celebrations at the Chomolhari Mountain Festival. This festival celebrates the culture of the high mountain communities living in this area and the natural wonders that surround them - the mountains and the wild life, especially the snow leopard. Please note that the festival dates are currently provisional and we cannot guarantee this visit.

Overnight: Camp

Day 9 - Trek to Lingshi, 4,149m/13,612ft, via the Nyelela Pass, 4,890m/16,043ft - 6-7 hours.

You will have a good day's walking today with spectacular views of several stunning Himalayan peaks, including Jitchu Drake, 6,850m/22,470ft, and Tsering Kang, 6,994m/22,946ft. You start climbing straight away and after some 3-4 hours reach the windy Nyelela Pass, 4,890m/16,043ft. Along the way you may well pass yak herders' 'jhas' (tents) where you may be invited in to sample tea, yoghurt or cheese - all three are acquired tastes! It is a very special experience to meet these lovely people. Coming down from the pass to Lingshi you will have your first views of its mystical 17th century dzong, atop a 600ft high hill. The dzong is (just) standing despite being badly damaged by an earthquake, and renovation may be ongoing. Depending on its current state of repair you may be able to visit the dzong. In addition to a very special atmosphere of mystic tranquillity, Lingshi Dzong offers a great view over the valley.

Your camp will be in the valley below.

Overnight: Camp

Day 10 - Trek to Jimthang (just below the Yeli La) - 4-5 hours.

Before setting off for today's walk you have time to explore the village and perhaps walk up to the dzong if you have not already done so. The school here serves several local villages.

Leaving Lingshi behind you climb towards a white chorten on a ridge above the camp, then turn south up the deep Mo Chhu valley. The trail stays on the west side of this largely treeless valley, crossing numerous side streams and climbing steeply to Jimthang, situated just below the Yeli La.

(Trekking Lingshi to Shodu with the crossing the Yeli La Pass would make a very long day, so we split this day into two, camping before the pass crossing).

Overnight: Camp

Day 11 - Cross the Yele La Pass 4,930m/16,175ft and trek to Shodu, 3,900m/12,795ft - 4-5 hours.

From camp you climb for about two hours, finally zigzagging through rocks to a large cairn at the Yele La Pass. This pass is the highest and most remote point on your trek. The views from the top are breath taking - on a clear day you may see among others Chomolhari, Tserim Gang and Masagang.

From the pass it is a long, steep descent down the valley alongside a stream to a rock shelter in the cliff face, and then continuing on downstream to your camp at Shodu. Look out for Blue sheep as you descend.


Overnight: Camp

Day 12 - Trek to Barshong Gompa and on to Domshesha, 3,449m/11,316ft - 6-7 hours.

This is quite a long day. The path follows the Thimpu Chu River down through rhododendron, juniper, blue pine and mixed alpine forests with tremendous views of rocky cliff faces and waterfalls along the way. You descend a steep stone staircase to the river, possibly stopping at the riverside for lunch. You descend further alongside the river, crossing it several times, and then finally climb in one hour to regain 300m to reach the ruined gompa at Barshong, 3,710m. Your trail now descends gradually through dense forest of rhododendron, birch and conifers (Langur monkeys may be seen along the way) and then drops steeply to on a rocky trail to join the river. Thirty further minutes of walking through larch forest leads to a clearing at 3,370m and then in 15 minutes to Domshesha. This will be your last night of camping.

Overnight: Camp

Day 13 - Trek to the road head and drive to Thimphu, 2,334m/7,657ft.

After breakfast you trek just a short way to reach a forest road where you will meet your transport. Here you will say farewell to your trek team and drive to Thimphu (1 hour), the capital of Bhutan.

Thimphu has an attractive valley location and is relatively small for a capital city although it has expanded greatly in recent years. You'll have the afternoon to relax and enjoy the comforts of your hotel with a shower and a beer.

Overnight: Phuntso Pelri Hotel or Similar, Thimphu

Day 14 - Sightseeing in Thimphu. Drive to Paro.

Thimphu has been the permanent capital since 1955 and has two cinemas and a radio station. This is the least visited of all the Himalayan capitals with a population of around 100,000, has wide streets and a rather relaxed air. Its sights include the Late King's Memorial Chorten, the Textile Museum, the Heritage Museum, the silversmiths and pottery workshops, the indigenous hospital specialising in herbal medicine, the thangkha painting school, the Bhutanese paper factory, the recently built Changlingmithang Lhakhang temple, and the National Library. After a day's sightseeing, you will be driven back to Paro.

Overnight: Hotel Olathang Or Similar, Paro

Day 15 - Fly to Kathmandu.

This is normally an early morning flight which takes you out and over the Bhutanese Mountains and past Kangchenjunga, Makalu and Everest, finally dropping down into Kathmandu Valley. You will be met and transferred to the Shangri-La Hotel, after which there will be plenty of time to relax and gather your thoughts.

Overnight: Shangri La Hotel, Kathmandu

Day 16 - At leisure. Afternoon transfer to airport. Depart Kathmandu.

You will have time at leisure in Kathmandu today when you may do some sightseeing or shopping, or simply relax by the pool at your hotel. Later there will be a group transfer to the airport for your overnight flight to London.

Overnight: In flight

Day 17 - Arrive London.
Map
Map Key
Airport
Point of interest
Mountain Peak
Day walk in this area
Flights
Internal Transfers
Trek
---
2021
Dates
Availability
Land Only
Flight Inclusive from
Sat 1 May - Mon 17 May 2021
Available
£3095 Book
£3795 Book
Fri 8 Oct - Sun 24 Oct 2021
Available

Available

This departure attends the Chomolhari Mountain Festival
£3095 Book
£3895 Book
2022
| Dates | Availability | Land Only | Flight Inclusive from |
| --- | --- | --- | --- |
| Sat 30 Apr - Mon 16 May 2022 | Available | Contact us | Contact us |
Hold your place
Not quite ready to book? Why not call us on 0044 (0)1453 844400 to hold a no obligation place while you make up your mind?
Optional supplements
Single tent
From £225
Single Room Supplement
From £300
Insurance
No Surcharge Guarantee
No surcharges will be applied to your holiday after you book. Prices on this website are updated regularly. The Flight Inclusive holiday price, or Land Only holiday price, will be confirmed to you at the time you make your booking. There will be no surcharges after your booking has been confirmed.
Flight inclusive holidays
The 'flight inclusive' holiday prices shown on this website are based upon our preferred airlines and the best priced economy class fares we are able to secure at the time of publication.
We will be able to advise on fares with alternative airlines, upgrades to Business Class, and the options for flights from regional UK airports, please contact us for more details.
Booking your holiday
For the majority of our holidays, a deposit payment of £100.00 per person is required to secure your place(s), however a small number of holidays require a higher deposit - please refer to the holiday itinerary for more details. If the holiday departs within 60 days, a minimum deposit of £750.00 per person is required.
Book now!
Book your small group holiday securely online – click the 'Book' button next to your chosen departure or visit our How to Book page
Complete and return a Booking Form available to download here.
Call us on 01453 844400 and one of our travel specialists will talk you through the booking process.
Loyalty discount
Find out more
What's included
An English-speaking Bhutanese leader
Flights between Kathmandu and Paro and hotel/airport transfers
Bhutan visa and Bhutan departure tax
Economy class return air fares from the UK & UK Departure Tax (flight inclusive only)
Single, timed group airport transfers for international flights on arrival and departure
Good quality 4* hotel accommodation in Kathmandu, on a twin share, bed and breakfast basis
In Bhutan, good standard hotel accommodation in Paro and Thimphu, on a twin share, full board basis
The use of a good quality down jacket and sleeping bag (when travelling to Bhutan via Kathmandu).
All camping facilities (twin share tents) and all meals on trek
Camp staff to carry out all camp work and all porterage on trek
All road transport by private vehicles
Sightseeing where specified
Carbon offsetting with the Ecoan Tree Planting Project (for clients taking our flight inclusive option)
A free high-quality Mountain Kingdoms kit bag
The option of joining one of our four pre-trip meets in the Cotswolds
What's not included
Travel insurance
Visa fees for Nepal
Lunch and evening meals in Kathmandu
Optional trips
Tips
---
---