What's included
An English speaking local leader throughout
Single, timed, group airport transfers for international flights on arrival and departure
All other transfers as per the itinerary
All road transport by private vehicles
Good standard accommodation
14 breakfasts, 13 lunches and 13 dinners
Sightseeing as specified
All entry fees for sites visited on group itinerary
Activities as specified
Optional climb of Pesnya Abaya (day 11)
Hire of climbing gear for ascent of Pesnya Abaya
Helicopter flight
The option of joining one of our four pre-trip meets in the Cotswolds
A free Mountain Kingdoms Water-to-Go bottle or a Mountain Kingdoms microfleece
and much more...
Call our
friendly team
Kyrgyzstan | Walking & Trekking
Save £300
Grade: Vigorous ? Vigorous
Duration: 16 days from the UK
On trek: 8 days
Flight inclusive from £2,790,
Land only from £1,990
Book now or call 01453 844400
An incredible trek beneath dazzling 7,000m peaks, right into the heart of the Tien Shan.
Highlights
Trek through wild glacial terrain beneath towering peaks
Stay in permanent camps along the route
Experience the incredible helicopter ride from South Inylchek Base Camp to Karkara
Swim in the warm(ish) waters of Issyk Kul Lake with views of the mountains on all sides
Reviews
Having travelled with your company many times we know we can rely on you to give us the best possible experience on our holidays.
Mr & Mrs G, Guernsey
The views from South Inylchek Base Camp are truly stupendous!
Steve Berry, Managing Director
"The Tien Shan (the Mountains of Heaven or the Heavenly Mountains) are without doubt one of the most beautiful mountain ranges I have trekked within. At lower altitudes the mountain views are incredible; steep valley slopes are decorated with lush green grass and dense fir trees; glacier melt water flows at speed through picture-perfect valleys and evidence of working nomadic life is all around....
Kerry Robins, Mountain Kingdoms
View All
This trek is an exploration of the valleys and glaciers leading to the impressive peaks of Pobeda, 7,439m, and Khan Tengri, 7,010m, the two highest peaks of the Tien Shan mountain range.
The adventure begins with sightseeing in the old Cossack town of Karakol before heading off on trek along the banks of the Inylchek river in beautiful At Jailoo gorge. There will be glaciers to cross and streams to wade before we arrive at Merzbacher Lake, named for the Austrian explorer, Dr. Gottfried Merzbacher who was the first person to attempt to reach Khan Tengri in 1902. The lake lies at the junction of the north and south Inylchek glaciers and is remarkable because twice a year it part-empties through melt channels in the glacier.
Our trek continues through truly wild terrain along glaciers and glacial moraine until we arrive at South Inylchek Base Camp, the very heart of the Tien Shan. Here there is an option to climb the peak of Pesnya Abaya adding another thrilling dimension to the trip. An exciting helicopter ride carries us back down to greener pastures on the shores of geothermal lake Issyk Kul. A stop at an Old Silk Road trading point and a sightseeing tour of Bishkek bring this excellent adventure to a close.
---
At a glance
Grade: Vigorous
Vigorous
Duration: 16 days from the UK
On trek: 8 days
Max. Altitude: Day 11 - 4,100m/13,451ft, or optional 4,901m/16,079ft
Guaranteed to run for a minimum of 4 clients
Maximum group size: 12
Land only joining city: Bishkek
Accommodation types: Hotels, Camping
Meal arrangements: 14 Breakfasts, 13 Lunches, 13 Dinners.
Itinerary overview
| Day | Activity |
| --- | --- |
| 1-3 | Fly to Bishkek, Kyrgyzstan. Drive to Karakol. |
| 4 | Sightseeing tour in Karakol. Drive to At Jailoo Base Camp. |
| 5-7 | Trek along the Inylchek River to Iva Camp then on to Merzbacher Glade Camp. |
| 8 | Trek across the South Inylchek Glacier to Merzbacher Lake and back. |
| 9-10 | Trek to Komsomolskiy Glacier and continue to Dikiy Glacier Camp. |
| 11 | Trek to South Inylchek Glacier Base Camp, 4,100m/13,451ft. Optional climb of Pesnya Abaya peak. |
| 12 | Trek around Khan Tengri Peak. |
| 13 | Helicopter flight to Karkara. Drive to Issyk Kul Lake. |
| 14 | Morning at leisure. Transfer to Bishkek via Boom Gorge. |
| 15-16 | Sightseeing tour of Bishkek. Time at leisure. Fly to London. |
Leader: Local Leader, Kyrgyzstan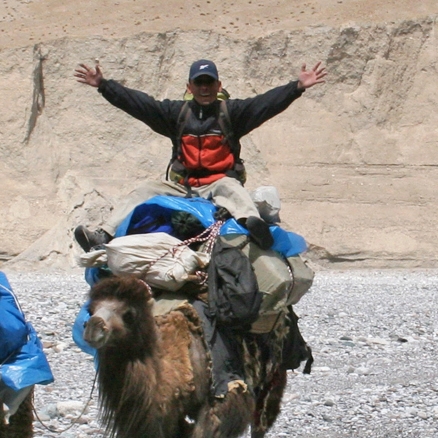 For our holiday in Kyrgyzstan, you will be provided with an expert local Trek Guide. They are certified/registered guides, and in their company you will certainly gain an insight into the way of life, traditions and culture of the country you are visiting.
---
South Inylchek Glacier to Khan Tengri Itinerary
Day 1 - Fly London to Bishkek.

Depart London on your overnight flight to Bishkek.

Overnight: In flight

Day 2 - Arrive Bishkek. Transfer to hotel. Rest of day at leisure.

Arriving in Bishkek you will be met at the airport and transferred to your hotel. You will now have time to rest from the flight and perhaps do a bit of exploring. This capital city is a textbook example of Soviet planning with all streets arranged on a grid with wide boulevards and avenues and a surprising amount of green space with its many parks and woodland dotted around. The city is said in fact to have more trees per person than anywhere else in central Asia. There is a constant reminder of the alpine landscape which lies just beyond the city with views, to the south, of the nearly 5,000m/16,404ft high, snow topped ridge of Ala-Too. There will be a group guided sightseeing tour here at the end of your trip. Tonight it will be a good idea to get a good night's sleep, recover from the flight and prepare for the travel and trekking ahead.


Overnight: Asia Mountains Hotel or Similar, Bishkek

Day 3 - Transfer to Karakol by bus - 8 hours. Meet your mountain guide in Karakol, 1,700m/5,577ft.

Today after breakfast you will take the long bus ride to Karakol where you will meet your mountain guide and learn more about your trek. Lunch will be taken on the way in a local restaurant and you will get a chance to try some of the typical Kyrgyz food.

Karakol is a sleepy old Russian town situated at the foot of the Tien Shan Mountains. It was first developed as a Russian settlement in the middle of the 19th century with a largely Cossack population and later grew as Dungans, Tatars, Uyghurs and Ukrainians moved here. This town has not always been called Karakol however - back in 1888 the town was re-named Przhevalsk to honour the Russian explorer Nikolai Przhevalsky who first arrived in the 1860's and later returned in 1888 and died here. In 1921 Lenin decided it should revert to its original name of Karakol, followed by Stalin commanding it to be changed back to Przhevalsk in 1939. Finally in 1991 when Kyrgyzstan became independent the name once more changed - going back to the original, Karakol!

Overnight: Amir Hotel or Green Yard Guesthouse or Similar, Karakol

Day 4 - Morning sightseeing tour of Karakol. Transfer by truck to At-Jailoo Base Camp, 2,500m/8,202ft - 6 hours.

This morning you will have a guided tour of the town. It is set in the typical Russian grid style with long poplar lined avenues. Most of the buildings are old wooden 'gingerbread' houses with neat gardens of flowers, fruit laden orchards and picket fences. During the tour you will visit the Dungan mosque built in the typical Chinese style and resembling a pagoda, it was constructed by the Dugans, Muslim people of Chinese origin who live in this area. In contrast you will also go to the wooden Russian Orthodox Church, built without a single metal nail. Time permitting there is a museum on the outskirts of town dedicated to the life and expeditions of the aforementioned Russian explorer Nikolai Przhevalsky.

After lunch, you will board the truck and make the 200km drive to your first camp at At-Jailoo. The drive passes through small villages and along the Turguen Ak Suu canyon towards Chon Ashuu Pass, 3,808m/12,493ft, before descending the Ashuu Tor Valley. Continuing along the Sary Jaz River, one of the largest in the country which feeds into the Inylchek River flowing towards China, you reach the check point at Echkilitash.

This is border zone country and permits will be checked to allow you to proceed. After a further 1 to 1 ½ hours following the Inylchek River you reach the nights camp at At-Jailoo.

Here your tents will be ready for you and dinner prepared. Time to reflect on your first impressions of this country and to look forward to the start of the trek tomorrow.

Overnight: At-Jailoo Camp

Day 5 - Trek along the Inylchek River to Iva Camp, 2,900m/9,514ft - 18km, 5-7 hours.

You will need an early start this morning in order to cross the At-Jailoo River whilst the water level is low. Having crossed the freezing water and walked for about an hour another stream presents itself in a place called Prijim. If the water level is not too high you will be able to easily cross, otherwise a detour up a steep overgrown path is the only way forward. The unknown water level is dependent on Lake Merzbacher higher up the valley which twice a year (summer and winter) drains into the Inylchek River thus affecting the amount of water lower down. Due to these crossings it is recommended that you bring sandals to wear in the water in order to keep your boots dry. The walk then continues in a beautiful alpine environment with many flowers, up the valley, following the river until you reach the beginnings of the glacier and Iva Camp. Like all the camps, your tents will be ready for you and tea and snacks waiting in the dining tent.

Overnight: Iva Camp

Day 6 - Trek to Glina Camp, 3,100m/10,170ft - 8km, 5-6 hours.

Having reached the mighty Inylchek Glacier you will spend the day following it further up the valley towards the mountains. The glacier is the third largest outside the Polar Regions, 62km long and over 3km wide, it is estimated that it holds enough ice to cover the entire country in 3 metres of melt water.

After breakfast and armed with packed lunches, the day's trek will get underway. There are some steep ascents and descents today as you follow the path along the glacial moraine, traversing terraces and crossing small rivers. Passing over the Putevodnyi Glacier, which flows into the main glacier, and crossing over eroded slopes where landslides have occurred, the path continues upwards. A suitable spot will be chosen for a well-earned lunch break and you can enjoy the views whilst you rest and eat. You will then continue over more undulating terrain in this wild and magnificent scenery before arriving at Glina Camp. This area is named after the Russian word 'Glina' meaning clay, as it is located on a green clay field beside the glacier. Tea, snacks and rest before dinner.


Overnight: Glina Camp

Day 7 - Trek to Merzbacher Glade Camp, 3,400m/11,154ft - 9km, 5-6 hours.

Setting off again beside the glacier on the lateral moraine you will trek on a largely undulating path, although there are some flatter sections today. A small side glacier will be crossed and a river passed before coming to a small lake. This will be your lunch place and there is the opportunity to swim in the lake - for the brave, the water will be cold! From here it is only another hour to camp in a grassy area known as 'Merzbacher Glade'. This is the last grass you will see for some days. It is located across the glacier from the unique Merzbacher Lake where you will go and explore tomorrow. Tonight though you can enjoy tea and snacks and later dinner, with wonderful views of the lake.


Overnight: Merzbacher Glade Camp

Day 8 - Trek across the South Inylchek Glacier to Merzbacher Lake and back - 12km, 5-6 hours.

Today you will cross over the great South Inylchek glacier making your way between boulders and ice and walk up to Merzbacher Lake, which is 6km long and 1km wide, and sandwiched between the southern and northern branches of the glacier. The path is easily followed although you will need to watch your step as you will be walking on ice, covered with rocks, stones, sand and mud. The guide will be at hand if you need any help but it is not a technical glacier crossing and should not present any great difficulties. Having arrived you can enjoy the amazing views of this huge lake filled with drifting icebergs, it is a truly spectacular sight.

There is a scientific research station on the glacier where scientists come from all over the world every summer, to study glacial movements, meteorology and the emptying of the Merzbacher Lake.

The lake constitutes a phenomenon known as a proglacial lake, a lake dammed by a glacier. Proglacial lakes are found in various locations all over the world, but usually they enlarge until the glacier retreats, or are short-lived in their existence. Merzbacher Lake however, is exceptional as the lake repeatedly gets emptied, just to get refilled soon after. The process, still not fully understood by geologists, can be described like this: the melt water fills up the lake in the summer months at a rate of up to two meters per day. When the lake is filled, it bursts out and completely empties itself within just three days. The release of the water occurs when the dam of ice buoys upwards and opens up a number of glacial channels in the damming glacier. The water then discharges through the glacier into the valley on the other side of the ice, where it flows into the Inylchek River. When the lake has emptied, the ice dam lowers, thereby blocking the glacial channels. As a result, the lake begins to fill up again. The cycle of the emptying and subsequent refilling of the lake occurs at least once per year, in some years even twice. It is very difficult to estimate the timing when the emptying begins. Usually taking place in August, some years it has occurred as early as Mid-July. Because of the difficulty of knowing when this emptying will occur, it is virtually impossible to reach the lake to witness this phenomenon. Very few people have therefore actually seen it happen.

From the lake you then return the way you came back to camp to reflect on the phenomenon you have seen - either with or without all its water.


Overnight: Merzbacher Glade Camp

Day 9 - Trek to Komsomolskiy Glacier, 3,800m/12,467ft - 12km, 5-6 hours.

A long trekking day awaits you today as you continue the steady walk up the side of the glacier, the scenery is ever more dramatic as you gain height, with snow, rocks and ice of many colours surrounding you. You will be venturing into a landscape of ice and rocks with much of the trail crossing up and down moraine and past smaller side glaciers flowing into the main valley. The path winds its way around rocks, streams and small crevasses, which can be time consuming and a contrast to the alpine meadows of the first days. You will really feel as if you are entering the high mountains.

You will pass Shokalskyi and Komsomolez glaciers which flow down and feed into the Inylchek glacier. The camp tonight is on the Komsomolez glacier and will be considerably colder than the previous camps - have your warm jackets ready! It can also be windy here in the late afternoon, so the hot drinks and dinner in the sheltered dining tent will be very welcome.


Overnight: Komsomolskiy Glacier Camp

Day 10 - Trek to Dikiy Glacier Camp, 3,900m/12,795ft - 8km, 4-6 hours.

Another fantastic day of crossing undulating glacial moraine as you enter further into the Tien Shan Mountains. All around now are numerous nameless, unclimbed peaks around 5,000m/16,400ft high.

The trail leads from the camp up and down over the Proletarsky glacial moraine towards Dikiy Glacier. Reaching the middle of this moraine you will turn and head up along it towards the glacier itself. The route flattens out a little and becomes easier to walk on. Lunch will be had and then after a further short while Dikiy Glacier camp is reached, located behind Pesnya Abaya peak, an optional ascent for tomorrow. The camp is beautifully situated with fabulous views of Khan Tengri, 7,010m/22,999ft, and Pobeda, 7,439m/24,406ft, peaks.

Overnight: Dikiy Glacier Camp

Day 11 - Trek to South Inylchek Glacier Base Camp, 4,100m/13,451ft – 8km, 4-6 hours. Optional climb of Pesnya Abaya, 4,901m/16,079ft – 7-10hrs.

Today you have an option to climb Pesnya Abaya standing at 4,901m/16,079ft. Heading off at approximately 5.30am, it can take between 5 - 6 hours to ascend the mountain and 2 - 4 hours to descend back down to Dikiy Glacier Camp. It is not technical, mostly on scree until you reach the snow and ice towards the summit. The climbing gear required to climb the peak includes crampons, a climbing harness and karabiners. The option for climbing this peak is included in the cost of your trip and includes the services of an expert guide and the climbing equipment. When booking your place on this trek, please let us know if you would like to climb the peak as this experience needs to be booked in advance. This is a physically challenging ascent and decent and, after the climb, if the group feels unable to continue to the South Inylchek Base Camp immediately, you will spend an additional night at the same camp, Dikiy Glacier Camp. In this case, after a night's sleep you will continue to the South Inylchek Base Camp in the morning, and enjoy a radial hike to the foot of Khan Tengri in the afternoon.

For non-summiteers there is a day's trek to reach the highest camp on the South Inylchek Glacier. The route is over the glacier as the camp is situated on the centre of the moraine. The path winds round rocks, ice, small lakes and crevasses but is safe and requires no equipment. Camp will be reached by lunch time, which will be taken on arrival. The afternoon is then free to relax and enjoy your surroundings with fabulous views of the two highest peaks in this mountain range - Pobeda and Khan Tengri. Khan Tengri in particular must rate as one of the most beautiful peaks in the world. A natural phenomenon, it is almost perfectly formed and the top half is marble. Thus, at sunrise and sunset it produces the most wonderful colours. All the hard work walking up over the moraine will be rewarded by this magnificent amphitheatre of mountains, so sit back and enjoy the view and the atmosphere of being in this amazing place.

As the camps are only open for two months a year there can be many climbers here at base camp, preparing for their ascents of the two biggest peaks of the Tien Shan. You might be able to spot climbers on the mountains with the assistance of binoculars and will certainly see the activity associated with climbing expeditions. This can create a real atmosphere of excitement and often there are parties going on in the evenings.

Overnight: South Inylchek Base Camp

Day 12 - Trek towards the base of Khan Tengri Peak – 8km, 4-6 hours.

Today you will hike on the glacier towards the base of Khan Tengri. This is a relatively flat area of the glacier so not too strenuous a day. The excursion will lead you amongst a dazzling panorama of ice-caked, ice-fluted peaks and hanging glaciers in a 360° arc. It is a stunning environment in which to spend a day and by the time you return to camp you will have a sense of awe for this spectacular terrain.

Overnight: South Inylchek Base Camp

Day 13 - Helicopter flight to Karkara - 30-40 mins. Transfer to Issyk Kul Lake.

A farewell to base camp and to the mountains, but in style! This is probably one of the most exciting flights you are likely to make as you pass between huge peaks and skim over ridges as you descend out of the mountains. After the raw excitement of boarding and take-off on the small pad next to base camp, the flight down the South Inylchek Glacier can be thoroughly enjoyed with some nostalgia. The helicopter climbs and glides over mountain passes to exit the Tien Shan. A final wave goodbye to the Celestial Mountains and very shortly you land at Karkara.

Now it is back in a bus to drive to Issyk Kul Lake (meaning warm lake in the Kyrgyz language), the second largest alpine lake in the world after Lake Titicaca in South America. It measures 182km long by 58km wide and appeared as a result of volcanic activity. Being heated by thermal springs it never freezes despite very cold air temperatures and in summer can reach 25 - 28°C. The climate is far milder than the Kyrgyzstan average due to the moderating effect of the lake and it has become something of an oasis. It was a renowned beauty spot in the old Soviet Union and there are plenty of Soviet style resorts along its northern sandy shores. Today it attracts many Kyrgyz tourists who come to relax and enjoy the beautiful setting surrounded by mountains.

The 200km drive will take around 4 hours and lunch will be taken on the way. You should arrive in plenty of time to enjoy a swim in the clear waters or a stroll along the beach. Your hotel will be situated right by the lake shore. Dinner will be at the hotel.

Overnight: Karven Issyk Kul or Karven 4 Seasons or Similar, Issyk Kul Lake

Day 14 - Morning at leisure. Afternoon transfer to Bishkek through Boom Gorge - 5-6 hours.

A relaxed morning at your hotel, time to rest, take a swim and enjoy the lakeside setting. After lunch you will drive back to Bishkek through the Boom Gorge, a narrow canyon where the railway, road and Chui River squeeze together. The 250 km drive will take about 5-6 hours.

Further on as you near the town of Tokmok you will stop and visit the reconstructed Burana Tower. This is an old minaret and is all that remains of the old town of Balasagum, established by the Kharkhanids at the end of the 10th century. It was on an important trading route of the Silk Road and the town flourished for centuries until its eventual decline in the 15th century. There is a small museum with information about the town and a collection of around 80 Turkic 'balbals', or stone grave markers, dating from between the 6th and 10th century which have been gathered from all over the country and placed here. Continuing the rest of the way you will arrive back in Bishkek for two nights.

Overnight: Asia Mountains Hotel or Similar, Bishkek

Day 15 - Morning sightseeing tour of Bishkek. Free afternoon.

This morning you will have a guided walking tour of the city taking around 3 hours. The guide will show you all the main sights, finishing in the largest department store in town, with the opportunity to buy any souvenirs you might want. There are many optional extra sights that can be added to the tour, so make sure you discuss with your guide what you would like to see in the time allotted.

In the afternoon you will have free time to relax before your farewell dinner in a local restaurant.


Overnight: Asia Mountains Hotel or Similar, Bishkek

Day 16 - Transfer to airport for flight back to London.

You will be transferred back to the airport for your flight home.
Map
Map Key
Airport
Point of interest
Mountain Peak
Day walk in this area
Flights
Internal Transfers
Trek
---
2019
Dates
Availability
Land Only
Flight Inclusive from
Sat 10 Aug - Sun 25 Aug 2019
Available

Available

Save £300 off brochure price. Reduced from: £2,290
£1990 Book
£2790 Book
2020
Hold your place
Not quite ready to book? Why not call us on 0044 (0)1453 844400 to hold a no obligation place while you make up your mind?
Optional supplements
Single Tent
From £95
Single room supplement
From £165
Insurance
No Surcharge Guarantee
No surcharges will be applied to your holiday after you book. Prices on this website are updated regularly. The Flight Inclusive holiday price, or Land Only holiday price, will be confirmed to you at the time you make your booking. There will be no surcharges after your booking has been confirmed.
Flight inclusive holidays
The 'flight inclusive' holiday prices shown on this website are based upon our preferred airlines and the best priced economy class fares we are able to secure at the time of publication.
We will be able to advise on fares with alternative airlines, upgrades to Business Class, and the options for flights from regional UK airports, please contact us for more details.
Loyalty discount
Find out more
What's included
An English speaking local leader throughout
Single, timed, group airport transfers for international flights on arrival and departure
All other transfers as per the itinerary
All road transport by private vehicles
Good standard accommodation
14 breakfasts, 13 lunches and 13 dinners
Sightseeing as specified
All entry fees for sites visited on group itinerary
Activities as specified
Optional climb of Pesnya Abaya (day 11)
Hire of climbing gear for ascent of Pesnya Abaya
Helicopter flight
The option of joining one of our four pre-trip meets in the Cotswolds
A free Mountain Kingdoms Water-to-Go bottle or a Mountain Kingdoms microfleece
What's not included
International flights
Travel insurance
Visa fees
Tips
---
---
Review your holiday
Reviews
Read holiday reviews by Mountain Kingdoms travellers.
Overall score: 5.0 (Based on 3 reviews)
South Inylchek Glacier to Khan Tengri
A wild adventure! 14/01/2019
The Tien Shan (the Mountains of Heaven or the Heavenly Mountains) are without doubt one of the most beautiful mountain ranges I have trekked within. At lower altitudes the mountain views are incredible; steep valley slopes are decorated with lush green grass and dense fir trees; glacier melt water flows at speed through picture-perfect valleys and evidence of working nomadic life is all around. At higher altitudes, and in particular on the South Inylchek Glacier, the snow-capped peaks of the Tien Shan Mountains are scenes I will never forget. The journey up the glacier is indeed 'a journey' and a chance to absorb, experience and understand the pure power and meaning of an impressive glacier life cycle. This adventure is one I will always cherish.
Kerry Robins, Mountain Kingdoms
South Inylchek Glacier to Khan Tengri
Reliable tour operator 14/02/2017
Having travelled with your company many times we know we can rely on you to give us the best possible experience on our holidays.
Mr & Mrs G, Guernsey
South Inylchek Glacier to Khan Tengri
Incredible views!
The views from South Inylchek Base Camp are truly stupendous!
Steve Berry, Managing Director, Mountain Kingdoms
---
Extend your holiday
There are many ways you can extend your holiday with Mountain Kingdoms: book extra hotel nights, relax at a beautiful beach resort, take a warm-up trek, arrange a personal sightseeing tour or enjoy specialist activities such as rafting, birdwatching or a safari.
We're happy to suggest ideas, provide quotes and make all the arrangements. We can also assist with flight and hotel upgrades. Just call us on +44 (0)1453 844400 or email info@mountainkingdoms.com and we will be pleased to help.