What's included
An English-speaking Bhutanese leader
Flights between Kathmandu and Paro and hotel/airport transfers
Bhutan visa and Bhutan departure tax
Economy class return air fares from the UK & UK Departure Tax (flight inclusive only)
Single, timed group airport transfers for international flights on arrival and departure
Good quality 4* hotel accommodation in Kathmandu, on a twin share, bed and breakfast basis
In Bhutan, good standard hotel accommodation in Paro, on a twin share, full board basis
The use of a good quality down jacket and sleeping bag (when travelling to Bhutan via Kathmandu).
All camping facilities (twin share tents) and all meals on trek
Camp staff to carry out all camp work
All porterage on trek, usually horses and yaks
All road transport by private vehicles
Sightseeing where specified
Carbon offset for clients taking our flight-inclusive option
A free high-quality Mountain Kingdoms kit bag
The option of joining one of our four pre-trip meets in the Cotswolds
and much more...
Call our
friendly team
Mount Chomolhari & the Bonte La
Walking & Trekking
Vigorous / Strenuous
Vigorous: Suitable for enthusiastic hill/mountain walkers.
Strenuous: Suitable for fit individuals who have regular experience of mountain walking.
Find out more...
Grade: Vigorous / Strenuous ? Vigorous / Strenuous
Duration: 16 days from the UK
On Trek: 8 days
Walks on: 1 day
Flight inclusive from £3,795,
Land only from £2,995
Book now or call 01453 844400
Magnificent high mountain trekking beneath snowy peaks, through remote valleys and across high passes.
Highlights
A well-paced trek with excellent acclimatisation including two rest days
Trek to the Base Camp of Mount Chomolhari and return via the lesser trekked route across the beautiful Bonte La
Time included to explore the base camp area and the stunning Soi Yaksey valley
Walk to Taktsang Monastery and sightseeing in Thimphu
After a walk and visit to the celebrated Tiger's Nest Monastery, we begin our high mountain trek northwards up the beautiful Paro valley to the base camp for Mount Chomolhari. At 7,314m/23,996ft, this is the second highest peak in Bhutan. With time to trek up to the mountain's glacier and acclimatise, we then ascend past the stunning Tso Phu Lakes to cross the Bonte La pass and enter the remote Soi Yaksey valley. Two nights are spent here giving time to explore the ruins of an abandoned hermitage known as Sey Dzong, impressively set into a crack in a huge rockface, hanging some 60 metres above ground. We will also visit local farmhouses for a fascinating insight into rural Bhutanese life.
We turn southwards to cross another high pass and camp in the Thangbue valley, inhabited only by seasonal yak herders and 'blue sheep'. A classic ridge walk leads us back down to the Paro valley, from where we tour the cultural sights of Thimphu before heading to back to Kathmandu.
---
At a glance
Grade: Vigorous / Strenuous
Vigorous / Strenuous
Duration: 16 days from the UK
On Trek: 8 days
Walks on: 1 day
Max. Altitude: 4,890m/16,043ft , Bonte La, Day 9
Guaranteed to run for a minimum of 4 clients
Maximum group size: 12
Land only joining city: Kathmandu
Accommodation types: Hotels, Camping
Meal arrangements: Bed and Breakfast in Kathmandu and all meals in Bhutan.
Itinerary overview
| Day | Activity |
| --- | --- |
| 1-3 | Arrive Kathmandu. Fly to Paro in Bhutan. |
| 4 | Sightseeing Paro Valley. Trek to Taktsang - 5-6 hours. |
| 5 | Trek and drive from Paro to Shana |
| 6-7 | Trek to Soi Thangthanka. Trek to Chomolhari Base Camp (Jangothang). |
| 8 | Rest and acclimatisation day. |
| 9 | Trek to Soi Yaksey Valley, crossing the Bonte La Pass, 4,890m/16,040ft. |
| 10 | Visit Sey Dzong and return to campsite. |
| 11 | Trek to Thangbue via the Tagulun La Pass. |
| 12-13 | Trek to Gunitsawa via the Thombu La Pass. Drive to Thimphu. Sightseeing in Thimphu. Drive to Paro. |
| 14-16 | Fly to Kathmandu. At leisure. Fly to London. |
Leader: Local leader, Bhutan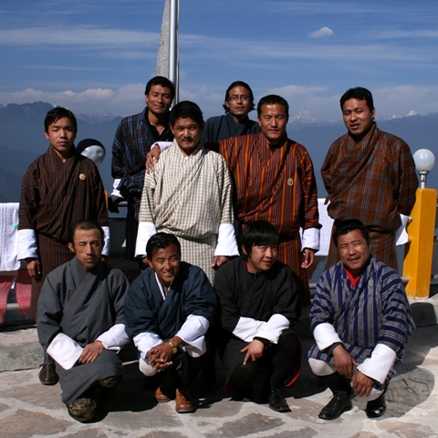 You will have an English speaking Bhutanese guide. Mountain Kingdoms have been working with the same partner in Bhutan since 1986. Their guides are some of the best in the Kingdom. They speak fluent English, as this is taught in all Bhutanese schools, and are fully qualified guides. The Tourism Authority of Bhutan insists that a Bhutanese trek or tour leader must pass his/her guiding exams in Thimphu before accompanying groups of foreign visitors. Guides receive regular 'top-up' training and 15 of our regular leaders have completed an extended training course run by Mountain Kingdoms in Bhutan.
---
Mount Chomolhari & the Bonte La Itinerary
Day 1 - Depart London.

Fly to Kathmandu by overnight flight.

Overnight: In flight

Day 2 - Arrive Kathmandu.

You will be met on arrival and transferred to your hotel. You might like to venture out to Thamel for your evening meal, or eat in the restaurant if you are tired from your journey.

Overnight: Shangri La Hotel, Kathmandu

Day 3 - Fly to Paro.

Transfer to the airport for the flight to Paro. On a clear day the panoramic views of the Himalaya are sensational, including Everest, but particularly exciting is the approach through the Bhutanese foothills and the landing, including a few steep turns, to land at the tiny airstrip at Paro. You are at the mercy of the Druk air-ticketing computer, but if there is an option, try to sit on the left-hand side of the plane. In Paro you will be transferred to your hotel. There may be time for a wander around the streets of the small township of Paro, take a look at the Queen Mother's Winter Palace and go for a walk up to look at the Dzong.

Overnight: Hotel Olathang Or Similar, Paro

Day 4 - Sightseeing Paro Valley. Trek to Taktsang - 5-6 hours.

Today you visit the Paro Valley, site of the famous Tiger's nest, the Taktsang Monastery, which is perched some 600m/2,000ft up on a cliff overlooking the valley. Taktsang was said to be where the legendary Indian saint Guru Padma Sambhava flew from Tibet on the back of a tiger to defeat five demons who were opposing the spread of Buddhism in Bhutan. There may also be time today to see some of the treasures from Bhutan's National Museum. The museum was closed following the earthquake in 2011, but many of the artefacts and displays will be temporarily housed in a nearby building until renovation is completed. There will also be a chance to wander around the small township of Paro itself and to visit the market.

Overnight: Hotel Olathang Or Similar, Paro

Day 5 - Trek and drive from Paro to Shana, 2,788m/9,148ft - 5-6 hours.

You leave the hotel and walk up a hill to a village. You continue trekking along forested ridges until you reach Kyichu. You will visit the ancient temple of Kyichu Lhakang, one of the oldest in Bhutan, which was one of 108 temples built by Songtsen Gampo, an important early Tibetan king, to pin down the Bon demon that was thought to hover over the whole of Tibet.

From here it's an hour's drive to Gunitsawa from where it is a short walk through the army base to cross the river on a small bridge and walk upstream to camp at Shana.

Overnight: Camp

Day 6 - Shana to Soi Thangthanka, 3,519m/11,545ft - 7-8 hours.

Still following the river in heavily forested country, the route is dotted with isolated farmhouses and plenty of bird life. You may be advised by your Bhutanese guide to walk in pairs on this section as there are still bears in this area. You pass a junction en route, where another trail leads north over the Tremo La to Tibet. Spencer Chapman crossed the Tremo La in 1937 on his way to climb Chomolhari from Tibet.

Overnight: Camp

Day 7 - Trek to Chomolhari Base Camp (Jangothang), 4,090m/13,416ft - 5-6 hours.

It is worth getting up early to photograph the dawn colours on Bhutan's second highest mountain, Chomolhari, which is framed at the end of the valley. After about an hour's walk you slowly leave the forest line and gradually climb into a beautiful valley, passing Tengethang, a winter home of yak herdsmen. You should see lots of yaks today before you arrive at a row of small chortens and stone huts, which is the base camp for the mountain. At 7,314m/ 23,997ft Chomolhari overlooks the camp and nearby there are ruins of the old fortress which used to guard Bhutan against Tibetan invasion.

Overnight: Camp

Day 8 - Rest and acclimatisation day.

It is highly advisable that you do some sort of walk today involving height gain in order to help with acclimatisation. There are several excellent walks to choose from today. You may walk up to the Chomolhari glacier, climb the grassy ridge just north of the base camp to reach a small peak at 4,760m/15,617ft for gr eat views, or for an easier option walk up the valley towards Jitchu Drake base camp.

Overnight: Camp

Day 9 - Trek to Soi Yaksey Valley, 3,800m/12,460ft, crossing the Bonte La Pass, 4,890m/16,040ft - 8-9 hours.

The walk today is fabulous. An initial steep climb takes you up a wide, grassy hanging valley used by yak herders in the spring. There are marmot burrows everywhere and you may well see blue sheep on the steep rocky hillsides. It is well worth stopping several times as you climb up the side of the valley to look back at the stunning views of Chomolhari and Jitchu Drake. Towards the top of the valley are the remote and beautiful Tso Phu Lakes.

The path leads up the side of the valley for an hour or so, with great views down to the lakes. Once you reach the top, the views open out with stunning peaks and wild countryside all around and the ascent becomes more gradual. It is another couple of hours beautiful walking before you gradually climb to reach the pass. There are surrounding views of big mountains including the Basingthang Peaks. The route now descends to the dramatic and steep sided Soi Yaksey valley, dominated by huge cliffs at its head. You may well see yak herders on the upper grassy slopes, before the exciting descent to the green valley far below.


Overnight: Camp

Day 10 - Visit Sey Dzong and return to campsite.

The relatively low altitude of the Soi Yaksey valley makes it a good place to do some washing before setting off on exploration of this remote, but permanently inhabited valley. We highly recommend walking up a small side valley to view the remains of Sey Dzong. This is an impressive ruined Dzong wedged into a cliff face, presumably for defensive purposes, and now abandoned. There are many legends attached to the history of the Dzong. It is also well worth walking up the main valley in the opposite direction to visit the beautiful remote farmhouses.

Overnight: Camp

Day 11 - Trek to Thangbue, 4,100m/13,500ft, via the Tagulun La Pass, 4,540m/14,800ft - 7 hours.

After climbing to a clearing with a mani wall the trail descends to cross the river before ascending for a couple of hours through beautiful forest of indigenous spruce, juniper and rhododendron draped in lichen. There are occasional glimpses of farmhouses perched on the valley wall opposite. The trail now turns up a stunning side valley on a flat trail, before you start climbing to the pass. Again, the views from the pass are fabulous and you can look back to see Chomolhari and Jitchu Drake and look forward to the wide valley below, sporadically inhabited by yak herders, and site of your next campsite.

Overnight: Camp

Day 12 - Trek to Gunitsawa via the Thombu La Pass, 4,270m/14,005ft - 5 hours. Drive to Thimphu - 2 hours.

The final climb of the trek is a relatively short one, through azaleas and dwarf rhododendron, to reach the top of a ridge. You follow this ridge for the next hour or so, with fabulous views on either side and to the tree filled valley ahead, before the long descent to the Paro Chu valley. The initial descent is on a rocky path before you reach the tree-line and then on a more gradual trail before you eventually reach the army camp at Gunitsawa. From here you will be met by the vehicle and driven to Thimphu.

Overnight: Phuntso Pelri Hotel or Similar, Thimphu

Day 13 - Sightseeing in Thimphu. Drive To Paro.

Thimphu has been the permanent capital since 1955 and has two cinemas and a radio station. This is the least visited of all the Himalayan capitals with a population of around 100,000, has wide streets and a rather relaxed air. Its sights include the Late King's Memorial Chorten, the Textile Museum, the Heritage Museum, the silversmiths and pottery workshops, the indigenous hospital specialising in herbal medicine, the thangkha painting school, the Bhutanese paper factory, the recently built Changlingmithang Lhakhang temple, and the National Library. After a day's sightseeing, you will be driven back to Paro.

Overnight: Hotel Olathang Or Similar, Paro

Day 14 - Fly to Kathmandu.

This is normally an early morning flight which takes you out and over the Bhutanese Mountains and past Kangchenjunga, Makalu and Everest, finally dropping down into Kathmandu Valley. You will be met and transferred to the Shangri-La Hotel, after which there will be plenty of time to relax and gather your thoughts.

Overnight: Shangri La Hotel, Kathmandu

Day 15 - At leisure. Afternoon transfer to airport. Depart Kathmandu.

You will have time at leisure in Kathmandu today when you may do some sightseeing or shopping, or simply relax by the pool at your hotel. Later there will be a group transfer to the airport for your overnight flight to London.

Overnight: In flight

Day 16 - Arrive London.
Map
Map Key
Airport
Point of interest
Mountain Peak
Day walk in this area
Flights
Internal Transfers
Trek
---
2020
| Dates | Availability | Land Only | Flight Inclusive from |
| --- | --- | --- | --- |
| Sat 10 Oct - Sun 25 Oct 2020 | Available | £2995 Book | £3795 Book |
Hold your place
Not quite ready to book? Why not call us on 0044 (0)1453 844400 to hold a no obligation place while you make up your mind?
Optional supplements
Single Tent
From £195
Single room supplement
From £300
Insurance
No Surcharge Guarantee
No surcharges will be applied to your holiday after you book. Prices on this website are updated regularly. The Flight Inclusive holiday price, or Land Only holiday price, will be confirmed to you at the time you make your booking. There will be no surcharges after your booking has been confirmed.
Flight inclusive holidays
The 'flight inclusive' holiday prices shown on this website are based upon our preferred airlines and the best priced economy class fares we are able to secure at the time of publication.
We will be able to advise on fares with alternative airlines, upgrades to Business Class, and the options for flights from regional UK airports, please contact us for more details.
Booking your holiday
For the majority of our holidays, a deposit payment of £300.00 per person is required to secure your place(s), however a small number of holidays require a higher deposit - please refer to the holiday itinerary for more details. If the holiday departs within 60 days, a minimum deposit of £750.00 per person is required.
Book now!
Book your small group holiday securely online – click the 'Book' button next to your chosen departure or visit our How to Book page
Complete and return a Booking Form available to download here.
Call us on 01453 844400 and one of our travel specialists will talk you through the booking process.
Loyalty discount
Find out more
What's included
An English-speaking Bhutanese leader
Flights between Kathmandu and Paro and hotel/airport transfers
Bhutan visa and Bhutan departure tax
Economy class return air fares from the UK & UK Departure Tax (flight inclusive only)
Single, timed group airport transfers for international flights on arrival and departure
Good quality 4* hotel accommodation in Kathmandu, on a twin share, bed and breakfast basis
In Bhutan, good standard hotel accommodation in Paro, on a twin share, full board basis
The use of a good quality down jacket and sleeping bag (when travelling to Bhutan via Kathmandu).
All camping facilities (twin share tents) and all meals on trek
Camp staff to carry out all camp work
All porterage on trek, usually horses and yaks
All road transport by private vehicles
Sightseeing where specified
Carbon offset for clients taking our flight-inclusive option
A free high-quality Mountain Kingdoms kit bag
The option of joining one of our four pre-trip meets in the Cotswolds
What's not included
Travel insurance
Visa fees for Nepal
Airport transfers (if your flights do not coincide with the Mountain Kingdoms group flights)
Lunch and evening meals in Kathmandu
Optional trips
Tips
---
---
Review your holiday
Reviews
Read holiday reviews by Mountain Kingdoms travellers.
Overall score: 5.0 (Based on 9 reviews)
Mount Chomolhari & the Bonte La
Mount Chomolhari & the Bonte La 05/06/2019
I have been incredibly impressed by the level of customer service in the uk. The trip itself was brilliant and again everything ran like clockwork. The whole crew on the trek were amazing. We have trekked in the Himalayas on 4 previous occasions and this was definitely the best experience we have had.
Ms S Cheeseman, Edinburgh
Mount Chomolhari & the Bonte La
Private Departure - Mind, body and spirit all deeply nourished! 26/11/2018
I had dreamt of going to Bhutan for many years and ALL my hopes and expectations were met! It is a real jewel of a country, in such sharp contrast to India and Nepal (which I also love!). The landscape is, of course, stunning, the Bhuddist culture is rich and embracing, and the history and politics, not least the GNH, are deeply thought-provoking and optimistic. We only scratched the surface in two short weeks, but our itinerary and our wonderful guide have left me with an enriching and mind-expanding insight into a country with a very exciting approach to development.
Sue McGovern, Aberdeenshire
Mount Chomolhari & the Bonte La
Private Departure - A holiday of a lifetime! 21/11/2018
This holiday lived up to all my expectations - and more. An excellent guide; a trek that took us into truly spectacular, remote areas and such an interesting, exciting country to visit at this stage in its development.
G Parker, South yorkshire
Mount Chomolhari & the Bonte La
What an experience - just great 23/10/2017
The trip of 14 days broken down by 7 nights in a tent whilst trekking and 7/8 night in hotels which worked very well. The views on trek in Bhutan were exceptional - thank god for the good weather. Parts of the trek were fairly brutal but the pace was more or less left up to the individual. One part of the trek was changed with the consent of all in the group to take in a mountain festival. A great time was had by all especially our tug of war team which won a prize. Nothing was missed by this change. Our group consisted of a great mix of people and the guide/porters were excellent. A beautiful country. 
Mr K Taylor, Tyne & Wear
Mount Chomolhari & the Bonte La
Mount Chomolhari trek 11/01/2017
Excellent guide and trek staff - really helpful and attentive. Well-thought out itinerary - particularly the addition of time in Thimphu.
Mr & Mrs P, Oxford
---