Choosing the right holiday in Nepal
If you know you want to go to Nepal but aren't sure where to go, how long to stay or what to do once you get there, here are the essential things to consider when choosing the right holiday for you in Nepal.
How long to go for?
We offer 29 different holidays in Nepal ranging from 12 days to 27 days in duration. As a general rule, trekking holidays need more time than cultural tours or walking holidays to allow for gradual acclimatisation to the higher altitudes - you can't rush a Himalayan high! The shortest trekking holiday we offer is Gentle Trekking & Luxury Lodges, Annapurna Foothills which doesn't go above 2,400m whilst our longer, more strenuous treks, can reach heights of around 5,800m. If you can spare three weeks you'll have plenty of trekking options in both Everest and the Annapurnas as well as being able to reach some of the lesser-known trekking regions of Wild Nepal.
When is the best time to visit Nepal?
January and February are generally rather cold and grey, but otherwise there will be somewhere you can visit in Nepal at any time of the year. Spring and autumn are definitely the best, and most popular time to go to Nepal. March, April, October and November are the prime months for Nepal trekking holidays. Spring time on the trails brings colourful wildflowers, especially rhododendrom, but you should expect to see a buildup of cloud followed by a shower of rain in the afternoons. In the autumn, once the monsoon has completely cleared, the skies tend to be clear throughout the day giving excellent mountain views. Temperatures in both the spring and autumn are warm during the day especially at lower altitudes but get colder the higher you climb.

It is possible to trek to Everest Base Camp or in the foothills of the Annapurnas in December, although temperatures will be very cold at night and at higher altitudes so you need good kit. The higher trails of the Annapurnas often get snowfall in December making them inaccessible to trekkers.
Mustang, Dolpo and the Tsum Valley are the only regions of Nepal where trekking is viable in the summer. They lie within the rain shadow of the Himalaya so don't experience the heavy monsoon rains that cloak the rest of the country.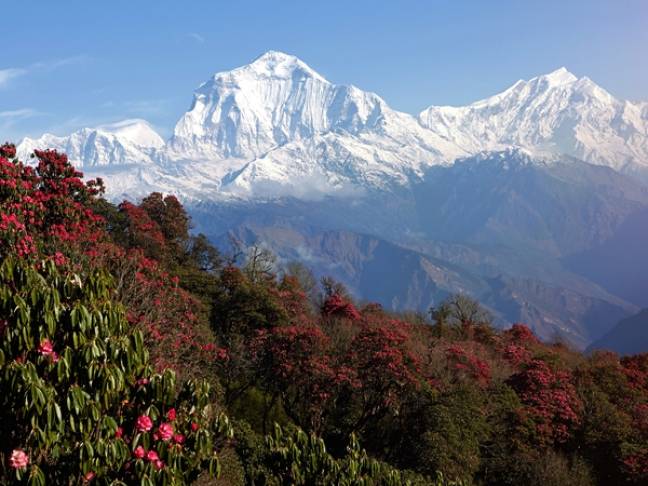 Types of trekking holidays
Classic 'bucket list' treks
Everest and the Annapurnas are Nepal's box office trekking regions, attracting enthusiastic trekkers who are keen to fulfil their dream of reaching Everest Base Camp or the Annapurna Sanctuary - and for good reason. Despite the popularity of these trails the scenery remains spectacular, accommodation is plentiful, the paths are well-established and there's an enormous sense of satisfaction in achieving a lifelong ambition.
If you want to go to Everest Base Camp you can also extend your trek to the Gokyo Lakes or the high passes of the Renjo La and Kongma La. Or, for the ultimate base camp challenge, you can trek the original route of the Everest pioneers on the Long Trek to Everest Base Camp.
Off-the-beaten-track treks
From our long experience, both personal and professional, we find that one trip to Nepal is never enough! Having completed a classic trek, many people return to do something a bit more off-the-beaten-track in one of Nepal's wilder, lesser-known regions such as Dolpo and Manaslu, both of which are a short flight away from Kathmandu. Or, just a few hours drive from the capital city, the Ganesh Himal and Langtang regions offer spectacular high mountain trekking but without the crowds. If you would still like to include a 'tick box' objective in your trek then there are also options to reach the base camps of famous Himalayan peaks like Dhaulagiri, Makalu and Kangchenjunga.
Alternatively the Mustang region, which abuts the Tibetan border, offers exceptional trekking during the summer months through a striking desert-like landscape dotted with crumbling monasteries, cave dwellings and age-old villages.
See all our off-the-beaten-track treks in Wild Nepal.
Trekking peaks
For the more 'hard core' experienced trekker, the chance to summit a trekking peak presents an irresistible challenge. We've chosen Mera Peak as it's technically straightforward but, as Nepal's highest trekking peak at 6,476m, it's a superb challenge. You'll get to enjoy a long acclimatisation trek via Everest Base Camp, and you'll be led by a fully qualified Sherpa climbing guide, so that you're fully prepared for your summit day.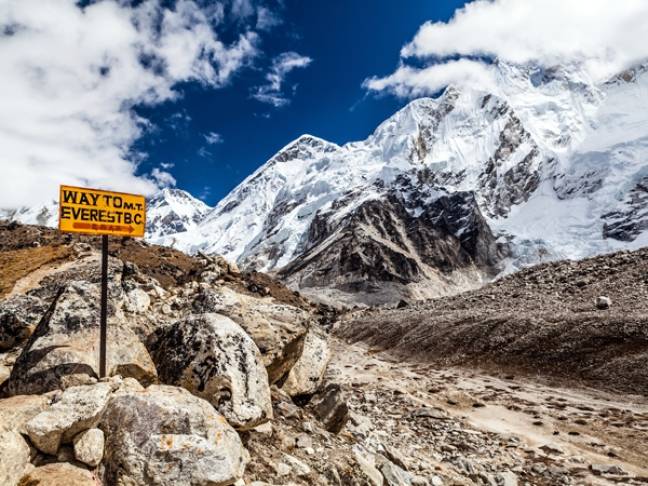 Nepal for non-trekkers
You don't have to go on a trek to enjoy Nepal's natural and cultural wonders. Here are some suggestions for alternative experiences to make the most of your time in the Himalaya.
Walking holidays
The mid hills of Nepal offer the perfect terrain for gentle walks from attractive hill top villages, such as Haatiban and Bandipur, for far reaching views of the Kathmandu Valley and of the high mountain peaks in the distance. Trails lead through terraced fields and pretty villages with the chance to discover rural Nepal, little-changed by the modern world. The shores of beautiful Phewa Tal Lake in Pokhara are also enticing, and from here you can see the famous fishtail peak of Machhapuchare – one of Nepal's most cherished sights. Find out more about our Gentle Walking Nepal holiday.
Cultural Tours
We offer a Definitive Cultural Tour of Nepal that visits the ancient Newari cities of Kathmandu, Bhaktapur and Patan, travels to Lumbini, the birthplace of Buddha, goes on safari at Chitwan National Park, and discovers the Gurkha villages of the Annapurna Foothills.
Sightseeing tours that explore the rich historic and cultural heritage of Kathmandu and the greater Kathmandu Valley can easily be added to any of our holidays in Nepal, as can an extension to Lumbini.
Wildlife experiences
Although it's the spectacular trekking trails that are Nepal's premier attraction, there are several national parks and reserves that showcase Nepal's diversity of wildlife. All of which can be added as an extension to your Nepal holiday.
Chitwan, in the steamy southern Terrai, is Nepal's premier park and has a rich variety of birds and animals including elephant, rhinos, leopards and even Bengal tigers. You can stay in a comfy lodge and enjoy a range of wildlife viewing activities including jeep drives, nature walks and canoe rides. Bardia National Park offers a similar experience but is a little more remote. For birding enthusiasts, Koshi Tappu Wildlife Reserve is considered to be one of the finest birdwatching areas in all of Asia.
You can combine any number of these places and experiences on your very own, Tailor Made holiday to Nepal.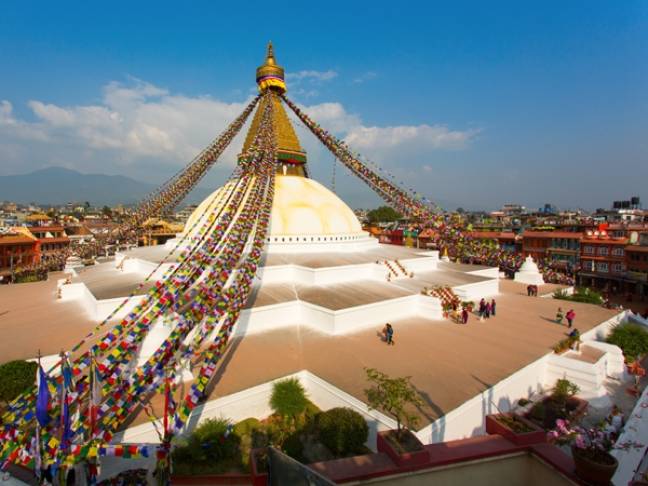 Where to stay
In the main centres of Kathmandu and Pokhara we always include good quality hotel accommodation whilst in the smaller towns we choose the most characterful and comfortable hotels available.
On trek
When thinking about the right trekking holiday for you in Nepal, accommodation preferences are an important consideration.
Tea houses are a long established tradition in Nepal and provide an important source of income for local families. They are simple, but comfortable enough offering twin bedded rooms, a shared dining area and basic toilet facilities. Many have rudimentary hot showers and a limited supply of solar powered electricity. Meals are hearty and generous with a reasonable menu of choices although you should try the local staple, dahl baht, at least once. An almost constant supply of tea is also available. Take a look here for all our treks that use tea houses.
On the trail to Everest, Annapurna Base Camp, Ama Dablam and through the Annapurna foothills, more luxurious trekking lodges are now available for those who prefer some home comforts to soothe their tired limbs. En suite rooms, hot showers and comfy beds are standard whilst happy hours, table service and gardens with glorious views are the icing on the cake. Take a look at all our In Style holidays for inspiration.
With the emergence of so many tea houses in Nepal, camping treks are relatively rare nowadays. But, if you still hanker after nights 'under canvas' and the sense of splendid isolation that it brings, several options still remain. Wild Mustang and the Grand Annapurna Traverse treks offer a mixture of camping and tea house accommodation whilst Five High Passes – Dolpo to Mustang, and Namun La Wilderness Trek are full camping treks. Whenever camping you'll enjoy a three person domed tent shared between two, a dining tent and toilet tent. Your trek crew will not only carry all the gear but will put up the tents and provide three delicious hot meals a day.

Post trek luxury
If you've just spent two weeks staying in tea houses or camping then any hotel will no doubt feel luxurious once your trek is done. But you can really indulge yourself after all that effort with a five star lodge or hotel.
Dwarika's heritage hotel is considered one the finest in Kathmandu whilst their sister resort in the picturesque hill town of Dhulikhel in the Kathmandu Valley is equally as indulgent. If you are in the Annapurnas Tiger Mountain Lodge Pokhara or the Pavillions Hotel are hard to beat for post trek luxury and relaxation. Upgrades and extra nights can be organised to any of these properties when you book your holiday.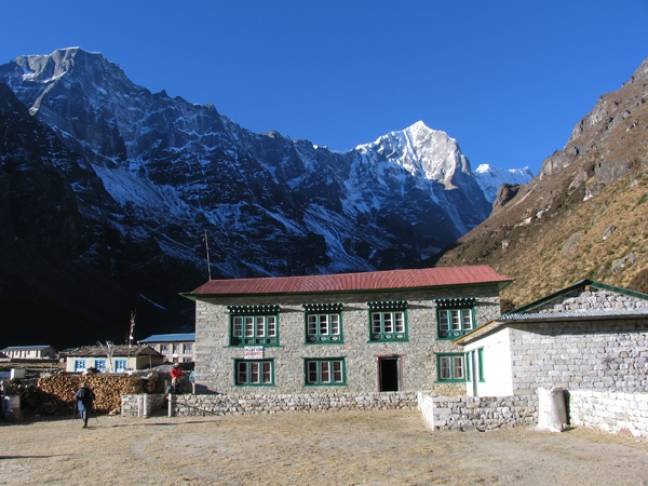 Take a look at all of our small group treks, tours and walking holidays to Nepal, and if you're still unsure what is the best one for you just contact our friendly team of Himalayan experts - we'll always be happy to have a chat about Nepal, our favourite destination. We can also help plan a Tailor Made holiday-of-a-lifetime just for you.