Search Tailor Made Destinations
Tiger Mountain Lodge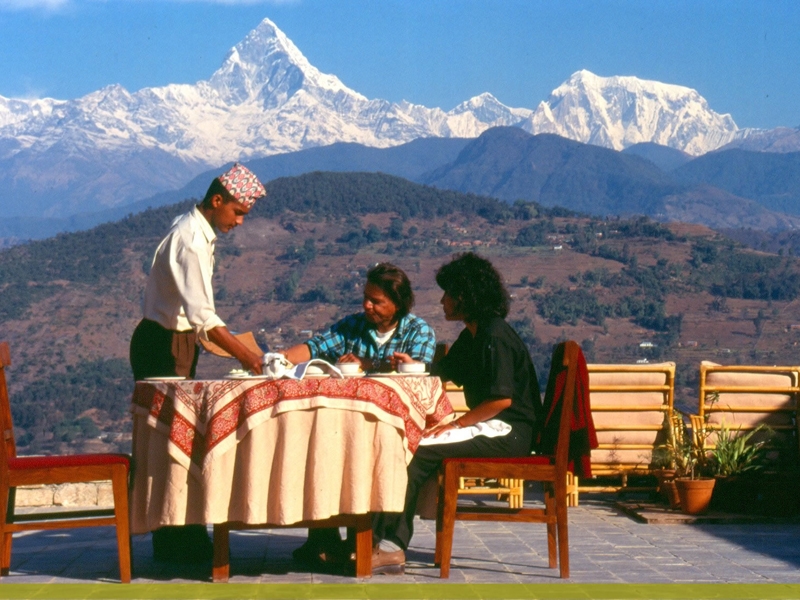 Tiger Mountain Lodge enjoys an enviable ridgetop location, 1,000m above the Pokhara Valley, with a stunning Himalayan backdrop. Built from hand-cut stone, the cottage rooms are arranged in clusters resembling a Nepali village. The welcoming, understated interiors incorporate a range of natural materials and have large picture book windows as well as private verandas to make the most of the gorgeous mountain vistas. Styled around a central courtyard the main lodge is where you will find a fireplace, library, terrace, bar and restaurant. Menus feature international dishes and Nepali specialities all made from local, fresh organic ingredients with home-grown herbs and garden salads. The outdoor pool is one of the lodge's standout features, reflecting the surrounding snow-capped peaks, and wonderfully inviting on a warm day. You can enjoy as much activity or relaxation as you like with opportunities for easy-paced guided walks and nature rambles, or a full range of treatments and therapies at the lodge's excellent spa. Or, of course, you can just while away your time gazing at the mesmerising views.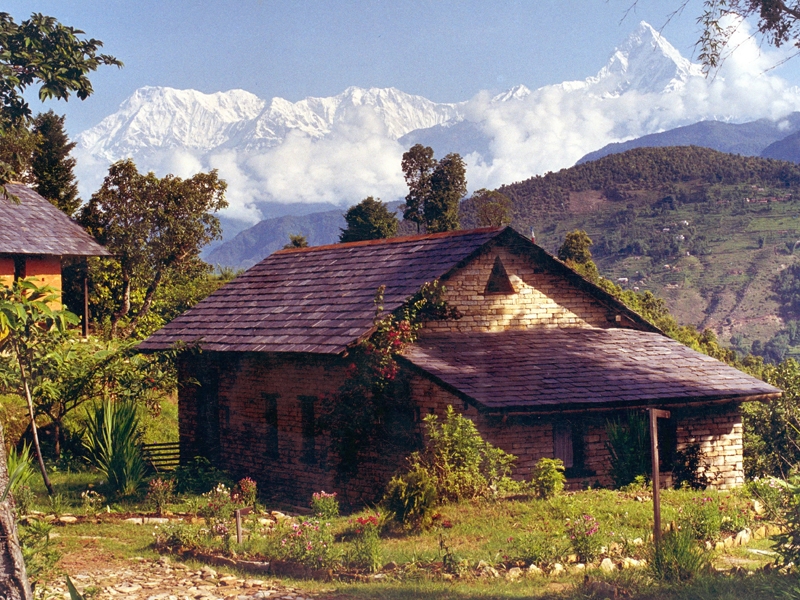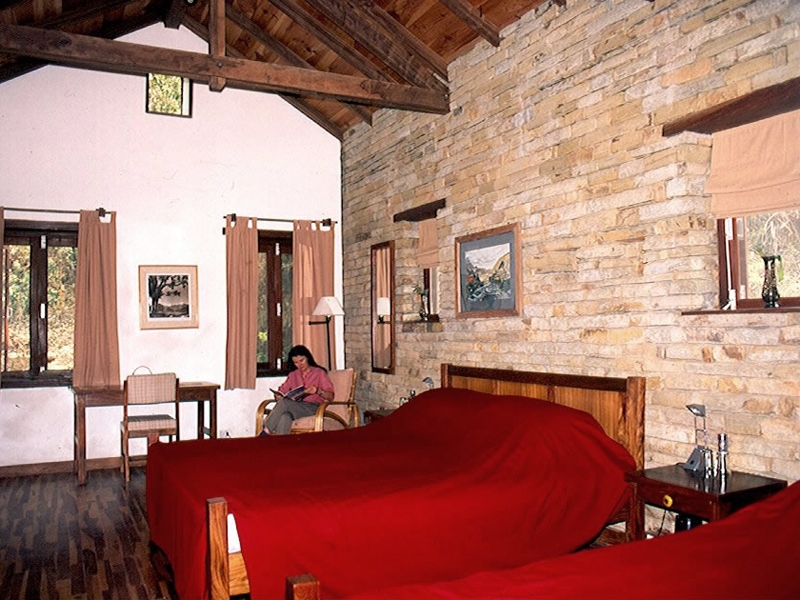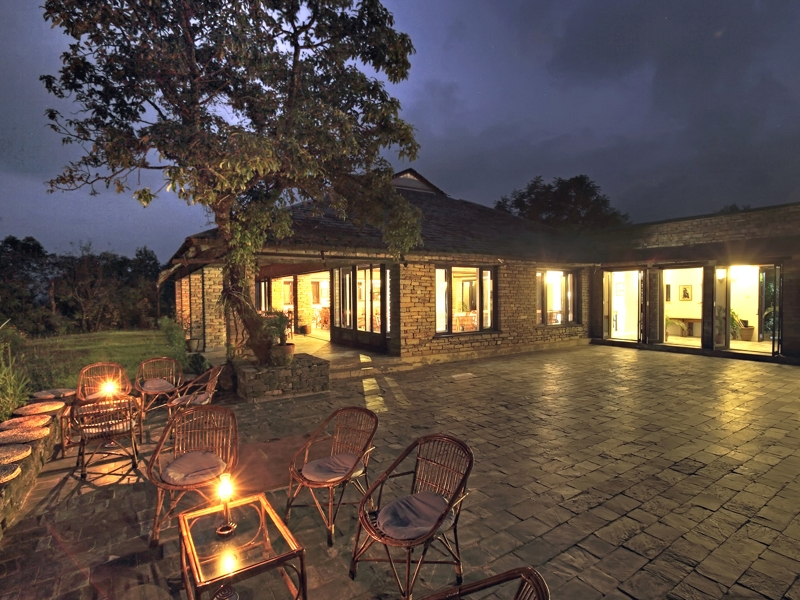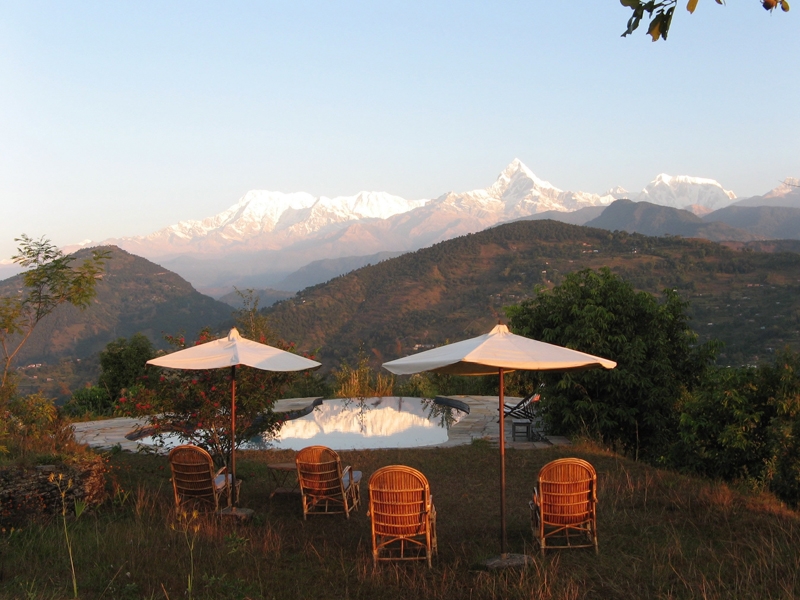 Other accommodation in Pokhara
The Fishtail is Pokhara's oldest established hotel which continues to offer a high standard of comfort and service. Although close to the bustling Phewa Tal lakefront, the Fishtail is situated on a peninsula and can only be reached by a rope-drawn pontoon, so is very secluded. It has lovely tropical gardens, fabulous mountain views and a swimming pool. Rooms are in bungalows with individual terraces so you can sit out and enjoy the peace and quiet.
The Pavillions Hotel is a luxury eco-resort set in a tranquil valley near Pokhara. Guest rooms are sumptuous individual villlas with floor to ceiling picture windows, private terraces and huge bathrooms. The hotel has its own organic garden producing fruit and veg for the restaurant as well as herbs for the hotel's unique toiletries. With a focus on wellness, the Pavillions has a state of the art spa and yoga studio, and there's also an inviting outdoor pool with mountain views and poolside refreshments.
Situated close to Pokhara, the 4* Shangri La offers wonderful views of the Annapurnas both from its lush, landscaped gardens and from its guest rooms. The well designed rooms are light and airy and feature a large, sit-out balcony. The hotel has a secluded outdoor pool, poolside bar and an international restaurant.
Talk to one of our
well-travelled experts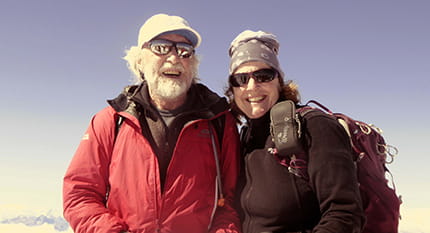 Start planning your next adventure now