Search Tailor Made Destinations
Tailor Made Traveller Reviews Nepal
Read Nepal Tailor Made holiday reviews and feedback by Mountain Kingdoms travellers
Write a review and we'll enter you into a monthly draw to win one of our Water-to-Go reusable bottles.
---
The "Annapurna Circuit" was beautiful. Highly recommended for the incomparable, stunning scenery of the Annapurna Region. If you're up for a more rigorous trek, I'd recommend a less traveled area (Nar-Fu) because of increasing roads and crowds. This is an overall great introduction to Nepalese culture and beauty.
Gentle Trekking & Luxury Lodges, Annapurna Foothills
A fabulous holiday - about 4-5 hours of walking each day (each day is different) with beautiful scenery and walking through remote villages. Every afternoon there is some down time, so a good time to relax and detox! Everyone is very welcoming and service is amazing.
A wonderful holiday. Ker & Downey lodges offered great comfort in lovely surroundings The trek routing carefully avoided the main trails therefore giving an intimate feel of the area and the overall experience was greatly improved by having our personal guide & porter. MK office staff had assisted by arranging extra days in Pokhara and Kathmandu thus giving us plenty of time for sightseeing. So much to see and absorb in this incredible country. Many memories to be cherished for years to come
This was a wonderful experience which I would recomend to anyone who is reasonably fit [I am 77]. It opened my eyes to many important matters, social, environmental and personal. The scenery is breath takingly magnificent, the people wonderful, friendly and kind. The whole trip was perfectly organised. The guides excellent Good value.
Annapurna Base Camp in Style
This is a tough trek with many steep climbs and descents, but thoroughly enjoyable. Having done the Everest Base Camp and the Annapurna Circuit, I feel that this trek brings you closer to the giant, snow-capped mountains than any other trek. The ABC is like a bowl surrounded by soaring mountains all around (360 degrees), including South Annapurna and Annapurna I which is above 8,000 m. The whole panorama is breathtaking. On the way to the top, you walk through terraced farms and villages which provide an eye opener about rural life in Nepal. Farming methods there reminded me of those in Southern European countries 70-80 years ago. You also walk through amazing forests with a variety of trees, birds and monkeys, as well as through deep valleys with glacier rivers (that is one of the reasons for the numerous steep climbs and descents). And of course the views both on the way up and the way down are really spectacular.
Gentle Trekking & Luxury Lodges, Annapurna Foothills
(Review from adapted Gentle Trekking & Luxury Lodges itinerary) Excellent trekking. A lot of steps up and down, so your legs get very fit! Amazing scenery, some basic tea houses but lovely people. Stayed in luxury lodges too, which were very comfortable and excellent food. Sunrise at Poon Hill is a must - spectacular views of mountain range. Over all 100% enjoyed the challenge and I am thinking about the next one!!
We had the most wonderful holiday. The use of guides with local knowledge was fantastic. The quality of accommodation and food was superb. Great experience.
This hidden part of Nepal is still a treasure for the trekker and remains unspoilt - but visit soon before the new road projects alter the remote peace and isolation of this ancient kingdom. Unforgettable scenery and strong Tibetan influence surviving in the harsh climate add to its uniqueness and our Nepalese trekking crew described it as like being on the moon!
Talk to one of our
well-travelled experts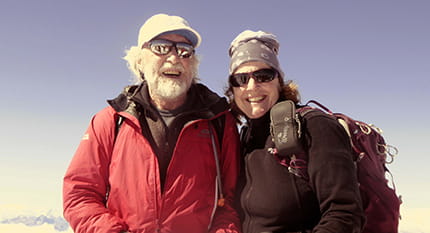 Start planning your next adventure now