Search Tailor Made Destinations
Our Expert Tailor Made Service
Here at Mountain Kingdoms our team of well-travelled specialists are ready to help craft the holiday of your dreams. Inspired by your interests and travel preferences we'll design a unique itinerary full of memorable activities, experiences and accommodation. Once you're completely satisfied with the itinerary we've built, we'll manage all the arrangements, and be on hand to ensure you have the best possible experience from the moment you board your plane until you arrive back home.

Our commitment to you
A friendly, knowledgeable service based on 33 years of worldwide adventure travel experience
Personal care from a named Operations Manager
A comprehensive itinerary and detailed holiday dossier with all your questions answered
Loyalty discount for past clients
Competitive and transparent pricing with a no surcharge guarantee
Hassle-free travel with 24/7 support

Our commitment to delivering an excellent Tailor Made service is the same whether you are travelling as an individual, a couple or as a private group of any size.
Holiday Activities & Experiences
As with our group holidays, a Tailor Made holiday can include all sorts of activities that will turn a routine trip into an unforgettable adventure. Depending on the destination, you could base your whole holiday around a single activity such as a classic trek, or you could include a variety of exciting experiences. Here are just a few ideas to get you started.
Day walks and nature hikes
Classic treks or off-the-beaten-track trails
Base camp treks
Trekking peak climbs
Sightseeing and cultural exploration
Cycling tours
River rafting
Adventurous cruises
Festival visits
Walking safaris and wildlife watching
Homestays with local families
Wellness activities and spa resorts
Special interest tours
Husky dog sledding
Northern Lights safaris
Chilling on a beach
For further inspiration, take a look at our Tailor Made destinations or contact us to start the conversation.

Responsible Travel
For over 33 years, Mountain Kingdoms has been offering people the chance to visit amazing places on this extraordinary planet, but we are conscious that inevitably these can have a detrimental impact on the world around us, and we want to do all we can to minimise this.
To this end we have signed up to the industry wide Tourism Declares a Climate Emergency body and published our Responsible Tourism Pledge which covers everything from the way we will offset the carbon emissions of our holidays to what we are actively doing in the office to reduce waste, eliminate excess plastic and become as carbon neutral as possible.


In 2020 we were also rewarded for completing AITO's Project Protect programme, where AITO encourages its members to participate in making an annual pledge to sustainable tourism.
We also believe that Responsible Tourism is about more than just policies. It involves giving something tangible back to the communities that we visit which is why we continue to support a number of charities in the destinations we visit, many of whom we have had long standing relationships with over many years such as Shiva Charity in Nepal and the Simien Mountains Mobile Medical Service in Ethiopia.
Read more about our commitment to Responsible Travel.
Talk to one of our
well-travelled experts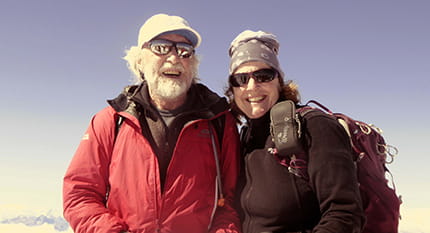 Start planning your next adventure now