What's included
An English speaking Bhutanese leader
All flights between Kathmandu and Paro and domestic airport transfers
All road transport by private vehicles
Bhutan departure tax and Bhutan visa
4 star hotel accommodation in Kathmandu, on a twin share, bed and breakfast basis
In Bhutan, good standard hotel accommodation in main towns and best available hotels in outlying towns, on twin share, full board basis. Plus one night in a simple lodge in Dagana.
The use of a good quality down jacket and sleeping bag (when travelling to Bhutan via Kathmandu).
All camping facilities (twin share tents) and all meals on trek
Camp staff to carry out all camp work
Sightseeing where specified
Economy class return air fares from the UK & UK Departure Tax (flight inclusive only)
Single, timed, group airport transfers for international flights on arrival and departure
Carbon offsetting with the Ecoan Tree Planting Project (for clients taking our flight inclusive option)
A free high-quality Mountain Kingdoms kit bag
Bhutan visa and tourist taxes
The opportunity to attend one of our pre trip meets in the Cotswolds
and much more...
Call our
friendly team
Grade: Vigorous ? Vigorous
Duration: 17 days from the UK
On trek: 7 days
Walks on: 2 days
Flight inclusive from £4,100,
Land only from £3,150
Book now or call 01453 844400
A pioneering trek crossing high mountain passes to reach the lush forests of little-known Dagana, deep in the south of Bhutan.
Highlights
Be one of the first westerners to visit the remote region of Dagana
Trek through a variety of scenery and ecological zones rich with flora and fauna
Cross passes over 4,000 metres with fantastic views of Himalayan peaks
Visit iconic Taktsang Monastery and beautiful Punakha Dzong
Reviews
This is an exciting new trek that has great contrast in scenery and terrain - from crossing snow-covered passes over 4,000m and gazing at fantastic views of Mount Chomolhari and Kangchenjunga, to descending through the forest with an abundance of birds and wildlife. Dagana is a place totally off the tourist track so you have a real feeling of pioneering on this trek.
Niki Morgan, Operations Manager, Mountain Kingdoms
View All
Little-known and largely undisturbed, Dagana is a verdant region of wildlife-rich forest and isolated villages in the southernmost reaches of Bhutan. Ranging from a lowly 200m to 4,720m above sea level it has an impressively diverse and rugged landscape unspoilt by development and with few signs of intrusion from the modern world. Few westerners have ever visited Dagana and Mountain Kingdoms is delighted to be the first British company to offer a trek here.
Starting a little south of Thimphu, this stunning new trek offers an incredible variety of scenery that leads from alpine meadows to sub-tropical forests. You cross high passes over 4,000 metres, marvel at the views of Himalayan giants such as Kangchenjunga, Mount Chomolhari and Jitchu Drake, and enjoy walking through pristine rhododendron, pine and oak forests that host a rich variety of flora and fauna. You will also explore sacred lakes where, in true Bhutanese style, legends and tales of deities abound. On the last couple of days you descend to walk in dense forest terrain – the territory of tigers, leopards and bears.
A genuine wilderness trek you are unlikely to bump into a soul except the occasional yak herder. But even though this trek is unspoilt and feels very remote, the path is well-established due to its history both as a cattle trading route and as a trail used by the old Daga Penlop (governor) to reach Thimphu from the south. Some ruins of his guesthouses are still evident along the route today. On reaching Dagana there will be time to visit its attractive dzong and view the three giant stone megaliths on the opposite side of the valley.
As the trek to Dagana starts at quite a high altitude you will spend a couple of days in Paro and Thimphu beforehand enjoying day walks to acclimatise, as well as seeing some important cultural sights including Taktsang Monastery – the Tiger's Nest. Your sightseeing continues after the trek with a visit to the beautiful riverside dzong at Punakha before you return to Paro for your flight back to Kathmandu.
---
At a glance
Grade: Vigorous
Vigorous
Duration: 17 days from the UK
On trek: 7 days
Walks on: 2 days
Max. Altitude: 4,200m/13,780ft, Lawagu Pass, Day 9
Guaranteed to run for a minimum of 4 clients
Maximum group size: 12
Land only joining city: Kathmandu
Accommodation types: Hotels, Camping, Lodge
Meal arrangements: Bed and breakfast in Kathmandu. All meals in Bhutan.
Itinerary overview
| Day | Activity |
| --- | --- |
| 1-3 | Fly to Kathmandu. Fly to Paro in Bhutan. |
| 4 | Walk up to Taktsang Monastery. Drive to Thimphu. |
| 5 | Day walk to Phajoding. |
| 6 | Drive to Geneka. Start Dagana trek. Camp at Lower Gur. |
| 7-8 | Trek to Labatama via Gur. Explore lakes at Labatama. |
| 9 | Cross the Lawagu Pass, 4,200m/13,780ft, to reach Tsibsaba. |
| 10-12 | Trek to Dagana via Wangrapang and Kunga. Visit dzong and view megaliths. |
| 13 | Drive to Punakha. |
| 14 | Sightseeing in Punakha. Fly to Paro. |
| 15-17 | Fly back to Kathmandu. Time at leisure. Fly to London. |
Leader: Local leader, Bhutan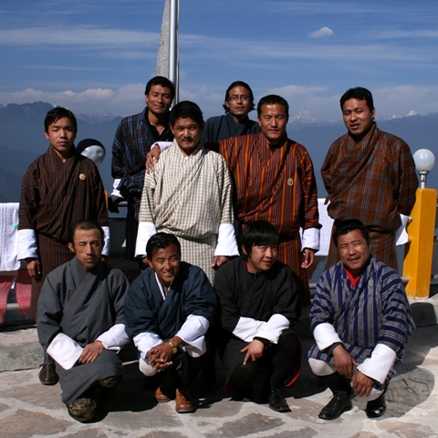 You will have an English speaking Bhutanese guide. Mountain Kingdoms have been working with the same partner in Bhutan since 1986. Their guides are some of the best in the Kingdom. They speak fluent English, as this is taught in all Bhutanese schools, and are fully qualified guides. The Tourism Authority of Bhutan insists that a Bhutanese trek or tour leader must pass his/her guiding exams in Thimphu before accompanying groups of foreign visitors. Guides receive regular 'top-up' training and 15 of our regular leaders have completed an extended training course run by Mountain Kingdoms in Bhutan.
---
Dagana Wilderness Trek Itinerary
Day 1 - Fly London to Kathmandu

Depart London on your overnight flight to Kathmandu.

Overnight: In flight

Day 2 - Arrive Kathmandu. Group transfer to hotel.

You will be met on arrival and transferred to your hotel. You might like to venture out to Thamel for your evening meal, or eat in the restaurant if you are tired from your journey.

Overnight: Shangri La Hotel, Kathmandu

Day 3 - Fly to Paro in Bhutan. Sightseeing.

Transfer to the airport for the flight to Paro. On a clear day the panoramic views of the Himalaya are sensational, including Everest, but particularly exciting is the approach through the Bhutanese foothills and the landing, including a few steep turns, to land at the tiny airstrip at Paro. You are at the mercy of the Druk air ticketing computer, but if there is an option, try to sit on the left hand side of the plane. In Paro you will be transferred to your hotel.

Depending on your arrival time you should have time for a wander around the streets of the small township of Paro, take a look at the Queen Mother's Winter Palace, and go for a walk up to look at the Dzong.

Overnight: Hotel Olathang Or Similar, Paro

Day 4 - Walk up to Taktsang Monastery in the morning, 3,110m/10,200ft - 4-5 hours. Afternoon drive to Thimphu - approximately 1½ hours.

Today you visit the Paro Valley, site of the famous Tiger's nest, the Taktsang Monastery, which is perched some 600m/2,000ft up on a cliff overlooking the valley. Taktsang was said to be where the legendary Indian saint Guru Padma Sambhava flew from Tibet on the back of a tiger to defeat five demons who were opposing the spread of Buddhism in Bhutan. It's a steep uphill walk to reach the tea house viewpoint and another 45 minutes to the temple itself. You return by the same route.

In the afternoon you drive to Thimphu, a journey of around 1½ hours.

Overnight: Phuntso Pelri Hotel or Similar, Thimphu

Day 5 - Walk to Phajoding, 3,600m/11,811ft - 5-6 hours. Sightseeing in Thimphu if time permits.

Phajoding takes its name from the saint Phajo Drugom Zhigpo, who meditated there in the 13th century, and it is considered to be one of the most sacred meditational sites in Bhutan.The monastery itself is an open complex that comprises many holy buildings and relics and a state monastic school that currently houses 40 monks.

To start the walk you'll be driven to just beyond the zoo housing the intriguing looking Takin. The hike to Phajoding is a continuous uphill climb through forested area of blue pine, fir and spruce. There are great views of Thimphu from here. You can visit the monastery and then descend back down to Thimphu. This is a lovely walk in its own right, and also provides excellent acclimatisation for the trek.

In the afternoon you should have time to see some of the sights of Thimphu.

Overnight: Phuntso Pelri Hotel or Similar, Thimphu

Day 6 - Drive to Geneka, 2,800m/9,186ft, for start of Dagana trek and walk to Lower Gur, 3,300m/10,827ft - 3 hours.

It takes about 2 hours to reach Geneka from Thimphu. Your crew will be waiting for you at the road-head ready to load up the horses with your kit bags. You cross the suspension bridge and begin your ascent. It's a beautiful, peaceful walk on a well-established trail through dense pine, oak, rhododendron and larch forest. It takes about 1½ hours - 2 hours climbing before you reach the viewing point adorned with prayer flags overlooking Geneka village and the community chorten.

You continue winding your way upwards on a good, dusty trail until you reach Lower Gur - approximately 45 minutes from the viewing point.

It's a short day's walking today but this is necessary to avoid excessive altitude gain to the next camp. You can walk up towards the following day's camp in the afternoon and return, to aid acclimatisation. Lower Gur campsite is in a clearing in the forest - a pleasant grassy area.


Overnight: Camp

Day 7 - Walk to Upper Gur 3,600m/11,811ft - 2 hours. Acclimatisation walk in afternoon.

You continue ascending after you leave Lower Gur campsite and after about half an hour you reach a clearing with a good view of the surrounding forested hillside. A further 1-1½ hours weaving your way uphill brings you to your campsite at Upper Gur (Kipchen) 3,600m/11,811ft There are spectacular views of Kangchenjunga, Mount Chomolhari and Jitchu Drake here. Your camp is surrounded by hemlock, larch and spruce forest. As this is a very short walk, we recommend that you do a further acclimatisation walk in the afternoon with your guide. You can easily climb above the forest and get some great views along the ridge. Your guide will let you know your options.

Overnight: Camp

Day 8 - Walk to Labatama, 4,000m/13,123ft, crossing pass of 4,100m/13,451ft - 6 hours.

You ascend from the campsite quite steeply at first, and then make a gradual ascent on a very good trail that contours around the hillside. You have superb views of Kangchenjunga, Mount Chomolhari and Jitchu Drake. Here you are on a splendid open hillside. It's very peaceful, and other than your trekking crew, you are unlikely to see anyone. It takes around 2-3 hours before you reach a cairn and some prayer flags and it's another half an hour or so until you reach the pass, marked by 3 cairns and adorned with silk scarves and prayer flags. In November there could be some ice on the path. After taking some photos at the pass, you begin descending, and contouring around the hillside, with fine views of the Dagala range of rocky peaks in front of you. You'll see some yak herders' camps - stone shelters where yaks are brought to graze in the summer, before returning to lower pastures in winter. In November, they should be empty. It's really wild, remote country here.

You descend to a stream, then climb up to Watshachen, which has a tourist stone campsite shelter and toilet. You contour for a bit until you descend into Labatama Valley. You then ascend gently until you reach Upper Labatama, at a stone shelter, by the river, and just down from Lake Yu Tsho. It takes about 2 hours to reach the campsite from the pass.

In the afternoon we recommend you explore the stunning sacred lakes around Labatama. There are several lakes nearby and you can have a good hike around the surrounding hills to see as many lakes as you can. Time and energy permitting, a 3 hour round trip should enable you to see around five of the lakes.


Overnight: Camp

Day 9 - Trek to Tsibsaba campsite, 3,780m/12,402ft via Lawagu Pass 4,200m/13,780ft - 5-6 hours.

You have a short descent from your campsite to the river to cross it and begin ascending on a rightwards diagonal trail. The path is well established and not too steep so the going is fairly gentle. You ascend for about 1½ hours until you reach a cairn. There are great views of Kangchenjunga here. It'll take another 1½ hours or so to reach the pass from here and there are a couple of route options. One is leftwards towards the beautiful Langtsho (Ox) Lake. The lakes are sacred in this area so try to keep noise to a minimum and no popping in for a dip! Bhutanese, especially locals, strongly believe that making noise or polluting the lakes angers dieties and brings bad weather and misfortune to the area. From the lake you ascend to Lawagu Pass 4,200m/13,780ft which is marked by prayer flags and cairns. A great view of Mount Chomolhari can be had here. It's quite a windy, cold spot and there could be snow and small patches of ice, so not a place to linger.

You descend on a good trail, steeply at first until you reach an open pasture where you'll probably have your lunch. From the pass, it takes around 1½ hours of descent to reach your campsite which is an open pasture next to the old Daga Penlop's guesthouse, at an altitude of 3,870m/12,697ft.


Overnight: Camp

Day 10 - Trek to Wangrapang 2,900m/9,514ft - 5 hours.

The trail starts with a slight descent through shrub and rhododendron forest. You pass by ruins of Daga Penlop's guesthouse where there is a yak herder's winter pasture below which is likely to be occupied if you trek in November. The trail continues descending through the forest, passing through a range of ecological zones from dry alpine scrubs, juniper, rhododendron, fir, spruce, hemlock, blue pine forests to warm broadleaved forests. Walking is primarily in the forest today, on a good trail, which can be muddy when wet. You'll come across some open pastures where there may be a herd of yaks or horses. After 5 hours of so of leisurely descending, you'll arrive at a big open meadow which is Wangrapang, and this is your campsite for the night. Enjoy the relative warmth of low altitude here!

Overnight: Camp

Day 11 - Trek to Kunga, 2,100m/6,890ft - 5 hours.

You continue descending through broadleaf forests, which become denser as the day progresses. You'll probably need to take your shoes and socks off to wade across a stream - it'll be around calf height but not too fast flowing. You really feel you're in the heart of the jungle here. Yellow throated laughing thrushes and long tailed magpies are just two of the exotic birds you might see here.

From the stream, you ascend quite steeply for a short while and then the trail is undulating, through dense forest. You eventually take a right hand path off the main trail which leads to your campsite - Kunga. Your lungs will thank you for the lower altitude here and it will feel some degrees warmer.

Overnight: Camp

Day 12 - Trek to Dagana, 1,790m/5,873ft - 6-7 hours. View rock megaliths.

You climb for 20 minutes or so out of the campsite to the main trail. Today the going is trickier than previous days and full concentration is required to negotiate the precipitous sections of the trail. There were lots of signs of bear activity here so your guide and crew will utter loud noises and whistles to warn them of your arrival so hopefully they will scatter before you encounter them! Today you really get the sense of being in wild jungle territory and you see a wealth of colourful birds, monkeys and hopefully deer. The undergrowth is dense and this one section of the trail isn't that well maintained. It's undulating and, unlike previous days, you don't emerge at large clearings/meadows, so the going will feel a bit more relentless. After a while you'll be following the water pipeline to Dagana which runs parallel to the trail. Eventually you emerge at the road-head - the end of this trail is marked with prayer flags and a small shrine. Congratulations on completing a wild, adventurous trek in the heart of rural Bhutan.

Whilst in Dagana you can visit its attractive dzong - the Daga Trashi Yangtse Dzong which was built in 1655 under the command of the Shabdrung Ngawang Namgyal. Also worth seeing are the three stone megaliths, known as "Sky Pillar Rock", "The Rock of Ancient Steps" and "The Frontier Sky Fortress". Legend has it that when the dzong was being constructed, the "Frontier Sky Fortress" emitted telepathic messages to the builders stating that the dzong would collapse if it was built any higher than it currently stands. Which is why the golden cupola of the Dzong is said to be level with the tip of the 20m high megalith.

You will overnight at a basic 'hotel' which will be similar in standard to a Nepali tea house. There are no tourist standard hotels in Dagana.


Overnight: Lodge

Day 13 - Drive to Punakha - 6 hours.

It's about 5½ - 6 hours driving from Dagana to Punakha. The drive is pretty spectacular as you wind your way on twisting, turning mountain roads northwards. As you head further towards Punakha you'll see a massive hydro-electric project going on. This is due to be completed in 2025 and is so ambitious in scope that the goal is for it to help Bhutan become self-sufficient financially and free of outside support from India and NGOs. You pass through Wangdi and will see the dzong which is under re-construction since being damaged by fire.

Eventually you reach Punakha and will see the dzong and its picturesque setting by the river. You'll be taken to your hotel. After a luxurious and well deserved hot shower and rest, there may be time to explore Punakha Dzong in the afternoon. If not, you can do this tomorrow morning.


Overnight: Zhingkham Resort Or Similar, Punakha

Day 14 - Morning sightseeing in Punaka. Afternoon return to Paro - 3½-4 hours.

Before leaving Punakha you will visit its spectacular Dzong (if you did not do this yesterday). The main monastery/fortress in Punakha was the power base for the old system of re-incarnated rulers. The remains of the original ruler of Bhutan, Nawang Namgyal, are kept in a small room at the top of the highest tower; only the King and the head of the Monastic Order are allowed to enter it. Provided the head of the monastic order and his monks have not migrated from Thimphu, it should be possible to view the inner courtyards of Punakha Dzong. In 1997 there was a major flood in the town as a glacial lake burst up in the mountains causing tremendous havoc in the town. The dzong was badly damaged but has been beautifully restored and renovated.

You will also pay a visit to Chimi Lakhang, taking a short walk across the paddy fields to see this delightful small temple built by Drukpa Kunley. Known as the 'the Divine Madman', Drukpa Kunley was a 15th Century Bhutanese lama and is Bhutan's most popular saint and one of the most important figures in Bhutanese folklore. Despite the apparent conservatism of the Bhutanese people, Drukpa Kunley with his unconventional views on sex is a great favourite throughout the country - the phallus symbols painted on the outside walls of houses date back to his teachings. Chimi Lakhang is especially popular with women who come here to pray for children. The temple is characterised by its many phallic symbols.

You then return to Paro via Thimphu. The drive to Thimphu on winding mountain roads takes about 2 hours and crosses the Dochu La, 3,116m/10,223ft where on a clear day panoramic views can be had of the eastern Himalaya, including the highest peak in Bhutan, Gangkar Punsum, at 7,550m/24,770ft. You continue on to Paro which takes another 1-1½ hours.

Overnight: Hotel Olathang Or Similar, Paro

Day 15 - Fly back to Kathmandu. Transfer to hotel.

Today you will have another chance to enjoy a flight along the Himalaya, passing Kangchenjunga, Makalu and Everest. On arrival in Kathmandu you will be transferred to the Shangri La Hotel, where rooms will be available from midday. The rest of the day is yours to enjoy some final sightseeing, souvenir shopping or just relax at your hotel.

Overnight: Shangri La Hotel, Kathmandu

Day 16 - Day at leisure in Kathmandu. Group transfer to airport. Depart for London.

You will have time at leisure in Kathmandu today when you may do some sightseeing or shopping, or simply relax by the pool at your hotel. Later in the afternoon there will be a transfer to the airport for your overnight flight to London.


Overnight: In flight

Day 17 - Arrive London.
Map
Map Key
Airport
Point of interest
Mountain Peak
Day walk in this area
Flights
Internal Transfers
Trek
---
2021
2022
2023
---
---
Review your holiday
Reviews
Read holiday reviews by Mountain Kingdoms travellers.
Overall score: 5.0 (Based on 2 reviews)
True wilderness 17/11/2019
The Dagana wilderness trek is not for the faint hearted but it was truly amazing. The scenery was breathtaking and varied. We climbed through forests and over remote mountain passes. We saw bears and so many different birds. The team who accompanied us couldn't have been more lovely. Truly a trip of a lifetime
Mrs Samantha Westlake, Cornwall
New off the beaten track Dagana Wilderness Trek 16/03/2018
This is an exciting new trek that has great contrast in scenery and terrain - from crossing snow-covered passes over 4,000m and gazing at fantastic views of Mount Chomolhari and Kangchenjunga, to descending through the forest with an abundance of birds and wildlife. Dagana is a place totally off the tourist track so you have a real feeling of pioneering on this trek.
Niki Morgan, Operations Manager, Mountain Kingdoms
---