What's included
An English-speaking Bhutanese leader
All internal flights and domestic airport transfers
The use of a good quality down jacket and sleeping bag (when travelling to Bhutan via Kathmandu).
4* hotel in Kathmandu on a bed & breakfast, twin-share basis
Good standard hotel accommodation in Bhutan on a full board, twin-share basis.
Three nights in Bhutan Government approved farmhouse homestays with all meals
One night camping with all camping facilities (twin share tents) and all meals on trek
Camp staff to carry out all camp work
Bhutan Visa and Bhutan departure tax
Sightseeing where specified
Economy class return air fares from the UK & UK Departure Tax (flight inclusive only)
Single, timed, group airport transfers for international flights on arrival and departure
Carbon offsetting with the Ecoan Tree Planting Project (for clients taking our flight inclusive option)
A free Mountain Kingdoms kitbag
The opportunity to attend one of our pre trip meets in the Cotswolds
and much more...
Call our
friendly team
Gentle / Moderate
Gentle: Suitable for people who enjoy easy-paced walks or exploring the countryside on foot.
Moderate: Suitable for anyone who enjoys hill walking.
Find out more...
Grade: Gentle / Moderate ? Gentle / Moderate
Duration: 16 days from the UK
Walks on: 4 days
On trek: 2 days
Flight inclusive from £3,690,
Land only from £2,895
Book now or call 01453 844400
A unique walking holiday in Bhutan offering an 'insiders' view of the kingdom.
Highlights
Spend three nights in approved farmhouse homestays to experience the lives of the local people.
Trek for two days on the Bumdra Trek to reach celebrated Taktsang Monastery.
Enjoy varied and interesting day walks.
Discover the beautiful 'hidden' valleys of Phobjika and Haa.
Attend a colourful Bhutanese festival
Reviews
Having always harboured a desire to travel to Bhutan, but lacking the confidence to face the bewildering set of rules required to enter and stay in the country, we used Mountain Kingdoms to arrange the trip for us. Travelling as a couple, we joined a group of eight. The whole experience, from first contacting Mountain Kingdoms to arriving back from the trip, was excellent. Mountain Kingdoms...
Jamie, Bristol
It was well organised and all the stress was taken out of the holiday. The guide leader was probably the best guide we have ever had.
Mr B Wilkins, Wiltshire
I have stayed in Bhutanese homestays and thoroughly enjoyed the experience. There were some that I would have chosen in preference to a 5 star hotel. I do however understand that this is a question of personal preference. Personally, I think having close contact with the local people is immensely more valuable than staying in a resort where you cut yourself off from the authentic experience of...
Steve Berry, MD, Mountain Kingdoms
View All
Historically the Himalaya was a patchwork of small kingdoms from one end to the other. Over time many were swallowed up in the formation of larger countries and in so doing very often the uniqueness of their cultures was lost. Bhutan thankfully survived intact due to the foresight of its rulers, and because its natural defences made it a very difficult country to invade. Not only does it have a solid wall of mighty Himalayan peaks in the north, but its foothills rise straight up from the plains of India and were easily defended. It was unified in the early 1600's by one of the most powerful personages in Himalayan history, Shabdrung Nawang Namgyal, whose red hat sect of Tibetan Buddhism still flourishes to this day. He built magnificent monastery/fortresses, introduced a rule of law, and defeated Tibetan invaders by use of black magic.
So it is today that the customs and traditions are as strong as ever, and the people still wear colourful national costume, and live in architecturally distinct houses more akin to Swiss chalets. The dragon sect of Tibetan Buddhism is central to all that they do, and they adore their royal family. They believe in non-violence, preservation of nature, and actively promote policies of sustainability and conservation. They are proud to be a carbon negative country and strictly enforce laws to protect their massive pristine forests.
When people visit Bhutan they go not just to view the highest unclimbed peak in the world and its family of satellite peaks, but more to experience the people and their fabulous culture. Recognising this, the government has approved a number of farmhouse homestays so that people can experience first hand daily life of rural Bhutanese families. These homestays offer simple accommodation but a chance to meet local people and provide an authentic experience of life in Bhtuan. This holiday spends three nights in village homestays where meals may be taken with the families. In some cases you can try the hot stone baths, and perhaps play some archery, and look around the farms. This is just part of a walking holiday that includes hikes to temples, explores Bhutan's unique dzongs and townships and visits the 'hidden' valleys of Haa and Phobjikha. You will also attend a festival, a highlight of any visit to Bhutan.
As a climax you take a two day trek to see Taktsang cliff temple. Most people visiting Bhutan approach the Tiger's Nest temple from below as a return day hike. You take a much more special route camping overnight at Bumdra Lhakhang before descending to Taktsang. This is part of a pilgrimage route that locals use to gain merit in their search for enlightenment and provides a fitting climax to this varied adventure in the Kingdom of the Thunder Dragon.
---
At a glance
Grade: Gentle / Moderate
Gentle / Moderate
Duration: 16 days from the UK
Walks on: 4 days
On trek: 2 days
Max. Altitude: 3,990m/13,090ft, Chele La Pass, day 10
Guaranteed to run for a minimum of 4 clients
Maximum group size: 12
Land only joining city: Kathmandu
Accommodation types: Hotels, Homestays, 1 Night Camping
Festival:
The April departure attends the Rhododendron Festival.
The November departure attends the Black-necked Crane Festival.
Meal arrangements: Bed and breakfast in Kathmandu. All meals in Bhutan.
Itinerary overview
| Day | Activity |
| --- | --- |
| 1-3 | (This is the itinerary for our spring departure. Detailed itineraries for all departures can be downloaded below). Fly to Kathmandu. Fly to Paro and drive to Thimphu. |
| 4-5 | Day walks and sightseeing in Thimphu and Punakha. |
| 6-7 | Drive to the Phobjika Valley. Walks and sightseeing. |
| 8 | Drive to Thimphu attend the Rhododendron Festival at the Lamperli Botanical Park. |
| 9-11 | Return to Paro. Drive to Haa. Explore Haa town and walk in the Haa Valley. Overnight in a homestay. Return to Paro. |
| 12-13 | Bumdra Trek to Taktsang Temple. Camp by Bumdra Monastery. |
| 14-16 | Fly to Kathmandu. Fly to London. |
Leader: Local leader, Bhutan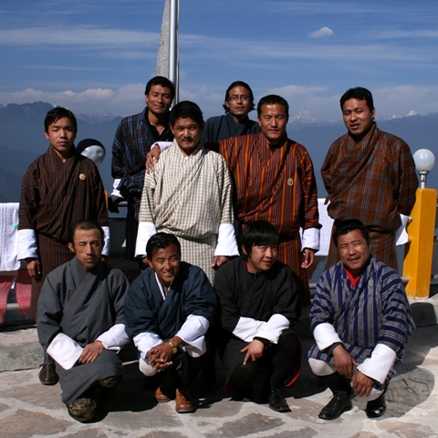 You will have an English speaking Bhutanese guide. Mountain Kingdoms have been working with the same partner in Bhutan since 1986. Their guides are some of the best in the Kingdom. They speak fluent English, as this is taught in all Bhutanese schools, and are fully qualified guides. The Tourism Authority of Bhutan insists that a Bhutanese trek or tour leader must pass his/her guiding exams in Thimphu before accompanying groups of foreign visitors. Guides receive regular 'top-up' training and 15 of our regular leaders have completed an extended training course run by Mountain Kingdoms in Bhutan.
---
Hidden Valleys of Bhutan Itinerary
Day 1 - Fly London to Kathmandu

Depart London on your overnight flight to Kathmandu.

Overnight: In flight

Day 2 - Arrive Kathmandu. Group transfer to hotel.

On arrival in Kathmandu you will be transferred to the Shangri-La Hotel. This is a very comfortable hotel situated to the north of Thamel, the tourist district of Kathmandu. It has a lovely garden with a swimming pool and several excellent restaurants. The bustle of Thamel, with all its restaurants, shops and bars, is a 20 minute walk or 10 minute taxi ride away.


Overnight: Shangri La Hotel, Kathmandu

Day 3 - Fly to Paro. Drive to Thimphu, 65 km - 1 hour.

Transfer to the airport for the short flight up to Bhutan. On a clear day the panoramic views of the Himalaya are sensational, including Everest and Kangchenjunga, but particularly exciting is the approach through the Bhutanese foothills and the landing, including a few steep turns to land at the tiny airstrip of Paro. Although you are at the mercy of the airline computer, if possible try to sit on the left hand side of the plane for the most spectacular views.

In Paro you will be met by your Bhutanese guide and will drive to Thimphu (65 km). En route you can stop to visit Tamchog Lakhang, a temple built in the 14th century. To reach it you have to walk across one of the ancient bridges built by the famous 'Iron Bridge' builder Thangthong Gyalpo. Thangtong Gyalpo was a great Buddhist master and also a pioneering civil engineer of the 15th century who is said to have built 58 iron chain suspension bridges around Tibet. He is often portrayed holding a section of iron chain in his right hand. This is just a short walk of about 15 minutes and the temple has a wonderful atmosphere of old Bhutan and is a lovely place to visit.

There should be time for some sightseeing in Thimphu depending on the flight schedule. Thimphu has an attractive valley location and is relatively small for a capital city although it has grown greatly in recent years. There are many places of interest to visit there. Initially you might like to drive up to see the giant Buddha figure and enjoy the views over the town.


Overnight: Phuntso Pelri Hotel or Similar, Thimphu

Day 4 - In and around Thimphu

This morning you will drive up to Sangaygang next to the Bhutan First Broadcasting Service tower, located in the North West of Thimphu. It is only about a mile drive up to the tower so if you feel like you would like to burn a bit more energy you can always walk up instead. From the tower you will have great views over Thimphu Dzong and the Thimphu valley as you start your walk contouring the beautiful hills to visit Wangditse Gompa. This walk should take around 1½ hours. You will have time to visit the gompa before you walk down for another 30 minutes to reach Dechen Phodrang Monastery. This monastery houses around 450 student monks enrolled in an 8 year course. The monastery is also home to some fantastic UNESCO monitored 12th century paintings. You will then meet your vehicle and be driven back to Thimphu.

In the afternoon there will be time to enjoy some sightseeing. There are many places of interest to visit in Thimphu, including the Tashichhodzong (the main government buildings), the Textile Museum, the Heritage Museum, the late King's Memorial Chorten, the National Library, the School of Painting and the silversmiths and pottery workshops. The Government Handicrafts Emporium is possibly the best place to look for local handicrafts. It is interesting to visit the handmade paper workshop to see the paper being made and there are some nice items made from handmade paper for sale there. You could also visit the Post Office to buy some of Bhutan's very attractive stamps, they will even print a valid stamp with your face on it while you wait! They also have good t-shirts on sale. While in Thimphu you might also like to visit the 'zoo'. This is in fact a very large enclosure (several acres) just above the town, containing only Takin, the very rare animal found exclusively in Bhutan and parts of China and possibly one of the most quirky and strangest looking animals you will ever see.


Overnight: Phuntso Pelri Hotel or Similar, Thimphu

Day 5 - Drive over the Dochu La to Punakha, 77 km - 3 hours. Visit Chimi Lakhang. Punakha Valley walk. Visit Punakha Dzong.

After breakfast you will drive east to Punakha. Leaving Thimphu you climb to cross the Dochu La Pass, 3,109m/10,200ft, a spot marked by 108 chortens. Here, weather permitting, you may take in a magnificent mountain vista. On clear days there are fabulous views of the eastern Himalaya but this is a beautiful spot even on misty days. You descend from the pass into the lush Punakha valley. Before driving on to your hotel in Punakha you may visit Chimi Lakhang a temple built by Drukpa Kunley. Known as the 'The Divine Madman', Drukpa Kunley was a 15th century Bhutanese lama and is Bhutan's most popular saint and one of the most important figures in Bhutanese folklore. Despite the apparent conservatism of the Bhutanese people, Drukpa Kunley with his unconventional views on sex is a great favourite throughout the country - the phallus symbols painted on the outside walls of houses date back to his teachings. Chimi Lakhang is especially popular with women who come here to pray for children. The temple is characterised by its many phallic symbols. The lakhang is reached by a short walk across the paddy fields and this short excursion takes about 45 minutes each way.

In the afternoon you will drive to do a lovely walk in the Punakha Valley. From your hotel you drive further up the valley and start your walk at a pedestrian suspension bridge crossing the Mo Chu River. You then follow up through paddy fields to the base of the hill where Khamsum Yuelley Namgyal Chorten is sited. The climb to the top is then quite steep, but takes only 45 minutes or so. This chorten was consecrated in December 1999 and contains sacred relics donated from Punakha Dzong. Leaving the grounds of the chorten via a different gate you descend past farmhouses and back over the suspension bridge to reach your bus for the short drive to Punakha Dzong. If there is time it might also be possible to make the very pleasant walk along the river back to Punakha through several villages.

The fabulous Punakha Dzong, one of the most spectacular and important in the Kingdom, is situated at the confluence of two rivers. In 1994 there was a major flood in the town which caused a lot of damage to the dzong, but it has now been beautifully renovated and is a real showcase for Bhutanese craftsmanship and painting. You are normally allowed into the dzong unless there are VIPs visiting.


Overnight: Zhingkham Resort Or Similar, Punakha

Day 6 - Drive to Gangtey, 78 km - 3 hours. Visit the Black-necked crane information centre and Gangtey Dzong. Walk in the Gangtey Valley.

After breakfast you will drive to Gangtey, 78kms away, which takes around 3-4 hours. From Punakha you drive down the valley to the town of Wangdiphodrang whose massive and important dzong unfortunately burnt down in 2012. It is now being reconstructed. You drive through the few houses which mark the former township of Wangdi and on up the beautiful wooded valley of the Dang Chu River and turn off to arrive at the Gangtey Valley.

Gangtey, also properly known as the Phobjikha valley, is a beautiful glacial valley, wide, wooded and unspoilt. It is particularly famous as a major wintering ground for Black Necked Cranes, which arrive here late October and stay until early spring before heading back to their breeding grounds in Tibet and Siberia. These birds are particularly respected in local culture and feature in local tradition as 'heavenly birds'.

You should have time to visit the fine 17th century Gangtey Gompa and then on to the Black-necked crane information centre. You then may have the chance for a pleasant walk in the Gangtey Valley.

Overnight: Farmhouse Homestay, Gangtey Valley

Day 7 - Walk in the Phobjika Valley.

The Phobjika Valley has glorious scenery and some lovely small villages and temples which you may visit. There is a network of footpaths through woods and meadows of the valley and a number of different walks are possible here; your guide will suggest a suitable one for your group. He will also no doubt regale you with some of the tales and legends of the valley including stories about two different types of yeti, a large one and a small one, which are rumoured to be found here.

Overnight: Farmhouse Homestay, Gangtey Valley

Day 8 - Drive to Thimphu. En route attend the Rhododendron Festival at Lampelri Botanical Park.

From your homestay you drive up over the pass leading out of the 'hidden' valley of Phobjikha and down and down to Wangdiphodrang. Passing through the town you cross the river and proceed along the valley before the long climb through dense forest which leads towards the Dochu La Pass, 3,109m/10,200ft.

Before you reach the pass you will enter the Lampelri Botanical Park to attend the annual Rhododendron Festival. Besides a traditional cultural programme there is an exhibition, arts and crafts, traditional games and a garden walk. Bhutan is known to have 52 species of rhododendron and the park itself boasts 29 of them. Lampelri Park is 47 sq kms in area and has 14.5 kms of 'eco trails'. The forest has plentiful wildlife which includes Red Panda, Musk Deer, Monal and Blood pheasants and it is said the Royal Bengal Tiger exists here too.

Later you continue over the Dochu La and on to Thimphu.

Overnight: Phuntso Pelri Hotel or Similar, Thimphu

Day 9 - Return drive to Paro, 65km - 1 hour. Day spent exploring Paro valley.

The Paro Valley has had a great strategic importance in the history of Bhutan and was in the past an important staging post on the trade routes with Tibet. Paro Dzong, situated on a rocky outcrop above the Paro Chu and with views down both sides of the valley was historically one of Bhutan's strongest and most strategic fortresses and before the rebuilding of the Tashidodzong in Thimphu it was also the seat of Bhutan's National Assembly. It is worth a visit en route to Dungtse Lhakhang. This is an unusual ancient temple built in 1433 by the iron bridge builder, Thangtong Gyalpo.

After driving back to Paro you will then have a full day to explore the Paro Valley. In the morning after visiting the impressive main dzong, you will drive up the valley to visit the ancient temple of Kyichu Lakhang. This is one of Bhutan's oldest and most beautiful temples and was one of 108 temples built in the 7th century by Songtsen Gampo an important early Tibetan king, to pin down the Bon demon which was thought to hover over the whole of Tibet.

Later, you can explore the Paro valley further. You may drive to the end of the valley to visit the ruined monastery/fortress of Drugyel Dzong. From here, if the weather is clear you may see Mount Chomolhari to the north.

Returning down the valley you might also visit the Ta Dzong. This 17th century circular building houses Bhutan's National Museum and has recently undergone a major restoration. The museum has a fantastic collection of Bhutanese national treasures with displays including depictions of a wide range of Bhutan's history and culture and an impressive collection of ancient thangkas featuring Bhutan's important saints and teachers. You will also find some fearsome festival masks, a collection of religious statues, some early stone carvings and the original iron links from the nearby Tamchhog Bridge.


Overnight: Hotel Olathang Or Similar, Paro

Day 10 - Drive over the Chele La Pass to Haa, 2,950m/9,700ft, 65 kms - 2 hours.

Today you leave the Paro Valley to drive over the Chele La Pass to Haa. On the way to the pass you will pay a visit to the temple of Dzong Drakha, a beautiful cliff temple spectacularly located on a broad ledge with vertical limestone cliffs above and below. There are lovely views from here. You will also visit Kila Nunnery located just below the pass.

Continuing up to the Chele La, a pass at 3,990m/13,090ft, in clear weather you will have wonderful views of the snow capped mountains to the west which mark the border with Tibet. You then descend on a long, long zig-zag road down into the Haa Valley. As you approach you will notice three almost identical conical hills in a line on the other side of the valley. These are believed by the locals to be the physical manifestations of three very important Buddhist saints. The left one is Manjushri (the god who holds the flaming sword which cuts the knot of ignorance), the middle one is Chenrizig (the Buddha of compassion of which the Dalai Lama is the human incarnation) and the right hand hill is Chana Dorji (this being the protector god of Bhutan). Collectively they are known as Rigsum (three hills). As you descend further you look down on the square yellow roof of the main monastery/fortress, Namgay Dzong. Spread around the dzong are the buildings of the Indian Army dating from the visit of President Nehru - the Indian army has a presence in Bhutan ostensibly to protect the kingdom from possible invasion from China. Although part of the dzong is used by the Indian Army the central tower of the Dzong is still used by the local people. The old town itself is just to the north-west and is really quite attractive with traditional two storey shops and a post office. There is a large school in Haa. In the afternoon you should have time for a little exploration in the Haa Valley.


Overnight: Farmhouse Homestay, Haa Valley

Day 11 - Day walk in the Haa valley. Drive back to Paro, 65 km - 2 hours drive.

Today you have much of the day in the Haa Valley. Initially it is worth driving up to the very top of the valley for an overview. This takes about 40 minutes (11 kms) and is a very pretty drive. From here you will get really good views of Haa Valley itself as well as over to the west to some of the mountains near the Tibetan border.

Coming back down towards the town you take a spur road to Talung village which is 20 minutes on a rough road. This village is situated in a small side valley and it's a good idea to take the vehicles to the top of the village and then walk down through the houses for a look at a typical Haa village. You may well receive 'invites' into one or two of the farmhouses.

You can rejoin your vehicle at the bottom of the village and then drive the short distance to the bottom of a track for a nice walk up to Yongto Gompa, an ascent of 100 metres which takes about 30 minutes. Yongto Gompa is perched on a ridge overlooking the main valley and is one of the oldest monasteries in Haa, thought to have been built in the 15th century. From here you walk steeply down the hill, 30 minutes and 200m descent, through pine trees, to Yangtha village. This is a large village on the floor of the main valley. In 2001 they suffered a huge fire which destroyed 12 houses. Amazingly, the fire left the temple of the village perfectly intact. After the fire the King visited the people of the village and paid for the reconstruction. The new houses are built in exactly the same traditional style and blend in remarkably well.

Return drive to Paro in the late afternoon.


Overnight: Hotel Olathang Or Similar, Paro

Day 12 - Start the trek to Bumdra. Camp beneath Bumdra Monastery, 3,800m/12,467ft.

After breakfast you will take a short drive to the starting point of the two day Bumdra trek. Here you will meet your trek crew and ponies, and then begin following a little trodden trail up from Paro Valley. Your initial ascent takes you up through forest to reach a ridge then to a clearing from where you will be able to see back down the Paro Valley. Continuing up, you next reach Chhoe Tse Lhakhang temple, nestled in the side of the mountain, where you can rest and enjoy fine views of Paro beneath and the snow-capped Himalaya in the distance. The final stage is now ahead of you as you ascend through ruins and thick forest to a high, open yak pasture bedecked with chortens and colourful prayer flags. This will be your campsite for the night at around 3,800m/12,467ft. The altitude should not be a problem having been in Bhutan now for 10 days..

Above the pasture sits the seventeenth century Bumdra Monastery, hugging the cliff face. After a chance to rest and enjoy the spectacular views from the campsite you can walk up to the monastery and explore its many caves where legend has it that a thousand angels, or dakinis, once convened. If you have the energy, you could also make the 45 minute climb of Namgo La just behind the monastery. Its 4,100m peak provides a natural viewing 'platform' to enjoy the commanding vistas of the surrounding mountains and valleys.


Overnight: Camp

Day 13 - Trek to Taktsang Monastery. Return to Paro.

After a tough day of ascent yesterday, today is all downhill. After breakfast at the camp, you will begin your descent. Following the monks' winding path down through larch and silver pine you can take your first welcome breather on the conveniently located deck chairs at the small hermitage of Yoselang at 3,300m. Continuing down the path you will shortly reach Zangto Pelhri Monastery, from where you can peer over the side for your first fantastic views down to the golden roofs of Taktsang Monastery. From here it's a steep half hour down a rock hewn staircase to Taktsang - an approach that very few people experience to reach the famed Tiger's Nest.

The monastery is perched some 600m/2,000ft up on a cliff overlooking Paro Valley and was said to be where the legendary Indian saint, Guru Padma Sambhava, flew from Tibet on the back of a tiger to defeat five demons, who were opposing the spread of Buddhism in Bhutan.

If open, you will be able to visit the monastery before continuing down to reach the car park where your vehicle will be waiting to take you back to your hotel in Paro, and your last night in Bhutan.




Overnight: Hotel Olathang Or Similar, Paro

Day 14 - Fly to Kathmandu. Transfer to hotel. Time at leisure.

On your flight back to Kathmandu there are fabulous views of the Himalaya in every direction. Try to sit on the right side of the plane for the best views. On arrival, you will be transferred to the Shangri La Hotel and the rest of the day is at leisure.

Overnight: Shangri La Hotel, Kathmandu

Day 15 - Day at leisure. Transfer to airport. Depart Nepal.

Kathmandu, Asia's former hippie capital, has a wonderful mixture of c rowded bazaars, Hindu and Buddhist temples, shrines and stupas, colonial and ancient architecture as well as more modern buildings. You could explore the bazaars and temple complexes of Durbar Square to best absorb the myriad impressions assailing your culture-shocked senses.

Later in the afternoon there will be a group transfer to the airport for your flight back to London.


Overnight: In flight

Day 16 - Arrive London.
Map
Map Key
Airport
Point of interest
Mountain Peak
Day walk in this area
Flights
Internal Transfers
Trek
---
2021
Dates
Availability
Land Only
Flight Inclusive from
Sat 10 Apr - Sun 25 Apr 2021
Available

Available

This departure attends the Rhododendron Festival
£2895 Book
£3690 Book
Thu 4 Nov - Fri 19 Nov 2021
Available

Available

This departure attends the Black-necked Crane Festival
£2925 Book
£3825 Book
Hold your place
Not quite ready to book? Why not call us on 0044 (0)1453 844400 to hold a no obligation place while you make up your mind?
Optional supplements
Single tent
From £30
Single Room Supplement
From £425
Insurance
No Surcharge Guarantee
No surcharges will be applied to your holiday after you book. Prices on this website are updated regularly. The Flight Inclusive holiday price, or Land Only holiday price, will be confirmed to you at the time you make your booking. There will be no surcharges after your booking has been confirmed.
Flight inclusive holidays
The 'flight inclusive' holiday prices shown on this website are based upon our preferred airlines and the best priced economy class fares we are able to secure at the time of publication.
We will be able to advise on fares with alternative airlines, upgrades to Business Class, and the options for flights from regional UK airports, please contact us for more details.
Booking your holiday
For the majority of our holidays, a deposit payment of £100.00 per person is required to secure your place(s), however a small number of holidays require a higher deposit - please refer to the holiday itinerary for more details. If the holiday departs within 60 days, a minimum deposit of £750.00 per person is required.
Book now!
Book your small group holiday securely online – click the 'Book' button next to your chosen departure or visit our How to Book page
Complete and return a Booking Form available to download here.
Call us on 01453 844400 and one of our travel specialists will talk you through the booking process.
Loyalty discount
Find out more
What's included
An English-speaking Bhutanese leader
All internal flights and domestic airport transfers
The use of a good quality down jacket and sleeping bag (when travelling to Bhutan via Kathmandu).
4* hotel in Kathmandu on a bed & breakfast, twin-share basis
Good standard hotel accommodation in Bhutan on a full board, twin-share basis.
Three nights in Bhutan Government approved farmhouse homestays with all meals
One night camping with all camping facilities (twin share tents) and all meals on trek
Camp staff to carry out all camp work
Bhutan Visa and Bhutan departure tax
Sightseeing where specified
Economy class return air fares from the UK & UK Departure Tax (flight inclusive only)
Single, timed, group airport transfers for international flights on arrival and departure
Carbon offsetting with the Ecoan Tree Planting Project (for clients taking our flight inclusive option)
A free Mountain Kingdoms kitbag
The opportunity to attend one of our pre trip meets in the Cotswolds
What's not included
Travel insurance
Visa fees for Nepal
Lunch and evening meals in Kathmandu
Optional trips
Tips
---
---
Review your holiday
Reviews
Read holiday reviews by Mountain Kingdoms travellers.
Overall score: 5.0 (Based on 8 reviews)
Unforgettable experience 05/12/2019
It was very good to have the mix of sightseeing and trekking. Walking in the beautiful countryside was a nice counterbalance to the temples and Dzongs, and gave an insight to everyday rural life. Seeing the Black Necked Crane Festival was one of the highlights, as was the trek to the Tiger Nest Monastery. Staying in a homestay was interesting - definitely worthwhile and an opportunity to have a Hot Stone Bath. It's a wonderful country - lovely people, stunning countryside - but be prepared to come home tired. To make the most of the time there, you inevitably have to move from hotel to hotel and there's not much down time.
Iona Whitaker, London
Hidden Valleys of Bhutan 28/11/2019
An excellent holiday full of variety and new experiences.
Philip Riley, Hampshire
Hidden Valleys of Bhutan 04/06/2019
The level of service received from Mountain Kingdoms was excellent, and I felt in safe hands. I enjoyed the freedom to visit a country that would otherwise be very difficult to reach without their expert support. Clearly Mountain Kingdoms has a unique depth of experience with regard to the Himalaya.
Mr J Townes, Bristol
Hidden Valleys of Bhutan 04/06/2019
The itinerary was perfect for us, the right balance between sightseeing, walking, trekking and local insights. The response from the staff in the UK was outstanding, for which Niki Morgan deserves a lot of credit for her professionalism.
Ms A Whittaker, Dorset
Hidden Valleys of Bhutan - highly recommended 28/04/2019
Having always harboured a desire to travel to Bhutan, but lacking the confidence to face the bewildering set of rules required to enter and stay in the country, we used Mountain Kingdoms to arrange the trip for us. Travelling as a couple, we joined a group of eight. The whole experience, from first contacting Mountain Kingdoms to arriving back from the trip, was excellent. Mountain Kingdoms adapted to our relatively late addition to the tour and gave sound advice as we prepared to travel. In-country, the quality of the itinerary was excellent and the expertise of the guides was incredibly impressive. We were looked after well, and they made sure we got the absolute most out of our limited time.
Jamie, Bristol
---