/
/
/
Holiday Tours
/
Tours
Our grading system explained
Gentle
Gentle / Moderate
Moderate
Moderate / Vigorous
Vigorous
Vigorous / Strenuous
Strenuous
Expedition Grade
What makes Bhutan so special?
Known as the 'Kingdom of the Thunder Dragon' by its people, Bhutan is a beautiful and profoundly spiritual country with striking mountains, vibrant Buddhist festivals and a fascinating traditional way of life. Whether you go on a cultural tour of Bhutan or a trekking holiday into its hidden valleys, Mountain Kingdoms is the Himalayan specialist with the expertise to give you an unforgettable experience and offers the very best cultural tours of Bhutan, trekking holidays and tailor made holidays to Bhutan in 2023 and 2024 and beyond.
Our walking and trekking tours in Bhutan will take you deep into the isolated mountains and valleys of the country. Our high mountain treks, including the Hidden Kingdom Trek, focus on trekking amidst the highest peaks and passes in Bhutan; other trekking holiday routes stray off-the-beaten-track, following old trade and smuggling routes rarely visited by foreigners.
Tours in Bhutan typically revolve around one of the country's many fascinating Buddhist festivals with amazing displays of national celebration and religious devotion. Our Bhutan tours also give you a unique opportunity to visit remote villages and experience the traditional Bhutanese way of life.
Whatever you want from your visit to this unique country, Mountain Kingdoms will have a trek or tour for you, and, if we don't, we can always help you to design your own! Alongside our standard itineraries, we also offer Tailor Made holidays to Bhutan, allowing us to create the perfect trip to suit your needs. Whether you take a trekking holiday along Bhutan's ancient trade routes, climb the highest mountains, explore remote villages or take a tour of Bhutan's main cultural centres and sights, a trek, tour or Tailor Made holiday in Bhutan will take you right to the heart of the Kingdom of the Thunder Dragon.
Mountain Kingdoms has been organising cultural tours and walking and trekking holidays to Bhutan for more than 30 years, so we know the country inside out.
Bhutan Holidays - Walks, Treks & Tours

Timeless traditions, unique architecture and stunning Himalayan scenery combine to make Bhutan the most fascinating of all the Himalayan kingdoms.
Visit the key cultural sights including the Tiger's Nest Monastery and Punakha Dzong
Explore picturesque villages and get under the skin of authentic Bhutanese life and culture
Join the celebrations at a Bhutanese festival
Stay in a 5 star hotel in Kathmandu
November departure led by Michael Rutland OBE
Flight inclusive from £4465, Land only from £3270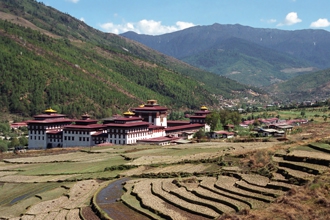 Explore the artistic and cultural heritage of ancient Kathmandu
Enjoy stunning views of the Himalayan mountains
Visit all the key cultural sights in Bhutan, including iconic Taktsang Monastery
Experience traditional Nepalese village life in Bandipur
Enjoy time in scenic Pokhara with a boat ride on the lake
Stay in comfortable hotels throughout
Flight inclusive from £4465, Land only from £3470
---
Introduction
The tiny Kingdom of Bhutan in the eastern Himalaya, has successfully remained isolated from the outside world for many centuries. It is a land of supernatural legends, ancient monastery fortresses and, even today, the Bhutanese people live their lives according to time-honoured cultural traditions and deeply held Buddhist beliefs.
Our Definitive Cultural Tour of Bhutan will take you 'under the skin' of Bhutanese society into the interior of the Thunder Dragon kingdom. You'll have the chance to visit villages, monasteries and any festivals that may be taking place. You can also discover the Kingdom on two wheels on our Cultural Cycling Tour of Bhutan.
The hills and valleys of Bhutan offer a superb range of walking and trekking tours with paths that will take you to secluded villages, past crumbling temples and through deep forested valleys. For easy-paced walking holidays that combine superlative scenery with visits to the key cultural sights our Gentle Walking Bhutan or Gentle Walking Eastern Bhutan won't disappoint.
For more energetic exertions, Bhutan offers a full range of trekking experiences. The Druk Path Trek makes an excellent first Bhutan trekking holiday taking you through magnificent mountain country between Paro and Thimphu. You can also trek into the Hidden Valleys of Bhutan - spending some nights in traditional farmhouse homestays for a really authentic experience.
For the serious trekker, the high mountains of Bhutan provide a magnificent and rewarding challenge. The base camp at Mount Chomolhari is a great first objective, but push on over high passes on our Lingshi Laya Trek and you will reach the remote villages of Lingshi and Laya where you're sure to get a warm welcome. And, if you're feeling extra adventurous then the Lunana Snowman Trek is undoubtedly the ultimate Himalayan trekking challenge.You can also embark on a journey of discovery on our Rodang La Eastern Bhutan trekking holiday that ventures into the least visited areas of Bhutan following an ancient trading route.
From gentle walking and easy-paced tours to a challenging trek, Bhutan rewards all visitors with a wonderful holiday.
Related news and articles
Eastern Bhutan - discover the other side of the Thunder Dragon Kingdom
What are the top 10 things to see in Bhutan
---
Key Facts
Capital city: Thimphu
Arrival airport: Paro
Population: 819,000 (approx. 2018)
Area of country: 38,394 sq km, 14,824,006 sq mi
Currency: Bhutanese Ngultrum
Time difference: GMT plus 6 hours
Popular dishe/s: Ema Datsi (Chillies and cheese)
Popular drink/s: tea (ngad-ja), bang chhang (homebrew beer), arra (rice spirit)
Power supply: 220 – 240 volts
Sockets: Mainly 2-pin round although you may also find 3-pin round or UK style sockets
Official language: Dzongkha
Religion: Buddhist 75%, Hinduism 25%
Did you know? The strange looking takin is the national animal of Bhutan.
Visa: British visitors to Bhutan require a visa. Mountain Kingdoms obtains visas on behalf of their clients travelling to Bhutan.
FCDO advice: FCDO travel advice
---
Climate
When is the best time to travel to Bhutan?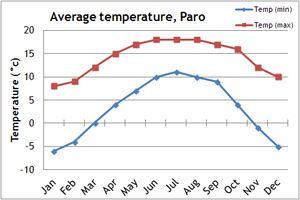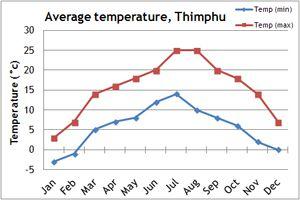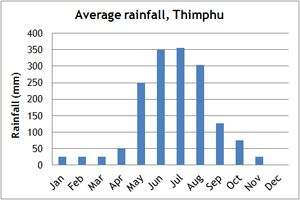 The best time to visit Bhutan is in the spring and autumn. In the spring months of March, April and May you are likely to see blue skies and warm sunshine in the mornings with a build-up of cloud in the afternoon. During the spring months the beautiful rhododendron and magnolia will be in full bloom bringing a wealth of colour to many walking trails. Temperatures can be hot when the sun is out so we would advise wearing sunscreen and a sunhat – especially at higher altitudes. The Paro festival is also held in the spring at Paro Dzong and many of our group holidays include a visit to the festival.
Autumn is considered to be the very best time to visit Bhutan. At this time of the year skies are generally clear with little cloud and rain and the temperatures are lovely and warm; ideal weather for walking or trekking in Bhutan. With the passing of the summer rains, the valleys are lush and verdant and many of Bhutan's unique species of flora can be seen at their best. Autumn is also the season when the impressive Thimphu tsechu is held.
For more information about Bhutan's festivals, and when they are held see our festival blog. Some of our group holidays are timed to festivals and we can also organise a Tailor Made holiday to include time at a tsechu.
In winter in Bhutan, the days are generally dry, clear and bright, though the evenings will be cold, and high passes can be blocked by snow. Although a high-altitude trek may not be possible, winter can be a great time to visit Bhutan on a cultural tour or gentle walking holiday, as there are fewer tourists. Bhutan is also a great option for those looking to book a Christmas getaway.

It is possible to travel to Bhutan throughout much of the year, but as our climate charts indicate, the summer months are the monsoon season so the weather is hot and humid with heavy rainfall. We therefore don't organise any of our group holidays to depart in June, July or August.
It should be noted that the great variations in elevation in Bhutan have a significant impact on temperature and rainfall. The lower altitudes in the south of the country bring a more tropical climate with the greatest precipitation. Whilst the Himalayan north is colder all year round and the highest peaks permanently covered in snow. Even in the central region of Bhutan, where most tourists visit, the higher you are the cooler it will feel. We therefore recommend carrying a couple of additional layers with you, including a good waterproof, windproof jacket, especially if you are out walking.
Whatever time of year you choose to travel to Bhutan we have a comprehensive range of small group tours, treks, walking and cycling holidays, or we can create the perfect Tailor Made Bhutan holiday for you.