/
/
Article
/
A beginner's guide to Bhutan
A beginner's guide to Bhutan
As Bhutan travel experts, with a long-held passion for the country, we've put together a beginner's guide to shed some light on this most fascinating Himalayan kingdom. Mountain Kingdoms have been organising cultural tours and walking and trekking holidays to Bhutan for more than 30 years, so we know this beautiful and mysterious country inside out.
As Bhutan small group and tailor made travel experts, with a long-held passion for the country we've put together a beginner's guide to shed some light on the most fascinating part of the Himalayan Kingdoms. Mountain Kingdoms have been organising cultural tours and walking and trekking holidays to Bhutan for more than 30 years, so we know this beautiful and mysterious country inside out.
Where is it?
Part of the Himalaya, Bhutan is a small country sandwiched between India and Tibet, just east of Nepal and north of Bangladesh.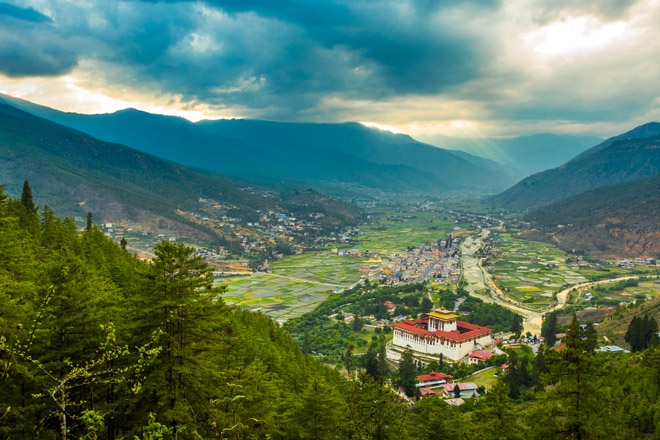 Paro - The starting point for most visitors to Bhutan
How do I get there?
Tourism is still pretty new to Bhutan, and was prohibited until 1974, when the Government decided to open its isolated country to travellers in an effort to raise revenue and promote Bhutanese culture. Their philosophy of low volume, high value tourism means that visitor numbers are kept at a sustainable rate by not allowing independent travel. It's only possible to visit through a registered tour operator like ourselves.
To reach Bhutan there are regular flights from Kathmandu, Delhi, Bangkok or Singapore – you cannot fly direct from the UK. Alternatively, if you are visiting Eastern Bhutan you can drive there from India via the border crossing at Sandrup Jonkhar.
When is the best time to visit?
Spring and autumn are considered the best time to visit Bhutan when the weather is generally warm and dry, the trails are open and the valleys are lush and verdant.
If you are trekking, October and early November provide the best window with frequent blue skies and dazzling views with temperatures of up to 20 degrees. March and April are also prime months to trek, suiting those who enjoy rhododendrons and other Himalayan flora.
If you are travelling to Bhutan on a walking holiday or cultural tour, you can even visit in the winter months. In fact, as long as you avoid the monsoon months in the summer, there will always be something exciting to see and do.

Which festivals should I visit?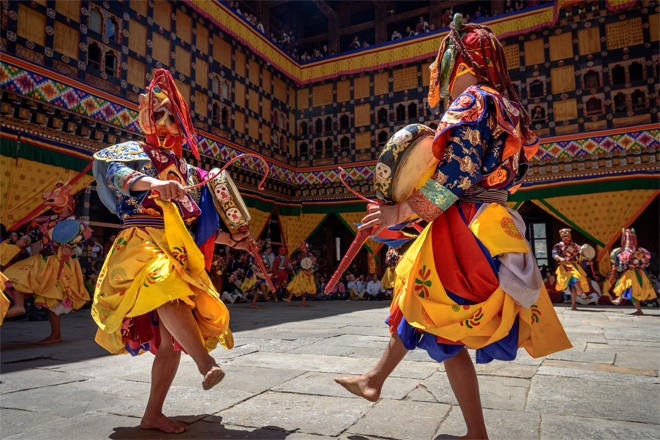 Dancers at Paro Festival
Another thing to keep in mind when planning a holiday in Bhutan is of course the festivals. No visit to the Thunder Dragon Kingdom would be complete without.

Festivals in Bhutan perfectly encapsulate the exotic, other worldly culture, serving as both a sacred and social celebration. Thimphu Tsechu in the autumn and Paro in the spring are the most popular festivals due to their grand scale. Both are of great religious significance, celebrated through music and vibrant masked dances. If you prefer smaller crowds, there are many small local festivals that offer a real insight into the Bhutanese 'at play'. The Black-necked Crane Festival, celebrating the arrival of this endangered bird through song, dance and theatrical performance, is another great spectacle.
What's the accommodation like in Bhutan?
On our cultural tours or gentle walking holidays in Bhutan you'll be staying in good standard tourist hotels with rustic charm and modern amenities. If you fancy travelling in style there are now several premium quality hotels in Bhutan that offer real indulgence and the highest standards of service and facilities – we can include some of these hotels on a tailor made holiday.
Some of our trips, such as Hidden Valleys of Bhutan, offer the priceless opportunity of a homestay where you'll experience the lives of the local people, and gain an insider's view of Bhutanese culture.
And for the trekkers you'll be out in the Himalayan wilderness camping in tents and enjoying a first-rate camping service with full porterage, great food and top quality equipment.
What are the main cultural attractions?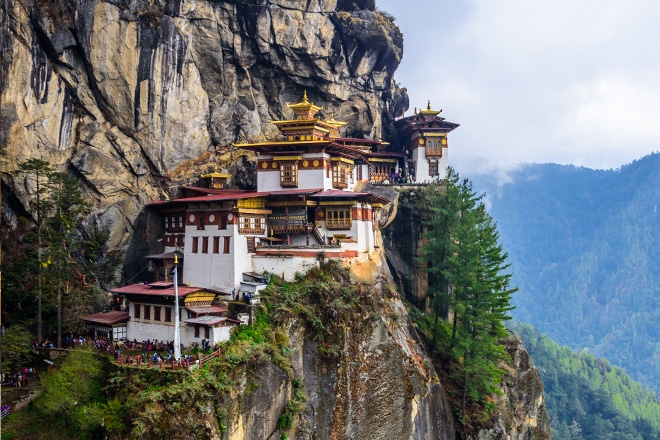 Taktsang Monastery
Tiger's Nest Monastery should of course be at the top of your list of must see attractions. Perched dramatically on a cliff above the Paro Valley this very photogenic attraction has genuine wow factor. Bhutan is renowned for its impressive dzongs - these unique, and often ancient buildings act as both fortresses and administrative centre. With a dzong in every town you'll be sure to visit a few on your visit. All are spectacular but there's one that certainly stands out - Punakha dzong. Situated at the between two rivers, its steep white walls topped with red and gold roofs and embellished with ornately carved wooden windows make for a magnificent sight.

The capital of Bhutan, Thimphu, has many attractions to entertain and inform tourists, including the Tashichhodzong (the main government buildings), the Textile Museum, the late King's Memorial Chorten and the School of Painting to name but a few. There is also a fascinating riverside market full of local produce where you can pick up a great souvenir. On the high road between Thimphu and Punakha is one of Bhutan's most scenic viewpoints, the Dochu La Pass. Marked by 108 memorial chortens, the 10,000ft high pass offers a stunning 360 degree panoramic view of the Himalayan mountain range including Gangkar Punsum – Bhutan's highest peak at 7,550m/24,770ft.
What's the food like?
Just like the country itself, the local cuisine of Bhutan has maintained a unique character, influenced somewhat by its neighbours, China, Tibet, and India. Overall dishes are less oily than Chinese or Indian food and spicier than Tibetan. The most traditional meal you'll find is Ema Datshi, a curry traditionally made from chili peppers and yak's cheese which packs a hefty punch in the spice department!
A fun fact about Bhutan is that even though it's a Buddhist country, many people still eat meat. The government does not allow the killing of animals for consumption so all their meat is imported from neighbouring countries, mainly India.
Is it good for walkers and seasoned trekkers?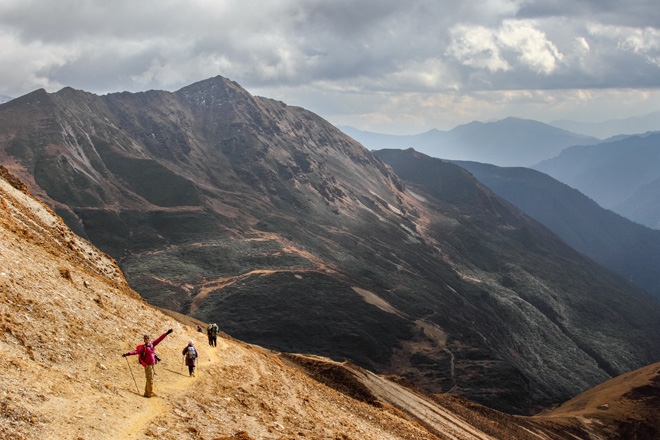 Trekking above the Paro Valley
Bhutan is an absolute haven for walking or trekking enthusiasts with so much to see: towering peaks, picturesque valleys, attractive villages and spectacular dzongs. A walking holiday such as our Gentle Walking Bhutan, is the ideal introduction to all the premier sights of the Thunder Dragon Kingdom. But Dzongs and Tsechus are just the starting point of its attraction. As the roads and tour buses disappear you reach an untouched mountainous wilderness accessible only through trekking. There really is a trek for everyone from moderate all-rounders with superb scenery and cultural highlights such as the Druk path trek, to more challenging, high mountain adventures like the Lingshi Laya trek.

What birds & wildlife can I expect to see?
Although Bhutan is a relatively small country it has an immense variety of birds and wildlife. Expect to see weird and wonderful creatures such as blue sheep, golden monkeys, clouded leopards, yaks and maybe even a yeti or two… more likely though you should look out for the takin - Bhutan's national animal, a rather unusual creature with the features of a goat, a cow and a moose combined. During the winter months you may find the revered Black-necked crane, a whitish-grey medium sized crane, with a black head, red crown patch and black upper neck and legs.

Myths & legends?
A place shrouded in mystery, Bhutan holds many supernatural tales, myths and legends – often connected to mountains, lakes and other natural features. In fact all mountains in Bhutan are considered sacred and it is forbidden to climb them. This is why Gangkar Punsum remains the highest unclimbed mountain in the world.
One of the legends you will no doubt encounter in Bhutan is linked to Taktsang Monastery – the Tiger's Nest – the must see sight for all first time visitors. It is believed that a man named Guru Rinpoche, a Buddhist monk, flew to Paro Taktsang from Tibet on the back of a tigress, the tigress is said to have landed in the cave within the monastery where Guru Rinpoche then meditated for 3 years to conquer a demoness plaguing Buddhism in Bhutan. In the late 17 th century, Guru Rinpoche is said to be reincarnated in a man called Gyalse Tenzin Rabgye who constructed Taktsang Monastery around the cave. Numerous miracles are associated with the monastery, such as mysterious flowers that appear in the air, only to disappear before touching the ground. The Guru has also been spotted both inside and outside the cave at the same time.
Where can I find a yeti?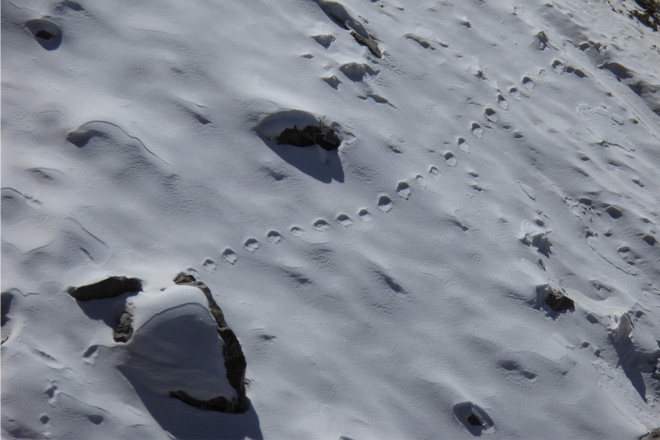 Yeti Tracks in Bhutan
In Bhutan the yeti is known as the migoi. There are many myths and legends about this very elusive creature. It tends not to frequent the more popular areas of western Bhutan – more likely to encounter signs of a yeti in Eastern Bhutan. There's even a Migoi National Park in the far east of Bhutan – an area preserved for yetis to run wild! The Rodang La, also in the east, is known as a bit of a yeti 'hot spot'. The locals have many tales to tell of strange noises and mysterious sightings. Even if you don't see a yeti here you may well hear one whistling, you should also be on the lookout for unusual footprints as folklore has it that the migoi has the unique ability to walk backwards!

So that's our beginners guide to Bhutan, if you'd like experience this truly unmissable destination for yourself then take a look at our treks, cultural tours and walking holidays here and find a holiday that's right for you.