/
/
Article
/
2021 Photo Competition of the Year
2021 Photo Competition of the Year
We love to share our favourite travel memories and unforgettable experiences, and what better way to do that than with our Mountain Kingdoms Photo of the Year Competition. Between now and December, we'll be giving away Mountain Kingdoms Water-to-Go bottles to ten lucky monthly winners and a £250 Mountain Kingdoms holiday voucher to the overall competition winner.
2021 Photo Competition of the Year Winner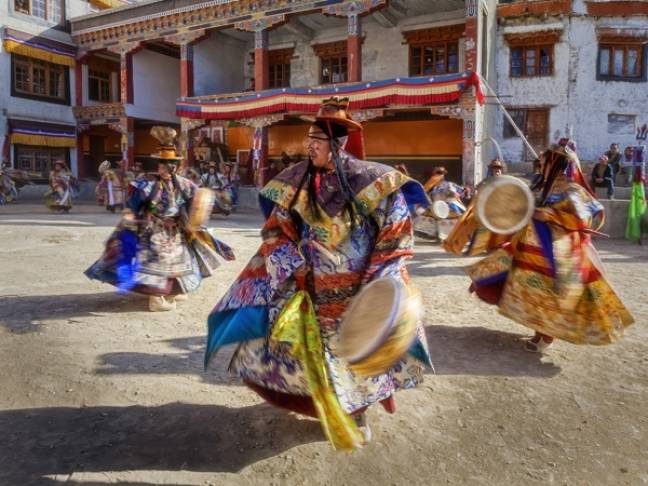 We had a superb shortlist of monthly winners from which to select our travel photo of the year, but after much deliberation and debate our winner was this stunning festival image taken in Ladakh by Chris Martin. We simply loved the colour, movement and energy of the dancers, as well as the technical achievement in capturing that moment. Chris has told us how he did it...

'I was travelling with my American photo friend and we had hired a 4x4 in Leh to drive us to spend a couple of nights in Lamayuru. We were up at first light to walk up to the Monastery. We were lucky to be the only foreigners on site amongst a small group of local villagers. Suddenly out of a doorway in the courtyard came monks dressed in amazing finery. They then started to dance in total silence. The only sound was the swooshing of their garments ! It was quite eerie ! The dance went on for around ten minutes in which time I managed to acquire some interesting pictures.'
Chris was using a Canon 5D Mk3 with a Canon 15-35mm f2.8 lens.
Many congratulations to Chris, his prize is a £250 voucher towards a Mountain Kingdoms holiday. We look forward to seeing what brilliant photos he takes on his future journeys.
We would also like to to send our commiserations to the other finalists and say a very big thank you everyone who has submitted photos for the competition. They've given us a great deal of joy and inspiration, especially during this year when travel has been so difficult. Hopefully we'll all be out and about again this year, capturing more fabulous images of the people and places around the world. Happy travels!
'Simply the Best' - Our December Winner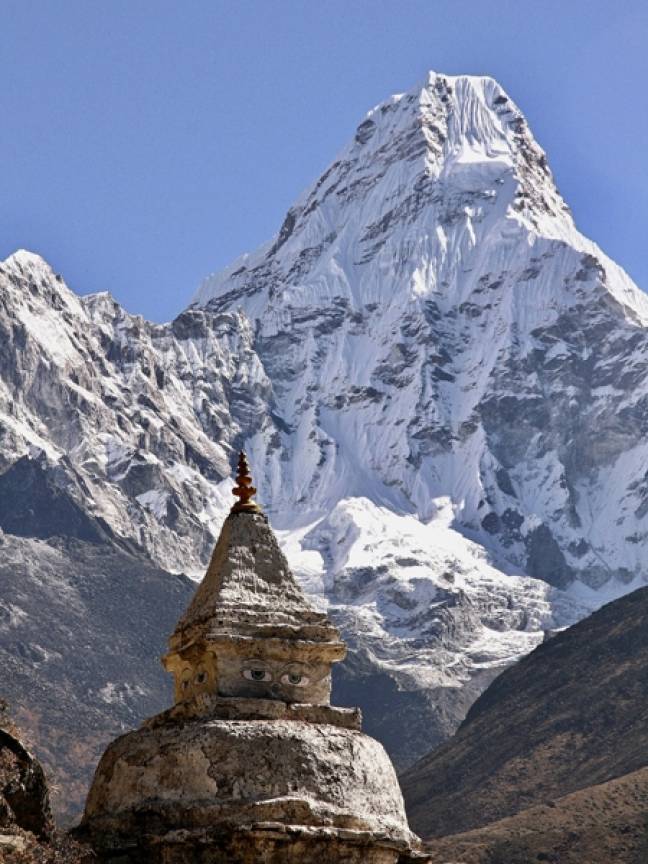 Our final winner for 2022 is Chris Holland with this superb photo of Ama Dablam in the Everest region of Nepal. Not only has Chris captured the beauty of this magnificent mountain but the stupa in the foreground (with its slightly cheeky expression) adds real interest and character as well as a sense of symmetry and scale between the man made and natural worlds. Many congratulations to Chris who wins our last Water-to-Go bottle of the year.


Our November 'Walking the World' Winner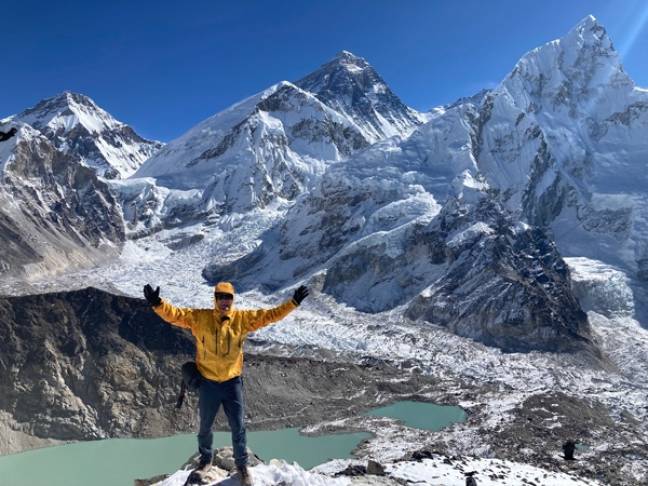 This stunning image was taken from the small peak that overlooks Everest Base Camp on a perfectly clear and sunny day this October. The photo really made us smile and shows the pure joy of being in such a special place especially at a time when very few trekkers had made it on to the trail - a rare privilege indeed. For those of us who've stood in the same place it brought back many happy memories and for those of us who've yet to get there it made us want to go. Congratulations to Miles.
'Asian Adventures' winner for October...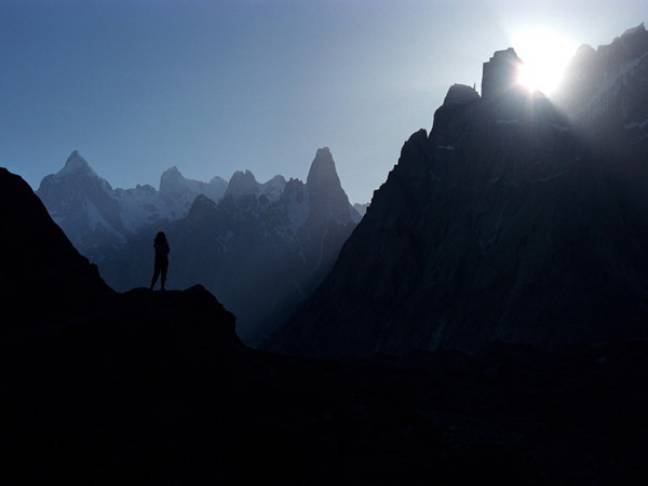 Our latest Photo Competition winner is Andi Harrison with this stunner of an image taken at Urdukas in the heart of the Karakoram Mountains in Pakistan. The rays of the sun bursting through the gap in the mountain peak, silhouetting the lone figure, are what makes it so intriguing and arresting. It certainly hints at a great Asian Adventure - far, far from the outside world.

September 'Local Life' winner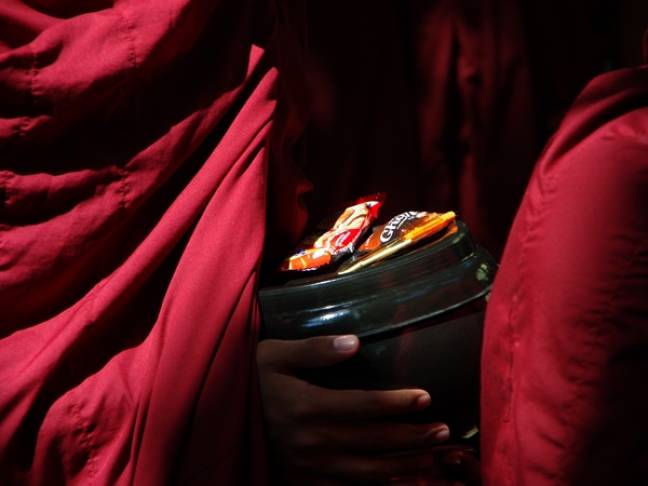 This creative, close-up image taken by Roy Stout in Burma is our September photo of the month. We loved the way the light falls across the monk's red robes as well as on to the sweets and pen on top of the offering bowl - highlighting both the ancient and modern worlds. The sweets would have been given to the monk by the local people as part of a daily Buddhist ritual of collecting alms.
August's 'Awesome Americas' winner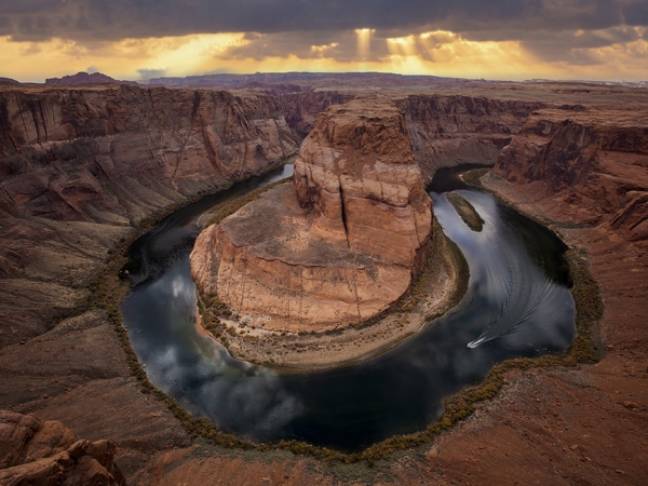 We had some cracking entries in August, but after much deliberation, we chose Chris Martin's stunning picture of Horseshoe Bend in Arizona as our monthly winner. Chris has really captured the evocative light and elemental nature of the landscape, whilst the tiny boat circling beneath the rock faces adds a sense of scale and movement. We felt that he'd managed to elevate a well-photographed scene into something truly awesome!

Our July 'High Point Hurrah' winner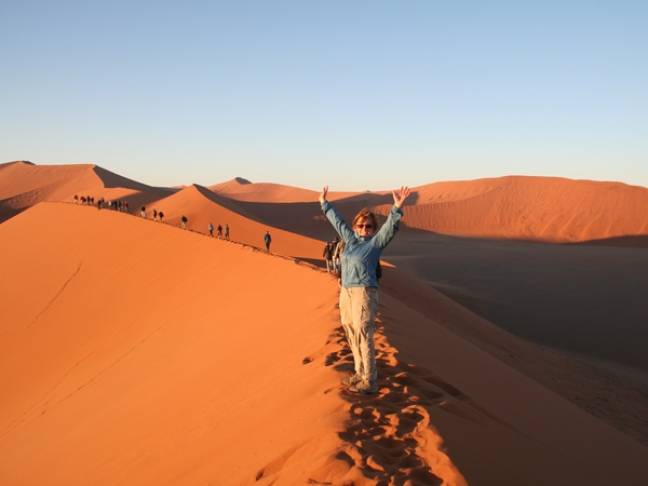 The winner of our July competition is Jonathan Grice with this engaging image taken in Namibia on top of the famous Dune 45 in the Sossuvlei region. The dune stands at over 170m tall and was clearly a high point in every way on this holiday. Congratulations to Jonathan who receives a Water-to-Go bottle and entry to our grand prize.
Our winner for June on the theme of 'The Golden Hour'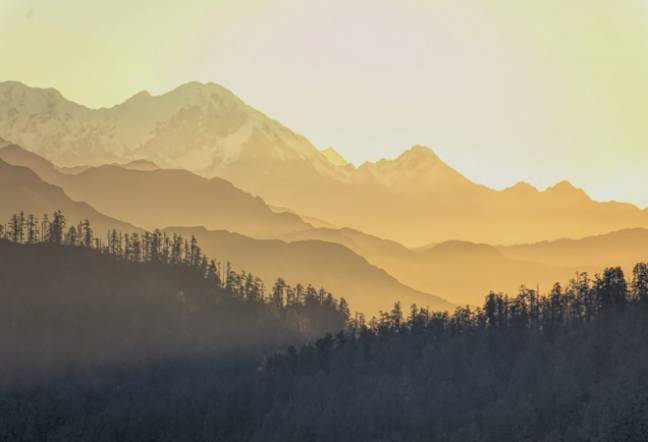 Anne Frigon's gorgeous image of the Annapurna mountains at dawn is our deserved winner for June. Her image is rich with the golden hues of sunrise and we love the way the layered scenery leads our eye from dark to golden bright. Many congratulations Anne.
Our May winner on the theme of Culture & Tradition
This stunning image, taken by Chris Martin at festival in Ladakh, perfectly highlights the vibrant colour, pulsating energy and swirling movement of the dancers at a traditional Buddhist festival in the Himalaya. Congratulations to Chris for capturing the moment.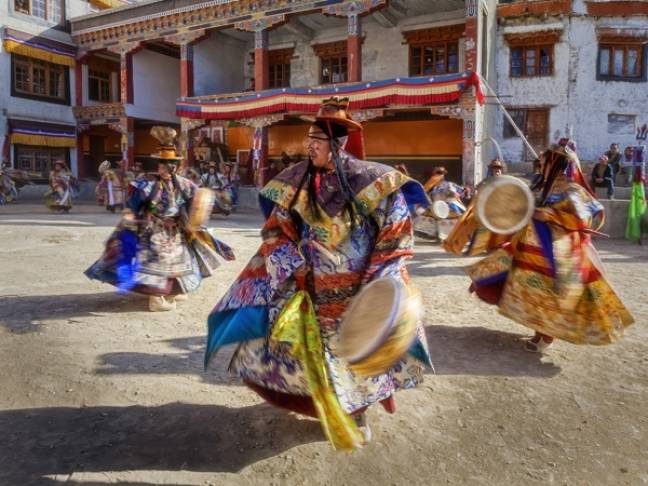 Our April winner on the theme of the the Natural World
This beautiful, ethereal image of flamingoes wading on a salt lake in Bolivia was unanimously declared our winning image for April. Many congratulations to Jane Norman.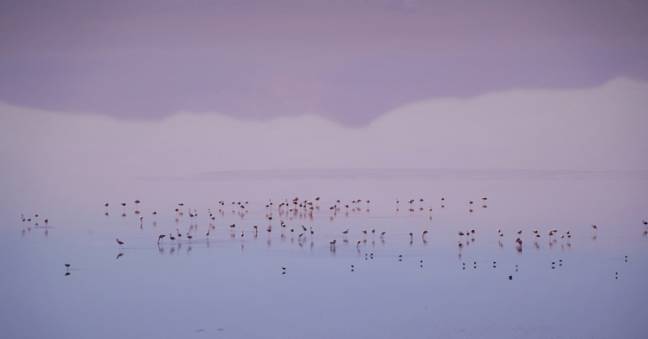 Our March winner on the theme of Epic Himalaya
Congratulations to Kate Robinson for her superb picture taken en route to Everest Base Camp - it captured the very essence of Epic Himalaya for us and made us want to be there.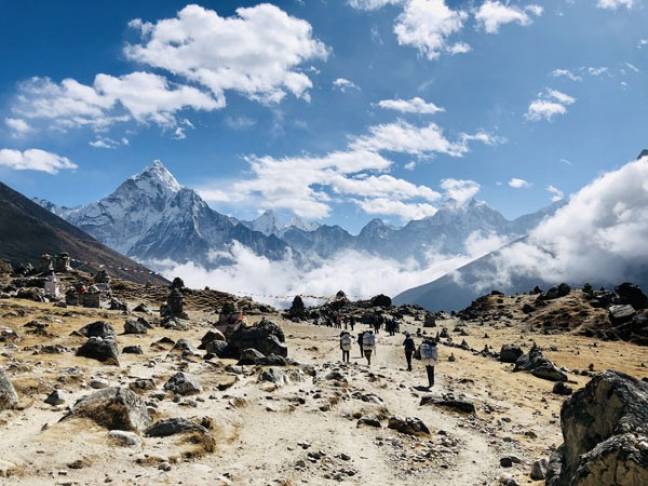 How to enter
Email up to three images each month to harry@mountainkingdoms.com. The images must reflect the monthly theme in order to be considered for judging.
Images must be high resolution, jpg format and must be originals. For further details of image requirements see the Terms & Conditions below.
Images can be taken in any destination (outside of the UK) and on any holiday, regardless of who you travelled with.
Please read the full Terms & Conditions at the bottom of this page before submitting entries. Any entries received will be bound by the terms.
Prizes
10 monthly prizes of a Mountain Kingdoms Water-to-Go bottle. Monthly winners will be shortlisted for the overall competition prize.
A prize of a £250 voucher for the image selected as the overall competition winner. The voucher can be redeemed against any Mountain Kingdoms holiday.
All prize winners will be selected by a panel of Mountain Kingdoms staff and notified by email. Monthly prize winners will be notified within 2 weeks of the end of the previous month. The overall winner will be notified within four weeks of the competition ending on 1st January 2022.
Winning images will be published on our website, our social media platforms and our enewsletters.
Previous winners
From quirky creatures to majestic landscapes and timeless vistas, our previous winners have encapsulated a spirit of fun and adventure and captured the beauty of the amazing world we live in.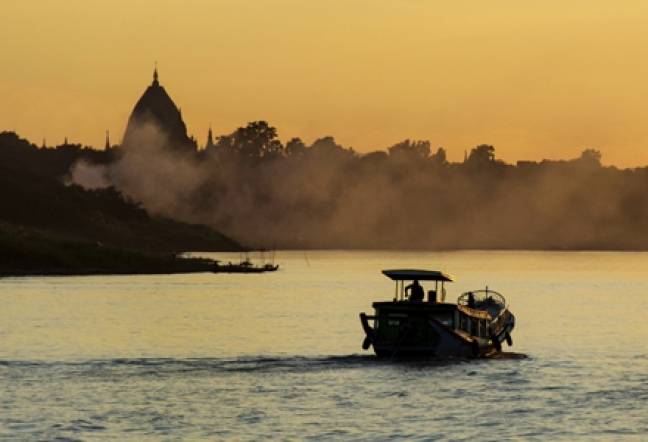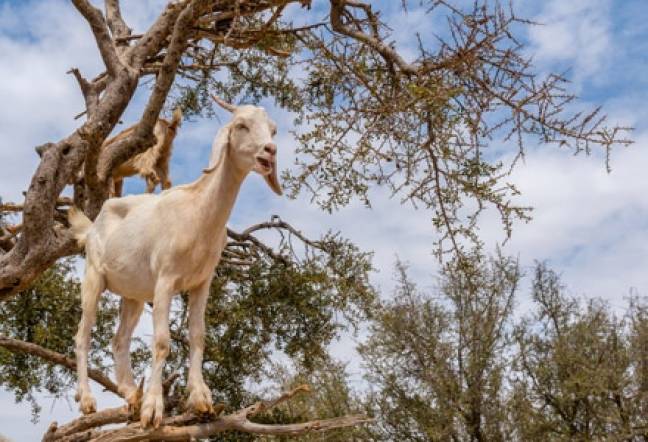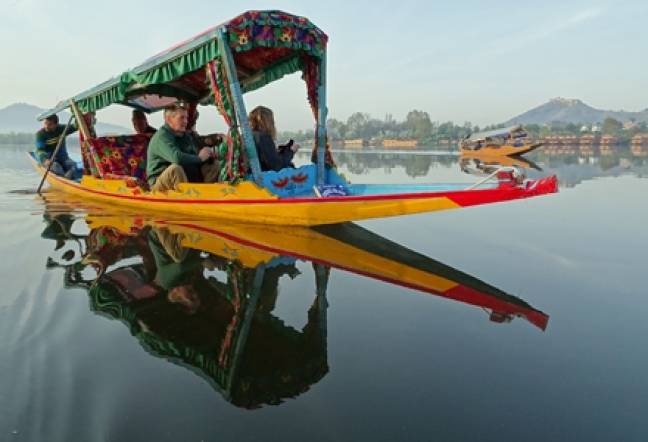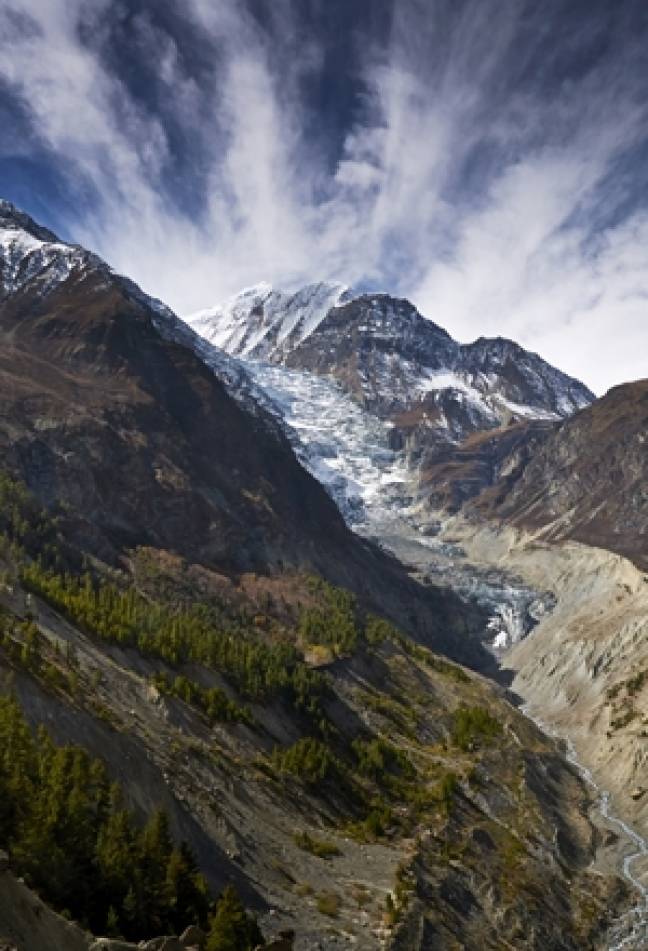 Terms & Conditions
General entry requirements and competition rules
Entry will be via email only and limited to 3 images per entrant per monthly competition. Images can only be submitted once.
Each monthly winner will be selected from all images submitted during the period, as long as they meet the requirements laid out in these Terms & Conditions.
An overall winner will be selected from the 10 monthly competition winners after the competition closes on the 1st January 2022, 11.59pm.
Copyright remains with the entrant.
The person entering the competition must have taken any images they submit and hold their sole rights.
For all images entered in the competition, Mountain Kingdoms has permission to use the images, free of charge and without prior permission, in any marketing materials including Mountain Kingdoms' website, social media platforms, enewsletters and any printed marketing materials. Mountain Kingdoms will accredit the author whenever possible but cannot guarantee it. Images can also be used to promote the photo competition.
Any personal data required to enter the competition will be used and stored in accordance with Mountain Kingdoms' privacy policy.
Entrants must be 18 years or over.
Images that have previously won the Mountain Kingdoms Photo of the Year Competition cannot be entered.
Images that have already been entered in one month of the 2021 Photo of the Year Competition, can be re-entered in another month as long as they are appropriate to the monthly theme. Winning entries cannot be re-entered.
The competition excludes all employees of Mountain Kingdoms and their families.
By entering the competition, participants will be deemed to have accepted and be bound by these terms and conditions.
Mountain Kingdoms reserves the right to amend these terms and conditions as necessary at any time.
The competition and these terms and conditions will be governed by English law and any disputes will be subject to the exclusive jurisdiction of the courts of England.
Image requirements
Photos must reflect the monthly competition theme. Photos that do not, won't be considered for judging.
Images must be in jpg format.
The image must be the original work of the entrant.
Minor digital adjustments (basic cropping, saturation, levels, colours, curves, contrast, sharpening) are allowed but must remain a faithful representation of the original scene. You cannot add or remove subjects. De-saturated black and white images are allowed.
By entering the competition you confirm that, if a person is a subject in your picture, you have had their permission to take the photo and to submit it to the competition.
Prizes and award of prizes
A monthly prize of a Mountain Kingdoms Water-to-Go bottle will be awarded for the best photo selected from all the valid entries. Entries from previous months will not be considered.
The monthly winners will form a shortlist from which will be selected the overall winner who will receive a £250 'voucher' towards the cost of a Mountain Kingdoms holiday.
The winners will be chosen by a panel of Mountain Kingdoms' staff.
Mountain Kingdoms will contact all monthly winners by email within 2 weeks of the end of the preceding month. The overall winner will be notified by email within 4 weeks of the end of the competition.
Winners will be announced on Mountain Kingdoms' website, Facebook, Instagram and Twitter pages and in newsletters and other marketing communications.
Prizes are non-transferable and no cash alternatives are available.
The 'voucher' will be redeemable against the value of any Mountain Kingdoms holiday and must be redeemed by 31st December 2022. The 'voucher' can be used in conjunction with a Mountain Kingdoms Loyalty Discount if applicable.