/
/
Article
/
Planning a trip to Bhutan? What you need to know before you go.
Planning a trip to Bhutan? What you need to know before you go.
Visiting the tiny Himalayan kingdom of Bhutan has long been considered beyond the reach of the 'average' traveller due to perceived restrictions on entry and relatively high holiday prices. But those who have ventured into the Thunder Dragon Kingdom have been rewarded by the enthralling culture and spellbinding scenery of a country which uniquely prioritises environmental sustainability and the gross happiness of its people over mass tourism.

Having closed its borders for almost three years during the Covid pandemic Bhutan is again welcoming visitors but with some major changes to its tourism policy and a renewed commitment to its deeply held principles.
Here are the key things to know if you are planning a visit to this remarkable country.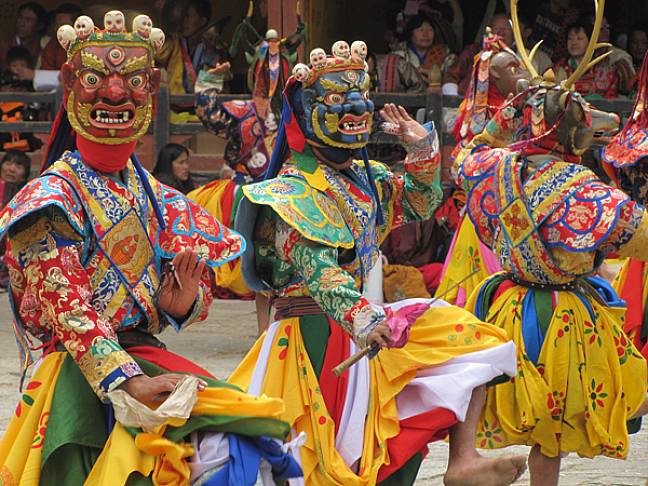 Are the number of visitors to Bhutan restricted?
No is the short answer. There used to be an official limit of 65,000 visitors per year but this has not been in place for many years. Instead, a daily tourist tax, limited flights, hardly any road access, and the requirement for tourists to use an approved tour operator rather than travel independently have all meant that Bhutan has naturally attracted fewer visitors and retained an air of exclusivity. Despite this there were over 300,000 visitors to Bhutan in 2019 revealing its growing popularity as travellers searched for experiences beyond the norm.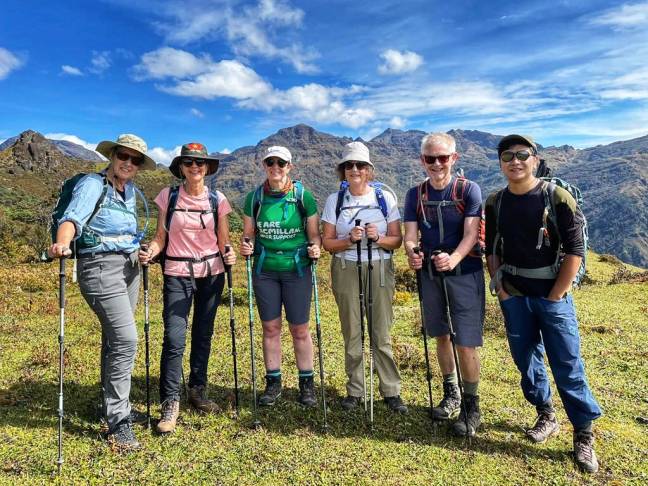 What is Bhutan's tourist tax?
Until Bhutan closed its doors to the outside world at the start of the Covid pandemic, it had operated a very different tourism model to any other country whereby all international visitors (except those from India) were required to pay a daily tourist tariff, or tax, of between $200-$250 per person. This incorporated a a $65 Sustainable Development Fee (SDF) as well as a package of highly standardised services including meals, accommodation, transport and guiding. It was the original all-inclusive deal!
During Bhutan's long Covid lockdown, the government decided to reset its model with a renewed emphasis on 'high value, low volume, low impact' tourism. This resulted in an increase in the Sustainable Development Fee to $200 per day when it re-opened in autumn 2022. The cost of all other services are added on top of the SDF meaning much higher prices for visitors. The government plans to use the additional SDF revenue to support environmental initiatives, upgrade infrastructure, invest in training, and diversify services. They believe that this new approach will have several long-term benefits: greater environmental protection and sustainability; increased opportunities for local people working in the tourism industry; and a more 'high-end,' less standardised tourist experience.
Realising that the higher tourist tax was putting visitors off from booking longer holidays in Bhutan, the government has now made a further change to its tourist tax policy. From June 1st 2023, discounts have been added to encourage longer stays: visitors staying for 4 nights can stay a further 4 nights without paying tax on those extra nights; similarly, stay 7 nights and you get 7 extra nights tax free; and for stays of 12 nights can have an additional 18 nights without further fees. This is great news as it will significantly reduce prices for visitors who want to explore away from the main tourist attractions of Paro and Thimphu, especially those wanting to trek or get off-the-beaten-track.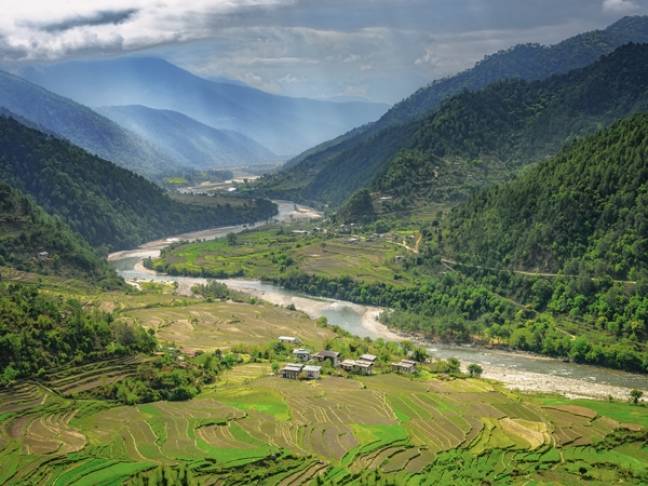 What do I need to enter Bhutan?
There are no longer any Covid restrictions for entering Bhutan. You now only need a Bhutan visa and a passport with more than six months of validity remaining. As your tour operator, we arrange your Bhutan Visa Clearance in advance so that you can be issued with your visa on arrival.
However, you will need to obtain the relevant visas for Nepal, India or any other country you are travelling to Bhutan from.
How do I get to Bhutan?
Bhutan only has one international airport – Paro, and two airlines - Druk Air and Bhutan Airlines. These are the only airlines that are allowed to fly into the country. Flights originate in Nepal, India, Thailand and Singapore. The majority of visitors from the UK fly via Kathmandu in Nepal which provides the perfect opportunity for a Himalayan combo holiday!
There are also three small, domestic airports in Bhutan although flights within the country have been less frequent since the re-opening in autumn 2022. Previous service levels are hoped to be achieved soon.
Road access into Bhutan is limited to only three border crossing points, all from northern India: one in the west of Bhutan at Phuntsholing, one more centrally at Gelephu, and the other in the east at Samdrup Jongkhar (the latter two both currently closed post-Covid). The eastern road crossing is particularly useful for anyone wanting to explore the lesser-visited side of Bhutan. Our Rodang La Trek or Gentle Walking Eastern Bhutan holidays both fly into Paro, travel east and then exit at Samdrup Jongkhar.

Can I travel without a guide in Bhutan?
Before the change of Bhutan's tourism policy last September, you could only travel with a guide. In theory this is no longer the case and in time you should be able to travel independently and arrange your own guiding services. But even then, we would advise using a guide to get the most out of your precious time in Bhutan, especially if this is likely to be a once-in-a-lifetime trip.
Bhutanese guides are well-trained and know their country inside out. They will take you to places you wouldn't discover on your own, explain Bhutan's complex mythology, regale you with fascinating and funny tales, give you sound advice on what to eat and drink, introduce you to Bhutan's flora and fauna, and generally share their in-depth knowledge and passion.
Bhutan's unique language, dress, customs and deeply-held beliefs can also seem like a social and ethical minefield to the visitor, and a local guide will help you navigate through the etiquette and make sure you don't inadvertently offend.
Your guide will of course do everything they can to ensure your holiday runs smoothly and their natural warmth and friendliness will make them seem more like a friend then a guide. We have been working with the same partners in Bhutan for over 35 years and all of our small group and tailor made holidays to Bhutan include the services of their expert guides.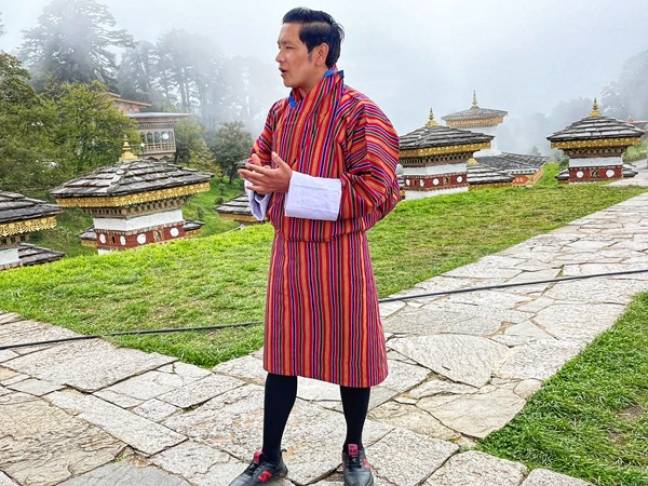 What are the accommodation options in Bhutan?
There is actually a good variety of accommodation in Bhutan ranging from traditional homestays to luxurious hotels.
Most of our group holidays use Bhutan's standard tourist class hotels in the towns and villages. These are on par with 3* hotels in the UK. On a couple of our holidays we include nights staying in official government approved farmhouse homestays. Facilities in these are clean and simple and they offer a genuine insight into authentic family life in Bhutan. Our Hidden Valleys of Bhutan walking holiday includes three nights in different homestays and we can also ­build homestay nights into a tailor made itinerary.

For those who prefer rather more home comforts there are several luxurious hotel brands with properties in Bhutan such as Coma, Amankora and Six Senses. They are of the highest standard, with beautiful locations, environmentally aware designs and high-end facilities. Stays at one or more of these exclusive, indulgent hotels can also be added to any Mountain Kingdoms holiday.
If you are trekking in Bhutan you will be camping as there is no equivalent in the mountains to Nepal's tea houses. First-rate camping equipment is included in all Mountain Kingdoms trekking holidays in Bhutan along with an experienced support crew who will porter the gear, put up and take down the tents (including a dining and toilet tent), and provide delicious, nutritious meals.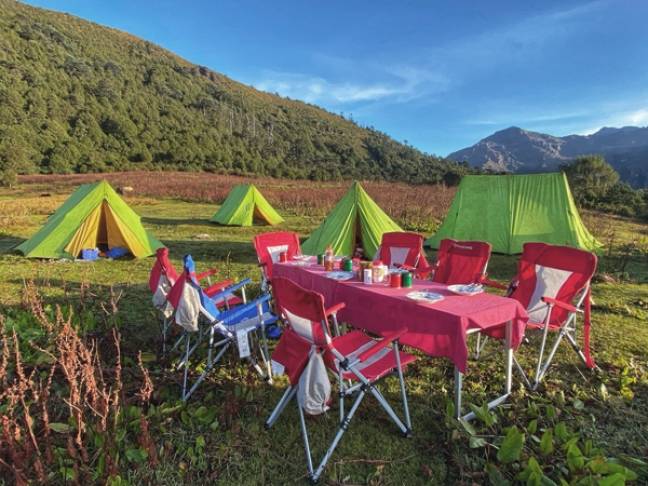 Dzongs, tsechus and a Tiger's Nest – what sights should I plan to see?
Dzongs are one of Bhutan's unique and striking features, not found anywhere else in the world. They were created as both fortresses and administrative centres, and their towering, whitewashed walls and gold-red roofs dominate the landscape. Punakha Dzong with its picturesque riverside setting and purple jacaranda trees in the spring is one of Bhutan's most beautiful dzongs, whilst Paro and Thimphu are the most impressive and important. The annual tsechus, or festivals, held at Paro Dzong in the spring and Thimphu Dzong in the autumn are the two most significant in Bhutan's festival calendar.
Festivals are an integral part of Bhutanese social and spiritual life. They are most noted for their colourful masked dances that bring to life Buddhist myths of good triumphing over evil and are believed to confer blessings on all who observe them. Festivals are also social occasions where families and neighbours stop work and come together in celebration. Most towns and villages hold an annual festival and all our walking holidays and cultural tours include a visit to one as do selected departures of most treks.
Taktsang Monastery, also known as the Tiger's Nest, is Bhutan's most famed and Insta-worthy sight. Perched precariously on a cliff face, high above the Paro Valley it's worth the effort to climb up to its prayer-flag bedecked entrance for those classic Tiger's Nest pics. Beyond the stunning Tiger's Nest and fabulous dzongs there is a wealth of museums, artisan workshops, villages and temples to discover as well as scenic splendours and natural wonders. For more inspiration take a look at our Tailor Made Places and Tailor Made Experiences pages.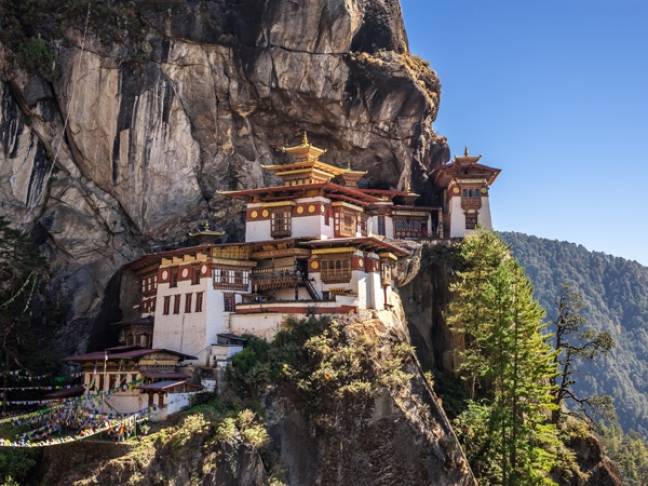 What types of holidays can you take in Bhutan?
As Bhutan is landlocked you can't take a beach break, and as it only has towns you can't do a city break! But, apart from these there are plenty of options for lovers of culture, countryside and mountains.
Cultural tours – Bhutan is an absolute nirvana for culture vultures. With its unique architectural style, rich artisan heritage, and a plethora or temples, tsechus and dzongs, there are countless cultural highlights to discover. We offer a two-week Definitive Cultural Tour which covers all the must-see sights, plus lesser-known ones as well, to really get you under-the-skin of this remarkable country.
Walking holidays – Bhutan's focus on environmental protection and sustainability mean that it has mile after mile of walking paths and wonderfully unspoilt countryside to explore. We offer several walking holidays the most popular of which, Gentle Walking Bhutan, covers the key sights in the west of the country whilst we Gentle walking in Eastern Bhutan covers much lesser visited, and less accessible side of the country. Alternatively you can go a little off-the-beaten-track and include some homestay accommodation and an overnight hike to Taktsang on our Hidden Valleys of Bhutan trip.
Trekking holidays – Bhutan is a wonderfully hilly and mountainous country, rising above 7,000m along its high northern border. Trekking is the only way to immerse yourself in the mountains but you don't have to be an Himalayan explorer to enjoy it. The Druk Path Trek is an ideal starter with only five days of trekking between Paro and Thimphu yet still enjoying high passes and superb views. If you want to get to the foot of one of Bhutan's biggest peaks then try our Mount Chomolhari Trek or, for the really adventurous, the epic Lunana Snowman Trek takes you into some of Bhutan's most remote, challenging territory. During the Covid closure, Bhutan re-established an ancient trading path, transforming it into one of the world's newest long-distance routes – the Trans Bhutan Trail. You can walk and trek the best sections of the trail on our new Trans Bhutan Western Highlights holiday.
Cycle tours – If two wheels rather than two feet is your thing then our Cultural Cycling Tour of Bhutan may well tick your travel box. Following a really varied route from Paro to Bumthang there are plenty of good climbs followed by exhilarating descents as well as lots of sightseeing and a night in a homestay.
Tailor Made delights – Not sure what you want to do or how to put it together? We can tailor make your perfect Bhutan adventure using our 35 years of experience organising holidays to Bhutan. Take a look at our Tailor Made pages and call our friendly team of travel lovers to discuss options, get some expert advice and request a quote.
Whatever holiday you take in Bhutan, you are guaranteed to have an experience like no other. Tashi Dalek!