/
/
Article
/
Trekking in Nepal
Trekking in Nepal
Few places can compete with a record-breaking attraction like Mount Everest, but Nepal can. There is actually so much more to trekking here than taking on the world's highest mountain. Everest may dominate the minds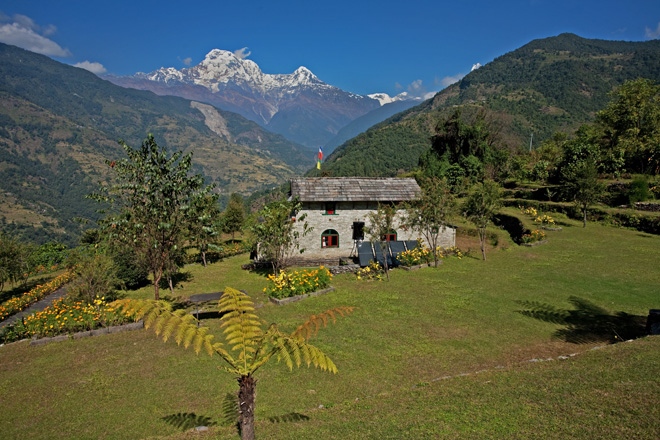 Nepal. Photo courtesy of S Watkinson
Few places can compete with a record-breaking attraction like Mount Everest, but Nepal can. There is actually so much more to trekking here than taking on the world's highest mountain.
Everest may dominate the minds of the uninitiated, but the Himalaya in Nepal actually boasts ten of the planet's highest peaks. It also provides countless opportunities for trekkers of all experience to enjoy some of the finest scenery on the planet and get to know the wonderfully hospitable Nepalese people.
Beyond Everest Base Camp - Nepal's other must-See destinations
If you have already completed a trek in the Everest region and are looking for new trails to explore, there can be few finer trips to Nepal than a visit to the Annapurna Region north of Pokhara. The area plays host to the world's tenth tallest mountain - Annapurna I, which towers a massive 8,091 metres above sea level, not to mention another 13 peaks standing at more than 7,000 metres high and 16 more over 6,000 metres.
Treks in this area offer breathtaking views of the range and feature some of the most talked-about trekking adventures in the world. These include the Annapurna Circuit Trek - a 200 mile circumnavigation of the Annapurna Massif, and the Annapurna Sanctuary - a trek into the heart of the great peaks of the Annapurna range. But you don't have to embark on an epic trekking trip to enjoy the majesty of the Annapurnas. A gentle trekking holiday, staying in luxury lodges rather than tea houses, gives you the best of all worlds - wonderful views, easy-paced walks and home comforts every evening.
Outside of the more popular trekking routes of the Annapurnas or Everest region is ' Wild Nepal'. Lesser-visited places such as the ancient Kingdom of Mustang, the beautiful yet utterly remote area of Upper Dolpo, the base camps of Kangchenjunga and the sublime scenery surrounding Manaslu all offer the chance to enjoy incredible landscapes and to see a side of Nepal that few others glimpse.
One of the most challenging journeys is the 1,700km Great Himalayan Trail connecting the region's major trekking areas. You will need to time this carefully if you want to complete the whole route, however, as snow makes the high passes inaccessible during a large part of the year.
This is just a tiny proportion of the excellent trekking opportunities available. This is a country of almost limitless challenges and some of the most beautiful spectacular vistas and wilderness on the planet.
Can You Cope With a Trekking Holiday?
The beauty of Nepal is that there are so many treks that all levels of reasonable fitness and experience are catered for. There are challenges to be experienced along the routes for those who choose to undertake them, but the unique aura and cultural extravaganza are enough to spur even the most weary traveller on.
It used to be that Himalayan treks were only for avid adventurers and seasoned trekkers, and the more remote and rugged routes certainly still are. But there are now many more opportunities to experience the country and to fulfil the dreams of an average person more used to climbing stairs than mountains. While a Nepal trek may not be for everyone, the opportunities for adventure are bigger than they have ever been before.
When to Visit Nepal
Treks in Nepal are generally most successful and exhilarating during the spring and autumn. Between March and June and September and November the temperatures are warm and clear skies add to the experience - particularly in the spring. Of course, there are hikes that happen outside of these windows as for example to Mustang and Dolpo in the summer months, but be prepared for some closed passes and cold conditions during winter and heavy rain in monsoon season during the summer.
Accommodation
On the more popular trekking routes in the Annapurnas and the Everest region, small tea houses are the traditional form of accommodation. Built by villagers to give refuge and comfort to trekkers, they have lots of character and serve hearty, nourishing food. They will give you close contact with the Nepalese people and an insight into their way of life and cultural traditions. Higher quality lodges are also now becoming established on the trails offering greater comfort still. You can now trek to Everest Base Camp, Ama Dablam and Annapurna Base Camp in relative style. Venture into Wild Nepal and camping is your only option. But with Mountain Kingdoms' superb camping service you'll find you want for very little. And at the start and end of all our walking and trekking holidays in Nepal you'll stay in a top quality hotel in Kathmandu.
Beyond the Landscape
Nepal treks call to people wanting to experience the best that nature has to offer, but the human attraction of Nepal should never be ignored. Few places in the world offer such a unique cultural experience combined with people who are happy to explain it all as well as acting as your guides. There is also much historic, cultural and religious interest in the streets, temples and bazaars of the cities, towns and villages of Nepal.
Trekking will always be a mainstay of tourism in Nepal, but today it does not just mean making it to the top of the highest mountain you can. Cultural experiences are now the focus of many trips.
Responsible Tourism
We take great pride in the initiatives and organisations in Nepal we support as part of our commitment to responsible and sustainable tourism in the countries we visit. Visit our Responsible Tourism pages to find out more.
You can also do your bit to protect the fragile landscapes of the Himalaya. Look after the environment on your Nepal holiday by making sure you do not leave any rubbish behind. Even bottles and cans from restaurants should be taken to the nearest road accessible by trucks. Nepal is already struggling with its waste management, so do not make the problem any worse
Once you have finished your trek, think about donating your clothing to the Sherpa's and porters' clothes bank in Thamel in Kathmandu. This is run by an association called KEEP to provide adequate clothing for porters on treks.
Tread lightly - low volume, low impact holidays are the best way of taking care of the beautiful places we visit.
Please call or contact us to request a brochure or to talk to one of our travel experts about taking a holiday in Nepal. You can also talk to us about arranging a Tailor Made holiday just for you and your friends or family.