/
/
Responsible Travel - Our response to the challenges of 2015
Our grading system explained
Gentle
Gentle / Moderate
Moderate
Moderate / Vigorous
Vigorous
Vigorous / Strenuous
Strenuous
Expedition Grade
Responsible Travel - Our response to the challenges of 2015
There was no bigger challenge in 2015 then the terrible damage wrought by the earthquake in Nepal last April. Trying to provide practical help and support to the people of Nepal became the overriding focus of our Responsible Travel activities and fundraising throughout the year. By the end of 2015, our incredibly generous clients, staff and friends had raised over £40,000 which we distributed between several charities who have been doing amazing work rebuilding the homes and lives of the people of Nepal. Helping them to continue this immensely valuable work will be our driving force in 2016.
Away from the tragedy of the earthquake, we have continued to provide training courses for our Nepalese guides and trek crew and we've also raised funds to plant trees in Peru and to expand the important work of the Simien Mountains Mobile Medical Service in Ethiopia. None of which would have been possible without the overwhelming generosity of our clients. A huge thank you from everyone at Mountain Kingdoms.
Here's a look back at our Responsible Travel year.
How we were able to help the people of Nepal after the earthquake
Nepal and its wonderful people have always been very close to our hearts so we were deeply concerned when news of the earthquake broke last April. Our first priority was to ensure that our clients travelling in Nepal were safe and secure. We then immediately started fundraising to support the people of Nepal and the response from you, our incredibly generous clients and friends, was overwhelming.
We decided not to donate cash to the large international aid organisations but targeted small 'hands-on' charities that we knew would put every pound to good use. At the time we did not think to record how much money we raised, we were simply concerned to do as much as we could to help Nepal. We do know that on one day alone we raised £30,000 for the Gurkha Welfare Trust as they called us to thank us. We have subsequently been accepted as one of their 'corporate partners' and already in 2016 have donated £1,000 to their fund for rebuilding village houses. Additionally we have donated £1,500 to Shiva Charity to support Bob Uppington's super-human efforts to build temporary homes for those who lost everything in the earthquake.
We have also been able to donate £1,500 to the relief effort in Sindhupalchok district - situated close to Kathmandu and one of the hardest hit by the earthquake. The funds we have sent to our local agent have been used for purchasing materials to build tunnel shelters, food supplies and water tanks in the village of Luprang, which was devastated by the earthquake. Funds were desperately needed for blankets/quilts, rice/lentils and cooking oils as well as to purchase construction materials to start rebuilding the roads into the village. The money went toward these critically needed items.
Our exceptionally generous clients have donated over £40,000 to our chosen charities - Gurkha Welfare Trust and Shiva Charity - to alleviate suffering caused by the earthquake. We wish to give a huge thank you for this incredible support. It has been invaluable in helping the people of Nepal get back on their feet.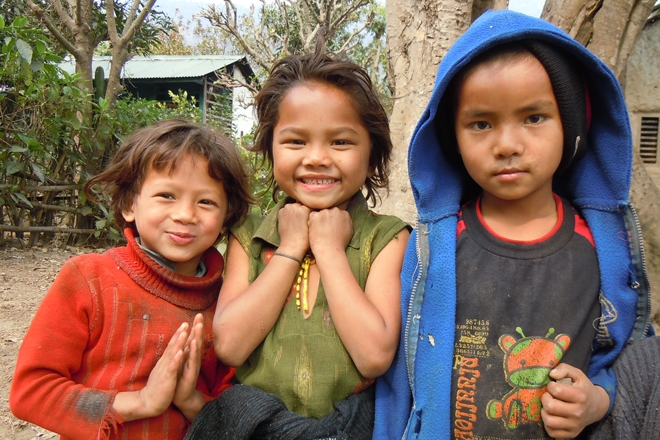 Village children by S Harbert
If you would like to continue helping the poor village people of Nepal the charities we have been raising money for are:
Gurkha Welfare Trust - Since the earthquake, the Gurkha Welfare Trust is focusing on rebuilding veterans' homes, repairing and building school and water projects, providing enhanced medical care in remote areas and supporting devastated communities.
Shiva Charity - Shiva Charity's main purpose in Nepal is to promote education, and to help those in distress or need. The earthquake made thousands homeless. The homeless families need shelter and food before they can think about their children going to school, and also require financial help for their children's education, books and uniform. Shiva is run by Bristolian Bob Uppington, who has worked tirelessly to provide temporary accommodation and food to those worst affected by the earthquake.
The Nepali Children's Trust - The Nepali Children's Trust supports the Newlife Centre which provides a caring home for disabled children in Kathmandu. In 2010 the children of the Newlife Centre moved into a new purpose built residential home that NCT had funded. Since the earthquake this building is no longer habitable so the 40 children are living under canvas. Given the amount of rebuilding work needed and the demand on labourers and materials, this will be an expensive and lengthy undertaking. Any donations you make will be very well received.
If you would like to donate you can do so by visiting the charity's own website or simply make out a cheque to any one of these charities and we will forward it on! Thank you.
Mountain Kingdoms staff - fundraising for Nepal
We have instigated various fundraising initiatives for the earthquake relief including a bake off, a Himalayan talk and a fun run. Our staff have raised over £4,000 which also went to Gurkha Welfare Trust and Shiva Charity.
Camp Hope in Nepal
In 2016 we are donating £1,000 to Camp Hope in Nepal. The Dwarika's Foundation has set-up Camp Hope, a temporary shelter housing 332 villagers from Sindhupalchowk, one of Nepal's most devastated regions. They are doing very inspiring work in helping the most vulnerable. See the Camp Hope Facebook page to keep up with their progress.
Other Responsible Tourism projects in 2015: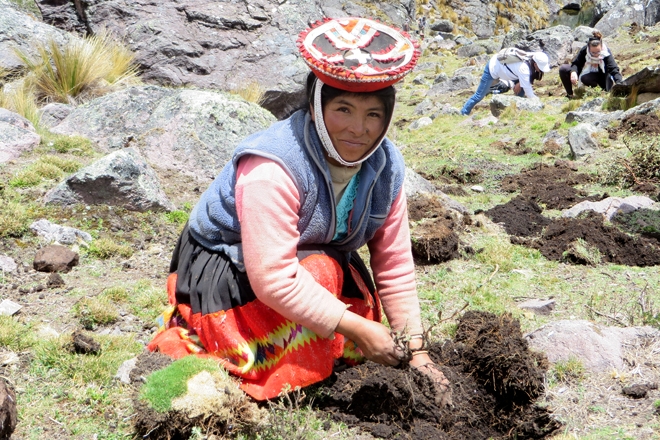 Planting trees in Peru
Peru
We also donated funds to the Peru Tree Planting project as part of its commitment to offset the carbon emissions for the flights on our flight inclusive holidays. The project aims to restore the endangered Queuna forests in the Andean mountains. Our donation helped the organisation plant 800 native trees with the help of the local people.
Ethiopia
We provide on-going support to the Simien Mountains Mobile Medical Service – a charity set up by one of our clients following her trek with us to Ethiopia. Wendy went out in October 2015 to find a health centre to place their first two BSc Midwifery graduates. She also sent two of their nurses, their Medical Advisor, and a 5th year medical student to The Liverpool School of Tropical Medicine for a course in Emergency Obstetrics which all found really useful. They are going back out in April with the people from Saddle Aid to trial their special saddles designed to get injured, ill and the pregnant women out of the mountains to medical assistance.
Nepal
Before the earthquake struck, Mountain Kingdoms spent £1,000 on its annual English lessons project in Nepal – helping the career progression of our Sherpas and local guides.
2016 Responsible Tourism Projects
As a company we have decided to put the bulk of our Responsible Tourism budget into continuing our help to the Nepalese villages. Life is returning to normal and virtually all the treks are fully functional, but there are still many villages that are off the trekking routes that need our help. We will continue to send you occasional updates in the year ahead.
Visit our Responsible Tourism page to find out more about our policies and practices and the many charities we support in the countries that we visit.
Related News