/
/
Category
/
Everest Region, Trekking Nepal
Our grading system explained
Gentle
Gentle / Moderate
Moderate
Moderate / Vigorous
Vigorous
Vigorous / Strenuous
Strenuous
Expedition Grade
Holiday News and Offers
Here's where you'll find the most up-to-date information about what's happening at Mountain Kingdoms. Check below for details of any upcoming events we are holding, any special offers we are running, any news we've got to share and any holidays that have spaces and are due to run in the next few weeks. You can also sign up to receive our monthly e-newsletter.
January enewsletter - Everest Special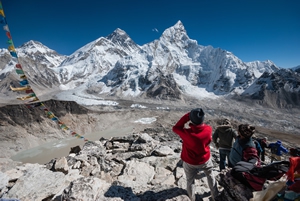 Sherpa summit success, the changing height of Everest, Base Camp treks and a chance to support the porters of the Khumbu through these troubled times. All this and more in our Everest Special enews.

If you'd like to receive our new e-newsletter, sign up here.
Everest summit success for the Gurkhas
Renowned for their incredible bravery, the formidable Gurkhas now have another achievement to add to their long line of celebrated successes: they've reached the summit of Mount Everest.
Read more
Trekker of Mountain Kingdoms' Everest Base Camp trip wins The Guardian's travel writing competition
We're delighted to hear that Alexei Vink who took part in a trek to Everest Base Camp with Mountain Kingdoms has won The Guardian's travel writing competition.
Alexei's inspirational experience was featured in Saturday's The Guardian newspaper, and can also be read on The Guardian's website.