/
/
Photo of the Year - Mark's story
Our grading system explained
Gentle
Gentle / Moderate
Moderate
Moderate / Vigorous
Vigorous
Vigorous / Strenuous
Strenuous
Expedition Grade
Photo of the Year - Mark's story
We asked Mark Green, the winner of the Photo of the Year competition, to share with us the story of how he captured the prize-winning shot of the Angel Falls in Venezuela.

"As far as I remember this is how the story unfolded: Our group had made a very early pre-dawn start for the 3-4 hour motorised canoe journey up the Carao river from Canaima. The river forked after we had been going for a few hours and we continued up the narrower and faster Churun river until navigating a series of rapids and tight bends and suddenly catching our first partially obscured view over the lush forest of the magnificent Angel Falls towering above us and in full thundering flow....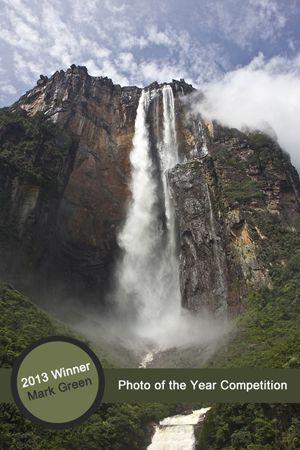 We disembarked the canoe and begin to climb ever more steeply upwards, sweating profusely, through humid, muddy and primeval rainforest for around an hour or so until we finally clambered up on to some slippery rocks to a small clearing on a rocky ledge, perched a few hundred metres above the valley floor.

There right in front of us, across the river valley is an elemental scene of outstanding beauty. The Angel Falls appear to be in full thunderous flow spilling over the top of the 1000m high plateau and plunging straight down in clouds of spray to the valley below. The top of the falls was wreathed in cloud and the spray was blown in all directions ensuring that we all got a good soaking and making the small rocky ledge on which where we were perched extremely slippery and hazardous. One bad slip and we would certainly disappear over the precipitous edge falling vertically at least 200 to 300 metres to an untimely end!

I steadied myself by sprawling out on the ledge, adjusted my camera settings and exposure to 1/125 at f11 at ISO 100, prefocussed, dried my lens with a cloth, replaced the lens cap and waited for what seemed to be ages until the clouds miraculously lifted a little from the top of the falls and I had a reasonably full view of the amazing scene in its entirety. I whipped the lens cap off which had been shielding the lens from the spray and only had the briefest opportunity of a few seconds to take 3 quick photos until the lens became very wet with spray again and the clouds descended once again obscuring the full views. I knew that I had been very lucky to have had this chance of photographing this outstanding scene and hoped that the outcome was successful. I was certain that the other photographers who were all jostling for what little space there was on the ledge were not as fortunate as I had been." Mark travelled to Venezuela on our Lost World Trek.
Related News