/
/
Dasho Benji Dorji and the Bhutan Society
Our grading system explained
Gentle
Gentle / Moderate
Moderate
Moderate / Vigorous
Vigorous
Vigorous / Strenuous
Strenuous
Expedition Grade
Dasho Benji Dorji and the Bhutan Society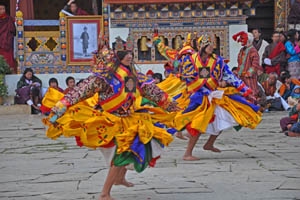 One of Bhutan's leading environmentalists, Dasho Benji Dorji, has recorded a fascinating talk for the Bhutan Society of the UK. He established Bhutan's Royal Society for the Protection of Nature in 1987 and has been a passionate advocate for the preservation of the endangered Black-necked cranes.
He was responsible for protecting the winter feeding grounds of the cranes in the Bumthang Valley and establishing the adjacent Visitor Information Centre and the colourful Black-necked Crane Festival which is held annually at Gangtey Gompa.
Watch Dasho Benji Dorji's talk here to discover more about the cranes and his passion for protecting Bhutan's beautiful natural environment.
Mountain Kingdoms have been members of the Bhutan Society since its inaugaration, helping to raise funds for the Society's charitable Trust Fund. These funds are used in Bhutan to support disadvantaged adults and children, community initiatives and cultural projects. We will continue to raise money and support the society in this important work.
Related News