/
/
2017 Photo of the Year winner announced
Our grading system explained
Gentle
Gentle / Moderate
Moderate
Moderate / Vigorous
Vigorous
Vigorous / Strenuous
Strenuous
Expedition Grade
2017 Photo of the Year winner announced
Our 2017 Photo of the Year competition received a fantastic selection of photo entries, but there could only be five finalists and one winner.
After collecting hundreds of votes between the five photos, which you can see here, we are thrilled announce our winner.
And the winner is...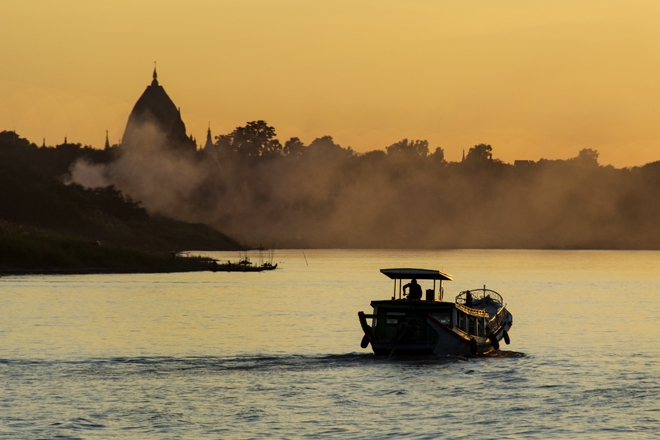 ... Mr A Harrison, with his stunning sunset river scene in Bagan.
Mr Harrison captured his winning photo on a tailor made holiday to Burma. As the winner of our photo competition he has won £150 off a future holiday with Mountain Kingdoms, congratulations Mr Harrison!
We asked Mr Harrison to tell us about the moment he caught his prize-winning image on camera, here's what he had to say:
"After a few days visiting the stunning sights of Mandalay we left our hotel at 6am (not our favourite time of day!) for a short drive to the boat which was due to take us down the Irrawaddy River to Bagan. Unfortunately the river was shrouded in fog so we sat on the boat for well over an hour waiting for it to clear, eating our packed breakfasts to pass the time. Visibility gradually improved so we set off but before long the fog closed in again so we moored alongside a dilapidated barge for another hour or two. Another false start saw us spend yet another hour tied up to a rather depressing mud-bank until the sun finally burned off the mist and we could get under way.
The actual cruise past riverside temples was lovely and relaxing, huge golden Buddhas watching us pass, but the earlier delays meant it was sunset by the time we reached Bagan. Just as we were turning towards the chaotic and rather decrepit jetty to disembark a small barge chugged past us, heading towards a temple that was partly obscured by some smoke which was drifting in the wind. It was then just a case of waiting for everything to line up before pressing the shutter and capturing the photo. It had been a long but memorable day which set us up nicely for the remainder of what turned out to be an excellent trek and sightseeing holiday."
Related News