Zanskar twig bridge finished
2014 has got off to a great start at Mountain Kingdoms - our twig bridge project in Zanskar is complete! Over the past five years Mountain Kingdoms MD Steve Berry has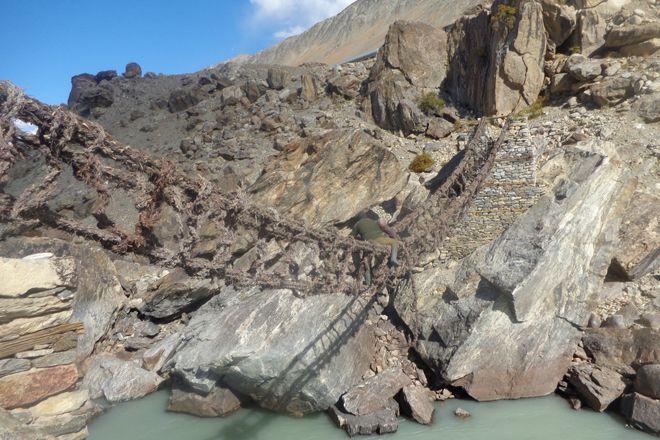 Finished Zanskar Twig Bridge in December 2013. Photo courtesy of S Berry
The Zanskar Bridge Project is complete
2014 has got off to a great start at Mountain Kingdoms - our twig bridge project in Zanskar is complete!
Over the past five years Mountain Kingdoms MD Steve Berry has raised £3,000 to restore a traditional twig bridge in Padum and preserve an ancient culture. The project was overseen by the local King Punchok Dawa.
Zanskar is a small Tibetan Buddhist kingdom located in Ladakh, north west Indian Himalaya, and locked away from the outside world by snowed-up passes for all but a few months in the summer. The cables for the bridge are made from birch twigs woven together, these are then used to span across the river. Work has taken place on the bridge in winter when the river below is frozen and conditions can reach -30°C.
Now completed, it is an extraordinary structure which can be used by locals and trekkers alike.
Steve made the journey to Zanskar last year to check on the progress of the bridge. He is thrilled to hear that his labour of love, linking Wotton-under-Edge with remote northern India, has now been completed. It is hoped that this bridge will encourage the construction and restoration of other similar bridges in the kingdom.
Long term the aim is also to build a small visitor centre next to the bridge with pictures and narrative showing how the bridges are made, and giving historical background regarding the kingdom and the ancestry of Punchok Dawa, who is a direct descendent from the early kings of Tibet.
You can read more about the Zanskar Bridge Project on our news pages.
Read more about this region, including the best time to travel to Ladakh on our website.