Steve Berry's book, 'Straight up' - add it to your reading list!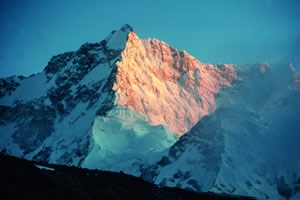 Full of tales of high mountain adventures, encounters with bears, escapes from avalanches, summit successes and failures, near death accidents and blossoming romances.
The Book
Born in the foothills close to the Himalaya Steve Berry had from an early age an urge to become a traveller, an adventurer, an explorer, and until the age of 38 years he tried hard to satisfy two opposing forces. Half of him wanted to find a satisfactory career path while the other half wanted to be free and specifically explore the Himalaya. In the end he found a compromise to satisfy both needs. In 1987 with his climbing friend Steve Bell he founded Himalayan Kingdoms, a travel company specialising in trekking and expedition holidays.
This book is a collection of stories from his early expeditions to the Himalaya prior to 1987. There are tales of encounters with bears, escapes from avalanches, summit successes and failures, love stories, mystical connections, Himalayan storms, near death accidents, raw travel across the Indian sub continent, and grapples with bureaucracy. It is told warts and all. It starts with tales ofyouthful naivety in the mountains of Himachal Pradesh, progresses to what Steve describes as his best ever adventure, the first British ascent of Nun, 7,135m/23,410ft, in Kashmir, and finishes with the truth of what happened on the failed attempt to climb Bhutan's highest peak, Gangkar Punsum, 7550m/24,770ft.
Of Straight Up Steve says, "I just really wanted people to enjoy reading of our adventures the way they were".
The Author
Steve Berry has always had a peculiar fascination for the Himalaya. He grew up with his father's stories of India, and was beguiled by black and white photos from his dad's expedition to the Nun Kun massif in Kashmir. From an early age the ambition to explore in the greatest mountain range on earth grew and grew. He has taken part in nine mountaineering adventures to the Himalaya and has now completed some 60 treks in Nepal, Bhutan, Tibet, and various other parts of the Himalaya. He is author of one previous book 'The Thunder Dragon Kingdom' published by Crowood Press (ISBN: 1852231467). He is a life member of the Himalayan Club, and has memberships of the Alpine Club and the Climbers Club. He is married with two daughters. His wife puts up with him by degrees for which he is immensely grateful.
Add Steve Berry's book, about his early expeditions to the Himalaya, to your reading list - 'Straight up' is now on sale from our office for £12.99
Related News