What's included
Local English-speaking guides in Nepal, Bhutan and Tibet
All internal flights and domestic airport transfers
Bhutan visa fee and Bhutan departure tax
4-star standard hotel accommodation in Kathmandu, twin share, bed and breakfast basis
Best available hotels in Bhutan and Tibet, on a twin share, full board basis
All road transport by private vehicles
Sightseeing where specified
Economy class return air fares from the UK & UK Departure Tax (flight inclusive only)
Single, timed group airport transfers for international flights on arrival and departure
Carbon offsetting with the Ecoan Tree Planting Project (for clients taking our flight inclusive option)
A free Mountain Kingdoms Water-to-Go bottle
The opportunity to attend one of our pre trip meets in the Cotswolds
and much more...
Call our
friendly team
Duration: 19 days from the UK
Flight inclusive from £4,245,
Land only from £3,595
Book now or call 01453 844400
Three Himalayan capitals, important cultural sites and unforgettable high mountain landscapes, all in one trip
Highlights
All the key cultural highlights including Tiger's Nest Monastery, Potala Palace and Durbar Square
Join the celebrations at a Bhutanese festival
A well-paced itinerary with ample time for sightseeing, optional walks and good acclimatisation
Good quality hotel accommodation throughout
This exciting trip to Nepal, Bhutan and Tibet offers an amazing journey through three spectacular Himalayan countries. Although geographically close to each other and enjoying many historic and ethnic links, these countries are in fact each scenically and culturally very distinct and a trip to all three offers a fantastically varied trip. You will have plenty of time for sightseeing and for some optional walks as well as enjoying some of key cultural highlights of each country.
Firstly, arriving in Kathmandu you will have your first sight of the Himalaya, travelling out of Kathmandu to Dhulikhel for spectacular dawn views of the mountains including Everest itself, with an incredible panorama from Everest to Annapurna. You will also have time to explore Kathmandu city and to see some of the wonderful Newari architecture of the towns and villages of the Kathmandu valley.
Then it's on to Bhutan. On the flight to Paro you will fly alongside the Himalayas with possible views of Mount Everest away to the left and of Bhutan's mountains as you land. On arrival in Paro you will immediately be struck by the contrast to Nepal - national dress is still widely worn by both men and women in Bhutan with even officials at the airport wearing this distinctive apparel. Bhutan was never colonized and the Bhutanese are very proud of their own unique Buddhist culture and social traditions, and of their own distinctive building style, seen in the magnificent fortified dzongs, temples and monasteries as well as in its unique attractive farmhouses. On your visit to Bhutan you will see some of the finest buildings in the country, including impressive Taktsang Monastery (the famous 'Tiger's Nest') in the Paro valley and the magnificent riverside dzong at Punakha.
Returning briefly to Kathmandu you then fly on to Lhasa. On the flight to Lhasa you actually pass between two of the highest mountains in the world, Mount Everest and Mount Kanchenjunga, before landing in Tibet. Here on the high Tibetan plateau, the air is thin and the scenery is rather stark but very dramatic and is quite different to either Nepal or Bhutan. You will visit some of Tibet's most important historical, religious and cultural sites. Firstly you travel east to Tsedang and the 'Valley of the Kings', considered to be the cradle of Tibetan civilization and Tibetan Buddhism. You will also travel to one of the most important locations for Tibetan Buddhism at the monastery of Samye before you continue to Lhasa where your first sight of the spectacular Potala will be breathtaking. As well as sightseeing in Lhasa you will have time to join pilgrims on a 'kora' around the famous Potala Palace and for a visit to the historic Barkhor market.

You will also have the opportunity to join the festivities at a flamboyant Bhutanese festival. Our spring departure holiday visits the charming Talo Tsechu, whilst the September departure attends the Thimphu Tsechu, one of Bhutan's most important and impressive festivals,
---
At a glance
Duration: 19 days from the UK
Max. Altitude: 3,658m/12,000ft, in Lhasa
Guaranteed to run for a minimum of 4 clients
Maximum group size: 12
Land only joining city: Kathmandu
Accommodation types: Hotels
Festival:
The March departure attends the Talo Tsechu
The September departure attends the Thimphu Tsechu
Meal arrangements: Bed and breakfast in Kathmandu, all meals elsewhere.
Itinerary overview
| Day | Activity |
| --- | --- |
| 1-2 | (This is the itinerary for our March departure. Detailed itineraries for both departures can be downloaded below). Fly to Kathmandu in Nepal. Overnight in Kathmandu |
| 3-5 | Sightseeing in Kathmandu, Dhulikhel and Bhaktapur (Your visa for Tibet will be obtained for you by are agents in Kathmandu during these days) |
| 6-7 | Fly to Paro. Drive to Punakha. Talo Tsechu and visit Punakha Dzong and Chimi Lakhang |
| 8 | Drive to Thimphu and sightseeing. |
| 9 | Wangditse Monastery. Drive to Paro and Kyichu Lakhang and Paro Museum. |
| 10 | Taktsang Gompa. |
| 11 | Fly to Kathmandu. |
| 12-13 | Fly to Gonggar in Tibet and drive to Tsedang. Sightseeing Yarlung Valley and Samye. |
| 14 | Drive to Lhasa with Mindroling and Namseling visits. Visit Jokhang and Barkhor. |
| 15-16 | In Lhasa - Potala Palace, Norbulingkha, Sera and Drepung. |
| 17 | Drive to Gonggar and fly to Kathmandu. |
| 18-19 | At leisure and fly home. |
Leader: Local leader, Tibet tours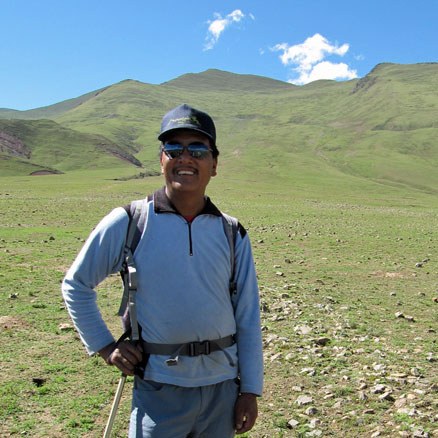 On arrival in Kathmandu you will be met and looked after by our partners there. Then once you arrive in Tibet, you will have an English-speaking Tibetan guide and driver/s. Guides are certified/registered guides, and in their company you will certainly gain an insight into the way of life, traditions and culture of the country you are visiting.


Leader: Local leader, Bhutan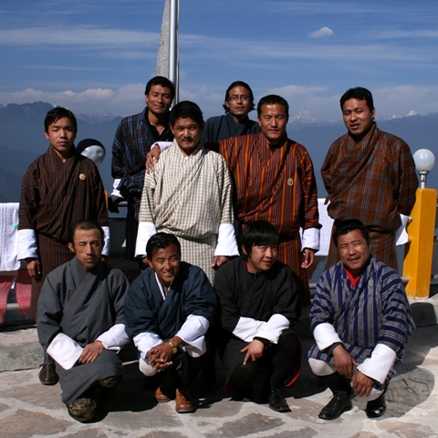 You will have an English speaking Bhutanese guide. Mountain Kingdoms have been working with the same partner in Bhutan since 1986. Their guides are some of the best in the Kingdom. They speak fluent English, as this is taught in all Bhutanese schools, and are fully qualified guides. The Tourism Authority of Bhutan insists that a Bhutanese trek or tour leader must pass his/her guiding exams in Thimphu before accompanying groups of foreign visitors. Guides receive regular 'top-up' training and 15 of our regular leaders have completed an extended training course run by Mountain Kingdoms in Bhutan.
---
Cultural Highlights of Nepal, Bhutan & Tibet Itinerary
Day 1 - Fly London to Kathmandu.

Depart the UK to fly to Kathmandu.

Overnight: In flight

Day 2 - Arrive Kathmandu. Transfer to hotel.

On arrival in Kathmandu you will be met and transferred to the Hotel Shangri La. This is a very comfortable hotel situated to the north of Thamel, the tourist district of Kathmandu. It has a lovely garden with a swimming pool and several excellent restaurants. The bustle of Thamel, with all its restaurants, shops and bars, is a 20 minute walk or 10 minute taxi ride away.

You could eat in the hotel or head off into Thamel to one of the famous restaurants there, such as Rum Doodle Restaurant, a place frequented by trekkers and climbers alike, with pride of place given to a board with the signatures of many Everest summiteers.

(Your Tibet permit will be finalised while you are in Kathmandu, so our local agents will ask you for your passport and payment).


Overnight: Shangri La Hotel, Kathmandu

Day 3 - Sightseeing in Kathmandu. Drive to Dhulikhel, 1,550m/5,085ft.

In the morning you will have a guided sightseeing tour in Kathmandu city. Firstly you will go to Swayanbunath, called the 'Monkey Temple' because of the large numbers of monkeys that live there. This temple is said to be the divine lotus flower floating above the lake that once covered the Kathmandu Valley. This is the most famous image of Nepal - the all-seeing eyes surveying every corner of the valley. You then continue to Kathmandu Durbar Square, the ancient medieval centre of the city, now a UNESCO world heritage site. Here you will see a host of wonderful temples and palaces, including the temple of the Kumari, the so called 'living goddess'.

In the afternoon you will drive to Dhulikhel, a small town located about an hour and a half's drive from Kathmandu along the main highway leading to Tibet, on the eastern rim of the Kathmandu Valley. Dhulikel is famous for its panoramic views of the Himalaya. Dhulikhel has an been important trading centre on the commercial route linking Nepal to Tibet for many centuries, with people of Nepal travelling to Tibet to bring home salt and gold and Tibetans coming with huge flocks of sheep to sell in Nepal, especially during the great Hindu festival of Dassain. The town still has some old houses and a couple of ancient temples which are worth visiting. On arrival you should have time for a visit to town and then to enjoy fine sunset views in the evening.


Overnight: Dhulikhel Lodge Resort

Day 4 - In Dhulikel.

The mountain views from Dhulikhel are some of the finest in the Himalaya, with dawn being especially spectacular - on a clear day from here you can see from Everest in the east to the Annapurna range in the west, as many as twenty major Himalayan peaks. It is worth arranging an early morning wake-up call to be sure of catching the views at their best.

Later you have the day free to relax and enjoy the beautiful countryside around Dhulikhel. You could perhaps take a walk to a nearby village, such as Panauti, with its traditional farmhouses set on hillocks among the rice fields, or visit Namobuddha Monastery, a sacred spot which commemorates the legend of the Buddha's selfless action of offering his own flesh to feed a starving tiger. In these surroundings you can immerse yourself in the simple pleasures of traditional rural life in Nepal.


Overnight: Dhulikhel Lodge Resort

Day 5 - Return to Kathmandu with sightseeing in Bhaktapur on the way. Afternoon at leisure.

Today you will drive back to Kathmandu visiting the ancient city of Bhaktapur on the way. Bhaktapur is one of the three cities built in the Kathmandu valley by the former Malla kings. It is more laid back than Kathmandu city and still has quite a rural feel to it, being a town of farmers and craftsmen. The Durbar Square area has some beautiful examples of magnificent Newari craftsmanship in its temples and palaces, especially the famous Palace of Fifty Five Windows which, in its elaborately carved windows and doors, features some of the finest examples of Newari wood carving. The side streets of Bhaktapur have a wonderfully medieval feel to them, most of its buildings having their origins in the 15th Century and the back streets bring brick paved. The city is still very much lived-in, with much of it being closed to traffic - this makes walking around it a real pleasure and you can get a real taste of how things must have been in medieval times.

When you get back to Kathmandu you will have the afternoon free and you can either relax at the hotel or do some more sightseeing. The ancient Buddhist Stupa of Boudhanath is well worth a visit - it is a focus of Buddhist culture and is visited by pilgrims from all over the region. You might also visit the important Hindu Shiva temple and the cremation ghats on the banks of the Bagmati River at Pashupatinath.


Overnight: Shangri La Hotel, Kathmandu

Day 6 - Fly to Paro, 2,200m/7,218ft. Drive to Punakha,1,242m/4,075ft - 125km, 3½ hours.

Transfer to the airport for the short flight up to Paro in Bhutan. On a clear day the panoramic views of the Himalaya are sensational, including Everest, but particularly exciting is the approach through the Bhutanese foothills and the landing at the tiny airstrip in the Paro Valley. Although you are at the mercy of the Druk air computer, if possible try to sit on the left hand side of the plane for the most spectacular views.

On arrival you will be met by your guide and driver and will set off on the drive to Punakha. You may have lunch on arrival in Paro or on the way, possibly at the Dochu La. Firstly after about an hour's drive you will by-pass the turn off to the capital, Thimphu, and climb to cross the Dochu La Pass, a pass at 3,048m/10,000ft, a spot is marked by 108 chortens. Here, weather permitting, you will have a magnificent mountain vista. On clear days there are fabulous views of the eastern Himalaya from here - but this is a beautiful spot even on misty days. You then drive down through incredibly beautiful, varied forest to arrive in the lush Punakha Valley.


Overnight: Zhingkham Resort Or Similar, Punakha

Day 7 - In the Punakha Valley. Attend the Talo Tsechu, visit Punakha Dzong and Chimi Lakhang.

Today you will have the opportunity to visit a Bhutanese Festival. After breakfast you will drive the short distance into the hills above Punakha to the village of Talo at 2,800m/9,186ft. This is a very pretty and well-kept village and it is well known for its fine Gompa, the Talo Sangnacholing, built on a plateau above the village and enjoying majestic views. Festivals in Bhutan are important cultural and religious events and are a chance for local people to attain merit as well as dressing up in their best clothes, socialising and generally having fun. The Talo Tsechu is famed for its masked dances - such masked dances and the other colourful ceremonies at festivals are thought to dispel the evil spirits that have accumulated over the last year. Beware the very naughty clowns (called atsaras) who tease the crowd and the dancers!

In the afternoon you will visit the Punakha Dzong. The fabulous Punakha Dzong is one of the most spectacular and important dzongs in the kingdom. It is situated in a stunning position at the confluence of two rivers. In 1994 there was a major flood in the town which caused a lot of damage to the dzong, but it has now been beautifully renovated and is a real showcase for Bhutanese craftsmanship and painting. Unless there are VIPs visiting you are normally allowed to visit the inside of the dzong.

Later you will also visit Chimi Lakhang, a temple built by Drukpa Kunley. Known as the 'The Divine Madman', Drukpa Kunley was a 15th Century Bhutanese Lama and is Bhutan's most popular saint and one of the most important figures in Bhutanese folklore. Despite the apparent conservatism of the Bhutanese people, Drukpa Kunley with his unconventional views on sex is a great favourite throughout the country - the phallus symbols painted on the outside walls of many houses date back to his teachings. Chimi Lakhang is especially popular with women who come here to make offerings and to pray for children. This charming lakhang is reached by a short walk across the paddy fields and the short excursion takes about 45 minutes each way.

Overnight: Zhingkham Resort Or Similar, Punakha

Day 8 - Drive to Thimphu, 2,320m/7,612ft. Sightseeing.

You will drive back over the Dochu La to Thimphu and you will have some sightseeing of the principal places in town. Firstly you could drive up to visit the huge Buddha statue for views over town.

Later you could visit the huge Tashichhodzong, part monastery, part administrative centre. Other highlights in Thimphu include the late king's memorial chorten, the textile museum, a visit to the indigenous hospital specialising in herbal medicine, and the school of painting. You can also visit a workshop to see handmade paper being made or the post office for some of Bhutan's fine editions of stamps. The handicrafts emporium Is a good place to buy traditional crafts or traditional dress.


Overnight: Phuntso Pelri Hotel or Similar, Thimphu

Day 9 - Wangditse Monastery walk and drive to Paro. Sightseeing in Paro – Kyichu Lakhang and Paro Museum.

This morning you will drive up to Sangaygang next to the Bhutan First Broadcasting Service tower, located in the north west of Thimphu. It is only about a mile drive up to the tower so if you feel like you would like to burn a bit more energy you can always walk up instead. From the tower you will have great views over Thimphu Dzong and the Thimphu valley as you start your walk contouring the beautiful hills to visit Wangditse Gompa. This walk should take around 1½ hours. You will have time to visit the gompa before you walk down for another 30 minutes to reach Dechen Phodrang Monastery. This monastery houses around 450 student monks enrolled in a 8 year course and is also home to some fantastic UNESCO monitored 12th century paintings. You will then meet your vehicle and be driven back to Thimphu.

Later you will drive to Paro where you will visit a couple of its sights. Firstly will visit the temple of Kyichu Lakhang, one of the oldest and most beautiful temples in Bhutan. According to tradition the temple is said to have been built in the 7th century, one of 108 temples built by the famous Tibetan king, Songtsen Gampo, to pin down an enormous demon that was believed to be thwarting the establishment of Buddhism in the region. You may then visit the impressive Paro Dzong, one of Bhutan's most impressive and well-known dzongs, and perhaps the finest example of Bhutanese architecture you'll see. The massive buttressed walls that tower over the town are visible throughout the valley. You may also visit the Ta Dzong, the watch tower above the Dzong where you will see some of the treasures from Bhutan's National Museum. Displays include an impressive and fascinating collection of ancient thangkas depicting Bhutan's important saints and teachers and the wide range of Bhutan's history and culture. You will also find some fearsome festival masks, a collection of religious statues, some early stone carvings and the original iron links from the nearby Tamchhog Bridge.

Overnight: Hotel Olathang Or Similar, Paro

Day 10 - Walk to Taktsang Monastery, 3,100m/10,203ft - 4-5 hours. Afternoon sightseeing in Paro or time at leisure.

A short drive beyond Paro town takes you to the trail head for the walk up to the famous Tiger's Nest, Taktsang Monastery. The monastery is perched some 600m/2,000ft up on a cliff overlooking the valley and was said to be where the legendary Indian saint, Guru Padma Sambhava, flew from Tibet on the back of a tiger to defeat five demons, who were opposing the spread of Buddhism in Bhutan. It's a steep uphill walk through woods, of about 1½-2hrs, to reach a tea house (an ascent of 340m/1,115ft.) Apart from offering welcome refreshment this tea house is one of the principle viewpoints of Taktsang, and those who prefer not to climb any further can relax here whilst others continue on. If there is a particular religious gathering or VIP visit in progress, you will not be able to enter the monastery but the further half an hour's ascent is well worth it in any case, as it brings you to another viewpoint directly across from Taktsang. If you are able to make a visit, the final section of the walk takes you from here steeply down 100m/330ft into the gorge that separates you from the monastery and then climbs back up again to reach the monastery gate.

You will descend back down to the valley floor and then spend the afternoon visiting several of the other key sights in the Paro Valley. Firstly you will drive up the valley to visit the ruined monastery fortress of Drukgyel Dzong. Drukgyel Dzong was built in 1649, during the time that Bhutan was resisting foreign invasion and consolidating its power, and it was an important base for defense of the region right up until 1951 when it was destroyed by fire. Some imposing stone walls and rammed earth ramparts still remain to indicate what an impressive structure it must have been. From here there are good views to the north and if the skies are clear you can see Mount Chomolhari, the second highest peak in Bhutan. Returning down the valley you will visit the temple of Kyichu Lakhang, one of the oldest and most beautiful temples in Bhutan. According to tradition the temple is said to have been built in the 7th century, one of 108 temples built by the famous Tibetan king, Songtsen Gampo, to pin down an enormous demon that was thwarting the establishment of Buddhism in the region.

Finally, you will visit the impressive Paro Dzong and Bhutan's National Museum. Some of the museum's treasures are housed in the Ta Dzong - the circular watch tower above the Dzong - others are in a nearby building. Displays include depictions of a wide range of Bhutan's history and culture and an impressive collection of ancient thangkas featuring Bhutan's important saints and teachers. You will also find some fearsome festival masks, a collection of religious statues, some early stone carvings and the original iron links from the nearby Tamchhog Bridge.

Overnight: Hotel Olathang Or Similar, Paro

Day 11 - Fly to Kathmandu. Afternoon at leisure.

You will be taken to the airport to check in for your flight. Again you have a sensational take-off and scenic Himalayan flight back to Nepal, where you will be transferred to Hotel Shangri La. Depending on the flight schedule you should then have the afternoon free to relax by the pool or do some shopping or sightseeing.


Overnight: Shangri La Hotel, Kathmandu

Day 12 - Fly to Lhasa, Tibet. Drive to Tsedang, 3,550m /11,647ft - 2-3 hours.

Transfer to the airport for the flight to Gonggar in Tibet. This is an exciting flight which goes east along the Himalaya, passes Everest (on the left hand side of the plane) and then cuts through the chain to continue north east towards Lhasa. At Gonggar (the airport for Lhasa) you will meet your Tibetan guide and your driver. Remember to put your watch forward - there is a time difference of 2 hours and 15 minutes between Kathmandu and Lhasa.

You then drive east alongside the mighty Tsangpo River (called the Brahmaputra when it reaches India) to Tsedang at 3,550m/11,647ft. Tsedang, the capital of Shannan prefecture and the second largest city in Tibet after Lhasa, has some Tibetan buildings but as in so much of Tibet, Chinese influence is now predominant. But Tsedang does have an important place in the history of Tibet. It was here, on the nearby hill called Gongpo Ri that, according to legend, the Tibetan race originated, from the union of a monkey and an ogress. Tsedang was said to have been their playground.

There might be time this afternoon for a little exploration - Tsedang has a Tibetan quarter with traditional houses and several monasteries of interest - but it is probably best to rest and take it easy to help acclimatise to the altitude (although you will have already gained some acclimatisation in Bhutan). In the main street outside the Tsedang hotel there are lots of restaurants serving good food - so in the evening you might try locally caught fish served with lots of chillies, or a Chinese hotpot.


Overnight: Tsedang Hotel or Similar, Tsedang

Day 13 - Explore Samye and the Yarlung Valley.

Today you will have a full day around Tsedang. Firstly you will visit Samye Monastery. The drive by the newly built road to Samye now takes one hour. Until recently this important monastery could only be reached by taking a ferry across the Tsangpo River. This was an exciting boat ride but with the building of the road the ferry now only runs sporadically if at all.

Samye was founded 1200 years ago and was the first monastery with monks in Tibet. It was the royal temple up to the end of the Yarlung Dynasty and is built in the shape of a Mandala. It is most closely associated with the Nyingmapa order of Buddhism, which is one of the oldest orders of Tibetan Buddhism and dates back to Padmasambhava, an Indian Buddhist master who is credited with bringing monasticism to Tibet in the eighth century. After your visit inside the monastery you might like to climb nearby Hepori Hill, considered one of the four sacred mountains of Tibet, for fantastic views over Samye. From the summit there are also wonderful views out across the Tsangpo Valley. After the visit to Samye you return to Tsedang.

The area around Tsedang is considered to be the cradle of Tibetan civilisation. In the nearby Yarlung valley, a short half-hour drive from Tsedang, is the fortress/chapel of Yumbulakhang, a distinctive tapering structure perched on a crag, said to be the oldest building in Tibet and to have been built for the legendary King Nyentri Tsenpo. Its origins may date back more than 2,000 years. If you climb the ridge above Yumbulakhang you will get good views of the Yumbulakhang and the Yarlung Valley and the mountains to the south. The first cultivation in Tibet is thought to have started in this valley. It was also from Yarlung that early Tibetan kings unified Tibet in the 7th century. In nearby Chongye are found the burial mounds of these earliest kings. One of the larger mounds, topped by a monastery, is that of King Songsten Gampo who was the first royal patron of Buddhism in Tibet and in whose reign building of the Jokhang Temple was started. Tandruck Monastery, also situated near Tsedang, is one of the earliest Buddhist monasteries in Tibet, dating to about the same time as the Jokhang in Lhasa and you should have time to visit it on the way to Yarlung.


Overnight: Tsedang Hotel or Similar, Tsedang

Day 14 - Drive to Lhasa, 3,658m/12,001ft. Visit Jokhang Temple and Barkhor Market.

After breakfast you will drive to Lhasa with visits to a couple of places on the way. Firstly you drive a short way off the main road to see the old manor house at Namseling. Built in the 14th century this large and ancient building was an aristocratic manor house and is one of the very few remaining non-religious buildings to be found in Tibet. Sadly it was allowed to fall into a state of some disrepair but there has been some restoration work and hopefully this wonderful old building is now saved from dereliction. Until the mid 20th century the house was the centre of a grand estate and was surrounded by farm buildings and thriving orchards and gardens. Some people in the village still remember the old days when the estate was fully functioning. Later, also within living memory, in the 1960's, the building was used as a school. There are lovely views from Namseling over the Tsangpo valley and towards Hepori Hill, which marks the area where Samye monastery is situated. Continuing towards Lhasa it is also worth taking a detour to visit the famous monastery of Mindroling, one of the few monasteries in Tibet belonging to the Nyingmapa sect (this is the sect to which the Sherpas of Nepal belong). You then continue, past the airport, and drive through a tunnel through the mountains and continue to Lhasa alongside the Kyichu River. Lhasa looks a very modern Chinese city and as you drive in you will pass the new railway line coming in from China. But despite this apparent modernity your first view of the Potala Palace will still take your breath away. Your hotel is in the Tibetan section of Lhasa and within walking distance of the Jokhang Temple and Barkhor market.

After lunch you will visit the Jokhang Temple. This is the most sacred temple in Tibet and the centre of the Tibetan city. Pilgrims from all over Tibet flock to visit it. You will see them circling the Barkhor turning their prayer wheels or making full-length prostrations around the temple. To visit the Jokhang you will join these pilgrims as they shuffle round inside, making their offerings and feeding the thousands of flickering butter lamps. The temple was initially established in the 7th century by King Songtsen Gampo. It takes its name from the sacred image of the Buddha, the Jowo Shakyamuni, the most highly revered image in Tibet, a statue which was brought to Tibet by Songtsen Gampo's Chinese wife and which is now housed in one of the chapels of the Jokhang. The Jokhang itself was however originally designed by Nepalese craftsmen brought to Tibet by Songtsen Gampo's second wife who was from Nepal. Since that time the temple was further enlarged during the reign of the Fifth Dalai Lama. It is worth visiting the roof of the Jokhang for wonderful views of the city and surrounding hills.

The Barkhor market is the area surrounding the Jokhang and is full of vendors selling all manner of wares; stirrups for dashing nomad horseman, tacky souvenirs for Chinese tourists and all sorts of other ephemera. Shops in the nearby streets display huge slabs of butter which pilgrims purchase to feed the butter lamps in the Jokhang temple. The characteristic rather cheesy smell of such temples is from these butter lamps. Part of the Barkhor market is now housed in a nearby building.

Overnight: Kyichu Hotel or Shambala Hotel or Similar, Lhasa

Day 15 - Sightseeing in Lhasa including the Potala Palace, Norbulingkha and Sera Monastery.

Today you have a full day sightseeing in Lhasa. This will include the Potala Palace and the Norbulingkha, the former summer palace of the Dalai Lama. In the afternoon you will visit the Monastery of Sera.

In the morning you will visit the Potala Palace. Luckily the Potala remained largely undamaged throughout the years of the Cultural Revolution. Songtsen Gampo was the first Tibetan ruler to establish a palace on this outcrop, the 'Red Hill', but construction of the grand palace that we see today began in 1645 during the reign of the Fifth Dalai Lama. The palace is named after Mount Potala, a sacred mountain in South India, and served as the home of successive Dalai Lamas and their monastic staff. You will start your tour at the top of the building where the view from the roof is stunning. You then work your way down through successive storeys and through a maze of rooms - through the living quarters of the Dalai Lama and down through numerous highly decorated chapels and colourful assembly halls. Walls are decorated with intricate murals and hung with painted thangkas. One of the most awesome rooms in the Potala is the Chapel of the Dalai Lamas' Tombs, which contains the massive golden stupa of the Fifth Dalai Lama and smaller stupas containing the relics of other Dalai Lamas. When you have completed your tour you may like to make a kora (circuit) right around the building, along with many Tibetan pilgrims who will be making the same circuit.

Your will next visit the Norbulingkha. The name means 'Jewel Park' although nowadays it is known as 'People's Park'. The Norbulingkha was formerly the summer palace and recreation gardens of the Dalai Lama and it was from here that the present Dalai Lama escaped in 1959. The nearby Tibet Museum is also well worth a visit. Pass rapidly through the galleries justifying the Chinese occupation and you will find that the galleries on Tibetan Buddhism and Tibetan arts and crafts along with objects of everyday life are well worth the visit. There are many outstanding pieces on display.

In the afternoon you will drive 40 minutes to Sera Monastery, one of the three great Gelukpa monasteries near Lhasa. This monastery dates back to the 15th century and was formerly a monastic township housing over 5,000 monks. Although many of the outlying buildings have been destroyed the principal buildings were left relatively intact and nowadays the monastic population is again over 300 monks. Sera is particularly famous for its great monastic debates and monks can still be seen debating in the debating courtyard. More prosaic but equally fascinating are the large monastic kitchens where monks prepare industrial quantities of food in huge copper cauldrons. It is quite a sight to see Tibetan tea being blended with a mixer the size of a road drill!


Overnight: Kyichu Hotel or Shambala Hotel or Similar, Lhasa

Day 16 - Visit Drepung Monastery. Afternoon at leisure.

This morning you will travel to Drepung Monastery, just a few miles out of Lhasa. Drepung, Sera and Ganden Monasteries make up the three great Gelukpa Monasteries of Tibet with Drepung arguably the most important of all. The name Drepung means piles of rice and comes from its appearance when seen from afar. Drepung was founded in the 15th century and was long a centre of Buddhist study with as many as 10,000 monks. Even today it is a centre of resistance to Chinese authority and was closed down by the authorities for several years at the beginning of the century. The 'debates' held by Drepung's monks are famous.

Finally, you return to Lhasa where you will have some free time to do some shopping or simply relax at your hotel.

Overnight: Kyichu Hotel or Shambala Hotel or Similar, Lhasa

Day 17 - Drive to Gonggar. Fly to Kathmandu and transfer to hotel.

You will have a fairly early start for the hour's drive to Gonggar International Airport and the hour long flight to Kathmandu. The best views of Mount Everest are from the right hand side of the aircraft, although seating is allocated. However if you are on the left hand side you will get wonderful views of Mount Kangchenjunga. The flight to Kathmandu usually arrives by mid morning and you will hopefully be back in the Hotel Shangri La before lunch. This leaves the afternoon free for last minute shopping with time for a last meal in the evening to mark the end of your trip.

Overnight: Shangri La Hotel, Kathmandu

Day 18 - Time at leisure. Transfer to the airport and depart for London.

You will have much of today free in Kathmandu to do some sightseeing or shopping or simply relax by the pool at your hotel. Later there will be a group transfer to the airport for your overnight flight back to London.

Overnight: In flight

Day 19 - Arrive London.
Map
Map Key
Airport
Point of interest
Mountain Peak
Day walk in this area
Flights
Internal Transfers
Trek
---
2021
Dates
Availability
Land Only
Flight Inclusive from
Mon 15 Mar - Fri 2 Apr 2021
Restricted

Restricted

This departure attends the Talo Tsechu
Contact us
Contact us
Sat 11 Sep - Wed 29 Sep 2021
Available

Available

This departure attends the Thimphu Tsechu
£3595 Book
£4395 Book
Hold your place
Not quite ready to book? Why not call us on 0044 (0)1453 844400 to hold a no obligation place while you make up your mind?
Optional supplements
Single room supplement
From £745
Insurance
No Surcharge Guarantee
No surcharges will be applied to your holiday after you book. Prices on this website are updated regularly. The Flight Inclusive holiday price, or Land Only holiday price, will be confirmed to you at the time you make your booking. There will be no surcharges after your booking has been confirmed.
Flight inclusive holidays
The 'flight inclusive' holiday prices shown on this website are based upon our preferred airlines and the best priced economy class fares we are able to secure at the time of publication.
We will be able to advise on fares with alternative airlines, upgrades to Business Class, and the options for flights from regional UK airports, please contact us for more details.
Booking your holiday
For the majority of our holidays, a deposit payment of £100.00 per person is required to secure your place(s), however a small number of holidays require a higher deposit - please refer to the holiday itinerary for more details. If the holiday departs within 60 days, a minimum deposit of £750.00 per person is required.
Book now!
Book your small group holiday securely online – click the 'Book' button next to your chosen departure or visit our How to Book page
Complete and return a Booking Form available to download here.
Call us on 01453 844400 and one of our travel specialists will talk you through the booking process.
Loyalty discount
Find out more
What's included
Local English-speaking guides in Nepal, Bhutan and Tibet
All internal flights and domestic airport transfers
Bhutan visa fee and Bhutan departure tax
4-star standard hotel accommodation in Kathmandu, twin share, bed and breakfast basis
Best available hotels in Bhutan and Tibet, on a twin share, full board basis
All road transport by private vehicles
Sightseeing where specified
Economy class return air fares from the UK & UK Departure Tax (flight inclusive only)
Single, timed group airport transfers for international flights on arrival and departure
Carbon offsetting with the Ecoan Tree Planting Project (for clients taking our flight inclusive option)
A free Mountain Kingdoms Water-to-Go bottle
The opportunity to attend one of our pre trip meets in the Cotswolds
What's not included
Travel insurance
Nepal visa fees and Tibet permit (Bhutanese Visa is included)
Lunch and evening meals in Kathmandu
Optional trips
Tips
---
---
Review your holiday
Reviews
Read holiday reviews by Mountain Kingdoms travellers.
Overall score: 5.0 (Based on 8 reviews)
Cultural Highlights of Nepal, Bhutan & Tibet
Cultural Highlights of Nepal, Bhutan & Tibet 04/06/2019
The Cultural trip was well planned ,all the tour guides and drivers were excellent.
Ms F Wales, Littlehampton
Cultural Highlights of Nepal, Bhutan & Tibet
Cultural Highlights of Nepal, Bhutan & Tibet 04/05/2019
We had a very memorable adventure with experiences we will remember for along time!
Mr Peter Barnes, Barnsley, South Yorkshire
Cultural Highlights of Nepal, Bhutan & Tibet
A great introduction to 3 Himalayan countries 03/05/2019
An enjoyable trip to see the cultural highlights of Nepal, Bhutan and Tibet. A little bit of trekking involved in Bhutan but well worth it to see the Tigers Nest Monastery. All the guides and drivers were helpful, knowledgeable and spoke good English. The hotels were comfortable and we enjoyed a lot of traditional food as most meals were included. Each country is predominantly Buddhist but this is interpreted differently depending on the country, so it was a fascinating insight into the slightly confusing world of Buddha (or Buddhas as I learnt there are more than one!).
Ms Feeona Wales, WEST SUSSEX
Cultural Highlights of Nepal, Bhutan & Tibet
Perfect 16/04/2018
Wonderful experience.
Mrs Linda Falder, Essex
Cultural Highlights of Nepal, Bhutan & Tibet
Beautiful Bhutan 14/10/2017
Gross National Happiness. The concept of GNH will be one of our lasting memories of Bhutan, quite apart from the spectacular scenery, clean air, beautifully crafted architecture, wonderful people and chilli cheese! The effort, as part of the GNH concept, to retain the cultural heritage of Bhutan, whilst taking modern approaches to equality, education, health care and the environment makes visiting Bhutan such a joy. Seeing the old and young celebrating local festivals in their very finest national costumes, with only a very small minority wearing western clothing, was colourfu beyond measure. GNH gives hope that Bhutan will not rush headlong into becoming just another westernised (if remote) beauty spot.
Mrs D Taylor, Nottingham
---