Our grading system explained
Gentle
Gentle / Moderate
Moderate
Moderate / Vigorous
Vigorous
Vigorous / Strenuous
Strenuous
Expedition Grade
Bhutan Holidays - Walks, Treks & Tours

Timeless traditions, unique architecture and stunning Himalayan scenery combine to make Bhutan the most fascinating of all the Himalayan kingdoms.
When is the best time to travel to Bhutan?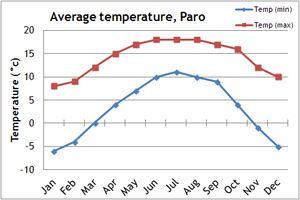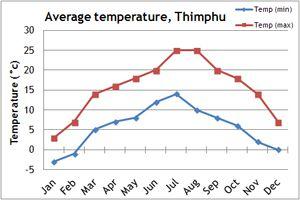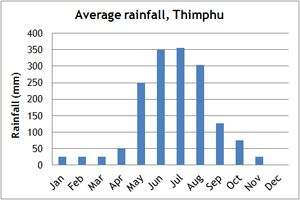 The best time to visit Bhutan is in the spring and autumn. In the spring months of March, April and May you are likely to see blue skies and warm sunshine in the mornings with a build-up of cloud in the afternoon. During the spring months the beautiful rhododendron and magnolia will be in full bloom bringing a wealth of colour to many walking trails. Temperatures can be hot when the sun is out so we would advise wearing sunscreen and a sunhat – especially at higher altitudes. The Paro festival is also held in the spring at Paro Dzong and many of our group holidays include a visit to the festival.
Autumn is considered to be the very best time to visit Bhutan. At this time of the year skies are generally clear with little cloud and rain and the temperatures are lovely and warm; ideal weather for walking or trekking in Bhutan. With the passing of the summer rains, the valleys are lush and verdant and many of Bhutan's unique species of flora can be seen at their best. Autumn is also the season when the impressive Thimphu tsechu is held.
For more information about Bhutan's festivals, and when they are held see our festival blog. Some of our group holidays are timed to festivals and we can also organise a Tailor Made holiday to include time at a tsechu.
In winter in Bhutan, the days are generally dry, clear and bright, though the evenings will be cold, and high passes can be blocked by snow. Although a high-altitude trek may not be possible, winter can be a great time to visit Bhutan on a cultural tour or gentle walking holiday, as there are fewer tourists. Bhutan is also a great option for those looking to book a Christmas getaway.

It is possible to travel to Bhutan throughout much of the year, but as our climate charts indicate, the summer months are the monsoon season so the weather is hot and humid with heavy rainfall. We therefore don't organise any of our group holidays to depart in June, July or August.
It should be noted that the great variations in elevation in Bhutan have a significant impact on temperature and rainfall. The lower altitudes in the south of the country bring a more tropical climate with the greatest precipitation. Whilst the Himalayan north is colder all year round and the highest peaks permanently covered in snow. Even in the central region of Bhutan, where most tourists visit, the higher you are the cooler it will feel. We therefore recommend carrying a couple of additional layers with you, including a good waterproof, windproof jacket, especially if you are out walking.
Whatever time of year you choose to travel to Bhutan we have a comprehensive range of small group tours, treks, walking and cycling holidays, or we can create the perfect Tailor Made Bhutan holiday for you.