/
/
Article
/
A New Generation of News in Bhutan
A New Generation of News in Bhutan
Many travellers on Bhutan tours are somewhat surprised upon arriving in Paro; encountering a city whose inhabitants, whilst maintaining a deep cultural pride and traditional values, are not afraid to embrace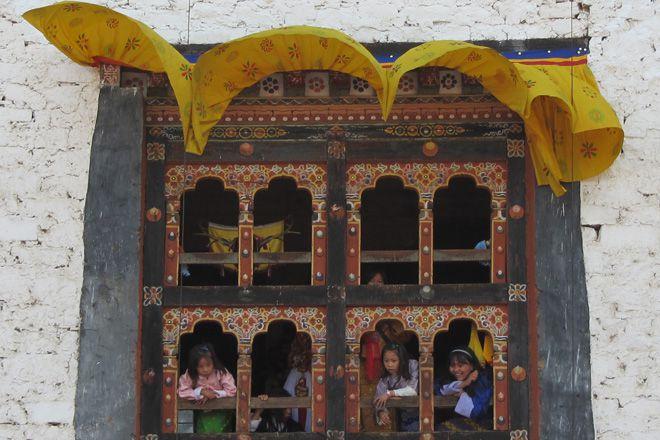 Local Children in Paro. Photo courtesy of S Mather
Many travellers on Bhutan tours are somewhat surprised upon arriving in Paro; encountering a city whose inhabitants, whilst maintaining a deep cultural pride and traditional values, are not afraid to embrace a progressive approach to education and technology.
Bhutan tours and treks remain the mainstay of the country's economy, and Paro is home to the only international airport, playing host to large numbers of tourists arriving for their adventure of a lifetime in the Himalaya. However, many of the local youth are now looking beyond their own front door and are eager to explore career opportunities which, not so long ago, would not have been available to them.
One such career which appears to be proving extremely popular is that of journalism, and Yosterling Higher Secondary School in Paro recently opened its doors to an unusual forum. Organised by the school, and newspaper Business Bhutan, the program was aimed at encouraging media literacy and consisted of a number of journalists, local and foreign, gathering together in a brainstorming and writing session with around 35 students.
Business Bhutan has devoted a regular page to publishing the journalistic works of students from across Bhutan. Tours, local interest stories, editorials, photographs and creative writing pieces are featured; all researched and developed by the students themselves. The in-house visit to the school in Paro was one of several across the country aimed at bringing attention to the scheme and also included sessions on behind the scenes of a newspaper, and the history of Bhutanese media.
The workshop in Paro was declared a resounding success with even the headmaster declaring that the writing tips had assisted him in his own work. Business Bhutan hopes to extend the program to further schools and sent out an open invitation saying that "the newspaper team will always be available for schools interested to conduct similar programs."