/
/
Article
/
24 Hours in Thimphu - the Royal Visit to Bhutan
24 Hours in Thimphu - the Royal Visit to Bhutan
With barely a day dedicated to Bhutan on William and Kate's tour schedule, there's hardly enough time for them to leave the ceremonies and speeches behind and experience the Thunder Dragon Kingdom for themselves. But if they could just be regular tourists for a day, how should they spend their 24 hours in Thimphu. Here's our guide …
Start the day at Buddha Viewpoint. There's a lot to pack into the day so it's an early start and a short drive to reach Buddha Viewpoint just south of the town. Not only is this one of the best places for great views of Thimphu and the surrounding valley, but it's also the site of an impressive 50 metre high, golden Buddha statue.
Explore the market. Returning to the town it's time for some shopping. If visiting at the weekend than the weekend market is a must. It runs along both sides of the Wang Chhu river and has numerous food stalls on one bank and a smaller selection of handicraft stalls on the other. Popular produce on sale includes tea bricks, chillies, red rice, jackfruit and strings of datsi – home-made cheese. In fact, the market is also a good place to try Bhutan's national dish – ema datsi – a curiously spicy mix of chilli and cheese.
Treat yourself to a souvenir. There are plenty of shopping opportunities along the main downtown streets where you can buy anything from prayer flags to t-shirts and incense to jewellery. And for that special souvenir, why not take home a gho or kira – the Bhutanese national dress - or call into the Post Office to pick up a sheet of Bhutan's unique, personalised, postage stamps. Makes a change from having granny on your stamps!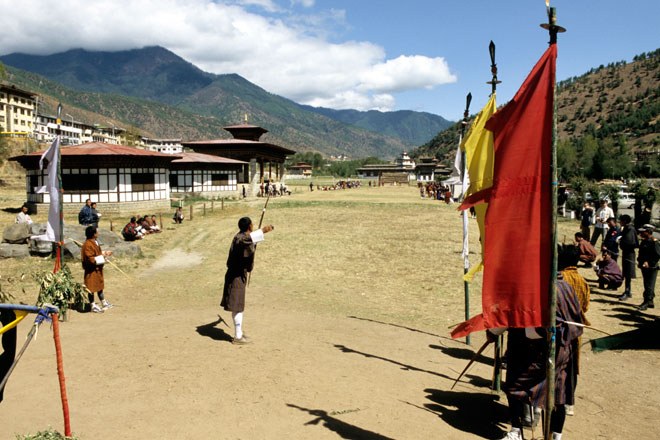 Watch an archery competition. Stop by the Changlimithang Stadium and Archery Ground where there might be a competition in full swing. Archery is Bhutan's national sport and is always an entertaining spectacle. Unlike our more sedate version of the sport, traditional Bhutanese archery involves good-natured 'sledging' of the opposition as well as celebratory singing and dancing.
Visit the Textile Museum. Bhutan is renowned for its beautiful hand-woven textiles – most evident in the intricate and colourful designs of the local dress. To see textiles being produced in the traditional way William and Kate should pay a visit to the fascinating National Textile Museum before they stop for lunch.
Lunch with the traffic police. Stop for a quick lunch and coffee at one of Bhutan's many bakeries. The Swiss Bakery is the oldest in town and a bit of an institution. It's also a great place to watch the local police directing the traffic. In a town with no traffic lights, the white-gloved police keep the traffic moving with a unique style akin to a robot crossed with a ballet dancer!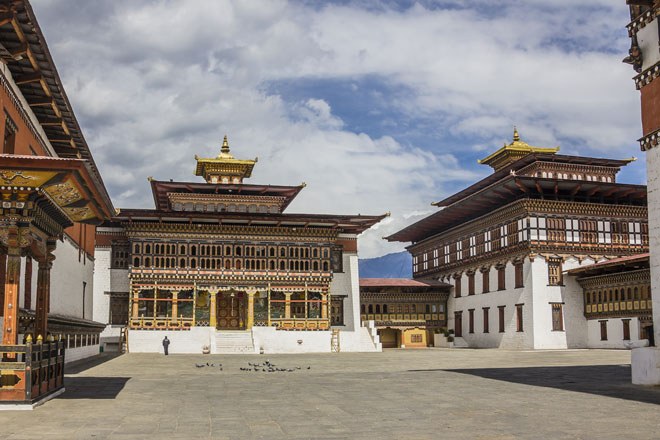 Visit the dzong. After lunch it's off to Taschiccho Dzong – Thimphu's main cultural attraction and the ceremonial centre of the country. This imposing monastery/fortress has both sacred and administrative functions and is still the seat of government as well as the official residence of the King. The splendid courtyard (dochey) isn't to be missed or the assembly hall with its painted ceiling and original thrones. An ideal spot for the royal visitors to sit and rest!
Take a hike. No visit to Bhutan is complete without a walk, and the short but rewarding hike to Tango Gompa can easily be added to a day out in Thimphu. It takes about an hour to reach the gompa following a pretty, wooded trail at the head of the valley. Tango gompa is a monastery and centre of learning for Buddhist monks and comprises a picturesque tower and surrounding buildings built in traditional Bhutanese style.
Enjoy the nightlife. Start the evening with a traditional apple brandy at the Hi Jinks Bar at the Druk Hotel (this is one of our MD, Steve Berry's, favourite haunts) before heading to the Bhutan Kitchen restaurant for an authentic Bhutanese meal. The perfect end to a perfect day whether you're royal or not.
If you're intrigued about this unique Himalayan kingdom find out more about what makes Bhutan so special, take a look at all our holidays to Bhutan or get some inspiration for a Tailor Made trip of a lifetime.