What's included
A knowledgeable English-speaking Indian leader
Good standard, characterful hotel accommodation
14 Breakfasts, 6 lunches, 7 dinners included
All road transport by private vehicle/s
Sightseeing and all entrance fees as specified
Economy class return air fares from the UK & UK Departure Tax (flight inclusive only)
Single, timed group airport transfers on arrival and departure
Carbon offset for clients taking our flight-inclusive option
A free Mountain Kingdoms Water-to-Go bottle
Opportunity to join our pre-trip meet in the Cotswolds
and much more...
Call our
friendly team
India, Southern India | Walking & Trekking
Gentle
Suitable for people who enjoy easy-paced walks or exploring the countryside on foot.
Find out more...
Grade: Gentle ? Gentle
Duration: 16 days from the UK
Walks on: 8 days
Flight inclusive from £2,960,
Land only from £2,125
Book now or call 01453 844400
An off-the-beaten-track exploration of southern India's hidden gems with temples, tigers, tea plantations and a dazzling Theyyam dance festival.
Highlights
Stay on a coffee plantation in beautiful Wayanad, high in the Western Ghats
Ride the toy train down from Ooty and explore historic Mysore
Visit Ranganathittu Bird Sanctuary and search for tigers in Bandipur National Park
Relax beneath the palm trees at a lovely beach resort
Visit a Theyyam Festival, a hypnotic ritual dance-drama
Reviews
This superb Southern India holiday takes you to some of the best places in Northern Kerala, Karnataki and Tamil Nadu with many varied and enjoyable experiences along the way. The accommodation has bags of character and Flameback Lodge must be one of the most atmospheric places I have encountered in many years of travel.
Steve Berry, MD, Mountain Kingdoms
This is an exciting winter break to sunny Southern India. We particularly loved the warm and generous people of Kerala as well as the gorgeous scenery. Kerala is simply beautiful everywhere you go with surprisingly big mountains, rolling hills, tea and coffee plantations, jungle and backwaters.
Seraphina Berry, Mountain Kingdoms
View All
The south of India is very different to the north. It is a land of tea, coffee and spice plantations. Lush green hills, which in places rise to over 2,500m/8,200ft, lead down through wildlife rich reserves to alluring waterways and coconut-fringed beaches.
You begin your adventure flying into Kozhikode (Calicut) in northern Kerala and from there drive north to Wayanad for walks in the cool, misty hills. During your stay here you will walk in a plantation as well as to nearby Chembra Peak, the highest point in the area. Crossing the border to Ooty in the state of Tamil Nadu you ride the famous Toy Train to Coonoor to get a glimpse into the days of the Raj and a window onto India's dynamic history.
Bandipur National Park in Karnatika State is your next destination where you may see tigers, elephants and monkeys on a game drive before travelling on to historic Mysore for a tour of its grand City Palace. Tempted back into the hills you head, via the fascinating temple complex of Belur, to walk on the verdant hills of the Western Ghats. Your holiday concludes at a lovely beachside resort facing the Arabian Sea where you can relax on the beach and visit a Theyyam festival.
This is a relaxed but varied trip with lots of off-the-beaten-track places to see, some beautiful gentle walks, lovely accommodation, delicious food and friendly people – perfect!
---
At a glance
Grade: Gentle
Gentle
Duration: 16 days from the UK
Walks on: 8 days
Guaranteed to run for a minimum of 4 clients
Maximum group size: 12
Land only joining city: Calicut
Accommodation types: Hotels, Lodge, Plantation House
Festival:
All departures attend the Theyyam Festival.
Meal arrangements: 14 breakfasts, 6 lunches and 7 dinners included.
Itinerary overview
| Day | Activity |
| --- | --- |
| 1-2 | Fly to Kozikhode (Calicut). At leisure. |
| 3-4 | Drive to Wayanad for plantation stay and walks. |
| 5 | Drive to Ooty and ride the toy train. Walk in Sims Park. |
| 6 | Morning walk and afternoon visit to tea factory. |
| 7-8 | Drive to Bandipur for game drives in the national park. |
| 9-10 | Drive to Mysore. Explore Mysore and Srirangapatannam. |
| 11 | Drive to Mudigere with walk to Sravanabelagola and temple visits on the way. |
| 12 | Seven Saints Mountain walk and plantation tour. |
| 13-14 | Drive to Nileshwar with time for relaxation on beach and visit to a Theyyam festival. |
| 15-16 | Drive to Kozikhode (Calicut) and fly home. |
Leader: Local leader, Kerala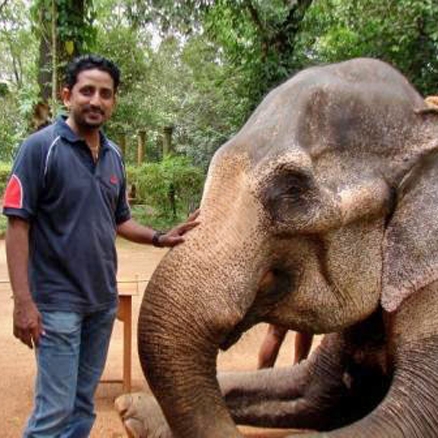 Your trip will be led by an English-speaking local leader. One such Leader is Mr Vipin Antony, specially selected for his leading experience and knowledge of the region through which you will be travelling.Leading walking and adventure groups around the jungles of Southern India is his forte. With a passion for adventure and a keen interest in photography, he is often off exploring areas lesser known. Having lived and worked in Europe and India and with years of experience in the field he is the best person to take you around this beautiful part of the world. Vipin will be with your party from start to finish, though he may well be assisted by local wildlife trackers for the walking days.
Please note if the group size is less than 4 there will not be an accompanying leader throughout but you will have an experienced English-speaking driver, plus guides at all places in the itinerary where sightseeing is indicated.
---
Spice Trails of Kerala & Southern India Itinerary
Day 1 - Fly London To Kozhikode (Calicut)

Today you will depart London on an overnight flight to Kozhikode (formerly Calicut).

Overnight: In flight

Day 2 - Arrive Kozhikode. Group transfer to hotel - 1 hour. Afternoon at leisure.

On arrival at Kozhikode airport you will be met and transferred to your hotel. You will stay at the Kadavu Resort, which has beautiful gardens and a relaxing swimming pool. The remainder of the day will be at leisure to rest and recover from the long flight.

Overnight: Kadavu Resort Hotel, Calicut

Day 3 - Drive to near Meppadi in Wayanad - 95km, 3 hours. Plantation walk - 2-3 hours.

After breakfast at the hotel you will drive out of the city to and up into the hills of the Wayanad district to reach the pretty town of Meppadi. Wayanad is an area known for its hills and its estates of coffee and tea, plantations of hardwood trees, and tribal populations.

Your accommodation in Wayanad will be not far from Meppadi, at Aranyakam, a characterful homestay on a plantation managed by Rajesh and his wife, Neema. Their farmhouse is surrounded by plantations of coffee and offers spectacular views of dense forest and the distant Western Ghats, with the forests of Nilambur on one side and the Nilgiri hills on the other. Many different species of birds flit about the grounds.

Accommodation is in comfortable rooms in a building adjoining the main farmhouse and delicious Keralan meals are freshly prepared from locally sourced ingredients. For those interested it might be possible to arrange a cooking demo where you could try your hand at some local cuisine!

In the afternoon you will have a lovely walk through Aranyakam's plantations to see at first-hand how a small estate is operated. Here they grow organic pepper, coffee, cardamom and a variety of fruits. The terrain is mainly woodland and borders the Nilambur forest which is one of the few untouched rainforests in Indian, harbouring innumerable species of flora and fauna as well as being a haven for birds.


Overnight: Aranyakam Plantation House, Wayanad

Day 4 - Early morning walk to Chembra Peak - 3-4 hours. Lunch at plantation. Afternoon walk to tribal village - approximately 3 hours.

Today you will have an early start to begin the ascent of Chembra Peak in the cool of the morning. At 2,100 m Chembra Peak is the highest summit in the Wayanad range and the trek takes around 4 hours. From the peak, you can see the whole of Wayanad beneath you with its mix of tea and coffee estates and forests. If you don't wish to go as far as the summit you could just go up as far as a delightful heart shaped lake. A local guide will accompany you on the walk. Please note: the peak is part of the Wayanad Wildlife sanctuary and is strictly monitored by the forest department. During the summer months the park is closed and walking may not be permitted to prevent forest fires. If access to the peak is not allowed your guide will take you on an alternative walk.

You will have lunch back at the plantation and in the afternoon your guide will take you on a walk to visit a tribal village. Wayanad has the largest population of tribal peoples in Kerala and although their way of life is under threat with encroachment on their ancestral lands, they have a rich legacy of arts and crafts which includes music, dance and ornamentation and handicrafts that draw inspiration from natural themes, motifs and materials. They also have a tradition of holistic medicine. Some of the tribes are also proficient in martial arts and archery with skills passed down through the generations. Many of these tribes do not have much contact with outsiders and your guide will try to ensure that your visit is as un-intrusive as possible.


Overnight: Aranyakam Plantation House, Wayanad

Day 5 - Drive to Ootacamund (Ooty) - 106km, 3-4 hours. Toy train to Coonoor 1,850m/6,070ft. Walk in Sims Park.

This morning you will drive through the Nilgiri Hills to Ooty (Udhagamandalam/Ootacamund). Ooty served as the summer capital of the Madras Presidency, and was a popular summer resort for British officials during the colonial days. There are many reminders of these days of the British in Ooty - St Stephen's church, colonial bungalows and the famous Botanical Gardens. The game of Snooker originated on the billiard tables of the Ootacamund Club. You will have a brief look around Ooty and then have a snack lunch (not included), at the Savoy Hotel, another well-known Ooty institution.

After lunch you will board the famous toy train for the ride down through the hills to Coonoor. The Nilgiri Mountain Railway is one of the oldest mountain railways in India, the line being opened by the British in 1908. The total route covers a distance of 26 miles/41.8 km, and while the lower part of this route is still powered by steam train, the pretty section from Ooty to Coonoor is operated with a diesel engine. It takes about an hour to cover the 19kms/11 miles. Coonoor, smaller and quieter than Ooty, is located at an altitude of 1,850 m/6,070 ft, above sea level, and is the second largest hill station in the Nilgiri hills after Ooty. It is famous for the fine quality of its Nilgiri Tea. There are various good walks in the area.

On arrival in Coonoor you will take a walk in the famous Sims Park. These beautiful botanical gardens, created in 1874, are named for J. D. Sim, the then secretary of the Madras Club. The park has some huge, very old, gnarled trees which were planted at that time.

(Your luggage will travel down in the vehicle and will be waiting for you at your hotel).


Overnight: Taj Gateway Hotel Or Similar, Coonoor

Day 6 - In Coonoor. Morning walk in the Pakasuran Hills 3-4 hrs. Afternoon visit to a tea factory.

There are some lovely walks and viewpoints in the Coonoor area. Today you will have a walk in the area known as Pakasuran. This is a lovely walk through tea plantations, vegetable farms, local villages, forest and grassland up to a viewpoint, perhaps to Droog Fort (also called Bakasura Malai) which is said to have been used as an outpost by Tipu Sultan in the 18th century. Your guide will be able to tell you about the various crops and life in the villages along the way. The walk is on pleasant undulating terrain taking you on local tracks and smaller paths. You will have a picnic lunch along the way.

Returning to Coonoor you will visit a Tea Factory. There are several in the area including the Highfields Tea Estate and the Brooklands Tea Factory and you will be able to learn about the preparation of tea, which is so important to this area and no doubt sample a brew as well.


Overnight: Taj Gateway Hotel Or Similar, Coonoor

Day 7 - Drive to Bandipur National Park, 1,030m/3379ft – 70 km, 2-2½ hours. Late afternoon game drive.

Today you will drive to Bandipur in Karnatika State. This is a beautiful journey as you drive down through lovely forest from the Nilgiri Hills to the jungle. Bandipur National Park is situated between the Western Ghats and Nilgiri Mountains and was once a private hunting reserve for the Maharaja of Mysore. Although it has a good population of tigers you have to be very lucky to see one during your stay but you will see plenty of other wildlife including elephants, chital (spotted deer), sambhur deer, grey langur monkeys, Indian giant squirrels, wild dogs, wild boar, muntjac deer, leopard, sloth bear and gaur (bison). The park is also home to more than 200 species of birds including the ubiquitous jungle fowl and peacocks.

You will check into your resort and have lunch and then in the late afternoon you will have a game drive in the park.


Overnight: The Serai Hotel Or Similar, Bandipur

Day 8 - In Bandipur - Game drives.

Early morning is a good time to see wildlife and this morning you will rise early for a game drive in the park.

You will then have the rest of the morning at leisure with the opportunity to relax at your resort before going for another game drive in the afternoon.


Overnight: The Serai Hotel Or Similar, Bandipur

Day 9 - Nature walk. Drive to Mysore - 80km, 1-2 hours. Walk up Chamundi Hill. Visit City Palace.

After an early morning nature walk in forest near your lodge you will have breakfast and will then drive to Mysore and check in to your hotel.

This afternoon you can enjoy a walk to the top of nearby Chamundi Hill to visit the impressive temple of Chamundeshwari. The ascent features an ancient stone stairway of 1,008 steps leading to the summit. Approximately halfway to the summit is a large statue of Nandi the bull, "vehicle" of the god Shiva - this statue is 4 metres tall and is carved out of a single piece of black granite. From this point the steps are less steep and reaching the top you get great views of the city below including the City Palace. At the temple you will join large numbers of pilgrims visiting the shrine and see more statues of Nandi.(If you prefer not to walk up Chamundu Hill you may drive up in the vehicle.)

You may then either walk or drive back down to the city to visit the City Palace. This impressive palace, the main landmark in Mysore, is the official residence of the Wodeyars, the erstwhile royal family of Mysore. The Wodeyar kings first built a palace in Mysore in the 14th century and since then it has been reconstructed many times. The current palace was completed in 1912, and expanded around 1940. The architectural style of the palace is Indo-Saracenic, blending together Hindu, Muslim, Rajput, and Gothic styles of architecture. The palace also houses two splendid durbar halls, the ceremonial meeting halls of the royal court and is surrounded by gardens.

Although you are allowed to visit the palace, you may not take photographs inside and you have to remove your shoes to enter. These may be safely left at the gate.

You may have dinner either in the hotel or at a nearby restaurant. Your guide will be able to advise on good options.


Overnight: Radisson Blu Plaza Hotel Or Similar, Mysore

Day 10 - Visit Ranganithittu Bird Sanctuary and Srirangapatannam. Afternoon heritage walking tour of Mysore and visit market.

After breakfast you will drive the short distance to visit Ranganathittu Bird Sanctuary, about 18km from Mysore. This sanctuary is created on group of small islands in the Cauvery River and was formed when a small dam was built across the river in the 1600s. The Bird Sanctuary owes its existence to the efforts of world famous ornithologist Dr. Salim Ali who convinced the Maharaja of Mysore to declare it as a protected area in 1940. The sanctuary is not very large, covering an area of only some 40 acres, but for such a small area is home to the most amazing number and variety of birds, including cormorants, darters, white ibis, spoon billed storks, open billed storks, painted storks, white necked storks, egrets, herons, terns, swallows, kingfishers, and sandpipers which crowd the trees, river banks and waters. The sanctuary is an important nesting ground and breeding area for thousands of birds. There are also a few mammals in the sanctuary including fruit bats, bonnet macaques, palm civets, common mongoose and common otters. Marsh crocodiles are also seen here. You will take a boat ride around the sanctuary and be amazed at this feast of birdlife.

From here you drive in a further 10 minutes to visit Srirangapatannam, the de facto capital of Mysore under Hyder Ali and Tipu Sultan in the 18th century and a fascinating place. Famously it was the site of a battle in 1799 when, after many years of defiance, Tipu Sultan was finally defeated by the British. At Srirangapatannam you may see the city gates and the old fort but the main attraction here is Tipu Sultan's Summer Palace which is really beautiful. This is a unique structure built entirely in wood with delicately carved pillars, beams and ceilings, all built of wood. The palace is beautifully decorated and is really exquisite. It is a pleasant spot to linger. The palace also has lovely gardens on either side with fountains to cool the air. From here you may drive through the old fort and perhaps see the very spot where Tipu Sultan is said to have met his end. After your visit to Srirangapatannam it is well worth driving the short distance to visit the fascinating Garrison Cemetery. This is a very atmospheric place with many touching graves and memorials from the days of the British Raj.

You will either have lunch near Srirangapatannam, in a restaurant on the banks of the river, or return to Mysore for lunch.
In the afternoon you will have a Heritage Walking Tour of Mysore, a walk of about 2.5 hours. You will see the old Town Hall, constructed in 1884 as a tribute to the first Dewan of Mysore, St. Philomena's Cathedral, the fort, palaces, colonial buildings, old monuments, colourful markets and temples as well as more views of the spectacular City Palace. You will end your walk at the Devaraja Fruit and Vegetable market, a real Mysore institution. This is a good example of a traditional Indian market place - colourful, noisy and vibrant. Here you will find a mix of vegetable shops, fruit stalls, incense shops, shops selling traditional household tools, conical piles of kumkum (coloured powder used for bindi dots), beetle vine, banana leaves, local flowers, seeds and even some souvenir stalls. Everything here is fresh, straight from the farm to the market to the home. It is a photographer's delight and evening is best when it is busy!


Overnight: Radisson Blu Plaza Hotel Or Similar, Mysore

Day 11 - Drive to Sravanabelagola and walk up to statue. Visit temples at Belur and drive to Mudigeri.

Today drive firstly for about 3hrs to Sravanabelagola an important pilgrimage destination for people of the Jain faith. Here you can visit the impressive statue of Gometeshwara Bahubali, which is built on top of a hill and can be seen from a long way off as you approach the town. The statue is said to date back to the 11th century and to be the largest monolithic stone statue in the world. You reach the complex up a long flight of stone steps, walking up in the company of cheerful Jain pilgrims - quite a haul up over 600 steps but worth it for the fabulous views from the top and for the close up spectacle of this huge statue and the temples surrounding it. As you need to leave your shoes at the bottom and the stone steps can get quite hot you may like to wear socks. The base of the statue has inscriptions in Kannada and Tamil, as well as the oldest evidence of written Marathi, dating from 981 AD. The inscription praises the Ganga king who funded the effort and his general Chamundaraya, who erected the statue for his mother. This is the site every twelve years of a spectacular ceremony when thousands of devotees congregate here to perform the Mahamastakabhisheka, during which the statue is anointed with water, turmeric, rice flour, sugar cane juice, sandalwood paste, saffron and gold and silver flowers. After this visit you will continue your drive, stopping for lunch (not included) near the town of Hassan, before continuing to Belur.

The main attraction in Belur is the impressive Chennakesava temple complex, with the Chennakesava Temple (dedicated to Chennakeshava, meaning handsome Vishnu) as the centre piece, surrounded by the Kappe Chennigraya temple built by Shantaladevi, queen of king Vishnuvardhana. This temple is one of the finest examples of Hoysala architecture. It was built by king Vishnuvardhana in commemoration of a victory over the Cholas at Talakad in 1117 CE. Legend has it that it took 103 years to complete and Vishnuvardhana's grandson Veera Ballala II completed the task. The facade of the temple is an incredible piece of craftsmanship with fabulously intricate sculptures and friezes and no portion left blank. The intricate workmanship includes elephants, lions, horses, episodes from the Indian mythological epics and sensuous dancers (Shilabalikas). Inside the temple are a number of ornate pillars. The carving of Darpana Sundari (the Lady with the mirror) is one of major attractions in the complex.

From Belur you drive up to the coffee plantations in the hills near Mudigeri (Chikmagalur) to reach Flameback Lodge where you will stay for two nights.

Flameback Lodge is named for the many woodpeckers which are found in the surrounding forest and is a really beautiful place, surrounded by coffee plantations and overlooking forest, plantations, paddy fields and a beautiful lake. The accommodation is stylish and comfortable the staff are lovely and there is a good swimming pool. There are also some incredibly friendly resident dogs.


Overnight: Flameback Lodge, Mudigere

Day 12 - Walk on Seven Saints Mountain. Evening plantation tour and visit owner's bungalow.

After breakfast you will go for a walk up the dramatic looking Seven Saints Mountain. After a short drive and a visit to an ancient Shiva Temple you start your walk up a track, initially through forest and then over open hillsides. The final ascent is steep and a bit of a scramble (but it's short) and the views more than repay the effort.

In the evening you will have a walk through the nearby coffee plantations and up to the pretty bungalow of the owner where you may see coffee beans being dried and processed.


Overnight: Flameback Lodge, Mudigere

Day 13 - Drive to Bekal and on to Nileshwar, 210km - 6 hours. Spend the day at leisure.

Drive down the Western Ghats to the coastal town of Mangalore. From there you continue to Bekal and on to Nileshwar, a new and upcoming beach destination in northern Kerala. The rest of the day is at leisure.

Overnight: Kanan Resort Hotel Or Taj Bekal Resort, Nileshwar

Day 14 - Visit to Theyyam Festival and time at leisure.

You will have time to relax on the beach today and you may also enjoy an outing to witness a Theyyam performance. This is a ritual dance performed in temples and Hindu shrines in northern Kerala. The theyyam dancers go into a trance as the dance peaks, and are believed to become incarnations of the gods on earth. This is an intense religious experience for the locals, who however do not mind visitors. It is a real experience to witness a 'theyyam'! They are organised at the last minute, and may involve an early start or late evening.

Overnight: Kanan Resort Hotel Or Taj Bekal Resort, Nileshwar

Day 15 - Drive to Kozhikode (Calicut) - 170 km, 5 hours.

Drive to Kozhikode for your last night in Southern India.

Overnight: Kadavu Resort Hotel, Calicut

Day 16 - Group transfer to airport. Fly to London.

After breakfast you will be transferred to the airport for your flight back to the UK.
Map
Map Key
Airport
Point of interest
Mountain Peak
Day walk in this area
Flights
Internal Transfers
Trek
---
2021
| Dates | Availability | Land Only | Flight Inclusive from |
| --- | --- | --- | --- |
| Sat 6 Mar - Sun 21 Mar 2021 | Restricted | Contact us | Contact us |
Hold your place
Not quite ready to book? Why not call us on 0044 (0)1453 844400 to hold a no obligation place while you make up your mind?
Optional supplements
Single Room Supplement
From £795
Insurance
No Surcharge Guarantee
No surcharges will be applied to your holiday after you book. Prices on this website are updated regularly. The Flight Inclusive holiday price, or Land Only holiday price, will be confirmed to you at the time you make your booking. There will be no surcharges after your booking has been confirmed.
Flight inclusive holidays
The 'flight inclusive' holiday prices shown on this website are based upon our preferred airlines and the best priced economy class fares we are able to secure at the time of publication.
We will be able to advise on fares with alternative airlines, upgrades to Business Class, and the options for flights from regional UK airports, please contact us for more details.
Booking your holiday
For the majority of our holidays, a deposit payment of £100.00 per person is required to secure your place(s), however a small number of holidays require a higher deposit - please refer to the holiday itinerary for more details. If the holiday departs within 60 days, a minimum deposit of £750.00 per person is required.
Book now!
Book your small group holiday securely online – click the 'Book' button next to your chosen departure or visit our How to Book page
Complete and return a Booking Form available to download here.
Call us on 01453 844400 and one of our travel specialists will talk you through the booking process.
Loyalty discount
Find out more
What's included
A knowledgeable English-speaking Indian leader
Good standard, characterful hotel accommodation
14 Breakfasts, 6 lunches, 7 dinners included
All road transport by private vehicle/s
Sightseeing and all entrance fees as specified
Economy class return air fares from the UK & UK Departure Tax (flight inclusive only)
Single, timed group airport transfers on arrival and departure
Carbon offset for clients taking our flight-inclusive option
A free Mountain Kingdoms Water-to-Go bottle
Opportunity to join our pre-trip meet in the Cotswolds
What's not included
Travel insurance
Indian Visa fee
Lunch and evening meals where specified
Airport departure taxes, excepting UK Departure Tax
Optional trips
Tips
---
---
Extend your holiday
There are many ways you can extend your holiday with Mountain Kingdoms: book extra hotel nights, relax at a beautiful beach resort, take a warm-up trek, arrange a personal sightseeing tour or enjoy specialist activities such as rafting, birdwatching or a safari.
We're happy to suggest ideas, provide quotes and make all the arrangements. We can also assist with flight and hotel upgrades. Just call us on +44 (0)1453 844400 or email info@mountainkingdoms.com and we will be pleased to help.