/
Holiday
/
Rajasthan in Style
Agra, India, Northwest India, Delhi | Tours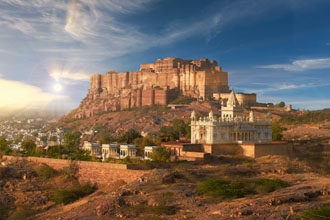 Duration: 17 days from the UK
Private Departures Available
Flight inclusive from £4475, Land only from £3775
This wonderful Rajasthan holiday captures the romance and colour of India's most culturally rich and scenically splendid region.
Highlights
Visit remote Jaisalmer with its wonderful desert location and impressive fort
See the iconic Taj Mahal at Agra and the Amber Fort at Jaipur
Tour majestic Jodhpur fort and visit the city's lively markets
Enjoy overnight and evening game safaris at quirky Korta Escape
Spend time in romantic Udaipur with its fabulous palaces and beautiful lake
Stay at Chhatrasagar luxury tented camp – a fabulous experience.
Reviews
My trip to Rajasthan certainly lived up to all expectations. What a fabulous place! It truly does bombard the senses, with continual reminders of its exotic history, breathtaking desert landscapes, imposing forts and flamboyantly dressed peoples. All thrilling stuff! In addition to sightseeing we had time to immerse ourselves in the culture and haggle for handicrafts, and we had the added bonus...
Ann Sainsbury, Wiltshire
Next
We really liked the mix of culture and nature and to see the life of people in the villages.
John
Next
What a fabulous place! It truly does bombard the senses, with continual reminders of its exotic history, breathtaking desert landscapes, imposing forts and flamboyantly dressed peoples. All thrilling stuff! In addition to sightseeing we had time to immerse ourselves in the culture and haggle for handicrafts, and we had the added bonus of a jeep safari to look for wildlife. Our accommodation was...
Ann Sainsbury
Next
View All
Rajasthan epitomises all that is most colourful and exotic about India, with its rugged desert landscapes, romantic warrior forts perched on hilltops, fairytale royal palaces and a vibrant and colourful heritage and culture. Here you will find a fantastic mix of Mogul and Rajput history - colourful tribespeople throng the streets along with their gaily caparisoned elephants, camels and horses, the men wearing amazing flamboyant turbans and the women in colourful dress and clanking with heavy silver jewellery.
Our trip will immerse you in this colourful region. You will see some of Rajasthan's most fabulous sights: 'The Golden City' of Jaisalmer set amidst desert scenery; the lovely town of Udaipur with its marvelous palaces and lakeside scenery; atmospheric Jodhpur with its ancient fort set on a rocky outcrop; Jaipur, the pink city, and finally you will visit the Taj Mahal as a fitting finale to this stunning trip. If you are travelling in the autumn you will also experience the joyful Diwali celebrations that happen throughout India.
Rajasthan also has some wonderful wildlife and you will get a taster of this with a game safari at Korta while at Chhatrasagar you will stay at a wonderful luxury tented camp set in an idyllic situation overlooking a lake, where you can watch wildlife and birds whilst sipping a sundowner.
Accommodation on this trip is stylish and interesting – heritage hotels, former mansions and palaces, comfortable cottages as guests of the local landowner and two nights in luxury tents in an idyllic lakeside spot where we can watch wildlife and birds while we sip a sundowner.
Private Departures
Rajasthan in Style - Private Departures
If you would prefer to travel just with your partner, friends or family, we can arrange a private departure of this holiday. You follow the same itinerary, but travel on dates that suit you. Alternatively we can include elements of this holiday in a bespoke Tailor Made itinerary. Contact our friendly team for details and prices, and to make a booking.
---
At a glance
Duration: 17 days from the UK
Private Departures Available
Guaranteed to run for a minimum of 5 clients
Maximum group size: 12
Accommodation types: Hotels, Luxury camp
Festival:
Diwali celebrations start on 12 November in 2023
Meal arrangements: 15 breakfasts, 13 lunches and 13 dinners. Lunches and dinners are included everywhere but Delhi.
Itinerary overview
| Day | Activity |
| --- | --- |
| 1-2 | Fly to Delhi. |
| 3-4 | Fly to Jaisalmer. Evening visit to dunes, camel ride and Rajasthani dinner. Sightseeing in Jaisalmer. |
| 5-6 | Drive to Jodphur and city sightseeing |
| 7 | Drive to Korta and evening game safari |
| 8-9 | Drive to Udaipur and sightseeing in Udaipur |
| 10-11 | Drive to Chittorgarh and sightseeing in Chittorgarh |
| 12-13 | Drive to Chattrasagar and time at Chattrasagar |
| 14-15 | Drive to Jaipur, sightseeing and drive to Agra |
| 16 | Sightseeing in Agra and drive to Delhi |
| 17 | Fly home |
Leader: Local leader, India
Your Indian tour, trek or walking guide will be friendly, very knowledgeable about the region you are visiting and speak fluent English. We use one of the largest and oldest tour operators in India whose staff all have excellent training.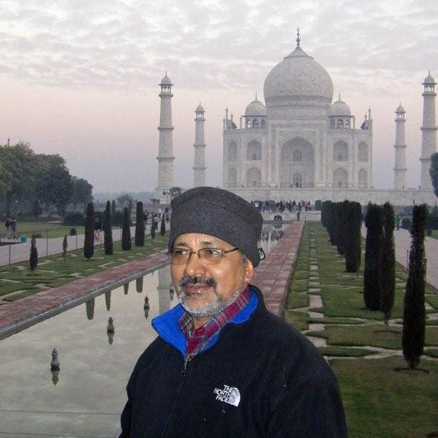 ---
Holiday Itinerary
Day 1 - Fly London to Delhi
Fly overnight from London to Delhi.
Overnight: In flight
Day 2 - Arrive Delhi. Group transfer to hotel. At leisure.
On your arrival in Delhi will be met and transferred to your hotel and you will be at leisure for the rest of the day.
The Maidens Hotel is convenient for some of the sights of Old Delhi such as the Friday mosque, the Red Fort, an amazing Moghul fortress and palace, and Chandni Chowk, the old bazaar. There is a metro station within walking distance if you wish to venture further afield.
Although Delhi can initially still be quite a culture shock with its heat, dust and frenetic activity, it is nowadays a vibrant and cosmopolitan modern city with thriving business areas. Among the modern glass and steel of the 21st century city there are reminders of the past especially Lutyens' impressive buildings built to celebrate New Delhi as the capital of the British Raj.
Overnight: Hotel Maidens Or Similar, Delhi
Day 3 - Fly from Delhi to Jaisalmer. Evening visit to sand dunes, camel ride, and Rajasthani dinner.
After breakfast you will be transferred to the airport for the flight to Jaisalmer. On arrival you will be transferred to your hotel where you may relax until the late afternoon.
Jaisalmer city is located in the remote far west of the state Rajasthan on the edge of the great Thar Desert. No place better evokes the exotic history of Rajasthan with its massive fortresses, camels plying ancient trade routes, colourful tribes and desert mystery than does Jaisalmer with its stunning fort, narrow twisting alleyways, colourful bazaars, magnificent palaces and extravagant havelis (manor houses) - all built from the same honey-coloured sandstone, leading to Jaisalmer being known as the Golden City.
In the evening you will drive out of the city to sand dunes out in the Thar Desert where you will ride a camel out into the dunes to take in a spectacular sunset over the desert and enjoy an al fresco Rajasthani dinner.
Overnight: Sonaar Haveli Hotel Or Similar, Jaisalmer
Day 4 - In Jaisalmer. Tour of City.
After breakfast you will have a tour of the city, with a visit to the massive fort - for the better part of its 800-year history the fort was the city of Jaisalmer and nearly a quarter of the population of Jaisalmer still lives within the fort. It was built in 1156 AD by the Rajput Rawal (ruler), Jaisal, from whom the city derives its name, and stands at the crossroads of important trade routes. The fort's massive sandstone walls are a tawny, golden colour meaning that it is camouflaged in the yellow desert. You will enter the fort through one of its massive gateways into a magical world of palaces, merchants' havelis (mansions), temples and crowded alleys where a host of craftsmen sell their colourful wares. The beautiful mansions of Jaisalmer are evidence of the fabulous wealth that trade through the city created in the 19th century and you will visit a couple of the better known ones, Nathmal Ki Haveli and Patwon Ki Haveli, also known as the 'mansion of brocade merchants'. You will also visit the famous Jain temples which date back to the 12th and 15th centuries.
Overnight: Sonaar Haveli Hotel Or Similar, Jaisalmer
Day 5 - Drive to Jodhpur - 285km, 5-6 hours.
Today you will have a long drive to Jodhpur but it is very interesting and scenic.
Jodhpur is another fantastic desert city. It was built to control the vital trade route from Delhi to Gujarat and the city thrived on the profits of the trade in opium, sandalwood, dates and copper which the city controlled. Jodhpur is dominated by the huge fort of Mehrangarh, one of the finest in Rajasthan, which overlooks the town from its position on a rocky ridge. Jodhpur is often called the Blue City due to the vivid blue painted houses which cluster around the base of the fort.
Overnight: Ranbanka Palace Or Similar, Jodhpur
Day 6 - Day in Jodhpur including visit to Mehrangarh Fort. Evening visit to market.
Today you will have a leisurely breakfast and then you will tour the stunning Mehrangarh Fort. This fort is a formidable feat of construction and seems to grow out of the rock it is built on. The towering ramparts overlook a sheer drop to the town below and looking down from the fort the town appears really blue because houses in the old city are traditionally painted blue by the town's Brahmin inhabitants. Within this huge fort are several smaller palaces and apartments and a museum with a fine collection of paintings, armoury, royal palanquins, elephant howdahs, textiles, and folk instruments. You can also see the original cannons on the ramparts. Later you will visit the Jaswant Thada, an elegant marble cenotaph built in memory of a former maharaja and known as the 'Taj Mahal of Marwar'.
In the evening you will visit the teeming streets and narrow alleys of the old town below the fort, and the bustling local market which clusters around the Ghanta Ghar (clock tower), a popular local landmark. While you are in Jodhpur there are plenty of good opportunities for shopping, for local handicrafts, fabrics and jewellery and also for looking round local antique shops.
Overnight: Ranbanka Palace Or Similar, Jodhpur
Day 7 - Drive from Jodhpur to Korta - 157km, 3-4 hours. Evening jeep safari.
Today you drive from Jodhpur to Korta, situated near the towns of Sumerpur and Sheoganj.
Korta Escape was established as a resort in 2005. The resort is located on a working farm owned by the hospitable family of Mr Nirabhay Singh. Their farm is surrounded by farmland and small villages and a stay here will allow you to experience traditional rural Rajasthan life. The Singhs are the traditional nobility of the area and are related to the royal houses of both Jodhpur and Udaipur. The current generation is the 17th to live at Korta. The family formerly held a very large estate and controlled eight villages. Today they have a smaller estate and as well as running this hotel they breed Marwari horses, an indigenous breed of horses descended from the splendid war horses that served the ruling families and warriors of feudal India. These beautiful and spirited horses have distinctive scimitar shaped ears which curl to meet over the head.
In the late afternoon you will go for a 'safari' game drive through a local reserve on land set aside by the Singh family for protection of wildlife and birds. Here you may see wild boar, herds of Nilgai, hares and other animals as well as lots of birds. You may also visit a couple of small farms where caster oil plants and other crops are grown. Finally you will drive to 'sunset point' where you can watch animals at a small waterhole as the sun goes down.
You then return to Korta Escape for cocktails and dinner.
Overnight: Korta Escape Or Similar
Day 8 - Village visit. Drive from Korta to Udaipur - 175km, 4-5 hours. Time at leisure.
In the morning you will visit the neighbouring village to see the locals milking and performing other traditional farming tasks and then you will see the shepherds taking out their flocks of sheep and goats to graze. You can also see the attractive traditional houses of the village with their neat and tidy earth floored yards. You may be invited to visit a house and will have the chance to chat to the charming village ladies.
Later you drive to Udaipur. Udaipur is one of the most romantic cities in Rajasthan with its wonderful lake side setting, beautiful palace architecture and streets thronging with colourful ethnic people. The city is set on the shores of Lake Pichola with the Aravalli Hills as a background and the lake front is dominated by the huge City Palace. From the palace you get fine views of the lake and the pretty Lake Palace situated on an island in the middle of the lake. This palace was built in the 18th century as a summer resort for Udaipur's Royal Family.
Your hotel is next door to the City Palace and is near the lake. In the afternoon you may venture out into the busy streets for some shopping and perhaps to enjoy a sundowner by the lake.
Overnight: Jagat Niwas Palace Hotel Or Similar, Udaipur
Day 9 - In Udaipur. Sightseeing. City Palace and lakes
This morning you will visit Udaipur's imposing City Palace, the largest palace complex in Rajasthan. Encircled by fortifications this huge granite and marble building, containing no fewer than 11 palaces, is built in the shape of a ship. The whole palace is an elaborate confection of painted doorways, mirrored walls, ivory doors, coloured glass windows, inlaid marble balconies and peaceful courtyards. The walls are hung with paintings and the rooms are furnished with antiques. You will also see the grand and impressive though rather gloomy Durbar Hall built to impress guests of the Maharaja and the museum with its large collection of weapons and artefacts.
Other attractions in Udaipur are its lovely lakes - Lake Pichola and nearby Fateh Sagar lake.
Later you will have some free time for personal exploration or shopping for Rajasthani handicrafts or to just relax at your hotel.
Overnight: Jagat Niwas Palace Hotel Or Similar, Udaipur
Day 10 - Drive Udaipur to Chittorgarh – 118km, 2-3 hours. Visit Chittorgarh Fort.
Chittorgarh's main attraction is its huge fort, the largest fort complex in India, which rises from the plains like a huge rock island. Nearly 6 kms long it is surrounded on all sides by high cliffs and has seven fortified gateways. The fort was built in the 7th century and although partially ruined after many centuries of battles it also contains a beautiful and ancient Kali temple. Chittorgarh Fort holds a special place in the heart of the Rajput people and over the centuries the Hindu rulers of Chittorgarh fought fiercely to maintain their independence. Three times the fort was attacked and laid siege to by more powerful enemies, including in 1567 when it was attacked by the Mughal king, Akbar. Each time, the people of Chittorgarh chose death before dishonour when faced with certain defeat. The men donned saffron martyrs' robes and rode out from the fort to certain death, while the women and children immolated themselves on huge funeral pyres.
Overnight: Castle Bijaipur Hotel Or Similar, Chittorgarh
Day 11 - Sightseeing at Chittorgarh.
Today you will take in more of the sights of the fort and town. Chittorgarh was historically a centre for Jains and today you may visit the beautiful 12th century Jain tower, Kirti Stambh (The Tower of Fame). The Kirti Stambh consists of many columned balconies, latticed arches and intricately carved niches with figurines of Jain saints. You also visit another tower, the the ornately sculpted and carved Vijay Stambh tower, where you can climb the 157 steps to the top to enjoy a fantastic view of the city.
Overnight: Castle Bijaipur Hotel Or Similar, Chittorgarh
Day 12 - Drive to Chhatrasagar with visit to Nimaj en route - 214 km,5-6 hours.
Today you drive to Chhatrasagar. On the way you may stop to visit the lively little town of Nimaj with its bustling and prosperous streets and colourful fruit and vegetable stalls and visit the attractive old palace situated right in the centre of the village and the 9th century temple, dedicated to goddess Durga. The palace, owned by the Thakurs of Nimaj, has been recently refurbished as a pleasant hotel.
You will then continue the short distance to Chhatrasagar. Previously Chhatrasagar acted as a hunting lodge on the Nimaj Estate. Nowadays, it is a luxury camp, situated in a stunning position overlooking the lake. Its east-facing bungalow style tented rooms have private sit-outs and offer panoramic views. They are stylishly furnished and decorated and have attached bathrooms with hot water. The camp has its own heated pool and spa, whilst the food served here is exceptional.
This is a wonderful spot for bird watchers and nature lovers and in the afternoon you will have a walk by the lake and can then enjoy a sun-downer while admiring the view.
Overnight: Raas Chhatrasagar Luxury Camp, Nimaj
Day 13 - At Chhatrasagar.
Today you will have a full day to enjoy Chhatrasagar and its beautiful surroundings.
You may either just relax, take a bird watching walk round the lake, or a nature walk in nearby country side. There will also be the opportunity to visit a nearby village, or a local farm. If you did not have time to explore the town of Nimaj on your way through, you could return there to visit the palace and temple.
Overnight: Raas Chhatrasagar Luxury Camp, Nimaj
Day 14 - Drive to Jaipur - 227 km, 5-6 hours. Evening visit to Jantar Mantar and Hawa Mahal.
Today you drive to Jaipur, the capital of Rajasthan and its largest city. It was built in 1727 by Maharaja Jai Singh II in a style of unusual magnificence and today the city is a labyrinth of fascinating bazaars, opulent palaces and historic sights. It is often known as the "Pink City" after the city was painted pink in 1876 to honour a visit by the Princess of Wales in 1876. In the heart of the old city, the City Palace occupies a large area and is divided into a series of courtyards, gardens and buildings. The outer palace was built by Jai Singh but other additions are much more recent some dating to the beginning of the 20th century. You will visit the Hawa Mahal (Palace of Winds), built in 1799, a distinctive five stored building built in sandstone, although in effect what you see is actually little more than a façade. You will also visit the famous Jantar Mantar, an ancient astrological observatory built by Jai Singh.
Jaipur is very good for shopping, both for local handicrafts and for clothing. The city is well known for jewellery manufacture and also as a centre for fabrics.
Overnight: Alsisar Haveli Hotel Or Similar, Jaipur
Day 15 - Visit Amber Fort. Drive to Agra with visit to Fatehpur Sikri on the way – 204 km,5-6 hours.
After breakfast you will drive the short distance to visit Amber Fort, a magnificent fortress/palace constructed in 1592 by Raja Man Singh, the Rajput commander of Akbar's army. It sits high on a hill enjoying great views of the lake below and of the Aravalli hills.
After your visit to the fort you will drive to Agra with a visit on the way to the ancient city of Fatehpur Sikri. Fatehpur Sikri was built in the 16th century by Akhbar the Great to be the new capital of the Mughal Empire, but only lasted for some 10 years. The complex of monuments and temples, an Indo-Islamic masterpiece, all in a uniform architectural style, includes one of the largest mosques in India, the Jama Masjid.
You then continue to Agra.
Overnight: Radisson Hotel Or Similar, Agra
Day 16 - Agra Sightseeing including the Taj Mahal and Agra Fort. Drive to Delhi – 210 km, 3-4 hours.
Today you will sightsee in Agra. The star of the show in Agra is of course, the Taj Mahal and this will certainly not disappoint. It is undoubtedly one of the greatest monuments of all time. It was built as a mausoleum by the fifth Mughal Emperor, Shah Jahan in memory of his beloved and favourite wife, Mumtaz Mahal, and fulfilled a promise that he made to her on her deathbed 'to erect a monument to match her beauty'. The Mausoleum stands in a formally laid-out walled garden and the tomb itself is raised on a terrace; you will first see it reflected in the central canal. The building is entirely encased in white marble, and the interior of the building is lit dimly through pierced marble lattices. The whole building features a virtuoso display of carved marble and wonderful designs created with inset semi-precious stones.
You will also visit Agra Fort, an imposing Mughal fort. The fort is built alongside the Yamuna River and stretches almost 2.5 km. Building was started during the reign of Akbar the Great and completed during the reign of Shah Jahan. It was the main residence of the emperors of the Mughal Dynasty till 1638, when the capital was shifted from Agra to Delhi. Part of the fort is still in use by the Indian Army and is not accessible to the public, but there's still enough left to get an insight into the life of the Mughals and their court during the 16th century. The Audience Hall (Diwan I Khas) is very imposing and you will also visit various palaces within the walls of the fort which now only show a small remnant of their former opulence and grandeur.
After your Agra sightseeing you will drive to Delhi where you will stay in a hotel near the airport to be convenient for your flight home in the morning.
Overnight: Holiday Inn New Delhi International Airport, Delhi
Day 17 - Group transfer to hotel. Fly back to London.
After breakfast you will be transferred to the airport to check in for your flight home.
Map
Map Key
Airport
Point of interest
Mountain Peak
Day walk in this area
Flights
Internal Transfers
Trek
---
2024
| Dates | Availability | Land Only | Flight Inclusive from |
| --- | --- | --- | --- |
| Wed 21 Feb - Fri 8 Mar 2024 | Available | £3775 Book | £4475 Book |
| Wed 23 Oct - Fri 8 Nov 2024 | Available | £3995 Book | Contact Us |
Hold your place
Not quite ready to book? Why not call us on +44 (0) 1453 844400 to hold a no obligation place while you make up your mind?
---
No Surcharge Guarantee
No surcharges will be applied to your holiday after you book. Prices on this website are updated regularly. The Flight Inclusive holiday price, or Land Only holiday price, will be confirmed to you at the time you make your booking. There will be no surcharges after your booking has been confirmed.
Flight inclusive holidays
The 'flight inclusive' holiday prices shown on this website are based upon our preferred airlines and the best priced economy class fares we are able to secure at the time of publication.
We will be able to advise on fares with alternative airlines, upgrades to Business Class, and the options for flights from regional UK airports, please contact us for more details.
Booking your holiday
For the majority of our holidays, a deposit payment of £400.00 per person is required to secure your place(s), however a small number of holidays require a higher deposit - please refer to the holiday itinerary for more details. If the holiday departs within 60 days, a deposit of £1,000.00 per person is required.
Book now!
Book your small group holiday securely online – click the 'Book' button next to your chosen departure or visit our How to Book page
Complete and return a Booking Form available to download here.
Call us on +44 (0)1453 844400 and one of our travel specialists will talk you through the booking process.
What's included
A local in-country English-speaking Indian Leader
Good standard hotel accommodation in Delhi, bed and breakfast basis
Best available hotels, often heritage hotels, in outlying towns, on full board
All road transport by modern, comfortable, quality private vehicles
All internal flights and domestic transfers
All meals included out of Delhi
All sightseeing as specified
Economy class return air fares from the UK & UK Departure Tax (flight inclusive only)
Single, timed group airport transfer for international flights
Carbon offsetting with the Ecoan Tree Planting Project (for clients taking our flight inclusive option)
A free Mountain Kingdoms Water-to-Go bottle
What's not included
Travel insurance
Visa fees
Lunch and evening meals in Delhi
Optional trips
Tips
---
---
Read holiday reviews by Mountain Kingdoms travellers.
Overall score: 4.5 (Based on 2 reviews)
Rajasthan in Style
We really liked the mix of culture and nature and to see the life of people in the villages.
Rajasthan in Style
What a fabulous place! It truly does bombard the senses, with continual reminders of its exotic history, breathtaking desert landscapes, imposing forts and flamboyantly dressed peoples. All thrilling stuff! In addition to sightseeing we had time to immerse ourselves in the culture and haggle for handicrafts, and we had the added bonus of a jeep safari to look for wildlife. Our accommodation was equally wonderful – from romantic palaces, to a stay on a working farm and luxury tents overlooking a picturesque lake, every night was a delight. Rajasthan will live on in my imagination.
---
Extend your holiday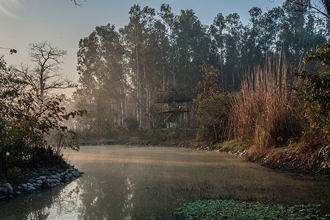 Corbett National Park is home to one of the largest Royal Bengal Tiger populations in India.
Over 50 species of mammals, many reptiles and hundreds of bird species to look out for.
Ideal extension from Delhi to explore some of India's most fascinating wildlife.
Corbett National Park is the oldest national park in India. Located between the Himalayan foothills to the north and the ancient Shivalik Hills to the south, the reserve covers a wide range of habitat with dense woodlands, open grasslands, riverine vegetation, dry riverbeds and more hilly terrain and so offers much diversity. This varied habitat hosts a spectacular diversity of mammal, bird and reptilian life, unmatched anywhere in India.
The park is home to one of the largest Royal Bengal Tiger populations in India as well as other large cats such as leopard. There are also around 50 species of mammals including large herds of elephant and four species of deer. In the park you also find many reptiles, including the rare and highly endangered Gharial crocodile. Corbett has a spectacular bird diversity – there are several hundred resident species of bird with as many more crossing on their migratory routes with bird diversity being at its peak during the winter months.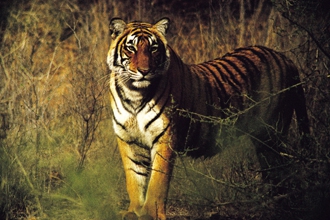 Known for its population of tigers.
Home to fascinating wildlife including jungle cats, hyenas, jackals, bears, crocodiles and large populations of langur monkeys.
Enjoy safari drives as you look out for wildlife amongst the picturesque grassland, hills and lakes.
Ranthambore National Park in Rajasthan is one of the finest national parks in northern India. Formerly a hunting reserve for the Maharajas of Jaipur, you can see a huge variety of fantastic wildlife and birds in Ranthambore, but the park is particularly famous for its population of tigers - although of course sightings of tiger can never be guaranteed many visitors to this park are lucky enough to get good views. The scenery of the park is very varied with grassland, hills and lakes and there are also some very picturesque and atmospheric ruins located in the park. Even if you don't see tigers there is abundant wildlife on view in Ranthambore with leopard and other cats such as jungle cats, caracal, hyena, jackal, wild boar, bear, several species of deer, and large populations of langur monkeys. Marsh crocodiles and other reptiles are also found in the lakes within the park. Owing to the wide range of habitats within the park there is also a large variety of fantastic and colourful birds, both resident and migrant, to be seen - in total, 272 bird species have been documented within the park.