What's included
An English speaking Indian Sirdar leader
Economy class return air fares from the UK & UK Departure Tax (flight inclusive only)
All hotel/airport/train transfers
Good standard hotel accommodation on twin share basis
All road transport by private vehicles
All meals included except in Amritsar which is on bed and breakfast basis
Sightseeing where specified
A free Mountain Kingdoms micro fleece
Carbon offset flights (flight inclusive option)
Option to join one of our pre trip walks in the Cotswolds
and much more...
Call our
friendly team
Gentle Walking, Indian Hill Stations & the Golden Temple
Walking & Trekking
India, Northwest India | Walking & Trekking
Gentle
Suitable for people who enjoy easy-paced walks or exploring the countryside on foot.
Find out more...
Grade: Gentle ? Gentle
Duration: 16 days from the UK
Walks on: 7 days
Flight inclusive from £2,700,
Land only from £2,140
Book now or call 01453 844400
Gentle day walks exploring Indian culture and the history of the British Raj.
Highlights
Ride a mountain train, walk the Mall in Shimla, and visit the magnificent Golden Temple at Amritsar
Visit Dharamsala, the home town of the Dalai Lama
Stay in converted palaces, heritage properties and characterful hotels
Enjoy good day walks and explore the key sights on foot.
Our holiday begins in Amritsar with a tour of the glittering Golden Temple. We continue with an exploration of some of the little known gems of rural Himachal Pradesh such as Pragpur and Palampur, as well as Manali and the renowned hill station of Dharamsala, home of the Dalai Lama. No trip to the region would be complete without a promenade along the Mall at Shimla, the summer capital of the British Raj. There is a ride on the narrow-gauge mountain 'toy train', and visits to Buddhist monasteries, Hindu temples and calming hot springs.
We also have time to relax and enjoy the fascinating heritage properties in which we will be staying: a converted Maharajah's palace, a converted Judges' Court, and the wonderfully quirky Mrs Bandhari's Guest House in Amritsar.
---
At a glance
Grade: Gentle
Gentle
Duration: 16 days from the UK
Walks on: 7 days
Max. Altitude: 2,827m/9,275ft
Guaranteed to run for a minimum of 4 clients
Maximum group size: 12
Land only joining city:
Accommodation types: Hotels, Guesthouses
Meal arrangements: Bed and Breakfast in Amritsar. All meals elsewhere included.
Itinerary overview
| Day | Activity |
| --- | --- |
| 1-3 | Fly to Amritsar. Visit the Golden Temple and explore Amritsar, perhaps take a rickshaw into town. |
| 4-6 | Drive to Pragpur. Gentle trek to banks of the River Beas. Visit Pragpur market. Drive to Dharamsala, visit Jwalamukhi Temple en route. |
| 7-8 | Walk from Mcleod Ganj to Triund (2,827m). Sightseeing in Dharamsala including The Norbulingka Institute, dedicated to the preservation of Tibetan culture. Drive to Palampur. |
| 9-11 | Walk to Buddhist Monastery from Bir then trek to Billing. Drive to Manali. Day walk to old Manali, to visit hot springs at Vashisht and visit the temple. |
| 12-13 | Drive to Shimla. Spend the day at leisure, perhaps in the hotel swimming pool, gym, sauna, steam room, jacuzzi, or library. |
| 14 | Drive to Mashobra, walk to Kotidar via Deothi, Moolkoti and Kanda. Visit Wild Flower Hall. |
| 15-16 | Take the 'Toy Train' to Kandaghat. Drive to Chandigarh to catch the train to Delhi. Fly to the UK. |
Leader: Local leader, India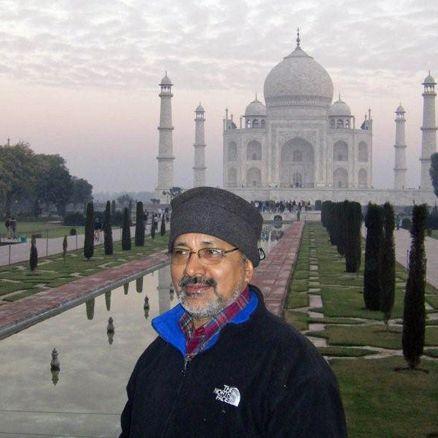 Your Indian tour, trek or walking guide will be friendly, very knowledgeable about the region you are visiting and speak fluent English. We use one of the largest and oldest tour operators in India whose staff all have excellent training.
---
Gentle Walking, Indian Hill Stations & the Golden Temple Itinerary
Day 1 - DEPART LONDON

Fly from London to Amritsar.

Overnight: In flight

Day 2 - ARRIVE AMRITSAR

You will be met and transferred to Mrs Bhandari's Guest House. This is in a peaceful location on the edge of town in what was the old British cantonment. Entering the brick paved courtyard you might well be greeted by the family's small herd of water buffalo! Time now to rest and adjust to India. There are acres of lawned gardens, a disused tennis court and a nice swimming pool. You will soon get used to the heat, but Mrs Bhandari has a very trusting system for cold drinks - you help yourself from the fridge and sign a chit nearby. The atmosphere is relaxed, family friendly and delightfully Indian. In the afternoon you will be taken to see the Golden Temple.

GOLDEN TEMPLE
Sri Harmandir Sahib, also more commonly called 'The Golden Temple', is the holiest shrine of the Sikh religion. The Golden Dome alone is said to be gilded with 100kgs of pure gold and is supposed to represent an inverted lotus flower pointing back to the earth to symbolise the Sikh's concern with the problems of this world. The temple sits on a rectangular platform surrounded by a pool of water called the 'Armir Sarovar' in which pilgrims bathe. Enclosing the pool and temple are ornate marble buildings with four entrances. The first book of Sikh scriptures is kept during the day in the Golden Temple and is removed at around 10pm each evening to the Sikh parliament building. It is brought back to the temple every day at 4am. These processions are worth seeing.


Overnight: Mrs Bandhari's Guest House, Amritsar

Day 3 - AT LEISURE AMRITSAR

We have left this as a free day for you to make your own exploration of Amritsar. It is easy and very cheap, for instance to take a rickshaw into town. Early mornings and late evenings at the Golden Temple are particularly rewarding. Seeing the procession of the Adi Granth (the Sikh book of scriptures) is a moving testament to India's ancient religious beliefs. Mingle with the pilgrims and perhaps partake of the free food served to pilgrims in a hall next to the temple. The Golden Temple at night is stunningly beautiful.

Amritsar itself is not a very old city, only about 450 years old and has suffered invasions and war through much of its history. Even the Afghans have sacked it twice. It is a bustling metropolis and its back streets are worth exploring for the very many handicrafts on offer.


Overnight: Mrs Bandhari's Guest House, Amritsar

Day 4 - DRIVE TO PRAGPUR 170kms, 5-6 hour drive

In the morning you will drive for 5-6 hours to Pragpur. Leaving Amritsar the main road travels east (do not be surprised to see people driving in the wrong direction on dual carriageways) and soon you head north east through rural India. Here it is very green and cultivated. You pass through a number of small towns before the road suddenly climbs into a range of hills. Covered in jungle and populated by monkeys you will thread your way along through the hills on switchbacks. You pass more small towns and temples and drop into river valleys still choked with jungle.

Finally, you find the Judges Court near the village of Pragpur; a real touch of 'old colonial' India. Reflecting the ambience of Anglo-Indian traditions this country manor was built by Justice Jai Lal at the turn of the 20th Century. Spread over 10 acres of orchards the hotel offers a magnificent view of the snow peaks. Located near the ornamental village tank and approached by a cobbled street this courtyard haven captures a bygone era. Pragpur is also the first notified heritage village in India.


Overnight: Judge's Court, Pragpur

Day 5 - GENTLE WALK TO BANKS OF THE RIVER BEAS

In the morning, you take a gentle 2/3 hour stroll to the banks of the River Beas, passing many attractive traditional village houses en route. Here you can watch the timeless scene of villagers harvesting wheat and women transporting water in copper pots on their heads. You can enjoy the genuinely unspoilt landscapes of the Himachal countryside, where you are extremely unlikely to see another tourist and may well be invited into a villager's home for chai and a chat.

Lunch is at Judge's Court and the food here is superb; much of the ingredients come from the Court itself, such as its excellent spinach and delicious new potatoes. The orchard boasts mango, lychee, grape, plum, persimmon, citrus and exotic trees like camphor, clove and cardamom. The milk and dairy products used in their kitchen come from Judge's Court dairy in the grounds. Water is exclusively piped from an ancestral mountain spring.

Mr Lal is an exceptional host and if present at the time of your stay, will sit for meals with you and entertain you with stories and fascinating facts about the history of Judge's Court and of Pragpur. He was largely instrumental in obtaining Pragpur's status as the first heritage village in India.

The Judge's Court has a wealth of information on local walks and other activities in the area; Mr Lal will be only too pleased to offer his advice on these to help you gain the most from your stay. Staying at Judge's Court offers a unique ambience and a special kind of hospitality. All of its nine rooms are different and equally elegant and have names such as Kipling, Dhauladhar, and Kangra.

In the afternoon, you can visit the Pragpur market. There are several silversmiths who offer handmade trinkets and cloth shops with a variety of materials. Local tailors will quickly stitch up dresses. Weaving is a cottage industry. You could order hand woven blankets and shawls of your choice. Wool can be purchased from the market. Hand block printing on cloth is also undertaken and you might want to select material that can be printed to your requirements. There are several other handicraft products available.


Overnight: Judge's Court, Pragpur

Day 6 - GENTLE LOCAL WALK. DRIVE TO DHARAMSALA 60kms, 3 hours' drive

Garli is a 'sister village' of Pragpur. It is a pleasant walk of around 2km through pretty countryside. Garli was said to have been established earlier than Pragpur. Along with Pragpur and Rakkar it was a stronghold of the Sood Community. The Soods of Garli built some attractive houses whose architectural features resemble those of Shimla. Some of the interesting buildings deserving a visit are the United Commercial Bank of India (UCO Bank) office building, the home of Lala Mohan Lal, and the Garli Boys' School. The water system at Garli was laid by Lala Mohan Lal, a prominent advocate of his time, who arranged for pipes to be laid from Seri to Garli. A few years ago this water system was taken over by the Himachal Pradesh Government and is now managed by the Public Health Department. From Garli the road leads to the Beas River. It terminates after 3kms at Chamba-ka-Pattan overlooking the river.

The drive to Dharamsala is about 60km (3 hours), which includes a stop at Jwalamukhi Temple, one of the most revered Hindu temples in North India. The deity is a blue flame fed by natural gas which shoots out of the rock in the sanctum. It is worshipped as the goddess of fire, Jwalamukhi.

As you continue on your journey to the home of the Dalai Lama, you have superb views of the Dhauladur Range. For part of the way, you will be following the narrow gauge mountain railway line. You pass Kangra Fort en route, perched atop a cliff above the Banganga and Majhi rivers.

At 5,741ft/1,750m above sea level, Mcleod Ganj is a place pulsating with life. It has a delightful mixture of eastern and western cultures, reflected in the people and in the shrines of worship. Hippy-style westerners jostle for space in the bazaar alongside Hindus and Tibetan monks. Following the Chinese invasion of Tibet, the Dalai Lama arrived here in May 1960, to live and establish the Tibetan government-in-exile. It is a vibrant and fascinating place to visit.

White Haven Estate, just outside Dharamsala, is surrounded by its tea gardens and private forests, and commands a breath-taking and panoramic view of the Dhauladhar Mountains (5,000m/16,000ft) to the North and Kangra valley to the South. Formerly known as 'East Home', the house belonged to Robert Shaw, the great European adventurer and trader, and the first European to enter the Central Asian City of Kashgar. Robert Shaw and his brother-in-law, John Younghusband, planted the tea gardens around 1857. The house has tastefully furnished, well-kept large size suites, with all the necessary amenities.


Overnight: White Haven Hotel, Dharamsala

Day 7 - WALK TOWARDS TRIUND AND RETURN

It is a 9km climb from Mcleod Ganj to Triund, located at a height of (2,827m/9,275ft) above sea level. It is a steep, but straight forward ascent, with the path veering off to the right beyond Dharamkot. The views of Dhauladhar from here are stunning. You begin at 1,750m/5,741ft and walk through cedar trees, as you gain height these give way to rhododendron and oak trees. If going all the way to Triund proves a little too strenuous, you can always walk to the half way point, at Major View Café (2,300m/7,546ft) and then return the same way. It takes about 2-3 hours to reach this halfway point. You may see the Monal pheasant on your walk - the state bird of Himachal Pradesh. The valley is also home to black bears.

The walk is along a very good path, and you have excellent views of the mountains in front, Mcleod Ganj below and you will be able to see the green roof of the Dalai Lama's home. Triund is an important base camp for those wanting to go from Kangra Valley to Chamba Valley. From here you can see the point where locals cross the Indrahar Pass (4,425m/14,518ft) on their way to Chamba. The snow-covered peaks of the Dhauladhar range rise on either side to approximately 4,900m/16,000ft.

In the late afternoon, you can visit the main Buddhist temple in Mcleod Ganj, situated opposite the present abode of His Holiness, the Dalai Lama. The temple has three main images about three metres tall: Lord Buddha or Shakyamuni is gilded in bronze, Padmasambhava and Avlokiteshvara are in silver with eleven faces, one thousand arms and one thousand eyes.


Overnight: White Haven Hotel, Dharamsala

Day 8 - COMPLETE SIGHTSEEING OF DHARAMSALA, DRIVE TO PALAMPUR 35kms, 2 hour drive

As the drive to Palampur is short, you will have plenty of time in the morning to complete your sightseeing of Dharamsala, which should include a visit to The Norbulingka Institute, a registered trust functioning under the Chairmanship of His Holiness, the Dalai Lama. It is dedicated to the preservation of Tibetan culture in both its literary and artistic forms. The skills preserved and passed on at Norbulingka include statue-making, thangka-painting, appliqué and tailoring, woodcarving, carpentry and metal craft. The masters teaching these arts are true artists and intent primarily on preserving their heritage, passing it on to a new generation of artists.

The drive to Palampur takes approximately 2 hours, with great views of the Dhauladhar range and tea plantations whilst approaching Palampur. You stay overnight at Taragarh Palace, situated on a 15 acre forested estate surrounded by tea gardens in the Kangra valley, one of the most scenic and unexplored areas of Himachal Pradesh. Located at a height of 1,000m/3,000ft, Taragarh Palace is at the foot of the Dhauladhar Mountains with a magnificent view of snow-capped peaks. It was built in the early 1930s as a summer resort and bought by the Royal family of Jammu & Kashmir in 1951 for the Dowager Maharani who lived there for several years; it is now run as a hotel by the present Royal family.


Overnight: Taragarh Palace, Palampur

Day 9 - WALK TO BUDDHIST MONASTERY FROM BIR

It is a 45 minute drive to Bir, the landing area for paragliders coming in from Billing, one of the finest sites for hang gliding in the world. The walk starts from Bir with a gentle descent through lovely Kangri villages. It is a beautiful walk through tea gardens which descend into alpine meadows and newly planted pine forests. The trail is fairly well-marked and very gentle. You cross the stream and walk up to the village, which is known for the monastery, which houses the 17th Karmapa on exile from Tibet. Birds you may encounter include kingfishers, vultures and jungle fowl. The monastery houses an enormous statue of Buddha and the Lama is happy for you to take photographs inside.

Overnight: Taragarh Palace, Palampur

Day 10 - WALK TO BILLING. DRIVE TO MANALI 201kms, 6½ hour drive

Today you will walk from Bir to Billing, the popular paragliding spot. It is the site for the international hang gliding and paragliding competitions held every year by Himachal Tourism and boasts excellent views. You come back to Bir at the base of the valley; about 45 minutes' drive from the hotel, and continue driving for about 4km on the road to Billing. You can start walking from Bir itself - straight walk up the mountain. It takes approximately 2-3 hours to get to the top at Billing (2,300m/7,546ft), where you are rewarded for your ascent with brilliant views. You are walking through forest all the way up on fairly rocky terrain and may well see Pashmina goats en route. You pass the small temple of the 7 Sisters, worshipped by the locals, and then continue to the alpine meadows of Billing. You can see the entire Kangra Valley, Pong Dam reservoir and Bir Monastery.

In the afternoon drive to Manali (about 6½ hours) via Mandi. This is a scenic drive up the Kullu valley, famed for its apples, towards Manali.


Overnight: Mayflower Hotel Or Similar, Manali

Day 11 - DAY WALK IN MANALI.

Today you can take a lovely walk via old Manali and the right bank of river Beas, all the way up to the Solang Valley. Time permitting, you can walk towards the Solang Glacier, and then drive back after lunch to Manali via the hot springs at Vashisht.

Overnight: Mayflower Hotel Or Similar, Manali

Day 12 - DRIVE TO SHIMLA 290kms, 9 hour drive

The drive takes approximately 9 hours (290km). Shimla is one of the few places in the world where an enormous amount of history and heritage has been distilled into such a small area in so short a time. The town came into being in the first quarter of the 19th Century and some four decades later became the summer capital of the British Raj. Until the coming of India's independence in 1947, momentous events and memorable architecture packed the town. The town has one of the largest pedestrianised centres for strolling and shopping anywhere in the world, The Mall. Scandal Point remains the hub of Shimla's social life and is said to be so named, after a British Commander-in-Chief's daughter eloped from the spot with the Maharaja of Patiala.

Overnight: Clarkes Hotel, Shimla

Day 13 - AT LEISURE IN SHIMLA

Today you are at liberty to do your own thing. You could take a stroll along The Mall, soaking up the general ambience and flavour of the British Raj and do some last-minute shopping. There are many interesting heritage walks around Shimla and your sirdar will be pleased to suggest suitable routes and hire a local guide for you, if required.

Overnight: Clarkes Hotel, Shimla

Day 14 - WALK TO KOTIDAR FROM MASHOBRA,VISIT WILD FLOWER HALL

Drive to Mashobra (14km 45 minutes) to the start point of the walk. The town is known for the first apple cultivation in the state by the British. Weather permitting you will enjoy a beautiful view of the Dhauladhar and the Pir Panjal range. You start your walk going downhill to the village of Deothi, part of which is also known as Shivpur after Lord Shiva. The village has a small temple dedicated to Lord Shiva. After crossing the village, the terrain is almost flat until you reach the village of Moolkoti. This village also houses the Moolkoti Temple named after a local deity. You walk for another hour until you reach Kanda village and then start a gradual climb for an hour until the village of Kotidar. You meet the vehicles here and drive back to Shimla via the Wild Flower Hall, an old British property now a 5* health spa run by the Oberoi Group of Hotels.


Overnight: Clarkes Hotel, Shimla

Day 15 - TOY TRAIN JOURNEY TO KANDAGHAT, DRIVE TO CHANDIGARH 113kms, TRAIN TO DELHI

The journey by train from Shimla to Kandaghat recreates the old world charm associated with journeys on mountain railways. This track still has the grace of an age when people travelled in leisure and savoured every moment of it. It departs Shimla late morning and arrives at Kandaghat at about lunchtime.

It was a newspaper correspondent who conceived the idea of a railway line here in November 1847. A passionate plea in the Delhi Gazette by this journalist advocated the provision of a railway line to Shimla. He wrote, "we may then see these cooler regions become the permanent seat of a government daily invigorated by a temperature adapted to refresh an European constitution, and keep the mental power in a state of health, alike beneficial of rulers and the ruled".

As the track was stone ballasted, the bosom of the highly irregular Shivalik hills was parted by a 96 km railway line on 9 November 1903. Three years of labour by dedicated engineers and labourers was put in to achieve this astounding feat. The hill track passes over 864 bridges, through 102 tunnels and around 900 sharp curves. You will be travelling on the special rail car for tourists, which is a small tram that seats 30 people.

The track descends from Shimla's cool climes to Kandaghat, and passes through beautiful hillsides, lush green meadows, and fields of capsicum which delight the eye. Your journey to Kandaghat takes approximately one hour, and your driver will be waiting for you here to take you on your onward journey to Chandigarh. You will have lunch en route from Shimla to Chandigarh, then take the Kalka Shatabdi train departing Chandigarh at 1820 and arriving Delhi at 2140. An evening meal will be provided for you on the train. A transfer will await you at the train station in Delhi to take you to a hotel near the airport.


Overnight: Holiday Inn New Delhi International Airport, Delhi

Day 16 - FLY TO LONDON

Mid-morning transfer to catch early afternoon flight to London.

Map
Map Key
Airport
Point of interest
Mountain Peak
Day walk in this area
Flights
Internal Transfers
Trek
---
2017
2018
2019
---
---
Review your holiday
Reviews
Read holiday reviews by Mountain Kingdoms travellers.
Overall score: 5.0 (Based on 8 reviews)
Gentle Walking, Indian Hill Stations & the Golden Temple
Lovely walks 10/03/2017
What we enjoyed about travelling with Mountain Kingdoms was the varied hotels, some quite simple but lovely. We enjoyed the walking. Lucky with the fellow guest as we all got on well.
Mr & Mrs L, Somerset
Gentle Walking, Indian Hill Stations & the Golden Temple
Off-the-beaten-track 23/10/2015
From start to finish everything was superb. All hotels were varied and of a high standard; food arrangements excellent and walking was in wonderful woodland areas as well as through villages off-the-beaten-track. Delhi, Agra, Jaipur extension was extremely well-organised. All staff helpful & informative and top quality hotels. What really made this special for us was the driver - Bachan Singh who many times went out of his way to give us extra time and additional surprising temples etc. The group of eight like-minded people was just right. Thank you again for a wonderful adventure.
Mr & Mrs B, West Midlands
Gentle Walking, Indian Hill Stations & the Golden Temple
Superb 28/10/2011
Everything was superb, attention to detail, not cutting corners, quality of service, interesting and varied itinerary.
Mrs T, Dyfed
Gentle Walking, Indian Hill Stations & the Golden Temple
Well organised 11/03/2011
The sights and general ambience of the country walks and climbs were excellent and well organised.
Ms C, Milton Keynes
Gentle Walking, Indian Hill Stations & the Golden Temple
Personal service 11/03/2011
Well organised, excellent information, personal service. The two holidays I have been on with MK have been most enjoyable and informative.
Ms W, Buckinghamshire
---
Extend your holiday
1-day and 6-day extension options available
Add at the beginning or end of your holiday in India
Sights include the Red Fort, Taj Mahal, City Palace and Amber Fort
More Details
After your adventures in India why not add an exciting day trip to Agra to see the sights of the one time capital of the great Mughal empire? Or, if you have more time available, perhaps a longer trip visiting both Agra and another gem of the 'Golden Triangle', Jaipur. Whichever option you take, once in Agra you will be looked after by one of our fully trained, English-speaking guides who will show you around the Red Fort, the Taj Mahal and the ancient city and mosque of Fatehpur Sikri. For those travelling on to Jaipur, you will take guided visits to the Amber Fort, Palace of the Winds and City Palace, along with time to explore the colourful bazaars of the 'Pink City'.