/
Holiday
/
Curzons Trail Kuari Pass
Haridwar, India, Northwest India | Walking & Trekking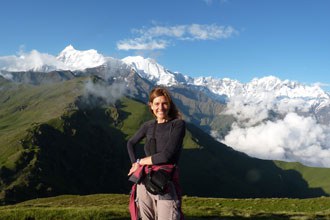 Grade:

Vigorous

Duration: 17 days from the UK
On trek: 10 days
Flight inclusive from £2545, Land only from £1795
A stunning remote trek in the Garhwal Himalaya.
Highlights
A stunning trek in the Garhwal Himalaya over the Kuari Pass
High mountain passes, dense forest and wide open meadows
Spectacular views of Trisul and Nanda Devi
Fully supported camping trek to a little-visited area
A train ride to Hardiwar and rafting to Rishikesh along the Ganges
Reviews
The overall package, from arrival to departure, we were looked after...
Mr & Mrs L, Wiltshire
Next
This trek is one of India's hidden gems...
Niki Morgan, Operations Manager
Next
Despite great organisation by the trek leader and the support team in India our trip was marred by dismal weather from the start with overcast, rain laden skies. That is the chance you take in the mountains, but nevertheless the memory of this holiday is one of saturated clothing and rain pattering on the tent flyleaf !
Mr Alan John Ward
Next
The overall package - from arrival to departure - we were looked after, and the agent kept checking up.
Mr & Mrs L
Next
This trek is one of India's hidden gems...
Niki Morgan, Operations Manager
Next
View All
This trek is truly one of India's hidden gems, offering spectacular views of the Garwhal Himalaya and taking you along trails through a remote region where few western trekkers come. You will be walking in the footsteps of Lord Curzon, who in 1905, when Viceroy of India, first blazed this trail. He was followed later by Shipton and Tilman on their way to Nanda Devi. Today, you may revel in the peace and breath-taking beauty of these mountains and enjoy the company of your friendly trekking crew and just a few passing pilgrims, local shepherds and only the occasional trekker. You will trek over mountain passes and through dense forests of oak, pine, rhododendron, fir and deodar, crossing many streams and traversing beautiful grassy 'bugyals', the wide open alpine meadows so typical of this region, which serve as high altitude summer grazing grounds. Camp sites on this trek are a delight – carpeted with grass and flowers and enjoying wonderful views. Throughout the trek you will get the most amazing views of the mountains of the Garwhal Himalaya, including Trisul, 7,120m/23,360ft, the trident Nanda Ghunti, 6,309m/20,699ft, the tooth like Changabang, 6,864m/22,520ft, the unmistakable pyramid of Kamet, 7,756m/25,446ft, and Nanda Devi itself at 7,817m/25,646ft.
The crossing of the Kuari Pass, 3,658m/12,001ft, described as having one of the finest views in the Himalaya, is a fitting climax to the trek and from here you will enjoy spectacular sunrise views of an array of the high peaks. Almost as superb are the views from the beautiful meadows at Gorson's Top, from where you will have a spectacular panorama of the legendary Nanda Devi, at 7,512m/25,648ft one of India's highest mountains, surrounded by an awesome 6,000m/19,800ft wall which forms the 'sanctuary'. The British spent decades attempting to penetrate the goddess's sanctuary, finally succeeding in 1934 when Eric Shipton and Bill Tilman crossed the Kuari Pass on their way to the Rishi Gorge and Nanda Devi. Nowadays the Sanctuary itself is closed but this trek is a fabulous alternative.
After descending from Gorson's Top to the pilgrim town of Joshimath, you complete your journey with a morning's rafting on the Ganges River by the holy city of Rishikesh, and a train ride back to Delhi.
---
At a glance
Duration: 17 days from the UK
On trek: 10 days
Max. Altitude: 3,658m/12,001ft, Kuari Khal, Day 13
Guaranteed to run for a minimum of 4 clients
Maximum group size: 12
Accommodation types: Hotels, Camping, River Lodge
Meal arrangements: All meals are included from lunch in Delhi on Day 2 to breakfast on departure day: 15 breakfasts, 15 lunches, 15 dinners.
Itinerary overview
| Day | Activity |
| --- | --- |
| 1-2 | Fly to Delhi. Train to Haridwar. Drive to near Rishikesh. |
| 3-4 | Drive to Loharjang via Rudraprayag. |
| 5-6 | On trek to Didana and Gorati Patal. |
| 7-8 | Trek to near Sutol via Kunol. |
| 9-10 | Trek through Dekhandhar to Ghunni. Continue to Jhinji. |
| 11-12 | Continue trekking to Kaliaghat and on to Dhakauni. |
| 13 | Trek across the Kuari Pass (Kuari Khal), 12,000ft/3,658m, to Kulara. |
| 14-15 | End trek at Tapovan. Drive to Joshimath and near Rishikesh. |
| 16 | Raft to Rishikesh. Transfer to Haridwar. Train to Delhi. |
| 17 | Fly back to London. |
Leader: Local leader, India
Your Indian tour, trek or walking guide will be friendly, very knowledgeable about the region you are visiting and speak fluent English. We use one of the largest and oldest tour operators in India whose staff all have excellent training.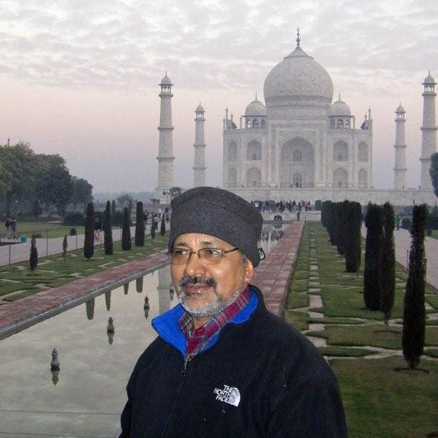 ---
Holiday Itinerary
Day 1 - Fly London to Delhi
Fly overnight from London to Delhi.
Overnight: In flight
Day 2 - Arrive Delhi. Group transfer to the Broadway Hotel for lunch. Afternoon train to Haridwar - 6 hours. Transfer to Bull's Retreat – 1½ hours.
You will arrive in Delhi in the morning, and will be met and transferred to the Hotel Broadway for a wash and change and lunch will be provided in the hotel's unusual restaurant. After lunch you will be transferred to the Old Delhi railway station to take the afternoon train to Haridwar, a journey of about 6 hours. You will then be transferred to Bull's Retreat near Rishkesh. Bull's Retreat is a lovely resort set on the edge of forest just a short walk from the River Ganges.
Overnight: Bull's Retreat River Lodge, Near Rishikesh
Day 3 - Drive to Rudraprayag.
After breakfast, you drive eastwards, up river, for about 4 hours to Ruraprayag. Rudraprayag is situated at the holy confluence of Alaknanda and Mandakini rivers and the area is famous as the spot where the famous colonial hunter, Jim Corbett, killed with his last bullet, the Man-Eating Leopard of Rudrapryag, which had reportedly killed more than 125 local people over an 8 year reign of terror. The book is a classic read.
You will stay overnight at the Monal Resort Hotel, near Rudraprayag.
Overnight: Monal Resort Hotel
Day 4 - Drive to Loharjang, 6,561ft/2,000m - 5-6 hours.
After an early start you follow the River Ganges until Deoprayag, the confluence of the rivers Alaknanda and Bagirathi. The road then follows the Alaknanda River, and finally the Pindar River up to Tharali. You are at the mercy of road conditions and while the road is good up until Karnprayag, there are often rough sections to cross up to Debal. From Debal the road runs up to Loharjang. You are likely to be woken to the gentle cries of the myna birds roosting in the nearby trees.
Overnight: Camp
Day 5 - Trek to Didana, 8,202ft/2,500m - 4-5 hours.
You start trekking down into the Gyan Ganga valley, entering rhododendron and oak forest, with parties of laughing thrushes, drongos and magpies. After an hour or so you reach a clearing with panoramic views of steep forested hillsides where you may spot soaring birds of prey and in spring hear the distinctive sound of the cuckoo. You continue to the river valley which takes around 2 hours from the start of your walk, and you follow the river valley before crossing the river and making the steep climb on a good path to the small village of Didana. Your first camp is above the village just below the forest, a very scenic spot in an open grazing meadow.
Overnight: Camp
Day 6 - Trek to Gorati Patal, 11,000ft/3,354m – 6-7 hours.
The day starts with a steep climb up through the forest. After three hours you will emerge above the tree line for wonderful views of Chaukhamba and Nilkanth as you walk along high grassed ridges before reaching the meadows of Bedni Bugyal. This high meadow is the main camp used by travellers on the great pilgrimage to Roop Kund that takes place every 12 years. It is a beautiful place dotted with shrines and temples and the morning gives awesome views of Trisul, as well as of the mountains of the Garhwal such as Nilkanth to the northwest. You will continue for 30 minutes to reach Gorati Patal where you will camp tonight.
Overnight: Camp
Day 7 - Trek to tourist bungalow above Wan, 8,045ft/2,437m – 3-4 hours.
The track makes a long, steep descent through a fine forest of firs and rhododendrons and across a beautiful clearing with much of the track being paved. After another drop, you reach the river 2 hours later. After a climb you reach the main valley, at the head of which is Wan. You camp above the village, by a tourist bungalow, on a wide tree-fringed terrace. Just above the bungalow is the sacred grove of Latu, another famous local devta (spirit), whose temple lies under one of the biggest Deodar trees in India. Unfortunately some of its branches have snapped off near the top. Wan is a fascinating old village where the men and women continue to wear traditional Garhwali brown, homespun wool blankets pinned across the chest. There are lovely views across the valley of small hamlets amongst the steep terraces and forested hillside. The fine forest is a perfect habitat in which to find hooded oriole, laughing thrushes and flycatchers.
Overnight: Camp
Day 8 - Trek to near Sutol via Kunol, 7,500ft /2,300m - 6-7 hours.
Walking on past Latu's temple the path climbs gently up through magnificent cypress trees to the beautiful Kukin Khal pass at 10,070ft/3,069m, reached in about 1¾ hours. There are two graves of holy men here. The path drops down to broad meadows with the track marked with stone rows on either side. Another 45 minutes takes you to the end of the broad meadows to near Kunol. From here the track drops down east again on a long undulating traverse through magnificent forest, filled with monkeys, to the confluence of two rivers where you will camp below Sutol after a further 2½ hour walk. You may get views of Trisul through the trees.
Overnight: Camp
Day 9 - Trek to Ghunni, 8,200ft/2,500m, via Dekhandhar, 6,955ft/2,120m - 9 hours.
A short climb brings you to Sutol, a lovely village with paved alleys and heavy slate roofs. There is a post box here should you wish to post letters. The track now traverses along the valley with a number of ups and downs and huge drops to the river gorge below, through forests smelling of fir trees. After dropping to a river, crossed by a green girder footbridge there is a long steep climb to a little temple on a col at 8,200ft/2,499m. From here, passing fields and small holdings and dropping once again to a side river, there is a good place for lunch after a total of about four and a half hours. A very steep upper track leads you to a bridge and then after a gradual climb through forest you will emerge near farms and fields up to Dekhandhar at 6,955ft/2,120m, on a ridge with amazing views of Trisul, one and a quarter hours from the lunch stop. As you pass through the village of Ala you will see a house with magnificent carvings on the porch. After about four hours you reach your camp by the school of the small village of Ghunni.
Overnight: Camp
Day 10 - Trek over the Ramani Pass to Jhinji - 5 hours.
From Ghunni you will climb steeply over 1,000ft/305m from the camp on a good zigzagging track to emerge on open grassy grazing meadows. Snow peaks begin to emerge above the forest to the north. You then begin to climb steeply again as the path moves diagonally through forests of rhododendrons, pines and holm oak with more pastures for summer grazing, with shepherd huts below to your right. You may meet flocks of sheep and goats moving along the track. The highest point, reached in two and a quarter hours from the camp, at 3,064m/10,053ft, is the Ramani Pass, also called Binayak Top. There are magnificent views of Trisul through the trees. It is also possible to make out the Kuari Pass which you cross on day 13. From now on there may be a chance to see the multi-coloured monal pheasant but they are very shy, being hunted by the locals for the pot.
You then trek gently down for a while across more pastures and open glades, then into lovely forests of horse chestnuts and walnut trees with waterfalls. The track now starts a steep and long zigzag descent, reaching the colourful village of Jhinji.
Overnight: Camp
Day 11 - Trek from Jhinji to Kaliaghat, 7,500ft/2,300m - 5 hours.
From Jhinji the trail today carries on down, past small farms through woodsThe trail carries on down past small farms through woods to the spectacular suspension bridge at 6,037ft/1,840m across the Birehi Gorge, currently inhabited by a large number of monkeys. From here a very steep climb takes you back to 2,250m/7,382ft where the track eases after one and a half-hours ascent. From here the path is almost flat passing through fine rhododendron forest, with long-tailed magpies flitting about. There are many streams and waterfalls as the route contours round many deep re-entrants. If you look down to the deep gorge below, you can see the landslide and the Gauna Lake, which burst to flood the whole of the Ganga Valley down to Rishikesh in 1898. After going round the head of a horseshoe valley you reach two lovely rivers cascading down under the path. From here there is a short climb to a spot called Kaliaghat, a good campsite near the village of Pana.
Overnight: Camp
Day 12 - Trek to Dhakauni via Sartoli and Domabhiti, 11,000ft/3,353m - 7 hours.
This is another long, but spectacular day. The route traverses above the village and then starts a steep climb up into rhododendron forest, with many zigzags - it is a broad, well-made track but after quite a number of false summits, a col is reached at 9,842ft/3,000m. The path now descends gently, traversing along the valley, to open meadows with views across to the Kuari Pass. The track then traverses down around the side of the valley, across several streams, before it plunges down a very steep and loose section, much of which has been washed away by the monsoons - an awkward and loose descent. At the bottom, you will see to your right that the river has cut through a deep rocky dramatic gorge. This is wild country with no settlements, and blue sheep and Himalayan black bear are said to be roaming here. From the river, it is a very steep climb of about 3,000 feet/900m with a small break about half the way up to cross a large stream. A final climb brings you above the tree line to the campsite on the large pastures where sheep and goats graze in summer, with the Kuari Pass towering above.
Overnight: Camp
Day 13 - Trek from Dhakauni, across the Kuari Pass (Kuari Khal), 12,000ft/3,658m, to Tali - 5-6 hours
The day starts early today - so you don't miss out on the magnificent early morning views at Kuari Pass. The trail from Dhakauni climbs through the forest, past the tree-line...and then you wait. Wait for the spectacular Himalayan views that the early morning sunrise will bring!
After taking your time to admire the views and take your photos you begin your descent. The trail descends to a fork where you follow the path to Tali that leads eventually to a ridge with a temple and prayer flags fluttering in the wind. From here the two massifs of the divine Nanda Devi (Bliss-Giving Goddess) come into view. On a clear day you would be able to see Dronagiri, Trishul, Changabang, Hathi Parbat and Rishikot as well. This is where you will settle for the night - in a meadow with rhododendron trees, gazing up at this panoramic view of the Himalaya.
Overnight: Camp
Day 14 - Trek to Auli via Gorson's Top. Drive to Joshimath, 6,562ft/2,000m.
The trail from Tali is a gradual climb across the mountain ridge which narrows down until it reaches three grassy dunes, collectively called Gorson's Top. Here the Himalaya achieve a kind of perfection; the view is of a formidable fortress standing guard over the Nanda Devi Sanctuary, a place Sir Edmund Hillary once called a "God-gifted wilderness", and from the centre rises the divine Nanda Devi, all 7,817 meters of her! Time stands still here and you now understand why the Himalaya enthralled Lord Curzon as much as it did.
Trek completed, you meet your driver at Auli and drive to Joshimath for your overnight stay. Joshimath is a town in the Indian state of Uttarakhand. Located at a height of 1,875m/6,150 feet, it is a gateway to several Himalayan trekking trails and pilgrim centres like Badrinath. The town is said to have special spiritual powers and is believed to be where Hindu guru Adi Shankaracharya found enlightenment in the eighth century before going on to establish a monastery here. Visitors pass through the town on their way to the famous Sikh shrine, Hemkund Sahib, and the Hindu temple at Badrinath.
Overnight: Dronagiri Hotel
Day 15 - Drive to Bull's Retreat near Rishikesh - approximately 8 hours.
A long but excellent journey with fabulous scenery, especially for the first 50 km or so. Cliffs, waterfalls, rainbows, jungle, views of Elephant Parbat and Horse Parbat. It becomes more tropical the lower you descend with monkeys, palm trees, huge butterflies, and of course it is becoming hotter all the time.
Overnight: Bull's Retreat River Lodge, Near Rishikesh
Day 16 - Rafting in Rishikesh. Evening transfer to Haridwar. Train to Delhi.
Rishikesh is the ancient road-head for all pilgrim traffic and this small town, in the season, is bursting with groups of villagers from all over India, clamouring for seats on the buses to the four hill shrines. The northern part of the town is called Muni-ki-Reti and refers to the silver shores of the river where the rishis of old meditated. Across the Ganga, large, sprawling but well-maintained ashrams teach yoga and publish books on the scriptures. There will be time for a morning's rafting before driving on to Haridwar in time for your train to Delhi. Your train arrives Delhi in the late evening and you will be met and transferred to your hotel.
Overnight: Red Fox Hotel Or Similar, Delhi
Day 17 - Group transfer to the airport. Fly to London.
After breakfast you will be transferred to airport for your flight back to the UK.
Map
Map Key
Airport
Point of interest
Mountain Peak
Day walk in this area
Flights
Internal Transfers
Trek
---
2024
| Dates | Availability | Land Only | Flight Inclusive from |
| --- | --- | --- | --- |
| Sat 4 May - Mon 20 May 2024 | Available | £1795 Book | £2545 Book |
| Sat 28 Sep - Mon 14 Oct 2024 | Available | £1795 Book | £2570 Book |
Hold your place
Not quite ready to book? Why not call us on +44 (0) 1453 844400 to hold a no obligation place while you make up your mind?
---
Optional supplements
No Surcharge Guarantee
No surcharges will be applied to your holiday after you book. Prices on this website are updated regularly. The Flight Inclusive holiday price, or Land Only holiday price, will be confirmed to you at the time you make your booking. There will be no surcharges after your booking has been confirmed.
Flight inclusive holidays
The 'flight inclusive' holiday prices shown on this website are based upon our preferred airlines and the best priced economy class fares we are able to secure at the time of publication.
We will be able to advise on fares with alternative airlines, upgrades to Business Class, and the options for flights from regional UK airports, please contact us for more details.
Booking your holiday
For the majority of our holidays, a deposit payment of £400.00 per person is required to secure your place(s), however a small number of holidays require a higher deposit - please refer to the holiday itinerary for more details. If the holiday departs within 60 days, a deposit of £1,000.00 per person is required.
Book now!
Book your small group holiday securely online – click the 'Book' button next to your chosen departure or visit our How to Book page
Complete and return a Booking Form available to download here.
Call us on +44 (0)1453 844400 and one of our travel specialists will talk you through the booking process.
What's included
Good standard hotel accommodation on a twin share basis
Bed and breakfast in Delhi, all meals elsewhere
All train fares and rail travel in air-conditioned carriages
A free Mountain Kingdoms kit bag
All camping facilities and all meals on trek
Camp staff to carry out all camp work
All park fees and permits
Rafting to Rishikesh
Costs of all porterage and their insurance
All road transport by private vehicles
Economy class return air fares from the UK & UK Departure Tax (flight inclusive only)
Carbon offsetting with the Ecoan Tree Planting Project (for clients taking our flight inclusive option)
Single, timed group airport transfers on arrival and departure
What's not included
Travel insurance
Visa fees
Tips
---
---
Read holiday reviews by Mountain Kingdoms travellers.
Overall score: 3.6666666666667 (Based on 3 reviews)
Curzon's Trail & Kuari Pass, Indian Himalaya
Despite great organisation by the trek leader and the support team in India our trip was marred by dismal weather from the start with overcast, rain laden skies. That is the chance you take in the mountains, but nevertheless the memory of this holiday is one of saturated clothing and rain pattering on the tent flyleaf !
Curzon's Trail & Kuari Pass, Indian Himalaya
The overall package - from arrival to departure - we were looked after, and the agent kept checking up.
Curzon's Trail & Kuari Pass, Indian Himalaya
This trek is one of India's hidden gems...
---
Extend your holiday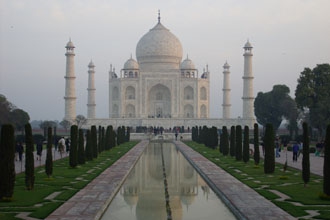 1-day and 6-day extension options available
Add at the beginning or end of your holiday in India
Sights include the Red Fort, Taj Mahal, City Palace and Amber Fort
After your adventures in India why not add an exciting day trip to Agra to see the sights of the one time capital of the great Mughal empire? Or, if you have more time available, perhaps a longer trip visiting both Agra and another gem of the 'Golden Triangle', Jaipur. Whichever option you take, once in Agra you will be looked after by one of our fully trained, English-speaking guides who will show you around the Red Fort, the Taj Mahal and the ancient city and mosque of Fatehpur Sikri. For those travelling on to Jaipur, you will take guided visits to the Amber Fort, Palace of the Winds and City Palace, along with time to explore the colourful bazaars of the 'Pink City'.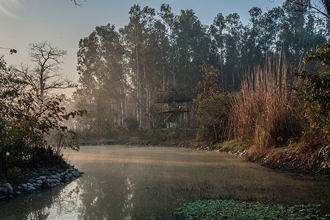 Corbett National Park is home to one of the largest Royal Bengal Tiger populations in India.
Over 50 species of mammals, many reptiles and hundreds of bird species to look out for.
Ideal extension from Delhi to explore some of India's most fascinating wildlife.
Corbett National Park is the oldest national park in India. Located between the Himalayan foothills to the north and the ancient Shivalik Hills to the south, the reserve covers a wide range of habitat with dense woodlands, open grasslands, riverine vegetation, dry riverbeds and more hilly terrain and so offers much diversity. This varied habitat hosts a spectacular diversity of mammal, bird and reptilian life, unmatched anywhere in India.
The park is home to one of the largest Royal Bengal Tiger populations in India as well as other large cats such as leopard. There are also around 50 species of mammals including large herds of elephant and four species of deer. In the park you also find many reptiles, including the rare and highly endangered Gharial crocodile. Corbett has a spectacular bird diversity – there are several hundred resident species of bird with as many more crossing on their migratory routes with bird diversity being at its peak during the winter months.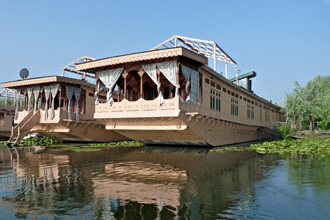 Spend the end of your trek or tour relaxing on a luxurious houseboat in Kashmir.
Enjoy accommodation with cosy bedrooms with en-suite bathrooms.
Includes all meals, tea and coffee on-board, provided by your own cook.
We are very pleased to say we can now offer extensions to visit Srinagar in Kashmir. Closed since 1990, it is now thankfully open again to western tourists and at last you have the opportunity of true relaxation aboard one of the famous houseboats either on Dal Lake, or Nagin Lake.
The flat-bottomed houseboats have cosy bedrooms with en-suite bathrooms, a large living/dining room, and a verandah where you can enjoy mountain views and watch the shikaras (wooden boats) gliding along on the lake from shore to houseboat.
You will have your own cook on your houseboat so all you have to do is relax, put your feet up, and enjoy a well earned rest after the rigours of your trek or tour.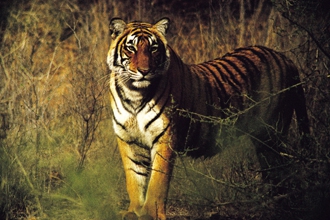 Known for its population of tigers.
Home to fascinating wildlife including jungle cats, hyenas, jackals, bears, crocodiles and large populations of langur monkeys.
Enjoy safari drives as you look out for wildlife amongst the picturesque grassland, hills and lakes.
Ranthambore National Park in Rajasthan is one of the finest national parks in northern India. Formerly a hunting reserve for the Maharajas of Jaipur, you can see a huge variety of fantastic wildlife and birds in Ranthambore, but the park is particularly famous for its population of tigers - although of course sightings of tiger can never be guaranteed many visitors to this park are lucky enough to get good views. The scenery of the park is very varied with grassland, hills and lakes and there are also some very picturesque and atmospheric ruins located in the park. Even if you don't see tigers there is abundant wildlife on view in Ranthambore with leopard and other cats such as jungle cats, caracal, hyena, jackal, wild boar, bear, several species of deer, and large populations of langur monkeys. Marsh crocodiles and other reptiles are also found in the lakes within the park. Owing to the wide range of habitats within the park there is also a large variety of fantastic and colourful birds, both resident and migrant, to be seen - in total, 272 bird species have been documented within the park.