What's included
An English-speaking Sherpa leader
Economy class return air fares from the UK & UK Departure Tax (flight inclusive only)
Single, timed group airport transfer for international flights on arrival and departure
All internal flights and domestic hotel/airport transfers
Good standard hotel accommodation in Kathmandu and Pokhara on a twin share, bed and breakfast basis
Free use of a good quality down jacket, sleeping bag and liner (supplied in-country)
All road transport by private vehicles
All meals on trek including tea and coffee
An evening fill up of your water bottle with drinking water
A free high-quality Mountain Kingdoms kit bag
Best quality tea houses booked in advance
Sherpa sirdar, staff and full porterage
Morning 'bed' tea on trek
Sherpa/porters properly insured and equipped
Park fees
The opportunity to attend a pre-trip meet in the Cotswolds
and much more...
Call our
friendly team
Nepal, Annapurnas | Walking & Trekking
Strenuous
Suitable for fit individuals who have regular experience of mountain walking.
Find out more...
Grade: Strenuous ? Strenuous
Duration: 21 days from the UK
On trek: 16 days
Flight inclusive from £2,815,
Land only from £1,795
Book now or call 01453 844400
A truly classic trek circumnavigating the Annapurna Massif on an unforgettable journey
Highlights
A classic trek with stunning varied scenery and cultural interest at every step
An improved route that avoids roads and gives the best trekking experience
Crossing the Thorong La - a true high point at 5,416m/17,769ft
A four-star hotel in Kathmandu at the start and end of your trek
Many people believe that the walk around Annapurna is the classic trek in Nepal. It offers not only some of the most breathtaking scenery in the Himalaya, but from the lush irrigated Marshyangdi valley, the high arid country to the north, and the descent of the Kali Gandaki valley, the deepest gorge in the world, the traveller passes through a varied cross-section of the culture of Nepal.
You will visit centuries old Buddhist temples, pass Sadhus and pilgrims on their way to Muktinath, follow in the ancient footsteps of salt traders, encounter donkey trains with their bells ringing and be able to peek into the mysterious Upper Mustang which lies in the rain shadow of the Himalaya. And of course the thrill of crossing the fabled Thorong La pass, adorned with its many prayer flags, will keep you talking for years to come. The scenery is spectacular throughout, starting out along the fertile, heavily cultivated river bed of the Marshyangdi valley where shady banyan trees shelter scattered villages and varieties of mango and banana flourish. Here two-storied houses are brightly painted with red ochre or whitewash and are usually surrounded by the scarlet and orange blossoms of poinsettias and marigolds.
The circuit passes through pine and juniper forest, then climbs through grassy meadows and high yak pastures to cross the Thorong La Pass, 5,414m/17,764ft, for unmatched views of the northern faces of Annapurna and her satellite peaks. From Muktinath the trail descends to enter the Kali Gandaki valley, arriving in Marpha, perhaps the most picturesque village in the region, where lush irrigated fields border whitewashed houses, standing beneath towering sandstone cliffs. The circuit concludes through coniferous, rhododendron and bamboo forest, with an ascent of Poon Hill for a final spectacular Himalayan panorama at sunrise.

In recent years the development of a dirt road along the Kali Gandaki has garnered Annapurna hiking much negative press. We have therefore pioneered this route to avoid walking on the road, thereby retaining the allure and experience of trekking the classic Annapurna Circuit.
---
At a glance
Grade: Strenuous
Strenuous
Duration: 21 days from the UK
On trek: 16 days
Max. Altitude: 5,414m/17,764ft, Thorong La, Day 11
Guaranteed to run for a minimum of 4 clients
Maximum group size: 12
Land only joining city: Kathmandu
Accommodation types: Hotels, Tea Houses
Meal arrangements: Bed and breakfast in Kathmandu and Pokhara, all meals are provided elsewhere.
Itinerary overview
| Day | Activity |
| --- | --- |
| 1-2 | Fly to Kathmandu. Spend the afternoon at leisure. |
| 3 | Drive to Chamje. |
| 4-5 | Trek via Bagachhap to Chame where it is possible to visit hot springs. |
| 6-7 | Continue the trek passing through villages, enjoy panoramic mountain views. |
| 8 | A rest day at Manang to aid acclimatisation with the option of short walks to take in the surrounding area. |
| 9-10 | Trek to Thorong Phedi via Yak Kharka. |
| 11-12 | Cross the Thorong La, 5,414m /17,764ft – the highest point on the trek. Trek on to the pilgrimage town of Muktinath and visit the temple. |
| 13-15 | Trek through villages famous for their apple brandy and relax in the hot springs at Tatopani. |
| 16-19 | Continue with the trek. Ascend Poon Hill at sunrise. The trek ends. Transfer to Pokhara. |
| 20-21 | Fly to Kathmandu. Fly to London. |
Leader: Local Leader, Nepal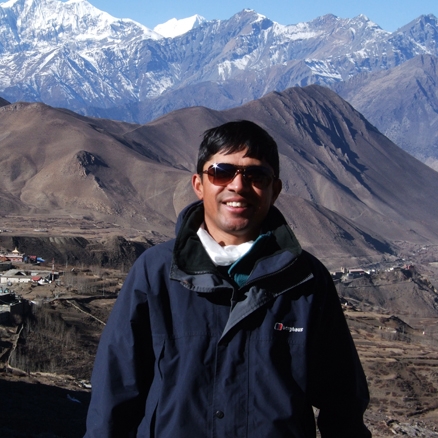 Whether it's a cultural tour, gentle walking holiday or strenuous trek, our holidays in Nepal are led by professionally-trained English speaking leaders. They have an intimate and expert knowledge of the history, culture and nature of Nepal and will make your trip a memorable experience.
---
Annapurna Circuit Itinerary
Day 1 - Fly London to Kathmandu

Fly overnight from London to Kathmandu.

Overnight: In flight

Day 2 - Arrive Kathmandu. Group transfer to hotel.

You will be met on arrival and transferred to your hotel. You might like to venture out to Thamel for your evening meal, or eat in the hotel restaurant if you are tired from your journey.


Overnight: Shangri La Hotel, Kathmandu or Similar

Day 3 - Drive to Chamje, 1,430m/4,692ft - 8 hours.

Today you will be picked up from your hotel for the drive to Chamje. Your journey takes you through deep gorges as you trace the Trisuli River westwards. You will pass through the small town of Mugling where the Trisuli and Marshyangdi rivers meet. The town also serves as the crossroads between Kathmandu, Pokhara and Chitwan in the south. You pass over an impressive suspension bridge and begin to follow the Marshyangdi River, which will become a familiar sight, as it will be your companion all the way to Thorong Phedi. On this section of the road you will gain your first sight of the Annapurna and Manaslu ranges. After Mugling you turn north and the Annapurna Massif looms as you approach Besi Sahar. From here you will join a jeep track for a couple of hours to reach your trek start point at Chamje via Syange and Jagat.

Jagat is a very old village. Its name means 'toll-station' as this was once a tax collecting point for the Tibetan salt trade. When Bill Tilman visited the area in 1950 this route did not exist. Instead he had to walk along a series of wooden galleries tied to the rock face.

Overnight: Tea House, On Trek

Day 4 - Trek to Bagarchhap, 1,700m/5,577ft - 6-7 hours.

Leaving Chamje, you soon come to a suspension bridge to cross to the Marshyangdi's east side which takes you onto the traditional Annapurna Circuity trekking trail rather than the dirt road that follows the west bank of the river. You continue through a series of overhanging rock formations. After a short climb the path begins to traverse the rock face on a broad ledge. You then come to a series of stone steps and pass a couple of 'Bhattis' (historically liquor distilleries) on your way. Bhattis originally offered just alcoholic drinks and some lodgings but since the advent of tourism they now stock all sorts of soft drinks and snacks.

After a while the trail evens out and you will pass through an archway - this is the gateway to Tal and the Manang district. "Tal" is the Nepali word for "lake" and you will see the broad expanse where a lake used to be. The trail leads to the right of this expanse beneath a mighty rock wall on your right. The people of the Manang region are Tibetan in origin and you will see increasing evidence of this Tibetan influence as you continue your trek up to Thorong Phedi. The architecture changes and you will see more Buddhist chortens and gompas. Another hint of this influence can be gained by the lodge names with a plethora of guest house names such as 'New Tibetan', 'Lhasa' and 'Potala'.

The trail from Tal is level for a while, giving a welcome relief for your legs. The Marshyangdi is wide and calm at this point. After an hour you cross a bridge back to the western side of the gorge. Back on the eastern bank you will see the old trail which was used until recently. However, due to landslides it is no longer safe, so you will continue to climb to reach the village of Dharapani, which has numerous hotels and a police check post. While you pass through the village, you will see a valley coming in from the east along which the Dudh Khola flows. This is where the Manaslu circuit trek route joins the Marsyangdi River, coming down from the Larkya La.

From here there is a 'low path' or a 'high path" leading to Bagarchhap. The high path involves climbing a series of stone steps for at least 45 minutes, however it is worth it for the view and the two small villages you pass through. The first is called Odar and the second Ghalan Chok. As this trail is little used by tourists, the villages have retained their character and there is not a guesthouse in sight. The villages are surrounded by high terraces of maze and soya beans. From here you make the short descent to Bagarchhap for the night. If you have time you may want to visit the splendid Gompa in Bagarchhap.

Overnight: Tea House, On Trek

Day 5 - Trek to Chame, 2,630m/8,628ft - 5 hours.

Today we follow trekking trails whenever possible. Occasionally though we will also be walking for short periods along a dirt road - but it shouldn't be too busy.

Leaving Bagarchhap, you proceed up the valley gaining great views of Annapurna II, 7,937m/26,040ft, and Lamjung Himal, 6,932m/22,743ft, directly in front of you. After half an hour, you will go through the village of Danakyu. You pass a mani wall and a huge prayer wheel on your left hand side. If you look back you should be able to see the lofty peaks of Manaslu, 8,154m/26,752ft, the eight highest in the world and Peak 29, 7,833m/25,699ft. After Danakyu there is the possibility of taking a 'low route'. However, we recommend you take the 'high route' which offers spectacular scenery. You will have a steep climb of just under an hour through a forest populated by pines and firs. The trail then flattens out and you cross a log bridge. You might catch sight of the Langur monkeys, which are resident here.

The trail ascends again and looking back, Manaslu now appears closer than ever. The trail takes you through a natural amphitheatre, with high wooded hillsides all around. A short while after you will reach Timang Meadows, which is a small village. Continuing on, the path is level and after the river you will come to another village called Thanchok. Further up the trail you may get a sight of Annapurna II towering into the sky.

The path then re-joins the main trail and in this area the trail is scattered with huge boulders. Descending through woodland you pass through the village of Koto which sits in the shadow of Annapurna II and on your right you will see the Naw Khola joining the Marshyangdi from a northern valley. In Koto there is a small Gompa adorned with brightly coloured paints. The valley then opens out and it is a short level walk to Chame, where you will spend the night. Chame houses the headquarters of the Manang district and you will see district officials riding up and down the trail on horseback, which is still the fastest means of transportation in this area. You enter Chame through an archway and there is a large mani wall just inside. Chame is a good place to do last-minute shopping before reaching the higher altitudes you will soon encounter where you can buy woolly hats and gloves, chocolate and batteries. The Bank may be open to change money and you may even be able to make a telephone call. You cross the Marshyangdi to the north side to find your tea house. There are some hot springs five minutes' walk from the tea house and excellent views of Lamjung Himal.


Overnight: Tea House, On Trek

Day 6 - Trek to Pisang, 3,190m/ 10,465ft - 5 hours.

It is a shorter walk today , but the scenery is so wonderful that you will want to take your time. Leaving Chame you pass a few mani walls, one overshadowed by a huge wall of rock to your right. You pass through a small hamlet marked by chortens at each end. The trail here is even and for a while is bordered by an attractive dry stone wall. Soon you will arrive at a water-turned prayer wheel. You pass through the village of Bhratang and begin a 45-minute climb through forest, levelling off and then reaching a suspension bridge. Crossing the bridge there is a moderate climb in forest and you begin to move away from the Marshyangdi. The valley begins to broaden out and Pisang Peak, 6,091m/19,983ft, will be directly in front of you. The woodland here is made up of juniper, pine and fir. You pass a couple of small lakes where wading birds can sometimes be seen. Pisang is divided into upper and lower villages. You cross a small wooden bridge to arrive in Lower Pisang where you will stay in a tea house. It is well worth while crossing the Marshyangdi River and climbing up to the upper village, which is more traditional and has an ornately decorated gompa overlooking both villages.

As a concrete motorable bridge has now been built over the Marshyangdi River, we will be seeing a few jeeps coming and going to Manang during our trek today but it is still a very pleasant walk.

Overnight: Tea House, On Trek

Day 7 - Trek to Manang, 3,500m/11,482ft – up to 7 hours.

On this day there are two route possibilities; a lower route of 5 hours or a high route of 6-7 hours.

Either: Your group takes the lower, less strenuous route, the path out of the valley is pretty level and then once out of the valley you begin to contour round to your left and climb up onto a ridge. The view from this ridge is breathtaking looking down into the Manang valley and you will want to stay here all day to enjoy it. Dropping to the valley floor, the path is wide and dusty. You will have noticed that the scenery here is becoming more arid, the air drier and the wind colder. Annapurna III, 7,555m/24,786ft, rises to the left and passing through the village of Hongde you will see the deserted remains of the old village on its outskirts. The path then rises gradually and takes you into the next valley. After a couple of hours' walk you will pass through the village of Braga, just 30-minutes' walk from Manang. Overnight either at Hotel Yeti, or Himalayan Singe - both offer en suite facilities.

Or: If your group are feeling fit and energetic, then the high route on the east bank of the Marshyangdi is strenuous, but well worth the effort. You cross the river out of Pisang village and then take a reasonably level path through scrub land, passing a small picturesque lake on your right. You then pass a long mani wall and descend to cross a stream and begin a strenuous zigzagging climb up to the village of Ghyaru, 3,673m /12,050ft. A welcome tea shop is the first house you reach in the village. It is well worth climbing up to visit the gompa at the top of the village. The views from here of Annapurna II and Annapurna IV are totally stunning. From Ghyaru you continue up the valley on a wonderful high level trail, passing the ruins of a castle set on a promontory, with views both ways up and down the valley. You then arrive at the village of Ngawal, 3,650m/ 11,975ft, where there is a large newly built gompa up to the right. You leave the village near a long mani wall. Finally you descend back to the valley floor and re-join the main trail to continue to Braga and Manang. Before continuing it is well worth visiting Braga Gompa, which is the oldest in the area and is a wonderfully atmospheric building. Ask your guide to find the 'man with the key'.


Overnight: Tea House, On Trek

Day 8 - Rest day at Manang.

It is essential to spend time for acclimatisation in this area. There are splendid views of the peaks from both Manang and Braga villages. Manang is a large village situated on a rise immediately across from the huge Gangapurna glacier. A beautiful emerald lake lies at its foot. There are plenty of good walks in the area and for at least a couple of hours you should try to climb as high as possible above the village. Side trips are recommended to a small summit with prayer flags about an hour above Braga village, or up the ridge behind Manang village, or to a viewpoint above the lake opposite Manang Village. It is also possible to walk up the valley towards Tilicho Lake to the village of Khangsar. In addition it is worth visiting the Manang Gompa or, if it is open, visit the clinic run by the Himalayan Rescue Association - they often have talks about altitude in the afternoon. There are also shops to explore for souvenirs.


Overnight: Tea House, On Trek

Day 9 - Trek to Yak Kharka, 4,090m/13,418ft - 3-4 hours.

Today is a shorter day. However, it is essential for acclimatisation to stop between Manang and Thorong Phedi. You will leave Manang and take about 30-minutes to reach the upper village. After this you contour round the hillside and gain great views of the "grand barrier", the high ridge between Roc Noir and Nilgiri named by French climber Maurice Herzog. Below the grand barrier you will see down the Khangsar valley which leads up to Tilicho Lake. Passing the hamlet of Gunsang you continue through the barren upper reaches of the Manang valley. The path ascends gradually but is still hard work due to the increased altitude. You will arrive at Yak Kharka and have lunch there. In the afternoon, you could take a walk further up the valley or climb the ridge behind the village; if you make it to the top of the ridge there are great views of the north of the Annapurna range. Even if you only venture a short way above the camp, there is the chance to see the large flocks of blue sheep which inhabit this area. Either of these walks would help with acclimatisation.

Overnight: Tea House, On Trek

Day 10 - Trek to Thorong Phedi, 4,490m/14,730ft - 3-4 hours.

Again today is another short day, yet essential for proper acclimatisation. Leaving Yak Kharka you will pass through the small collection of lodges known as Letdar. You will take a high route, which winds its way around the eastern side of the Thorong valley, before dropping down to the valley floor. Crossing the river there is a short but sharp climb to Thorong Phedi. Phedi means "foot of the hill" and while it is the jumping off point for crossing the Thorong La it is not the prettiest place in the world! In the afternoon it is worth walking up beyond the first notch to the collection of huts known as upper base camp, as an acclimatisation walk, and then continuing up to the right to a small peak for superb all round views. Watch out here for blue sheep and snow leopard!

Overnight: Tea House, On Trek

Day 11 - Cross Thorong La, 5,414m /17,764ft, trek to Muktinath, 3,810m /12,500ft - 8-10 hours.

Today you will need to have plenty of water and your down jacket with you. Starting early in the morning, you first ascend steeply for 1½ hours to a rock ledge and notch at 4,679m/15,350ft, then continue up along an ascending and undulating trail. This ascent will seem endless, so be warned; there are several false summits, but there are great views back down the valley as you go. Finally, after anything from 3 to 5 hours, you arrive at the top of the Thorong La , 5,414m/17,764ft, with its large cairn and many prayer flags. You will have spectacular views of the Annapurna Range to the south and the Mukat Himal bordering Dolpo to the west. The peak immediately south of the pass is Thorong Peak. This is a 'trekkers peak' and you may see people climbing here.

You will probably not want to linger too long at the pass as it can be very cold and you will probably be feeling the effects of altitude. The descent to Muktinath is very steep and takes some 3 to 4 hours. This is where you might appreciate having walking poles to take the strain off the knees. During the descent there are splendid views of Dhaulagiri, 8,167m/26,794ft, and Tukuche Peak, 6,920m/22,703ft, and all the way down into the valley of the Kali Gandaki below. Finally you see the buildings of Muktinath coming in to view. You descend to the main village, below the temples which is actually called Ranipawa and not Muktinath, a name which technically refers just to the temple.


Overnight: Tea House, On Trek

Day 12 - Morning in Muktinath. Trek To Kagbeni, 2,804m/9,200ft, in the afternoon - 6 hours.

A relaxed start to the day today after the exertions of yesterday and after a late breakfast you can wander up to the temples and explore there, most likely in the company of many other pilgrims, both Nepalese and Indian. Tibetan trinket sellers display their wares by the roadside. Woven cloth in red and black stripes is made locally and is particularly typical of the area.

The temples at Muktinath are one of the most important pilgrimage sites for Hindus and Buddhists. It is mentioned in the classic Indian epic, the Mahabharata, and you may see pilgrims bathing in the holy water flowing from the 108 spouts carved in the shape of cows' heads surrounding the Vishnu Temple. The temple is built in Tibetan style and contains huge brass idols of Vishnu, Shiva, Brahma and Kali. Muktinath is home to many ethnic Tibetans and is holy to Buddhists as well as Hindus, particularly for the temple in which fire miraculously burns in a stream of water.

Pilgrims to Muktinath are able to gain Karma merit in a number of ways. The fire and water temple represents to Buddhists the life giving butter lamp that lights the path to enlightenment. Taking seven steps in devotion at Muktinath can help free you from the grievances of a bad rebirth. If you erect a silk banner at Muktinath you will be reborn in a future life as a universal monarch. Muktinath remains a place of atonement to its pilgrims in this modern age.

You start your trek today walking down from Muktinath away from the jeep road. You walk for about half an hour north of the police station to reach the pleasant village of Chhyonkhar. Here a wooden bridge over the river must be crossed. You take the downhill path and cross the suspension bridge to reach Jhong - a beautiful village. There is a very old monastery here dating back to the 7th or 8th century and the ruins of an old fort. After walking downhill for another half an hour to 45-minutes, you reach the road crossing at Putak. There are two roads leading out, and after walking along the upper road for some time, you cross the suspension bridge to arrive at Kagbeni.

Kagbeni is a fascinating oasis in this arid landscape. It is the most northerly village of Mustang that you can visit without a permit and it is worth walking through its narrow streets of ancient houses, through to the end of town, to see the Thak Khola valley stretching away to the north. The ancient gompa is also worth visiting. In the autumn watch out overhead for migrating demoiselle cranes which fly down the valley on their way to India from Siberia and Tibet. The Red House Lodge is an ancient house with old wall paintings and its own private gompa room with an impressive statue of Buddha.


Overnight: Tea House, On Trek

Day 13 - Trek to Marpha, 2,670m/8,760ft - 6 hours.

You begin today by walking over a dry section of the riverbed to reach the small settlement of Eklaibhatti, which means 'a lone house', although the original lodge here is now joined to other buildings. As you walk down the valley, look out for ammonite fossils among the pebbles. These are sacred to Hindus who call them 'shaligrams'.

You cross the suspension bridge and walk along a trail on the West bank of the Kali Gandaki river, so as to avoid the jeep road, until you reach Jomsom. Jomsom, the administrative headquarters of the Mustang District is a rather dusty, characterless town with a small airstrip, police station, army camp, banks and shops. It is also normally possible to telephone, or access the internet from here. The Kali Gandaki is called Thak Khola here and the local people belong to the ethnic group known as 'Thakali', an enterprising and ambitious community who formerly dominated the salt trade with Tibet as it passed down this valley. After the collapse of this trade in the 1950s, they diversified into other businesses, most notably to running hotels along the trek routes. Their former wealth is reflected in their fine villages, the principle ones that you visit being Marpha and Tukuche.

After lunch at Jomsom, you cross the bridge back onto the West bank of the river. Buses and jeeps are more frequently see along the Kaligandaki valley than in Manang and Marsynagdi valley. Like any other day you will avoid walking along the road whenever possible.

Following the course of the river you trek on down the valley, towards Marpha. Shortly after crossing the river you'll spy the small hilltop gompa of Dhumba, which sits above Dhumba Lake (hidden from view.) For those with the inclination and energy there's the option to make the short 110m /350ft climb up to the Gompa. Dhumba Lake is considered sacred by most folks, especially the Thakali people. From the monastery there are good views of Thini, Jomsom, Syang, and Marpha villages, along with Dhaulagiri, Tukuche Peak, Dhampus Peak, Thapa Peak, and Tashikang Peak (Nanda Bhauju Takura).

An hour or so's further walking brings you to Marpha. During low water periods you'll be able to cross the Kali Gandaki River direct into the centre of the village by a temporary wooden bridge. In high water periods you'll cross the river before reaching Marpha and walk the final 20-30-minuites into the village along the jeep road. Marpha is a lovely village of paved streets and well-maintained, whitewashed houses surrounded by productive fields and orchards. In the autumn, be sure to try some of the beautiful, locally-grown apples, or better still sample the local apple brandy. The well maintained gompa is also worth a visit.


Overnight: Tea House, On Trek

Day 14 - Trek to Kalopani, 2,530m/8,300ft - 6-7 hours.

You cross the Kali Gandaki and walk past the Tibetan refugee centre at Chairo Gaon. An hour's walk then takes you to an exceptionally beautiful village - Chimang Village, 2,850m/9,350ft. Descending from Chimang you continue on the West bank of the river, crossing a suspension bridge to reach Tukuche Gaon. In the 19th century, Tukche played a central role in the salt trade with Tibet. The doors and windows of the houses in this village are very artistically created. Another attraction of Tukuche is the Tukuche Distillery which produces the famous Apple Brandy and Apricot Brandy.

After leaving Tukuche Gaon from its lower end, you cross a wooden bridge and then walk for an hour to reach Sauru Village. Within the last couple of years severe monsoon flooding has lead to the destruction of many houses and farming land here. On the slopes above the river you will see sturdy stone built village houses to which most families have now 'retreated'. However, on the banks of the river your path will take you past more simple bamboo built houses which the locals use during the tourist season to benefit from any passing trade for selling tea, or small handicrafts. You will cross the river below Sauru and take lunch in the small village of Larjung. Then, after the lunch stop you cross the wooden bridge at the lower end of Larjung and rejoin the path heading down along the river bank. A further 2-3 hours walking brings you to your overnight halt at Kalopani. High above Kalopani tower Annapurna 1, Fang and Annapurna South. The view here of Annapurna 1 is actually one of the best in Nepal, with only Annapurna Base camp and Upper Mustang offering such clear views of the summit.

Overnight: Tea House, On Trek

Day 15 - Trek to Tatopani, 1,190m/3,904ft - 7-8 hours.

From your tea house, you take a series of minor paths between the jeep road and the river, finally joining the jeep road proper just below Lete village after about an hour. Although there are plans to create a footpath on the western side of the valley, currently you have to follow the jeep road for about an hour to reach Ghasa. There is an alternative route to avoid walking on the road, but this entails an additional diversion of 40 minutes.

Ghasa marks the end of Thakali country and you now enter an area populated by Brahmin and Chetri hill farmers and members of hill tribes such as Gurungs and Magars. Crossing back to the far side of the river your path now climbs around 100m /330ft and you'll find yourself high up above the river as it plunges through a narrow gorge below. A little further on the trail, perhaps at Kopchepani, you'll probably stop for lunch before continuing on to reach Bhalebas. The Rupse Chhahara waterfall is seen on the opposite side of the valley to Bhalebas. You re-cross the river at Topang to reach the main trail and jeep track which leads the final 30 minutes to Tatopani, a bustling village which has long catered to the needs of trekkers. In Tatopani, which means 'hot water' in Nepali, there are natural hot springs down by the riverside which are great for a relaxing soak.

Overnight: Tea House, On Trek

Day 16 - Trek to Sikha, 1,980m /6,600ft - 4-5 hours.

Although today's walk involves a steady climb high up above Tatopani, there's time this morning for a more relaxed start: perhaps even another visit to the hot springs. Continuing down beside the river you cross a long suspension bridge to the east bank. At a cluster of houses the trail divides: one branch continues downstream to emerge at the road head at Beni but your path takes off steeply uphill, making an altitude gain of about 2,700ft/800m to reach the small settlement of Sikha.

Overnight: Tea House, On Trek

Day 17 - Trek to Ghorepani, 2,775m /9,105ft - 4-5 hours.

We leave Sikha this morning and continue our upward trek to Ghorepani (horse-watering place). This was a main staging post on the old trade route to Pokhara although nowadays it is less utilised with most mule traffic going down the Kali Gandaki to exit at the road head at Beni. The main settlement of Ghorepani is on the far side of the pass you first reach from Sikha but most trekkers stay in the settlement at the pass itself so as to be in a good situation for climbing Poon Hill. You should arrive here in time for a late lunch. If conditions are clear in the afternoon you may wish to continue to climb Poon Hill, 3,190m/10,495ft, a 45-minute steady uphill climb, which offers a magnificent panoramic view of the mountains. To the north west across the Kali Gandaki is towering Dhaulagiri, while Annapurna South and Huinchuli are directly in front of you, with Machhapuchare and others looking less distinguished a little in the east. Further again to the east, the rolling hills diminish in size and you can see the serpentine Chinese road snaking its way through the hills and where the road ends at the Phewa Tal (Lake), Pokhara can be seen. If it is cloudy it is better to leave the climb of Poon Hill until sunrise the next morning.

Overnight: Tea House, On Trek

Day 18 - Optional ascent/descent of Poon Hill, 3,190m/10,495ft - 1-2 hours. Trek to Tirkhedungha, 1,540m/5,133ft - 4 hours.

At sunrise, if not undertaken the previous evening, you can climb Poon Hill to see the mountains turn pink, which is one of Nepal's classic views. Return to the tea house for breakfast and then descend from Ghorepani in fine oak and rhododendron forest. As you descend you pass through the small settlements of Nyathante and Banthante and then emerge from the forest into cultivated land above the large and picturesque Magar village of Ulleri, 2,073m/6,800ft. From here it is a long descent on stone steps to reach the river (Stephen Bezruchka's book says that it is 3,767 steps!) where you cross a suspension bridge to the village of Tirkhedhunga, 1,577m/5,175ft - a total descent from Ghorepani of around 1,200m/4,000ft.

Overnight: Tea House, On Trek

Day 19 - Trek to Nyaphul - 3 hours. Drive to Pokhara.

From Tirkhedhunga the trail then descends in a more sedate fashion down the valley of the Burungdi Khola to the village of Hille. Continue descending down the valley of the Burungdi Khola, passing a waterfall on your right with a beautiful pool and good swimming at its base, to arrive at the handsome bazaar town of Birethanti with its sturdy houses, paved streets and café terraces overlooking the Modi Khola River. You will complete your final ACAP formalities here and then cross the river on a long suspension bridge. It is a further 20-30 minutes' walk alongside the river to reach the road at Nyaphul where your transport will be waiting to take you to Pokhara, a drive of 1-2 hours depending on traffic. You should arrive in Pokhara in time for lunch, perhaps at a lakeside café or restaurant. The rest of the day is then yours to relax, or explore Pokhara town. The hotel pool will doubtless be an attraction for some whilst the many book and gift shops will tempt others into the odd souvenir purchase.

Overnight: Shangri La Village Hotel, Pokhara or Similar

Day 20 - Fly Pokhara to Kathmandu.

Return to Kathmandu by air (30minutes' flight) where you are met and transferred to Shangri-La Hotel. This is usually a morning flight, leaving you time to explore the environs of the hotel, or explore further afield.

Overnight: Shangri La Hotel, Kathmandu

Day 21 - Fly to London.

After breakfast there will be a group transfer to the airport for your flight back to London.
Map
Map Key
Airport
Point of interest
Mountain Peak
Day walk in this area
Flights
Internal Transfers
Trek
---
2019
| Dates | Availability | Land Only | Flight Inclusive from |
| --- | --- | --- | --- |
| Sat 26 Oct - Fri 15 Nov 2019 | Available | £1795 Book | £2815 Book |
2020
| Dates | Availability | Land Only | Flight Inclusive from |
| --- | --- | --- | --- |
| Sat 4 Apr - Fri 24 Apr 2020 | Available | Contact us | Contact us |
Hold your place
Not quite ready to book? Why not call us on 0044 (0)1453 844400 to hold a no obligation place while you make up your mind?
Optional supplements
Single room Kathmandu & Pokhara
From £150
Insurance
No Surcharge Guarantee
No surcharges will be applied to your holiday after you book. Prices on this website are updated regularly. The Flight Inclusive holiday price, or Land Only holiday price, will be confirmed to you at the time you make your booking. There will be no surcharges after your booking has been confirmed.
Flight inclusive holidays
The 'flight inclusive' holiday prices shown on this website are based upon our preferred airlines and the best priced economy class fares we are able to secure at the time of publication.
We will be able to advise on fares with alternative airlines, upgrades to Business Class, and the options for flights from regional UK airports, please contact us for more details.
Loyalty discount
Find out more
What's included
An English-speaking Sherpa leader
Economy class return air fares from the UK & UK Departure Tax (flight inclusive only)
Single, timed group airport transfer for international flights on arrival and departure
All internal flights and domestic hotel/airport transfers
Good standard hotel accommodation in Kathmandu and Pokhara on a twin share, bed and breakfast basis
Free use of a good quality down jacket, sleeping bag and liner (supplied in-country)
All road transport by private vehicles
All meals on trek including tea and coffee
An evening fill up of your water bottle with drinking water
A free high-quality Mountain Kingdoms kit bag
Best quality tea houses booked in advance
Sherpa sirdar, staff and full porterage
Morning 'bed' tea on trek
Sherpa/porters properly insured and equipped
Park fees
The opportunity to attend a pre-trip meet in the Cotswolds
What's not included
Travel insurance
Visa fees
Lunch and evening meals in Kathmandu and Pokhara
Tips
---
---
Review your holiday
Reviews
Read holiday reviews by Mountain Kingdoms travellers.
Overall score: 5.0 (Based on 6 reviews)
An amazing experience trekking around the Annapurna Circuit 06/03/2017
After one night in Katmandu, we drove over to start our 17 day trek around the beautiful Annapurnas. Every day brings fresh challenges and different views of the snow-capped peaks as we ascend to the Thorong-La at over 17,000ft. The return journey was equally fascinating as we trekked through a variety of terrains from bleak rocky uplands, alongside a wide expanse of river-bed, through lush forests and cultivated hill farms. We met many friendly Nepalese villagers and felt humbled by their lifestyle making the most of little resources. Back in the bustling city of Katmandu, we relaxed in the aptly named Shangri-La Hotel.
Mrs D, Bridgnorth
Fantastic support from the Nepalese 20/12/2016
I wanted to return to Nepal with Mountain Kingdoms because of the level of care & organisation both in the UK & Nepal. Again we were entrusted to a team who had expertise, organisation and shower sheer hard work and persistence. I knew this trek was going to be very challenging - altitude, distance etc. but we had a lot of great Nepali support staff from beginning to end. We could not have succeeded without them! I am very grateful to all of them for helping us to succeed - it enabled us to see Nepal life and surroundings in an amazing way. I will never forget the breathtaking scenery, the culture and the way of life for many Nepalese.
Ms L, West Midlands
Very well organised 30/09/2011
Everything was very well organised - all the pre-trip details; all transfers and briefings; the hotels in Kathmandu and Pokhara; and the whole trekking trip. The guide, Dawa, was good fun and enthusiastic and together with the superb tireless porters made for a wonderful holiday. All the 'extras' - morning tea, washing water, mid-morning tea, snacks, 4pm tea, biscuits, etc. - were things no other groups we met experienced. A huge 'thank you' to you all.
Mr S, Hereford
Great value for money 09/10/2009
Inclusive nature of holiday on trek with no need to worry about paying bills or having change. Attention to detail (bucket of water, towel and soap for handwashing which I've only seen on camping treks before). Supplementary fresh foods and map also included. Not having to fit sleeping bag into kitbag. Good interesting choice of route.
Ms C, Shropshire
Memorable experience
What we have done is just beginning to sink in. It was a memorable experience - and a really good holiday and also quite an achievement for us. Our extension days in Pokhara and Kathmandu were really enjoyable and we were greatly assisted in Kathmandu by your local agents in Kathmandu who helped us with extra day trips which were greatly enhanced by perfect weather.
Mrs P, London
---