/
/
/
Holiday Tours
/
Tours
Our grading system explained
Gentle
Gentle / Moderate
Moderate
Moderate / Vigorous
Vigorous
Vigorous / Strenuous
Strenuous
Expedition Grade
Northwest India

Majestic palaces, cool hill stations and spectacular Himalayan scenery, India's remarkable contrasts come to life in the states of the northwest.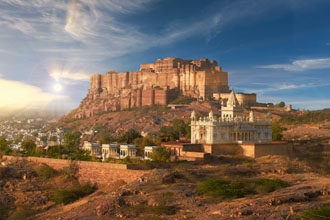 Visit remote Jaisalmer with its wonderful desert location and impressive fort
See the iconic Taj Mahal at Agra and the Amber Fort at Jaipur
Tour majestic Jodhpur fort and visit the city's lively markets
Enjoy overnight and evening game safaris at quirky Korta Escape
Spend time in romantic Udaipur with its fabulous palaces and beautiful lake
Stay at Chhatrasagar luxury tented camp – a fabulous experience.
Flight inclusive from £4475, Land only from £3775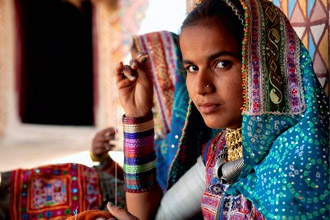 Enjoy a unique, specialist tour in the company of Sue Lawty, one of Britain's foremost artists
Experience first-hand all aspects of the rich Gujarat textile culture
Visit the picturesque villages of the Banni Grasslands and meet local craftsmen and women
See some of the fine palaces and temples of this vibrant region
Take a jeep safari to explore the Little Rann of Kutch
Take a heritage walk and enjoy the kite festival of Ahmedabad
Flight inclusive from £5995, Land only from £4995
---
Introduction
Rajasthan is synonymous with all that is grand and most impressive in Indian architecture and history. Formidable Meherangarh fort at Jodphur, the floating palace of Udaipur and the dusky pink city of Jaipur being the most notable examples or its regal Rajput heritage. Whilst the incomparable Taj Mahal is also only a short journey away in neighbouring Uttar Pradesh. But, as India's largest state, Rajasthan has so much more to offer. Dramatic desert forts, wildlife rich parks and romantic royal palaces, including the incomparable Taj Mahal, combine to provide a collage of contrasts that make Rajasthan the perfect touring destination. And there's no better way to see the key sights of Agra, Jaipur and Jodhpur, whilst staying in indulgent, heritage accommodation than on our Rajasthan in Style tour.
For those seeking a more active holiday, the Himalayan foothills of Himachal Pradesh offer excellent opportunities for gentle day walks amidst splendid mountain scenery and the faded grandeur of colonial hill stations such as Shimla and Dharamsala. Combined with a flight to Amritsar to see the glittering Golden Temple our Gentle Walking, Indian Hill Stations & the Golden Temple holiday is the very best way to discover this delightful region.
More challenging trekking can also be found in the region known as the Garhwal – famed for its Alpine-like beauty. Our Curzon's Trail & Kuari Pass is a truly classic and remote trek that will take you over high passes on a pilgrim route that offers day-after-day of spectacular Himalayan scenery and views.
Accommodation in Northwest India is always interesting with stylish heritage properties, colonial era hotels and former hunting lodges providing atmospheric overnight stays. In fact, Northwest India has all the ingredients to provide an unforgettable holiday of a lifetime.
---
Key Facts
Capital cities: Rajasthan - Jaipur; Himachal Pradesh - Shimla
Population: Rajasthan - 75,530,000 (est 2015), Himachal Pradesh - 6,856,509, Garhwal - 5,000,000 (est)
Size of country: Rajasthan - 342,239 km sq, Himachal Pradesh - 55,673 km sq, Garhwal - 14,580 km sq
Currency: Indian Rupee
Power supply: 220-240v
Sockets: two pin sockets or Indian three-round pin variety
Language: Gahrwal - Gahrwali, Sanskrit & Hindi, Rajasthan - Hindi, Marwari, and Rajasthani, Himachal Pradesh - Hindi and Pahari
Time difference: GMT +5.5 hours
Visas: British nationals require a visa to visit India which must be obtained in advance.
Religion: Rajasthan - 89% Hindu, 9% Muslim, 3% others, Himachal Pradesh - 96% Hindu, Muslim 2%, Buddhists 1%, Sikhs, 1%
Popular dishes: Rajasthan - Bajre ki roti (millet bread) and Lashun ki chutney (hot garlic paste) are famous dishes of the region. Rajasthanis also enjoy a wide range of sweet dishes which are eaten before, during and after a meal. In Himachal Pradesh, Roti Sabzi (flat bread) is very popular along with Patande - the 'Indian pancake'. Pulses form the staple diet in Garhwal, often served with fiery chutneys.
Popular drinks: Rajasthan - Chai (tea) including Kashmiri Chai a pink milky tea served with pistachios and casamon. Himachal Pradesh - Lassi (fermented milk) and Tchaku Cha (a salty tea based drink).
Did you know: Jaipur is known as the 'Pink City' because in 1876, the city it was painted with terracotta pink colour to provide a grand welcome for of the Prince of Wales. Since then the name has not only stuck, but has given the city its unique identity.
FCDO advice: FCDO travel advice for India
---
Climate
When is the best time to travel to Northwest India?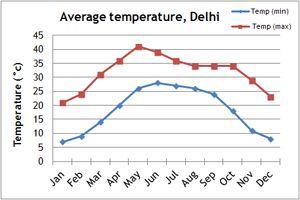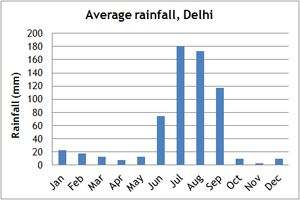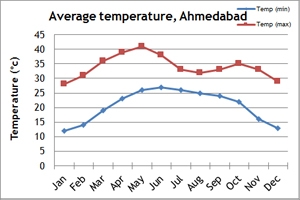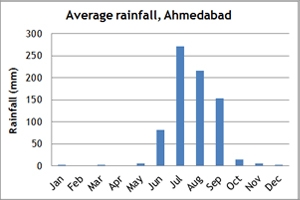 Our temperature and rainfall charts will give you a guide to the climate in Northwest India.

The best time to visit Rajasthan and Gujarat is in the winter, between October and March. Temperatures average a comfortable 25 degrees during the daytime. However this is the busiest time of year for tourists visiting the region, so hotels book up well in advance. If you want to go out of the peak season, then March and mid-September to November are still good, though hotter.

Pre-monsoon, between April to June, temperatures can climb to 45 degrees making travel uncomfortable. In mid-June, the monsoon arrives, bringing rain and slightly cooler temperatures.

In Himachal Pradesh, in the Indian Himalaya, the monsoon normally lasts from mid-June to mid-September. Following the monsoon, the autumn (September to November), is the best time to trek in the region. During the winter, high passes can be blocked by snow, and temperatures are icy cold. As the temperatures increase in spring, trekking in the area becomes viable again.

If you can't make the dates of our group departures, then take a private departure on dates to suit you, or we can create a Tailor Made holiday to Northwest India, especially for you and your family or friends.