Our grading system explained
Gentle
Gentle / Moderate
Moderate
Moderate / Vigorous
Vigorous
Vigorous / Strenuous
Strenuous
Expedition Grade
What makes Georgia so special?
Georgia
A superb destination for lovers of remote mountain trekking, Georgia combines majestic scenery and rugged mountain trails with a rich cultural heritage little changed over the centuries.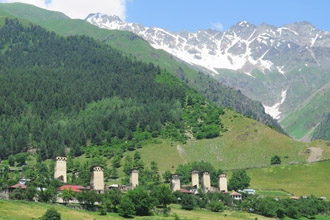 Trek the most beautiful section of the new Transcaucasian Trail.
Stay in traditional watchtower villages, including beautiful Ushguli, now a UNESCO World Heritage site.
Explore the unspoilt alpine scenery of ancient Upper Svaneti, one of the wildest, most mysterious regions of Georgia.
Enjoy the hospitality of local families experiencing the distinctive Svaneti culture firsthand.
Have your luggage transferred each day so all you need to carry on trek is a small daysack.
Step back in time on a guided walking tour of Tblisi, Georgia's remarkable capital city.
Flight inclusive from £2825, Land only from £2165