/
/
/
Holiday Tours
/
Walking Trekking
Our grading system explained
Gentle
Gentle / Moderate
Moderate
Moderate / Vigorous
Vigorous
Vigorous / Strenuous
Strenuous
Expedition Grade
Georgia
A superb destination for lovers of remote mountain trekking, Georgia combines majestic scenery and rugged mountain trails with a rich cultural heritage little changed over the centuries.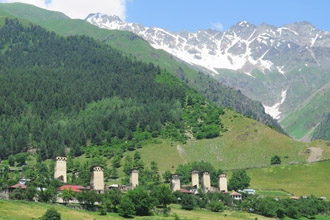 Trek the most beautiful section of the new Transcaucasian Trail.
Stay in traditional watchtower villages, including beautiful Ushguli, now a UNESCO World Heritage site.
Explore the unspoilt alpine scenery of ancient Upper Svaneti, one of the wildest, most mysterious regions of Georgia.
Enjoy the hospitality of local families experiencing the distinctive Svaneti culture firsthand.
Have your luggage transferred each day so all you need to carry on trek is a small daysack.
Step back in time on a guided walking tour of Tblisi, Georgia's remarkable capital city.
Flight inclusive from £2835, Land only from £2275
---
Introduction
Georgia is a destination that due to its complex history is steeped in culture and heritage, whilst also offering fantastic walking opportunities among its impressive High Caucasus mountain range. Situated in the eastern corner of Europe, it is attached to the continent by its coastline along the Black Sea and despite only being less than half the size of the American state sharing its name, Georgia has plenty to excite the keen traveller.
The country's biggest draw is the High Caucasus Mountain range, which creates its northern border. Perhaps one of the most beautiful parts of this mountain range is the Svaneti region. Despite becoming an increasingly popular tourist destination, Svaneti has managed to remain relatively wild and off the beaten track. Walking through this mountainous region provides a real feeling of being lost in the nature as you are constantly surrounded by snowy peaks and verdant meadows. This scenic region now plays host to the newly opened Transcauscasian Trail, created with the purpose of both preserving the rich cultural heritage of the region and enabling trekkers to experience its many delights - which in turn benefits the local communities.
Deemed to be a traditional Georgian area, this region is the perfect place to discover the culture and heritage of this amazing country. Characterised by far reaching valleys, forming the basis of many wineries the country is famous for, a medley of peaks towering over 4000m, as well as charming mountain villages interspersed with ancient churches it's no surprise that this gem of the east is attracting more and more visitors each year.
If you would like to explore the High Caucus, and the UNESCO World Heritage region of Upper Svaneti take a look at our rugged trek Svaneti & the Transcaucasian Trail
---
Key Facts
Capital city: Tbilisi
Population: 3,718,200 (2017)
Size of country: 69,700 sq km
Currency: Georgian Lari
Power supply: 220 volts AC
Sockets: European two-pin plugs
Language: Georgian
Time difference: GMT + 3 hours
Visas: British nationals may enter Georgia for up to 1 year as a visitor without a visa
Religion: 83% Orthodox Christianity, 11% Muslim, 3% Armenian Apostolic, 1% Roman Catholic and 2% Other
Popular dishes: Khinkali (meat dumplings)
Popular drink: Traditional Georgian Wine
FCDO advice: FCDO travel advice
---
Climate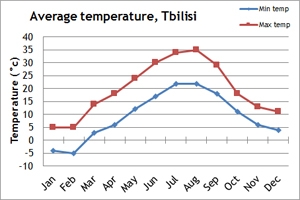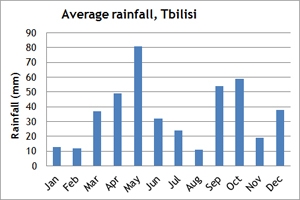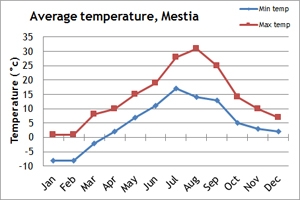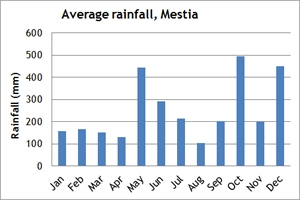 Despite its small size, Georgia has a very diverse climate including the warm and humid Black Sea Coast and the cooler, alpine climate of the High Caucasus Mountains.
The best time to visit Georgia is between the months of June and September. This is because the climate up in the mountains is less humid than the lowland, making it the perfect weather for hiking. This time of year there is also less rain than the winter months and is the only time you can go hiking with little or no snow in sight.