/
Holiday
/
Svaneti the Transcaucasian Trail Georgia
Tbilisi, Georgia | Walking & Trekking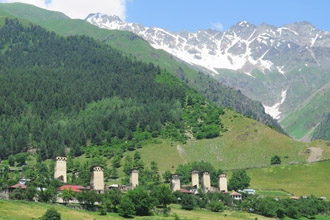 Grade:

?

Vigorous / Strenuous

Vigorous: Suitable for enthusiastic hill/mountain walkers.

Strenuous: Suitable for fit individuals who have regular experience of mountain walking.

Find out more...

Vigorous / Strenuous

Duration: 12 days from the UK
On trek: 6 days
Flight inclusive from £2815, Land only from £2165
Trekking in Georgia through the majestic mountains and charming villages of remote Upper Svaneti.
Highlights
Trek the most beautiful section of the new Transcaucasian Trail.
Stay in traditional watchtower villages, including beautiful Ushguli, now a UNESCO World Heritage site.
Explore the unspoilt alpine scenery of ancient Upper Svaneti, one of the wildest, most mysterious regions of Georgia.
Enjoy the hospitality of local families experiencing the distinctive Svaneti culture firsthand.
Have your luggage transferred each day so all you need to carry on trek is a small daysack.
Step back in time on a guided walking tour of Tblisi, Georgia's remarkable capital city.
Reviews
Georgia is a fascinating country, set right on the outer edges of Europe, and within Georgia itself, the Svaneti region is extremely remote. The journey there is well worth the effort, as you trek through magical countryside, home of myths and legends, soaring stone watchtowers and stunning mountains and glaciers. There are hillsides covered in wild flowers, sparkling mountain streams and plenty...
Seraphina Berry, Mountain Kingdoms
Next
Georgia is a fascinating country, set right on the outer edges of Europe, and within Georgia itself, the Svaneti region is extremely remote. The journey there is well worth the effort, as you trek through magical countryside, home of myths and legends, soaring stone watchtowers and stunning mountains and glaciers. There are hillsides covered in wild flowers, sparkling mountain streams and plenty...
Seraphina Berry, Mountain Kingdoms
Next
View All
The Transcaucasian Trail is a brand new, long distance footpath linking the Greater and Lesser Caucasian mountains. Traversing a vast region of immense diversity, this ambitious project will eventually be over 3,000km in length, pass through three countries, link numerous national parks and open up a challenging trekking trail whilst still preserving the region's rich heritage.
One of the most scenically spectacular sections of the trail goes through the remote Upper Svaneti region. The pristine scenery is characterised by soaring, snowy peaks, green verdant valleys, dazzling blue glaciers and carpets of wildflowers in the summer months. In addition to the stunning alpine scenery, the isolation of Upper Svaneti has meant that its unique and striking architecture has largely remained intact. The tall watchtowers that dominate each farmhouse, hamlet and village still exist because the independent, and at one time fierce, inhabitants were never ruled by a feudal overlord. Each clan or family relied on the towers to defend themselves from outside invaders, and of course sometimes from their neighbours. These towers are now being carefully preserved in villages such as Ushguli, now a UNESCO World Heritage site and your final destination on the trek.
By staying in simple guest houses and family homes along the trail you will gain an insight into the traditional way of life in Svaneti. Most families still own their own cow and pigs and make their own cheese and yoghurt. An added bonus is that Georgia is one of the oldest wine producing countries in the world, and in the mountains you may well also be offered locally brewed firewater. You will certainly enjoy wonderful home produced and home cooked food.
At the end of your trek, you will explore more of Georgia's historic past on a walking tour of the capital city, Tblisi. Here, you can trace the country's fascinating history and ethnic influences in the winding streets, public squares and atmospheric, crumbling buildings.
With its combination of wild, mountain landscapes, rugged trekking, cultural interest and warm hospitality, this holiday offers a superb introduction to a country that, over time, may well become known as one of the world's premier trekking destinations.
---
At a glance
Grade:
Vigorous / Strenuous
Duration: 12 days from the UK
On trek: 6 days
Max. Altitude: 2,947m/9,725ft, Guli Pass, Day 5
Guaranteed to run for a minimum of 4 clients
Maximum group size: 12
Land only joining city: Tbilisi
Accommodation types: Hotels, Guesthouses
Meal arrangements: 10 breakfasts, 7 lunches, 9 dinners.
Itinerary overview
| Day | Activity |
| --- | --- |
| 1-3 | Fly to Tbilisi and travel to Svaneti |
| 4-9 | Trek from Etseri to Ushguli |
| 10 | Drive to Kotaisi. Walking tour of the city. |
| 11 | Drive to Tbilisi, sightseeing |
| 12 | Fly to UK |
| | |
| | |
Leader: Local Leader Georgia
Your local guide will be English-speaking and will look after all arrangements for you, as well as being able to provide you with a wealth of knowledge about both Georgia and the remote Svaneti region.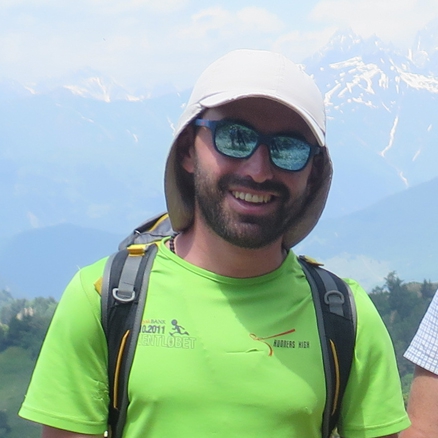 ---
Holiday Itinerary
Day 1 - Fly London to Tbilisi
You depart on your overnight flight to Tbilisi.
Overnight: In flight
Day 2 - Arrive Tbilisi. Group transfer to hotel.
You will be met on arrival at Tbilisi airport and transferred to your centrally located hotel in the city
Overnight: Hotel City Or Similar, Tbilisi
Day 3 - Drive to Upper Svaneti – 470km, 9 hours.
Today you will leave the city behind and make the long journey into the mountains of Upper Svaneti. The roads in Georgia are improving all the time and you initially cross the plains on a dual carriageway. You will stop for breaks en route, and also to get some lunch, before the road starts climbing into the hills beyond Zugdidi. After you reach the dam in the Enguri valley, the road becomes twisty and the scenery increasingly dramatic as it ascends high above the valley floor. Eventually you reach the small village of Etseri in the heart of the mountains. Typical of the villages in Svaneti, it consists of several small hamlets surrounded by fields.
Overnight: Hanmer Guesthouse Or Similar, Etseri
Day 4 - Trek from Etseri to the Becho Valley – 15km, 6-7 hours.
Your walk today starts in the sleepy village of Etseri with its ruined watchtower, the first of many that you will see. The way of life in many Svaneti villages has hardly changed for centuries - fields are cut with scythes, oxen pull carts and hay ricks are built by hand. It's almost as though you've stepped into the set of Poldark! A good path leads up the wide valley, wonderfully verdant and green, and when you reach the old summer huts you start to climb in earnest. The views back over Etseri and the whole snowy Svaneti mountain range are superb. As you emerge over the top of the Baku pass at 2,350m/7,710ft, you are rewarded with your first views of Mount Ushba, 4,710m/15,453ft, although at the moment you can see only one of its iconic twin peaks. A long ridge walk through rhododendrons and broadleaf trees leads to a lovely lunch spot by a tiny mountain church. It is mainly downhill from here through a shady forest and alpine meadows, thick with wildflowers in early summer, to reach the unspoilt Becho valley.
Ascent: 1,200 metres. Descent: 1,030 metres.
Overnight: Grand Hotel Ushba (Guesthouse) Or Similar, Mazeri
Day 5 - Trek to Mestia via Guli Pass, 2,946m/9,655ft - 23km, 10 hours, or Waterfall walk – 17km, 4-5 hours.
There are two options today, the mighty Guli Pass which is a fabulous yet challenging walk (which meets our Strenuous grade), or the easier, but very beautiful Waterfall Walk. We will provide two guides, so the whole group does not have to do the same walk.
Guli Pass On her recent visit to Georgia, Mountain Kingdoms Reservations Manager, Seraphina Berry, completed this walk and declared it one of the finest she'd ever done. High praise indeed!
The day starts early, as you follow the old route to the now abandoned Guli Village, gently climbing up the valley through meadows. Just above the village is a small church, still used for worship once a year, and offering a shady resting point with superb views of Mount Ushba. Above here the path zig zags up to reach the Guli shepherds' huts, and Mount Ushba feels so close you could almost touch it. The path continues to climb relentlessly until finally you reach the Guli Pass, 2,946m/9,655ft, about five hours after you set off from your guesthouse. It is undoubtedly a tough walk to get here but the incredible views are worth every step. There are snowy peaks in every direction, including Mount Tetnuldi and the whole Svaneti range. The descent from the pass is down a huge valley, covered with brilliantly coloured wildflowers including rare orchids. Some care is needed crossing a waterfall and any remaining snowfields, and there are also some exposed sections, but the walk as a whole is delightful.
Continuing along a small track, the Mestia shepherds' huts are reached about three hours after the pass, and then the trail descends more steeply on narrow paths until you finally reach the "capital" of Upper Svaneti, Mestia.
Ascent: 1,420 metres. Descent: 1680 metres.
Waterfall walk For those who prefer an easier day, you will walk to the head of the valley and up through forest, soon starting to see the huge waterfall ahead. It's a beautiful, relatively easy walk to the base of the waterfall, and for those with energy, you can climb to the top of the falls. There are stunning views on this walk, which is the start of the route up to Mount Ushba North Base Camp. Your return is by the same route to the road head where you will be picked up by vehicle and driven the half hour to the small town of Mestia, where those who have chosen the Guli Pass walk will join you.
Ascent: 500 metres. Descent: 500 metres.
Overnight: Edelweiss Guesthouse Or Similar, Mestia
Day 6 - Trek to Zhabeshi valley – 16km, 6 hours.
A contrasting day today, with more wonderful scenery but emphasis also on the traditional hamlets and villages of the Zhabeshi valley, full of charm and historic interest. The route starts from your guesthouse in Mestia and you will walk out through the old town. Mestia is the central town of Upper Svaneti and the only place with more than one shop and even a handful of restaurants. It also has a spectacular number of clan watchtowers as well as many cows, pigs and a few sheep. Your route quickly climbs above the old town to reach the home meadows. There are splendid views up to the Chalati Glacier, Mount Ushba and Tetnuldi. The small airport of Mestia can be seen from here, shoehorned into the valley floor and notoriously weather dependent. After a couple of hours, and one short steep climb, you reach the pass at about 2,000m/6,562ft. Shortly after there is a welcome lunch spot in a flat, reedy area with extensive views of the Zhabeshi valley. You may be able to see your destination for the night in the far distance. The valley is noted for its tiny hamlets all with watchtowers and the afternoon is spent contouring along the valley on paths and tracks through these hamlets. Eventually you follow a tiny path along the raging river and cross by a newly built footbridge to Chvabiani, a hamlet surrounded by verdant fields and your stop for the night.
Ascent: 760 metres. Descent: 520 metres.
Overnight: Goto's Guesthouse Or Similar, Zhabeshi
Day 7 - Trek to Adishi – 11km, 5-6 hours.
A little more effort is needed first thing this morning as you follow the cows uphill through the village. You pass an ancient church before zig zagging through meadows and trees, with wonderful views back down the valley, and opposite, to the gorge. At the top you emerge to great mountain vistas and the more surprising view of the Tetnuldi chairlift and ski piste. This is passed in just 15 minutes and happily you are back to the beautiful meadows and glorious wildflowers. The path this afternoon is idyllic, passing through a mixture of meadows, broadleaf and pine forest, and crossing numerous tiny, rushing streams. Suddenly the petite, hidden village of Adishi comes into view nestled into the hillside just below. Adishi was abandoned until a few years ago, and now is permanently inhabited, although snowbound for seven or eight months of the year. Local families have opened up their houses as simple guest houses for trekkers.
Ascent: 900 metres. Descent: 525 metres.
Overnight: Adishi Guesthouse, Adishi
Day 8 - Trek to Iprari - 18km, 8 hours.
It's a gentle start to the walk today, as your path slowly ascends the Adishi Valley past grazing cows and horses. After an hour or so you reach a little church and your first views of the mighty Tetnuldi Glacier and the highest range of mountains in Georgia. You finally reach the river crossing, and generally your guide will arrange for you to cross the river on horseback - usually your host from the night before will take you across. After stopping to admire the glacier, and no doubt take many photos, you start the climb to the pass. This is steep to start with and can be wet and muddy, but you are soon rewarded with fabulous views and a gentler path. The Chogniri Pass opens up a remarkable vista and it is worth walking along the ridge to view the imposing Shkhara range, including Georgia's highest peak, mount Shkhara, at 5,200m/17,060ft, spread in a panorama before you.
The descent to Iprari is initially on a small path through flower-filled meadows before you reach the valley floor and a track beside a river that eventually narrows to a spectacular gorge.
Ascent: 860 metres. Descent: 1,050 metres.
Overnight: Iprari Guesthouse, Iprari
Day 9 - Trek to Ushguli – 12km, 4-5 hours.
A downhill track leads to a short 15 minute stretch on the road through a small hamlet. There is an impressive monastery close by on a hilltop and it is worth asking your guide the story of how it was built. A steep uphill at the semi-ruined village of Davud leads to a delightful contouring balcony path that ascends and descends though meadows and woodland, with delightful views across the valley. After three or four hours you reach the road and walk for half an hour or so to the first settlement at Ushguli. After checking in to your guesthouse, you will have a chance to explore the three beautiful settlements in this valley. It is well worth walking up to the 9th century monastery church of Lamaria, set against the towering backdrop of Mount Shkhara.
Ascent: 860 metres. Descent: 1,050 metres.
Overnight: Hotel Riho Or Similar, Ushguli
Day 10 - Drive to Kotaisi via Zugdidi - 6-7 hours. City walking tour of Kotaisi.
Today you make the return drive to Kotaisi, Georgia's second city, via Zugdidi.
After checking into your hotel, time permitting, you will go on a walking tour of the city including the controversially restored Bagrati Cathedral.
Overnight: Argo Palace Guesthouse Or Similar, Kutaisi
Day 11 - Drive to Tbilisi - 3-4 hours. Afternoon walking sightseeing tour of city.
It is a couple of hours drive back to Tbilisi where you will check into your hotel and then in the afternoon enjoy a walking tour of some of the main sights. The city is a beguiling mixture of east and west, and despite being sacked several times by different invaders, has architectural remnants of the Persian, Tartar, Jewish and Armenian inhabitants who once lived here. Freedom Square, laid out by the Russians in the 19th century, is the heart of modern Tiblisi but it's only a short walk from here to go back in history to visit a number of old winding streets. On the other side of Freedom Square is an atmospheric area of crumbling Art Nouveau houses, slowly being restored.
Overnight: Hotel City Or Similar, Tbilisi
Day 12 - Transfer to airport and fly to London.
After breakfast there will be a group transfer back to Tbilisi airport to catch your flight home.
Map
Map Key
Airport
Point of interest
Mountain Peak
Day walk in this area
Flights
Internal Transfers
Trek
---
2023
| Dates | Availability | Land Only | Flight Inclusive from |
| --- | --- | --- | --- |
| Wed 9 Aug - Sun 20 Aug 2023 | Available | £2165 Book | £2875 Book |
| Wed 30 Aug - Sun 10 Sep 2023 | Available | £2165 Book | £2815 Book |
2024
| Dates | Availability | Land Only | Flight Inclusive from |
| --- | --- | --- | --- |
| Wed 12 Jun - Sun 23 Jun 2024 | Available | £2275 Book | £2845 Book |
| Wed 7 Aug - Sun 18 Aug 2024 | Available | £2275 Book | Contact Us |
| Wed 28 Aug - Sun 8 Sep 2024 | Available | £2275 Book | Contact Us |
Hold your place
Not quite ready to book? Why not call us on +44 (0) 1453 844400 to hold a no obligation place while you make up your mind?
---
Optional supplements
Single Room Supplement
£375
No Surcharge Guarantee
No surcharges will be applied to your holiday after you book. Prices on this website are updated regularly. The Flight Inclusive holiday price, or Land Only holiday price, will be confirmed to you at the time you make your booking. There will be no surcharges after your booking has been confirmed.
Flight inclusive holidays
The 'flight inclusive' holiday prices shown on this website are based upon our preferred airlines and the best priced economy class fares we are able to secure at the time of publication.
We will be able to advise on fares with alternative airlines, upgrades to Business Class, and the options for flights from regional UK airports, please contact us for more details.
Booking your holiday
For the majority of our holidays, a deposit payment of £400.00 per person is required to secure your place(s), however a small number of holidays require a higher deposit - please refer to the holiday itinerary for more details. If the holiday departs within 60 days, a deposit of £1,000.00 per person is required.
Book now!
Book your small group holiday securely online – click the 'Book' button next to your chosen departure or visit our How to Book page
Complete and return a Booking Form available to download here.
Call us on +44 (0)1453 844400 and one of our travel specialists will talk you through the booking process.
What's included
An English-speaking local leader
Economy class return air fares from the UK (flight inclusive option).
Single timed group transfer to/from Tbilisi airport at the start and end of the holiday
Good twin share, en suite standard hotel accommodation in Tbilisi
Simple guesthouse, twin share accommodation elsewhere
All road transport by private vehicles
All transfers as per the itinerary
10 Breakfasts, 7 lunches and 9 dinners
Sightseeing and activities as specified
Luggage transfer between accommodations
Carbon offsetting with the Ecoan Tree Planting Project (for clients taking our flight inclusive option)
A free Mountain Kingdoms Water-to-Go bottle
What's not included
Travel insurance
Locally paid bar bills and laundry
Lunches on 3 days
Dinner on 2 days
Optional activities
Tips
Visa (where applicable)
---
---
Read holiday reviews by Mountain Kingdoms travellers.
Overall score: 5 (Based on 1 reviews)
Svaneti & the Transcaucasian Trail, Georgia
Georgia is a fascinating country, set right on the outer edges of Europe, and within Georgia itself, the Svaneti region is extremely remote. The journey there is well worth the effort, as you trek through magical countryside, home of myths and legends, soaring stone watchtowers and stunning mountains and glaciers. There are hillsides covered in wild flowers, sparkling mountain streams and plenty of delicious wine!
---