Our grading system explained
Gentle
Gentle / Moderate
Moderate
Moderate / Vigorous
Vigorous
Vigorous / Strenuous
Strenuous
Expedition Grade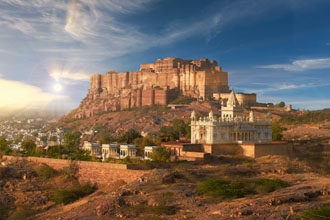 Visit remote Jaisalmer with its wonderful desert location and impressive fort
See the iconic Taj Mahal at Agra and the Amber Fort at Jaipur
Tour majestic Jodhpur fort and visit the city's lively markets
Enjoy overnight and evening game safaris at quirky Korta Escape
Spend time in romantic Udaipur with its fabulous palaces and beautiful lake
Stay at Chhatrasagar luxury tented camp – a fabulous experience.
Flight inclusive from £5030, Land only from £3695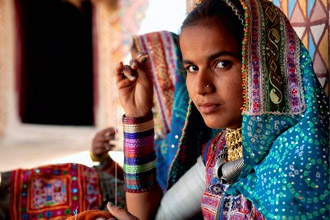 Enjoy a unique, specialist tour in the company of Sue Lawty, one of Britain's foremost artists
Experience first-hand all aspects of the rich Gujarat textile culture
Visit the picturesque villages of the Banni Grasslands and meet local craftsmen and women
See some of the fine palaces and temples of this vibrant region
Take a jeep safari to explore the Little Rann of Kutch
Take a heritage walk and enjoy the kite festival of Ahmedabad
Flight inclusive from £5965, Land only from £4995
---
Introduction
Agra is the city that possesses the most photographed building in Asia, the sublime Taj Mahal hardly needs an introduction here. It is quite simply the most perfect building ever created. This most famous Moghul monument was constructed by Emperor Shah Jahan in memory of his wife Mumtaz Mahal Chosen of the Palace and has been described as the most extravagant monument ever built for love, for the Emperor was heartbroken when Mumtaz died in child birth in 1631 having produced him 14 children. Also in Agra are the Red Fort, Akbar's Tomb and the Moghul gardens of Ram Barg.
---
Key Facts
---
Climate