/
/
Article
/
What is it actually like to travel now?
What is it actually like to travel now?
I've just returned from 10 days in Switzerland, and despite the extra hoops that had to be jumped through it was an absolute joy to be travelling again.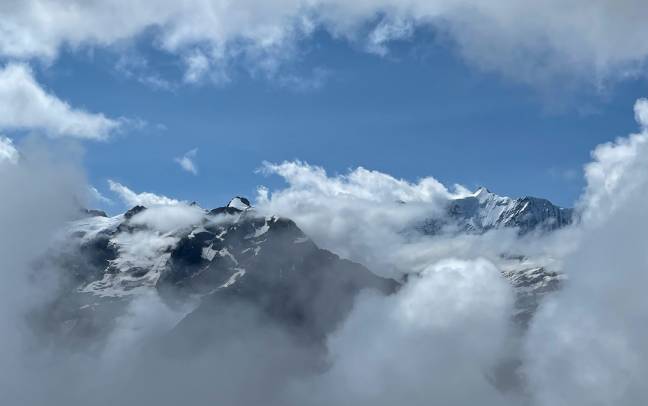 I confess to feeling both a little apprehensive, and also somewhat daunted by all the paperwork pre-departure. In fact, as I am fully vaccinated, I only needed official proof of vaccination obtained through the NHS website, and to have completed the Swiss entry form in order to enter Switzerland. Check-in at Heathrow was certainly much slower and busier than normal but security was quick and easy, restaurants and shops were all open airside, boarding efficient and soon I was airborne for the first time in over two years.

It was weird having my passport stamped on arrival into Switzerland but there was only a five minute wait at immigration, and then I stepped outside and could finally remove my mask. My top tip would be to choose a mask that you know is sufficiently comfortable to wear for long periods of time, and for flying on Swiss it had to be a surgical style mask - fabric face coverings are not permitted.

Life in Switzerland felt very ordinary other than the requirement to wear a mask in public places, and as I was mostly outside in the countryside or up in the mountains, for me this was minimal. I was primarily in Switzerland to see family but it was also exhilarating to be able to head out to hike in the Alps again, where the trails were quiet but far from empty.

Planning my return to the UK required an internet connection and some organisation. I had ordered a 'take-away' rapid antigen test from Qured , which I took out with me to Switzerland, and pre-booked a video test for two days before my flight home. Other than a slight delay at the start this was a very simple process – just like a standard NHS lateral flow test but taken under video supervision, and then an offline 15 minute wait for the result. Keys thing to remember for the Qured video test are not to open the box until the video consultant tells you to do so, and when you submit your photographic evidence of the result, it has to be emailed within a strict ten minute window, and must include a photo of the test and your passport together.
Next step was to complete my UK Passenger Locator Form (PLF) online. This can only be done within the 48 hours before arriving back into the UK, and I needed my passport, flight details including seat number and the details of the PCR test I'd booked for Day 2 back in the UK. I needed to provide both the name of the testing company and the reference number for my test booking. I used Oncologica.
I was then emailed a PDF copy of my completed locator form containing a QR code – this is essential for travelling back to the UK.
I reluctantly chose to print out copies of all my paperwork, and travelled armed with a large red document wallet. This was mainly because I was travelling with my children so had to do everything times three, but having hard copies did also provide peace of mind.
At check-in for my flight back to the UK I had to show my proof of vaccination and PLF form. And then prior to boarding at the departure gate, the airline staff checked everyone's documentation at a separate desk. Here they wanted to see the results of my pre-departure (video) test, the details of my Day 2 PCR test booking and scrutinised my PLF before my boarding card was stamped and I was permitted to board.
By contrast passport control in Heathrow for me was just a formality - I was told that the information needed by the border force official was already all in their system. It took me a remarkable 15 minutes from stepping of the aircraft to clear immigration, collect my baggage and exit customs. Impressive.
As for most of us, my horizons have contracted in the last two years, and where the world used to seem very small and accessible, thanks to the pandemic, the walls have closed in. Whilst I had accepted this I hadn't realised, subconsciously, how trapped I felt.

Travel is definitely not as simple and easy as it once was, but perhaps that is no bad thing given the latest UN Climate Report. Is it even worth travelling? Absolutely, I truly feel liberated but that doesn't mean that I will be travelling frequently. Instead, I am aiming to travel just once, or a maximum of twice a year, and instead to stay longer, minimising both the paperwork and my carbon footprint.

This was of course my personal experience of a trip to Switzerland, and every country is different. However, if you're keen to travel but are feeling a little apprehensive, I'd say go ahead and book that holiday. And if you've got questions about the travel process or the forms, tests and paperwork involved please give me, or one of our Operations Managers a call and we'll be happy to talk you through it.

The world is still out there!