/
/
Article
/
Walking and Trekking with Mountain Kingdoms
Walking and Trekking with Mountain Kingdoms
Holidays are very much about getting away from it all, but for many travellers the traditional sun, sea and sand break is no longer enough. More and more holidaymakers seek activity and adventure on their escape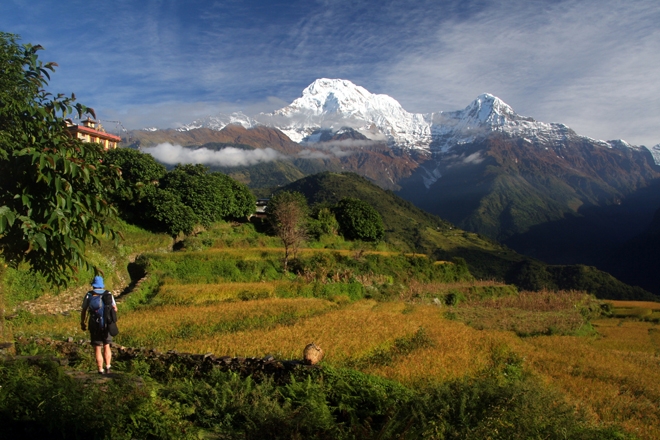 Walking in the Annapurna region - Walking and Wellness, Nepal
Holidays are very much about getting away from it all, but for many travellers the traditional sun, sea and sand break is no longer enough. More and more holidaymakers seek activity and adventure on their escape from everyday life, with walking holidays in particular becoming an increasingly popular choice.
Walking Holidays and Tours
As well as satisfying the desire to keep active on holiday, walking tours may have also increased in popularity due to the rise of local walking clubs. The British walking charity group, The Ramblers, has a membership of around 106,000, for instance. Breaks that involve walking have also gained momentum due to the many benefits associated with such an activity. Not only can a brisk walk provide copious amounts of fresh air, but the health perks are numerous. Walking is thought to lower the incidences of many diseases such as heart disease, diabetes, and even some forms of cancer. It can help as part of a weight-loss plan and it tones muscles. Research has also indicated that it can boost serotonin levels in the brain, which can help to improve your mood and alleviate symptoms of anxiety and depression.
One of the really positive aspects of engaging in a walking holiday is that you do not need to be a seasoned hiker to participate. There are lots of different levels of walks available from gentle ones that are suitable for the complete beginner to more challenging trails for accomplished trekkers.
Whatever level of ability you may have, the trails or routes on offer will all usually involve interesting and beautiful scenery, whether they are through woodland, open moors, coastal paths, up mountains and down valleys, along canal banks, traversing jungle paths or within towns and cities. The diversity of the holidays available with Mountain Kingdoms ensures there will be a walk to suit every taste and ability.
Guided Walking Trips
Walking and trekking holidays also vary according to whether they are guided or not. A guided holiday involves someone leading the walk who has knowledge of the route, the local culture, history and the flora and fauna of the area. Guided walks have the advantage that they normally involve a group, so if you are travelling alone it can be a good way to meet other like-minded walkers. A guided trek is also ideal for someone who may have not been on a walking holiday before or feels a bit nervous about tackling a particular route, especially if they do not know the local area well. Guides will have expert knowledge about the locality and can impart many interesting facts, stories and anecdotes along the way, which you might not have discovered if you had travelled independently.
Whether guided or not, trekking holidays offer an individual or group the opportunity to explore stunning new surroundings. Exploring on foot is often one of the best ways to discover a new place, especially if the walk is taking in parts of a city where you can learn architectural or historical facts or where you really want to see the cultural side on the countries you visit. Because it's at a slower pace than if you were travelling by car or another mode of transport, you can view details better, be immersed in the surroundings and may even get the chance to meet local people en-route. Many tours involve walking or trekking off-the-beaten-track, which can also be a great way to learn more about the local way of life and nature / wildlife away from the tourist hot spots of a particular destination.
Walking with a group of other people can also provide a sociable opportunity to get to know others who share similar interests. If these people are staying in the same holiday accommodation, then you also have some ready-made friends to meet up with in the evening to discuss the day's events with. Like-minded walkers may also be able to share recommended ideas and inspiration for future walking holidays.
Tailor Made Trekking Tours
Trekking tours can also be tailored to individual needs, whether you are going away in a small group or you want a holiday that fits your requirements. Many tours are also matched to interest areas, so trails may be available that appeal to bird watchers or photographers, for instance. Other trails may suit those who are looking to spot rare animals, butterflies or types of flowers.
For the more adventurous, some treks combine walking with other sporting activities such as cycling or rafting. Walking holidays do not just have to take place in the summer, either. Mountain trails that combine trekking with cross-country skiing may be interesting for those looking for a different kind of winter break.
Cultural Hiking Holidays
Those interested in history, architecture or culture may enjoy taking part in hiking tours that take in notable sights along the route. Some trails may not even take place in the same region or country, as transport is provided to take walkers from one area to another as part of a multi-centre trek.
Whatever type of trekking break you choose, whether guided or self-guided, establish what you want to achieve from the holiday. Find out what level of fitness is required, and if you are not sure as to your capabilities, then err on the side of caution and choose a trail that you feel comfortable with. If you do end up finding it too easy, then you can always choose a more advanced level next time.
Make sure that you have the necessary equipment to take with you on the walk. Find out as much as you can beforehand about what is needed and the local area. Research places along the way that might be handy for a rest break. A guidebook and map are useful, and sturdy walking boots and a waterproof jacket are must-haves.
Please do contact us if you would like further information or advice or to order a brochure. We offer worldwide group and tailor made walks, treks and tours.