/
/
Article
/
UK Runner Beats Own World Record from Everest Base Camp—Kathmandu
UK Runner Beats Own World Record from Everest Base Camp—Kathmandu
We were pleased to read about mountain and trail runner Lizzy Hawker's latest feat: beating her own world record for the 320-kilometre run fromEverest Base Campto Kathmandu – the Everest Sky Race. She completed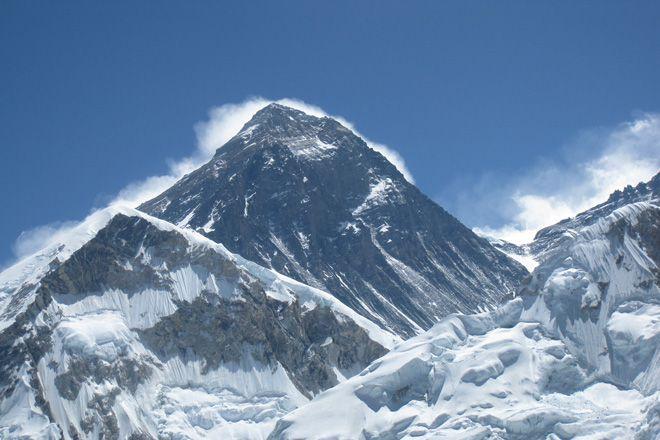 Peak of Everest. Photo courtesy of S Berry
We were pleased to read about mountain and trail runner Lizzy Hawker's latest feat: beating her own world record for the 320-kilometre run fromEverest Base Campto Kathmandu – the Everest Sky Race. She completed the run in 2 days, 23 hours and 25 minutes – her previous record was 3 days, 2 hours and 36 minutes, for a run in 2007. Her time was all the more impressive given that the odds were stacked against her: she had to wait out an 8 hour spell of bad weather in the village of Bupsa.

Everest Base Camp has to be one of the most inspiring starting points for a run!
Hawker tweeted upon her return: "A new record: from the solitude of early morning at Everest Base Camp to the sights, sounds & smells of Kathmandu city - on my own 2 feet!" The 35-year-old Dr Hawker's background is in environmental science, but she discovered a passion for endurance running and has been following that passion ever since. True to her roots, however, she uses the platform of her success to promote environmental awareness as well as encouraging others to take inspiration from the natural world and explore their own limits. She lists her dreams on her website, including "to live and be in the mountains", "to share my love of endurance, nature and our environment" and "to live… with humility and recognising our social and environmental responsibility". She also has an impressive list of accomplishments to her name, not least winning Gold at the 100km World Championships in Korea in 2006, and being the first person to traverse the Ak-Shirak range of the Tien Shan mountains by ski-mountaineering.
So what's next for Hawker? With her appearance on Nepali breakfast television to talk about her inspiring journey from Everest Base Camp into Kathmandu, it's clear that she's determined to carry on inspiring people, wherever her dreams take her next – we wish her the best of luck!