Steve to lead new Zanskar trekking expedition
This August, Mountain Kingdoms MD, Steve Berry, will be leading a Zanskar trekking expedition, in Ladakh, a remote and spectacular region of India, with the aim of crossing a traditional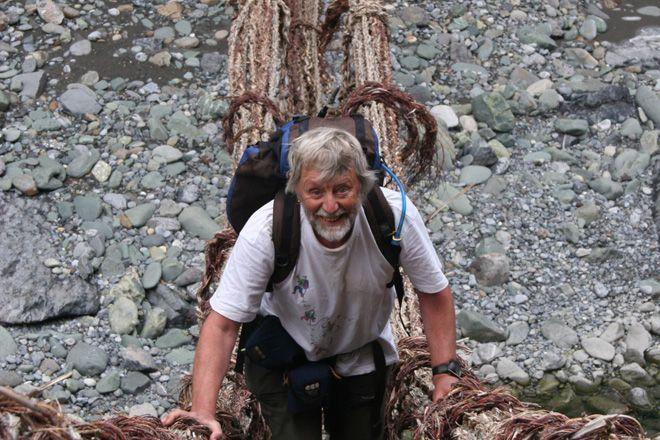 Steve crossing Niri Bridge, twig bridge in Zanskar. S Berry
This August, Mountain Kingdoms MD, Steve Berry, will be leading a Zanskar trekking expedition, in Ladakh, a remote and spectacular region of India, with the aim of crossing a traditional 'twig bridge'.
Zanskar is a small Tibetan Buddhist kingdom, lying just north of the main Himalayan range, in Ladakh, India. Steve has been fascinated by this region and has trekked in the area many times since his father, Major Roy Berry, attempted to make the first ascent of the highest peak in Ladakh, Mount Nun (7,135m / 23,410ft) in 1946.
Traditionally the Ladakhi people depended on incredible woven twig bridges in order to cross the icy rivers which cut through their harsh mountain kingdom. Increasingly ancient Zanskari traditions are being abandoned, and with the introduction of steel cable suspension and metal girder bridges there are now only a couple of traditional bridges still in existence, both old and in poor condition. Typically, a twig bridge lasts 12 to 15 years and therefore it will not be long before these, too, disappear.
After crossing one of these bridges on his Zanskar trek, Steve had the idea of raising money to fund the building of a new twig bridge, with the aim of keeping the Zanskari traditions and culture alive. It is hoped that by building this bridge in the main township of Padum that other similar bridges will be built in other parts of the small kingdom. If enough money is raised, Steve plans to build a small visitor centre next to the bridge. The bridge at Padum will provide important access to the village, attract tourists who have been on a Zanskar trek and help keep an ancient skill alive.
In 2010 work started on the Zanskar Bridge Project, with money raised being sent to the King of Zanskar, Gyalpo (precious ruler) Punchok Dawa. Progress has been slow, as the bridge can only be worked on during the winter when the river below is frozen solid. This summer (2013), Steve is leading eight of our clients on a special Zanskar trekking expedition. This challenging exploratory trek passes awesome scenery, deep gorges and crosses high mountain passes. They also aim to cross the finished bridge, and meet the king of Padum.
Check back later in the year when Steve will have returned from his Zanskar trekking adventure and will be able to share his photos of the finished bridge.