Our grading system explained
Gentle
Gentle / Moderate
Moderate
Moderate / Vigorous
Vigorous
Vigorous / Strenuous
Strenuous
Expedition Grade
What makes Kilimanjaro so special?
Climbing to the summit of Mount Kilimanjaro is an aspiration for many enthusiastic trekkers. Upon reaching the summit of this iconic mountain you are standing upon the highest point on the African continent.
The summit of Kilimanjaro, painted with snow and ice, seems a world away from the hot, dusty plains of Tanzania, almost 20,000 feet below. Although recent reports have claimed that Kilimanjaro's snow and ice has disappeared, its peak is still home to huge glaciers and the mountain still experiences regular snowfalls.
Our ascent of Kilimanjaro journeys through the diverse Lemosho route. This gradual ascent takes you amongst picturesque, serene woodland before reaching Shira plateau. After admiring the magnificent scenery from the Shira plateau, a steady climb will bring us to the penultimate Stella Point before the final push to the summit of Kilimanjaro. You can also summit Kilimanjaro by the light of the full moon on selected departure dates.
If you want to extend your summit trek then join our Summits of Meru & Kilimanjaro; Mount Meru is Tanzania's second highest mountain and climbs through different vegetation zones with a multitude of spectacular views across to our ultimate goal - Kilimanjaro.
Kilimanjaro offers a challenging yet scenic ascent for any keen trekker.
Climb Kilimanjaro

Climb Mount Kilimanjaro, a summit trek that appears on many a keen trekker's wish list. Trek the scenic Lemosho route, or extend your experience by adding an ascent of neighbouring Mount Meru.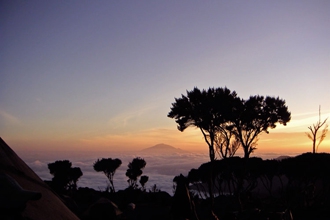 Trek Kilimanjaro via the longer and more scenic Lemosho Route providing excellent acclimatisation
All park fees and meals are included in the trip price.
Led by highly experienced local guides and we use top quality camping equipment
First rate equipment on trek and a comfortable, characterful hotel before and after
Flight inclusive from £3740, Land only from £2765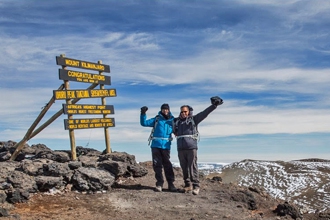 The best possible acclimatisation with an initial trek up Mount Meru and the longer Lemosho route on Kilimanjaro
Summit at sunrise for incredible views across African plains
All park fees included in the trip price
Close up views of wildlife on the trek in to Mount Meru
First rate camping experience on trek and good quality hotels of character before and after.
Flight inclusive from £4675, Land only from £3825