/
/
Article
/
How to reach the summit of Kilimanjaro
How to reach the summit of Kilimanjaro
The highest mountain in Africa at 5,895m, Kilimanjaro is one of the great trekking peak challenges. Despite its imposing height it is an achievable and exhilarating objective when tackled in the right way. Mountain Kingdoms team members Seraphina and Harry have both successfully made it to the top on our Kilimanjaro - Lemosho Route and here they share their top tips for becoming a Kilimanjaro summiteer.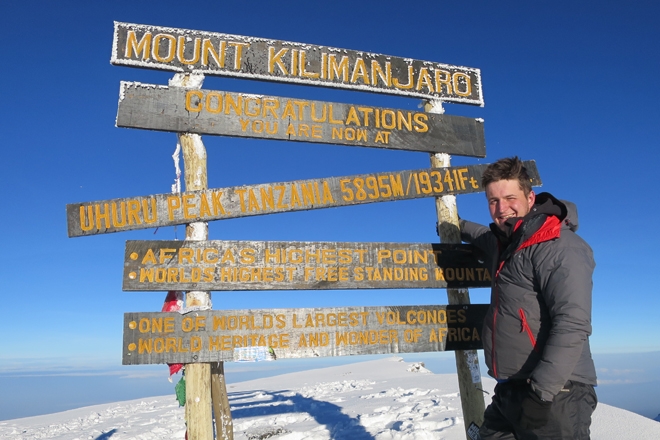 Harry on the summit
Train before you travel
The best preparation for a trekking challenge like Kilimanjaro is to go walking in advance. It doesn't have to be up a mountain but if you can build up to walking for several hours at a time and walk on consecutive days, you will really benefit once you start your climb. If you're limited to the gym, then try to increase your time on the treadmill and the length of your workouts. Any boost to your cardio fitness will be worth the effort.
Wear in your boots
Ideally, you want good quality, waterproof walking boots for tackling Kili. They can be made of leather or material but the most important thing is to make sure you've worn them in before you start your trek. Sore, blistered feet will make it extremely hard going so break in new boots beforehand with several good walks, preferably with plenty of ascent and descent. This also gives you chance to sort out the trekking socks that work best for you, which will help ensure your feet stay comfy and pain free.
Go 'pole pole'
'Pole pole' is Swahili for 'slowly, slowly' and you'll hear the local guides say it all the time as you ascend to the summit at a (literally) breathtaking 5,895m. The higher you go, the thinner the air and the more breathless you will feel. Altitude sickness arises from rapid exposure to lower amounts of oxygen, and to reduce the affects you need to listen to your body and as well as your guides and walk slowly. Treat it as a marathon not a sprint. Why would you want to rush anyway when there's so much to see and experience.
Eat your porridge
The traditional breakfast on trek is porridge made from maize. You may not feel like eating first thing in the morning, especially at altitude which can affect your appetite, but a bowl of steaming hot porridge will warm you after a chilly night on the mountain and give you much needed, slow release, energy for the day ahead. In Seraphina's opinion it tastes delicious although Harry would beg to differ – he much preferred the breakfast pancakes. Whatever you choose, the more you eat the better.
Drink lots
Good hydration is one of the most important things to keeping healthy at altitude so you must drink, drink, drink - even if you don't feel thirsty. Your trek crew will boil water to make it safe to drink and you can fill up your bottles every evening ready for the next day. Our top tip is to put your bottles in your sleeping bag with you which will stop the water freezing and help keep you toasty warm.
Layer up
Daytime temperatures will vary enormously during your climb from a barmy 25-30 degrees when you set out to freezing temperatures at the summit. When the sun shines you'll feel very warm but windy conditions will cool you quickly and, as with any mountain, micro climates and sudden changes to the weather can make it a very unpredictable place to be. That's why we advise carrying and wearing lightweight, breathable layers so you can react to changes in temperature and stay comfortable. Keep an extra warm layer in your bag and always have a good waterproof/windproof top layer with you.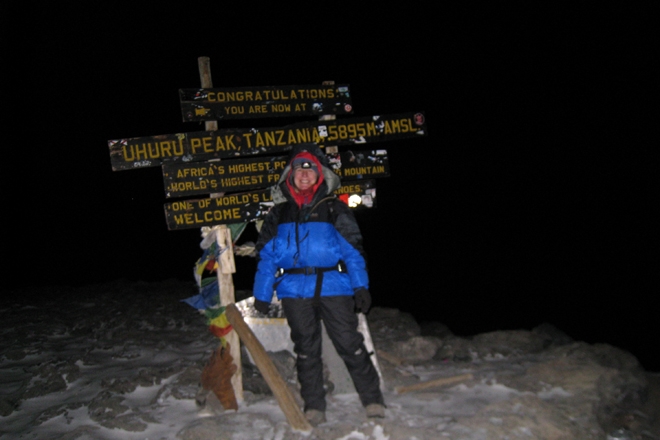 Seraphina in her down jacket waiting for the sun to rise over the summit
Pack a down jacket
A super warm 4-season down jacket (also called a duvet jacket) was Seraphina's most cherished piece of clothing on Kilimanjaro, especially in the evenings once the sun had gone down and the temperature had dropped very quickly. On summit day it's an essential piece of kit as you'll leave your tent in the early hours in the freezing darkness. Then, when you reach the summit you'll need to keep warm as you wait for the sun to rise, take loads of photos and celebrate your great achievement. It might seem a bulky item that takes up valuable space in your kit bag, but you won't regret taking one.
Keep a buff handy
A buff is a surprisingly useful piece of clothing to have for your Kilimanjaro climb. If you're not sure what a buff is, it's a versatile 'tube' of stretchy material which you can wear in many ways: round your neck like a scarf, on your head as an alternative hat or pulled up to cover your mouth and nose - this not only helps to keep you warm but is also surprisingly useful for keeping out the bad odours that you can get in the loos!
Enjoy a sweet treat
This was the first piece of advice Harry gave us as he found a bag of fruit pastilles to be an invaluable resource on his ascent of Kilimanjaro. The sugary sweets proved to be a welcome energy boost and they were also a bit of a morale booster when he was struggling. Of course, it doesn't need to be pastilles - nuts, chocolate, crunch bars and any other snack you love will help to lift your spirits as well as your energy levels when the going gets tough.
Keep up a positive vibe
Climbing a mountain is not just about your physical well-being it's also a case of mind over matter. It might seem trite to say but if you genuinely believe you're going to make it to the top, you'll increase your chances of doing so. Harry suggests visualising yourself standing on the summit, arms raised in celebration; or distract yourself from the struggle of the climb by singing your favourite songs or telling silly jokes with your fellow trekkers. In fact, the constant support of your guides and the camaraderie of your co-climbers, will play an essential role in keeping you going. Along with those sweeties of course!
Don't suffer in silence
Altitude sickness is a very serious issue and Kilimanjaro climbers can suffer due to the speed of ascent, especially if doing one of the shorter routes. Most people will feel some minor symptoms when trekking at altitude but sometimes these can develop quickly into something more serious. It's therefore important that you make your trek guide aware of any symptoms you have such as headaches, nausea or sleeplessness. Your guide can then advise on medication if appropriate and keep a close eye on you in case your symptoms get worse. To maximise your acclimatisation, and your chances of success, we recommend taking a longer route such as the Lemosho Route or even doing a pre-Kili climb of neighbouring Mount Meru. This is the ultimate preparation and gives you the added bonus of claiming two summits on just one holiday.
Cherish your guides
Undoubtedly your most valuable aid to getting to the top of Kili are your guides and porters. They will provide a constant supply of advice and support to keep you going even when you feel like you can't possibly take another step. They will feed you, put up your tent and keep you safe all the way to the top. They will become your best friends and you should cherish them completely - you won't reach the top without them. And, when you finally say a fond farewell you should reward them generously.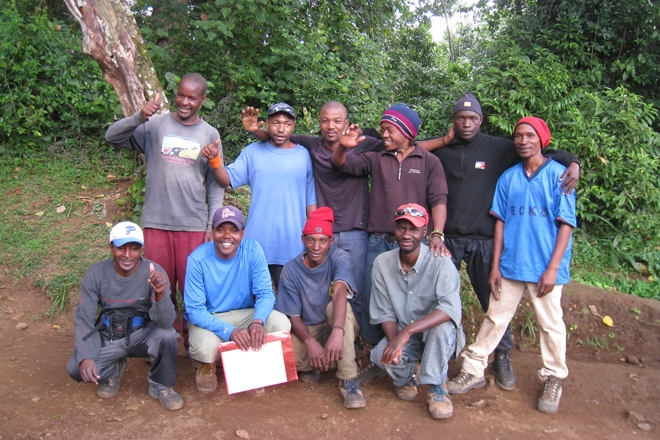 Seraphina's trek crew
So there you go. With just a bit of preparation, the right kit, great guides, a long route, a slow pace, plenty of food, drink and sweets and a dose of self-belief, you too can conquer Kilimanjaro.
If you're interested in climbing Mount Kilimanjaro, find out more about our two Kilimanjaro treks: Kilimanjaro Summit - Lemosho Route and Summits of Kilimanjaro & Meru.