What's included
A Local English-speaking Leader
Carbon offset flights (flight inclusive only)
Good standard hotel accommodation (usually 4 star)
All mountain hut facilities on Meru
All camping facilities and all meals on trek
Camp staff to carry out all camp work
All road transport by private vehicles
Full board throughout
All National Park fees
Costs of all porterage and their insurance
Economy class return air fares from the UK & UK Departure Tax (flight inclusive only)
Carbon offsetting with the Ecoan Tree Planting Project (for clients taking our flight inclusive option)
Single, timed group airport transfers for international flights on arrival and departure
A free high-quality Mountain Kingdoms kit bag
and much more...
Call our
friendly team
Tanzania, Kilimanjaro | Trekking Peak
Strenuous
Suitable for fit individuals who have regular experience of mountain walking.
Find out more...
Grade: Strenuous ? Strenuous
Duration: 15 days from the UK
On trek: 11 days
Flight inclusive from £4,055,
Land only from £3,355
Book now or call 01453 844400
The ultimate Mount Kilimanjaro trek, at the time of the full moon, giving the best possible chance of reaching the elusive summit.
Highlights
The best possible acclimatisation with an initial trek up Mount Meru and the longer Lemosho route on Kilimanjaro
Ascend Kilimanjaro by the light of the full moon
Summit at sunrise for incredible views across African plains
All park fees included in the trip price
Close up views of wildlife on the trek in to Mount Meru
First rate camping experience on trek and good quality hotels of character before and after.
A successful ascent of Kilimanjaro, the highest mountain in Africa, is achievable by any fit trekker. We have carefully researched the best way to increase your chances of succeeding on Kilimanjaro, which is essentially a summit that is achievable by any reasonably fit trekker. Without a doubt acclimatisation is the key and by climbing Mount Meru first and then by following one of the longer routes up Kilimanjaro, you dramatically increase your chances of success.
Mount Meru is a spectacular mountain in its own right and an excellent acclimatisation trek and preparation for the climb up Kilimanjaro. It is also an interesting contrast to Kilimanjaro, being situated in the Arusha National Park, home to leopards, giraffe, zebra and buffalo to name but a few of the animals that you will hopefully encounter on your trek up Meru's lower slopes. After a gradual start, Meru is an exciting scramble to the top, with a dramatic ridge walk and stupendous views of Kilimanjaro and the Tanzanian plains way below.
Kilimanjaro by contrast, is a vast mountain with several summits, arising out of the plains of northern Tanzania. It is a slow, steady walk to the top and your guide will rightly advise you to go 'pole, pole' (slowly, slowly), and if you do so, with our carefully designed itinerary to maximise acclimatisation, you will have the best possible chance of reaching the summit. The Lemosho route climbs through beautiful, peaceful forest to reach the Shira plateau, before walking around and gradually up the lower slopes of Kilimanjaro to the high camp at Barafu. From here your final ascent will start in the early hours of the morning and it is a long, steady climb to the crater rim at Stella Point at 5,752m/18,980ft. Once you have reached Stella Point, the gradient becomes easier for the walk up to the summit, Uhuru Peak. Standing at 5,895m/19,340ft, watching the sun rise over the African plains, and the icy glaciers and peaks of Kilimanjaro gradually coming into view is a tremendous thrill, and the perfect conclusion to your Kilimanjaro trekking holiday. Not only will you go home with wonderful memories and photos but you'll also receive a certificate to prove your summit success.
Thousands of mountain lovers undertake a Kilimanjaro trek (affectionately known as "Kili") on holiday every year, and Mountain Kingdoms provides a Kilimanjaro trek that gives you the best possible chance of reaching the summit. We have also timed our summit ascent to be by the light of the full moon, for that extra special experience.
You may have heard that there are national park fees to pay for climbing Kilimanjaro and Meru. Please note that these are included in your trek price, and there are no extras to pay on entering any parks.
---
At a glance
Grade: Strenuous
Strenuous
Duration: 15 days from the UK
On trek: 11 days
Max. Altitude: 5,895m/19,340ft, Mt Kilimanjaro, Day 12
Guaranteed to run for a minimum of 4 clients
Maximum group size: 12
Land only joining city: Kilimanjaro
Accommodation types: Hotels, Camping, Mountain Huts
Meal arrangements: All meals where stated are included. 12 breakfasts, 12 lunches & 12 dinners.
Itinerary overview
| Day | Activity |
| --- | --- |
| 1-2 | Fly to Kilimanjaro International Airport. |
| 3-4 | Drive to Arusha National Park. Start trek up Mount Meru. Ascend to Saddle Hut. |
| 5 | Summit Mount Meru for sunrise, 4,556m/14,947ft. Descend to Miriakamba Hut. |
| 6 | Descend to Park Gate. Overnight hotel. |
| 7 | Drive to Kilimanjaro. Trek to Shira 1. |
| 8-9 | Trek to Shira 2 and on to the Great Barranco Valley. |
| 10-11 | Trek to Barafu via Karanga Camp. |
| 12 | Ascent of Mount Kilimanjaro summit, 5895m/19,340ft. Descend to Millenium Camp. |
| 13-15 | Trek to park gate. Drive to hotel and fly to London. |
Leader: Local leader, Tanzania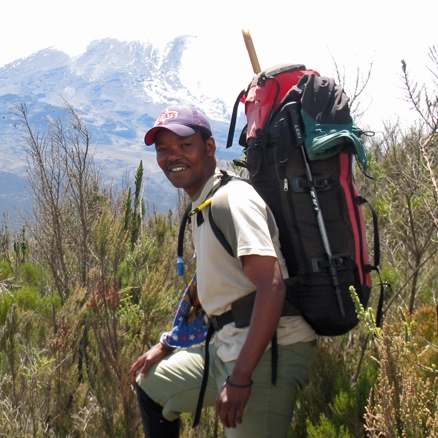 Our Tanzania trips are led by experienced, English-speaking local guides. In addition, whilst on Mount Meru you will also be accompanied by an armed national park ranger.
---
Summits of Meru & Kilimanjaro 5,895m/19,340ft Itinerary
Day 1 - Depart London.

Depart UK for your flight to Kilimanjaro International Airport.

Overnight: In flight

Day 2 - Arrive in Kilimanjaro. Group transfer to lodge.

You will be met on arrival at Kilimanjaro International Airport and transferred to your hotel, about an hour's drive from the airport. The hotel is set is stunningly beautiful gardens, and there are extensive grounds. Weather permitting you should get good views of Mount Meru from the lodge.

Overnight: Moivaro Coffee Lodge

Day 3 - Drive to Arusha National Park. Start trek up Mount Meru, 2,514m/8,248ft - 5 hours.

You will be picked up in the morning by your guide for the one hour drive to the entrance of the Arusha National Park. There is an excellent view of your objective, the dramatic and rocky Mount Meru from this spot. The half hour drive from here to the Momella Gate should give you glimpses of some of the diverse range of animals that you will be seeing over the next few days, including zebra, buffalo, giraffe and warthogs. At the Momella gate, 1,514m/4,975ft, you will meet your ranger and start the trek. The path is a well-graded track, winding gently uphill through pristine forest, with clearings, waterfalls and hopefully with plentiful sightings of animals. You will stop for lunch, possibly at Fig Tree Arch before continuing uphill to the Kitoto viewpoint with amazing views of the Momella Lakes to the east and the Ngurdoto crater. This area is home to giraffe and leopards. After a short descent you reach the Miriakamba hut.

Overnight: Mountain Hut

Day 4 - Ascend to Saddle Hut, 3,570m/11,713ft - 5 hours.

The start of your walk today is uphill through beautiful forest. The path is very well-maintained and, after a couple of hours (and hopefully spectacular views of Kilimanjaro), you reach Elephant Point. This is an excellent place to stop and admire the views of the crater plain that you crossed yesterday and which is now way below. The path continues to zigzag up the ridge and then the flank of the mountain, with gradual changes in vegetation as you reach the alpine zone. You will get your first sightings of heather, senecio and, if you are lucky, chameleons, in this region. After a break at the Saddle Hut, you can walk to the top of Little Meru 3,820m/12,533ft, improving your acclimatisation. It will be an early night before your very early morning start up Mount Meru tomorrow.

Overnight: Mountain Hut

Day 5 - Summit Mount Meru, 4,556m/14,947ft - 8 hours. Descend to Miriakamba Hut, 2,514m/8,248ft.

Your guide will wake you up in the very early hours for your start up Mount Meru. (This is excellent practice for Kilimanjaro). The aim will be to reach a good viewpoint on Mount Meru for the sunrise. The trek starts gradually, crossing the saddle before reaching a ridge at Rhino Point. The path then climbs to follow the edge of the crater rim. After 3 or 4 hours you reach the first of several false summits, and the final scramble to the top comes not a minute too soon. You return by the same route to the mountain hut, where you will have lunch before descending to 2,514m/8,248ft for the night.

Overnight: Mountain Hut

Day 6 - Descend to Park Gate, 1,514m/4,960ft - 3 hours.

After the efforts of the previous three days, you have a pleasant walk back down to the park gate today. This follows a different route from the ascent and is a stunningly beautiful walk through parkland, hopefully containing much wildlife. Amongst the many animals you may well see close by are baboons, giraffe, warthogs, and buffalo. A short detour takes you to the Tululusia Falls for a break before you walk across the plain at the bottom of the mountain. Your vehicle will meet you at the park gate before a one hour drive back to the hotel.

Overnight: Moivaro Coffee Lodge

Day 7 - Drive to Kilimanjaro - 3-4 hours. Trek to Shira 1 Camp, 3,505m/11,499ft - 1-2 hours.

After breakfast your Kilimajaro guide will meet you at your hotel for a pre-trek briefing after which you will drive to Londorossi Gate at the National Park's western entrance. The gate is set right on the edge of beautiful forest and it is here that you will meet your trek crew and porters. After signing the book it is a short drive up a muddy track, past fields of potatoes and carrots, to the start of the trek. The path sets off climbing gradually through thick forest, full of birds and black and white Colobus monkey and the more common blue monkeys. After only a couple of hours you will reach your camp for the night.

Overnight: Camp

Day 8 - Trek to Shira 2 Camp, 3,840m/12,598ft - 4 hours. Acclimatisation trek towards Lava Tower Camp.

There are a variety of routes that you can take today to reach the next campsite. All are designed to maximise your acclimatisation. The route chosen will be at the discretion of your guide. After around 3 to 4 hours of trekking you will reach the campsite at Shira 2 - one of the best places for views of Mount Meru if the weather is clear.

After lunch at camp and a couple of hours of rest, you will complete an acclimatisation hike towards Lava Tower Camp giving an additional 200m of ascent today.

Overnight: Camp

Day 9 - Trek to Great Barranco Valley, 3,985m/13,074ft - 6-8 hours.

The route to the Great Barranco Valley today is via the Lava Tower. It is a steady walk uphill, around huge lava blocks and through sparse vegetation to reach the Lava Tower 4,640m/15,223ft, a huge block on the end of a cliff. There is a cold and windswept campsite here, but you will just have a lunch stop before descending to the Great Barranco Valley. The valley is a lovely spot, with giant lobelia and senecio and the magnificent views of the Heim Glacier, Kili's southern face and the Western breach. You will also be able to view your route up the Great Barranco wall tomorrow.

Overnight: Camp

Day 10 - Trek to Karanga Camp, 4,040m/13,254ft - 4-5 hours. Acclimatisation walk.

The start of today's trek is one of the most exciting, as you ascend the Barranco wall. This is an easy scramble, and at the top you are rewarded with views of your route ahead and the Southern Ice-fields. You descend from the wall and then climb once more, on the south-eastern flank of Kibo to reach Karanga Camp in time for lunch. This afternoon you will take a short hike out and back from the camp in order to aid acclimatisation.

Overnight: Camp

Day 11 - Trek to Barafu Camp, 4,640m/15,223ft - 4-5 hours. Acclimatisation hike.

From Karanga, the path leads upwards across volcanic scree, which you follow to reach the Barafu campsite by mid-afternoon. After some time to rest and recuperate there is a further acclimatisation hike towards the intermediate Kosovo Summit Camp, 4,800m/15/748ft, before returning to Barafu.




Overnight: Camp

Day 12 - Ascend Kilimanjaro, via Stella Point, 5,895m/19,340ft - 7-8 hour trek. Descend to Millennium Camp, 3,820m/12,533ft - 2-4 hours.

You will set off at about midnight in order to hopefully reach the crater rim for sunrise. All departures are timed to make the final ascent of Kilimanjaro by the light of the full moon which will be more atmospheric and help light your way.

The path climbs gradually before reaching a steeper section and then well-graded and seemingly unending zigzags up the main face. Your guide will advise you to walk very slowly and, if you do so, you greatly increase your chances of reaching your goal. Reaching the crater rim at Stella Point is a huge achievement and it is a great relief to know that the hardest part of the climb is now over. The final gradual trek from Stella Point to the Uhuru Summit takes about 45 minutes. The effort for this final push is well rewarded, with superb 360º views of the Southern Ice-field, the Ice Cathedral, the Northern Ice-field and down into the crater and ash pit. It is well worth staying on the summit for as long as you can, before starting the descent. The walk back down the scree to the campsite is relatively quick, and you can marvel at what you have climbed a few hours previously. After a rest and lunch at Barafu, you descend for a further two hours to reach Millennium Camp at 3,820m/12,533ft.

Overnight: Camp

Day 13 - Trek to Mweka Park Gate, 1,640m/5,381ft - 4-5 hours. Drive to hotel.

Your final day on trek is down a well-maintained path, with the vegetation becoming gradually more extensive, with big trees appearing for the first time since you approached the Shira Plateau on Day 4. The forest is full of tree ferns, impatiens and monkeys. After a 3-4 hour walk you reach the Mweka Park Gate at 1,640m/5,381ft and say a sad farewell to your trek crew and porters. A vehicle will meet you to drive you to your hotel and a welcome shower.

Overnight: Aishi Machame Hotel Or Similar

Day 14 - At leisure. Group transfer to Kilimanjaro Airport and fly to London.

The morning is free for you to relax in your hotel before transferring to the airport for your afternoon flight back to London.

Overnight: In flight

Day 15 - Arrive UK.

Today you will arrive back in London.
Map
Map Key
Airport
Point of interest
Mountain Peak
Day walk in this area
Flights
Internal Transfers
Trek
---
2021
| Dates | Availability | Land Only | Flight Inclusive from |
| --- | --- | --- | --- |
| Wed 14 Jul - Wed 28 Jul 2021 | Available | £3355 Book | £4055 Book |
Hold your place
Not quite ready to book? Why not call us on 0044 (0)1453 844400 to hold a no obligation place while you make up your mind?
Optional supplements
Single Tent
From £275
Single Room
From £120
Insurance
No Surcharge Guarantee
No surcharges will be applied to your holiday after you book. Prices on this website are updated regularly. The Flight Inclusive holiday price, or Land Only holiday price, will be confirmed to you at the time you make your booking. There will be no surcharges after your booking has been confirmed.
Flight inclusive holidays
The 'flight inclusive' holiday prices shown on this website are based upon our preferred airlines and the best priced economy class fares we are able to secure at the time of publication.
We will be able to advise on fares with alternative airlines, upgrades to Business Class, and the options for flights from regional UK airports, please contact us for more details.
Booking your holiday
For the majority of our holidays, a deposit payment of £100.00 per person is required to secure your place(s), however a small number of holidays require a higher deposit - please refer to the holiday itinerary for more details. If the holiday departs within 60 days, a minimum deposit of £750.00 per person is required.
Book now!
Book your small group holiday securely online – click the 'Book' button next to your chosen departure or visit our How to Book page
Complete and return a Booking Form available to download here.
Call us on 01453 844400 and one of our travel specialists will talk you through the booking process.
Loyalty discount
Find out more
What's included
A Local English-speaking Leader
Carbon offset flights (flight inclusive only)
Good standard hotel accommodation (usually 4 star)
All mountain hut facilities on Meru
All camping facilities and all meals on trek
Camp staff to carry out all camp work
All road transport by private vehicles
Full board throughout
All National Park fees
Costs of all porterage and their insurance
Economy class return air fares from the UK & UK Departure Tax (flight inclusive only)
Carbon offsetting with the Ecoan Tree Planting Project (for clients taking our flight inclusive option)
Single, timed group airport transfers for international flights on arrival and departure
A free high-quality Mountain Kingdoms kit bag
What's not included
Travel insurance
Visa fees
Airport departure taxes, except UK Departure Tax
Tips
---
---
Review your holiday
Reviews
Read holiday reviews by Mountain Kingdoms travellers.
Overall score: 5.0 (Based on 4 reviews)
Summits of Meru & Kilimanjaro 5,895m/19,340ft
Summits of Meru & Kilimanjaro 17/02/2020
Ascending Meru & Kilimanjaro proved an excellent combination as the former allowed us to acclimatise very effectively for the latter. The contrast in the wildlife & plantlife to be seen, as well as the numbers of walkers on the 2 mountains, were also worthwhile. There was also a lovely symmetry in being able to see one mountain from the other. The local Guide & his team of assistant guides, cook, waiter, toilet team & porters were superb & very friendly.
Geoff & Juliet Bennett, Gwynedd
Summits of Meru & Kilimanjaro 5,895m/19,340ft
Reliable
We feel we can trust and rely on MK. You use excellent local guides and hotels.
Mr & Mrs T, Nottinghamshire
Summits of Meru & Kilimanjaro 5,895m/19,340ft
Ultimate achievement
Climbing Kilimanjaro was a personal goal. On reaching the summit we were rewarded with fantastic views and a great sense of achievement.
Kerry Robins, Mountain Kingdoms
Summits of Meru & Kilimanjaro 5,895m/19,340ft
Brilliant
A brilliant holiday, ran very smoothly. Our leader was excellent in every way and I would recommend him without hesitation.
Ms B, Leeds
---
Extend your holiday
Game drives to spot giraffe, zebra and lions
Tarangire National Park, Ngorongoro Crater & Lake Manyara
White sand beach & coral reef on Zanzibar
More Details
If the view from the summit of Kilimanjaro was not reward enough for your efforts, combine your trek some relaxation time on a thrilling wildlife safari and then chill out on the spice island of Zanzibar.