/
/
/
Holiday Tours
/
Trekking Peaks
Our grading system explained
Gentle
Gentle / Moderate
Moderate
Moderate / Vigorous
Vigorous
Vigorous / Strenuous
Strenuous
Expedition Grade
What makes Kilimanjaro so special?
Climbing to the summit of Mount Kilimanjaro is an aspiration for many enthusiastic trekkers. Upon reaching the summit of this iconic mountain you are standing upon the highest point on the African continent.
The summit of Kilimanjaro, painted with snow and ice, seems a world away from the hot, dusty plains of Tanzania, almost 20,000 feet below. Although recent reports have claimed that Kilimanjaro's snow and ice has disappeared, its peak is still home to huge glaciers and the mountain still experiences regular snowfalls.
Our ascent of Kilimanjaro journeys through the diverse Lemosho route. This gradual ascent takes you amongst picturesque, serene woodland before reaching Shira plateau. After admiring the magnificent scenery from the Shira plateau, a steady climb will bring us to the penultimate Stella Point before the final push to the summit of Kilimanjaro.
If you want to extend your summit trek then join our Summits of Meru & Kilimanjaro; Mount Meru is Tanzania's second highest mountain and climbs through different vegetation zones with a multitude of spectacular views across to our ultimate goal - Kilimanjaro.
Kilimanjaro offers a challenging yet scenic ascent for any keen trekker.
Climb Kilimanjaro

Climb Mount Kilimanjaro, a summit trek that appears on many a keen trekker's wish list. Trek the scenic Lemosho route, or extend your experience by adding an ascent of neighbouring Mount Meru.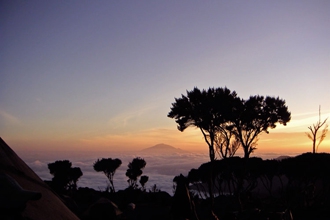 Trek Kilimanjaro via the longer and more scenic Lemosho Route providing excellent acclimatisation
All park fees and meals are included in the trip price.
Led by highly experienced local guides and we use top quality camping equipment
First rate equipment on trek and a comfortable, characterful hotel before and after
Flight inclusive from £3925, Land only from £2895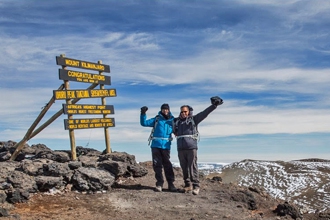 The best possible acclimatisation with an initial trek up Mount Meru and the longer Lemosho route on Kilimanjaro
Summit at sunrise for incredible views across African plains
All park fees included in the trip price
Close up views of wildlife on the trek in to Mount Meru
First rate camping experience on trek and good quality hotels of character before and after.
Flight inclusive from £4740, Land only from £3645
---
Introduction
The tallest freestanding mountain in the world, rising some 4,800m above the surrounding plains and standing 5,895m above sea level, Kilimanjaro began life many hundreds of thousands of years ago as a volcano or, in fact, three volcanoes – Shira, Mawenzi and Kibo. Although long extinct the evidence of its earliest existence can still be seen today in ridges, craters, cones and the shiny black stone that characterise much of Kilimnajaro's present-day slopes and summit.
Climbing Kilimanjaro became popular after the first successful summit of the mountain by Dr Hans Meyer in 1889. Since when thousands of people have climbed Kilimanjaro and it remains one of the biggest draws on the African continent. Requiring no technical climbing skills, it is an attainable achievement for anyone with a reasonable level of fitness and the ability to step one foot in front of the other.
That's not to belittle the task of a Kilimanjaro climb as it's a high altitude challenge that shouldn't be taken lightly. The key to a successful summit attempt is good acclimatisation – taking the maximum time possible to negotiate its slopes. The route that gives the most gradual ascent of Kilimanjaro is the Lemosho Route, one of six different trails that starts with a relatively gentle ascent through deep forest thereby increasing the acclimatisation for trekkers. The Lemosho Route then slowly winds its way upwards taking 7 days in total to reach the summit. By starting out very early on summit day, most trekkers reach their goal as dawn breaks, giving spectacular views across the Tanzanian plains almost 5,000m below.
Another option to assist with acclimatisation is to climb neighbouring Mount Meru before tackling Kilimanjaro. Still a formidable peak in its own right at 4,556m, Meru offers the chance to see an abundance of wildlife on its lower slopes including zebra, giraffe, buffalo and warthog.
We even give you the opportunity to climb Kilimanjaro by the light of the full moon which helps illuminate the way in the early morning darkness of your summit day. See our detailed holiday itineraries for further information and full moon departure dates.
Whether you opt for our Kilimanjaro Summit, 5,895m/19,340ft - Lemosho Route or our Summits of Meru & Kilimanjaro trek, you can be assured of the best routes, the best acclimatisation and the services of highly experienced guides to help you climb Kilimanjaro and reach the 'roof of Africa'.
Related news and articles
Our tips for the top - how to reach the summit of Mount Kilimanjaro
---
Key Facts
Population of Kilimanjaro Region: 1.64 million (2012)
Size of Kilimanjaro Region: 13,250 km²
Capital of Kilimanjaro: Moshi
Currency: Tanzanian shilling
Power supply: 220-250 Volts
Sockets: British-style or Indian-style three-pin plugs
Language: Swahili
Time difference: GMT +2 hours
Visas: British nationals require a visa and this must be obtained in advance.
Religion:
Popular dishes: Ugali, a polenta style dish made from corn flour, which is eaten with meat.
Popular drinks: Mbege, also known as banana beer, is a traditional brew of the Chagga ethnic group of Tanzania located in Kilimanjaro region
Did you know: Mount Kilimanjaro is the highest free-standing mountain in the entire world
FCO advice: FCO travel advice
World Travel Guide: World Travel Guide / Tanzania
World Travel Guide: World Travel Guide / Tanzania
---
Climate
When is the best time to climb Mount Kilimanjaro?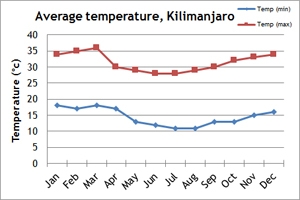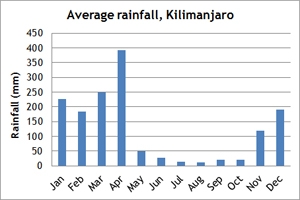 Our temperature and rainfall charts will give you a guide to the climate in Kilimanjaro.
It is possible to climb Mount Kilimanjaro at any time of year, however, some months can be a lot colder than others.The two trekking seasons considered to be the best time to climb Mount Kilimanjaro fall between the months of January-March and June-October. January-March is likely to be a colder time to climb, compared to June-October, meaning that there is a bigger chance of finding snow when you reach Kilimanjaro's summit. March, April, November and December are considered to be the wettest months in the Kilimanjaro Region.These months are not considered ideal for trekking.
There are five different climate zones that you will encounter when ascending Mount Kilimanjaro.
Zone one is known as the Cultivated Zone, which you will find between 800m and 1,800m.This zone consists of farmland and is the area of Kilimanjaro that is considered to receive the greatest amount of rainfall each year.
Zone two is the Forest Zone, which is located between 1,800m and 2,800m.This zone is inhabited by a vast forest, with huge gorges and is surrounded by some of the tallest trees in Tanzania.
Zone three is the Moorland zone. In this zone, the daytime temperature can rise well above 40 degrees however, it can be deceiving as temperatures can drop below 0 degrees during the night.
The penultimate zone is known as the Highland Desert Zone.This zone receives an average of 2cm of rainfall per year, and can experience both scorching sunshine and temperatures well below 0 degrees.
The final zone is The Summit which sits at the heights of 5,000m-5,895m. It is made up of giant glaciers and blankets of snow – a view serving as the perfect reward of a challenging climb.
Some people also feel that the time of the full moon is the best time to climb Kilimanjaro. This is because the moonlight helps illuminate the trails in the early hours of summit day, it also makes the mountain's glaciers and any snowfall glisten in the dark, giving it a magical feel. We include full moon departures on both of our Kilimanjaro treks.