/
/
New Trek: Trans Bhutan Trail - Western Highlights
Our grading system explained
Gentle
Gentle / Moderate
Moderate
Moderate / Vigorous
Vigorous
Vigorous / Strenuous
Strenuous
Expedition Grade
New Trek: Trans Bhutan Trail - Western Highlights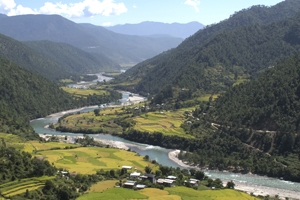 We are delighted to have launched a brand new trekking holiday which features the best sections of the Trans Bhutan Trail in the west of Bhutan, together with the key cultural sights of the Thunder Dragon Kingdom.
The Trans Bhutan Trail has been created over the last four years re-establishing a centuries old footpath that was once the only highway linking the villages, fortresses and sacred sites of Bhutan. Having fallen into disuse with the emergence of a modern highway, the Bhutan Canada Foundation, working together with the Bhutanese people, have rebuilt bridges, cleared paths and built thousands of steps, resulting in the 250 miles long Trans Bhutan Trail.

We've carefully selected the sections of the trail in the more accessible west of the country that avoid the steepest most challenging climbs yet still offer good walking through traditional, scenic landscapes with lots of cultural interest. Accommodation is a mix of hotels and camping and there's even a festival included on our autumn departure.
See Trans Bhutan Trail - Western Highlights for full trip information including dates, prices and a detailed itinerary.
Related News