/
/
Free tickets for Destinations
Our grading system explained
Gentle
Gentle / Moderate
Moderate
Moderate / Vigorous
Vigorous
Vigorous / Strenuous
Strenuous
Expedition Grade
Free tickets for Destinations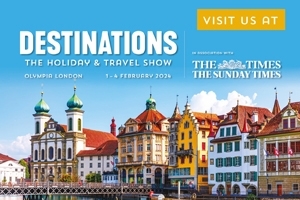 We're delighted to have a stand at the Destinations Travel Show next February in London and can't wait to say hello in person. If you want to come and meet us, complimentary tickets are now available.
The show runs from the 1-4 February at Olympia and is one of the foremost travel events of the year. You'll find tons of holiday inspiration, plus travel-related masterclasses and entertaining talks by industry experts and celebrities.
To get up to two free tickets for any one day of the show, click on the link below, choose 'Book Now' and then enter the code XLMOUNTAIN.
https://www.destinationsshow.com/london/book-tickets
We'll see you there!
Related News