/
/
2021 Photo Competition Winner
Our grading system explained
Gentle
Gentle / Moderate
Moderate
Moderate / Vigorous
Vigorous
Vigorous / Strenuous
Strenuous
Expedition Grade
2021 Photo Competition Winner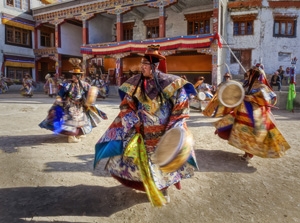 We had a superb shortlist of monthly winners from which to select our travel photo of the year, but after much deliberation and debate our winner was this stunning festival image taken in Ladakh by Chris Martin. We all just loved the colour, movement and energy of the dancers, as well as the technical achievement in capturing that moment. Chris has told us how he did it...

'I was travelling with my American photo friend and we had hired a 4x4 in Leh to drive us to spend a couple of nights in Lamayuru. We were up at first light to walk up to the Monastery. We were lucky to be the only foreigners on site amongst a small group of local villagers. Suddenly out of a doorway in the courtyard came monks dressed in amazing finery. They then started to dance in total silence. The only sound was the swooshing of their garments ! It was quite eerie ! The dance went on for around ten minutes in which time I managed to acquire some interesting pictures.'
Many congratulations to Chris, his prize is £250 towards a Mountain Kingdoms holiday. We look forward to seeing what brilliant images he captures on his future travels.
Related News