Our grading system explained
Gentle
Gentle / Moderate
Moderate
Moderate / Vigorous
Vigorous
Vigorous / Strenuous
Strenuous
Expedition Grade
What makes Tanzania so special?
With its perfect mixture of dramatic peaks and rolling plains, Tanzania is undoubtedly the best destination for walking and trekking in Sub Saharan Africa. Mountain Kingdoms is pleased to offer trekking holidays in Tanzania, allowing you to experience the spectacular countryside with the guidance of our in-country experts.
Whether you want to explore the wildlife-rich plains or conquer Kilimanjaro as part of your holiday in Tanzania, it is a country that is best experienced on foot. With more land devoted to wildlife than any other country in the world, Tanzania is dotted with magnificent lakes and colourful wildlife parks, where you can see some of the world's most astonishing animals. The two most famous parks are Ngorongoro Crater and Serengeti National Park, and walking safaris in Tanzania are the perfect way to experience these parks and get up close to the wildlife.
The countryside ranges from the rolling plains of the Serengeti to Tanzania's two trekking holiday hot-spots, the famous peaks of Meru and Kilimanjaro. Our route up these two famous mountains emphasises careful acclimatisation to help prevent the effects of altitude sickness, giving you the best possible chance of reaching the summits of Kilimanjaro and Meru.
If you would prefer to explore the African countryside and see the wildlife, our walking safaris in Tanzania take you into the famous Serengeti plains, allowing you to enjoy unspoilt wilderness and a diverse range of wildlife, including hippopotamus, giraffe, lions and buffalo.
View our walking and trekking holidays in Tanzania, or call us to find out more or to arrange a Tailor Made holiday.
Tanzania

From the high snows of Kilimanjaro, to the wide open Serengeti plains – Tanzania offers a world of wonders for walkers and trekkers alike.
---
Introduction
Standing on the snow-covered summit of Kilimanjaro, nearly 20,000ft above the dusty plains of Tanzania, is a dream of mountain lovers the world over. And witnessing an African sunrise from here is a truly extraordinary experience.
The Lemosho route to the top, offers the best acclimatisation – critical for making a successful summit bid. It's also one of the most scenic routes gradually ascending over the course of seven days, from lush forest, through moorland to an increasingly stark rock-strewn landscape, until finally crossing a glacier field to reach the snow-capped summit at first light. We follow this route on our Kilimanjaro Summit, Lemosho Route trek
Alternatively, our Summits of Meru & Kilimanjaro trekking holiday gives a pre-ascent of nearby Mount Meru. Not only does this provide an excellent acclimatisation trek but it is also an interesting contrast to Kili. Situated in the Arusha National Park, Meru is home to leopards, giraffe, zebra and buffalo to name but a few of the animals that may be encountered on the trek up Meru's lower slopes
Read an account of reaching the summit of Kilimanjaro in our blog article - An interview with Harry - Mountain Kingdoms' Operation Assistant.
Away from Kilimanjaro, Tanzania has some of the best safari parks in all of Africa including the Ngorongoro Crater, Lake Manyara and Serengeti National Park. Here you can see numerous creatures, both great and small, as well as a myriad exotic birds.
And at the end of an exciting Kilimanjaro trek, a safari in the Ngorongoro Crater or a relaxing beach break on the sumptuous white sands of Zanzibar offer great extension options for your holiday in Tanzania.
---
Key Facts
Capital city: Dodoma
Population: 43,601,796 (2012)
Size of country: 947,300 sq km
Currency: Tanzanian shilling
Power supply: 220-240 Volts
Sockets: British-style or Indian-style three-pin plugs
Language: Kiswahili or Swahili
Time difference: GMT +3 hours
Visas: British nationals require a visa and this must be obtained in advance.
Religion: mainland - Christian 30%, Muslim 35%, indigenous beliefs 35%; Zanzibar - more than 99% Muslim
Popular dishes: Ugali, a polenta style dish made from corn flour, which is eaten with meat.
Popular drinks: Konyagi is a gin-like beverage, sold only in Tanzania.
Did you know: Tanzania is famous for its Mpingo tree, also known as the African blackwood tree (dalbergia melanoxylon) is the most expensive hardwood tree in the world
FCDO advice: FCDO travel advice
---
Climate
When is the best time to travel to Tanzania?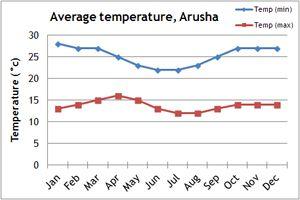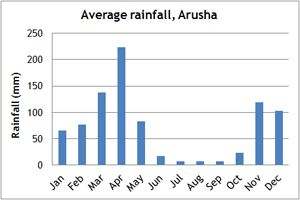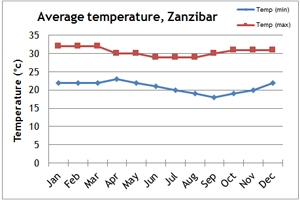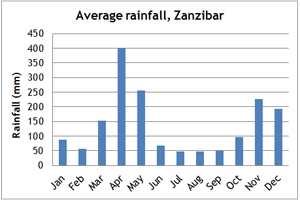 Our climate charts will give you an idea of the weather conditions in Tanzania.
Located near to the equator, the temperatures are fairly stable all year around. Of course the temperature will drop the higher you climb, with temperatures below freezing at the summit of Kilimanjaro.

January to March and June to September are the driest months to visit Tanzania. This is the best time to go on a wildlife safari as the animals will be concentrated around the remaining rivers and waterholes. Drier weather also means fewer mosquitoes. April and May are the wettest months and are considered to be the quiet season. October and November are also wet. We have chosen not to organise group departures during these months, as travel arrangements can be affected by the rain.
The weather in Zanzibar closely follows that of mainland Tanzania although tends to feel a touch more humid and can occasionally experience rain even in the dry season.
If you can't make the dates of our group departures, then take a private departure on dates to suit you, or we can create a Tailor Made holiday to Tanzania, especially for you and your family or friends.