/
/
/
Holiday Tours
/
Walking Trekking
Our grading system explained
Gentle
Gentle / Moderate
Moderate
Moderate / Vigorous
Vigorous
Vigorous / Strenuous
Strenuous
Expedition Grade
What makes Peru so special?
The attraction of a holiday in Peru is in the diversity on offer. This wonderful country combines stunning scenery with a vibrant culture and history. When trekking in Peru, everywhere you go you will see reminders of the country's rich past, with Spanish Colonial churches rubbing shoulders with Inca ruins. Peru's dramatic mountains are home to indigenous highlanders, who still live a largely traditional way of life, tending their llamas and cultivating crops that were first developed here thousands of years ago. This mixture of cultures, alongside scenery that ranges from Andean mountains to lush Amazonian rainforests, are what make holidays in Peru truly unforgettable.
Machu Picchu, the so called 'Lost City of the Incas' is the most iconic image of Peru, but our trekking holidays can also take you to numerous other Inca ruins and colonial cities. Our tours to Peru usually begin in the Sacred Valley before proceeding on to the unforgettable sight of Machu Picchu. Other highlights that can be taken in on a tour of Peru include the Colca Canyon, Lake Titicaca and the Amazon rainforest.
To make the most of the variety that this inspiring country has to offer, we run a range of walking and trekking holidays in Peru, combined with tours of Peru's most notable cultural sights.
Peru Walks, Treks & Cultural Holidays

With its towering mountain ranges and fascinating Inca heritage, Peru is one of the most exciting countries to visit in South America and a trekker's paradise.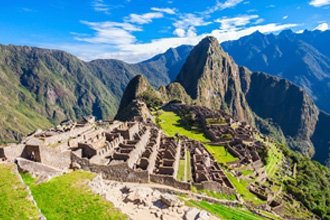 Enjoy sightseeing and acclimatisation in the Sacred Valley of the Incas
Visit the Inca ruins at Pisac and Ollantaytambo and the salt pans at Maras
Learn about ancient Inca agrictulture at Potato Park and Moray, and take lunch with a local community
Trek the spectacular Inca Trail with first rate camping service on trek
Enter iconic Machu Picchu at dawn through Inti Punku, the Sun Gate
Option to climb Huayna Picchu peak or Macchu Picchu Peak
Flight inclusive from £2950, Land only from £1750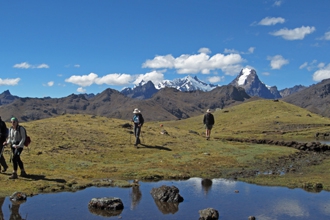 Step back in time on a superb trek in the beautiful Lares region
Enjoy your first views of Machu Picchu through the iconic Sun Gate
Explore impressive Inca sites including Machu Picchu, Pisco and Sacsayhuaman
Take a walking tour of Cuzco and an acclimatisation hike in the Sacred Valley
Land only from £1550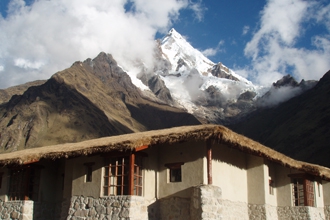 Trek the high Andes in real style, staying in four superb mountain lodges
Follow a beautiful trail, away from the crowds of the Inca Trail, with unique views of Machu Picchu
Enjoy the best acclimatisation programme with time in the Sacred Valley
Tour the incomparable Inca ruins of Machu Picchu
Extend your time in Cuzco or travel on to some of Peru's other key attractions
Flight inclusive from £5295, Land only from £4095
---
Introduction
This wonderful country combines stunning scenery with incredible biodiversity and a vibrant culture and history. Everywhere you will see reminders of the country's rich past. Spanish Colonial churches rub shoulders with Inca ruins and Machu Picchu, the most iconic image of Peru, was built by the Incas who were in fact just the last representatives of a series of sophisticated cultures stretching back thousands of years.
Peru's Inca Trail to Machu Picchu is probably one of the best known and most popular trekking trails in the world, and rightly so. There's even a luxury lodge trek that follows a different trail over high passes with wonderful views of Machu Picchu. Alternatively, you can trek through the more remote Lares region before hiking the final stage of the Royal Inca Trail to Machu Picchu: Lares trek & Royal Inca Trail to Machu Picchu.
Whilst mountains and ancient sites are Peru's main draws, there is much else to explore. Peru has an amazingly rich heritage and culture – the 'White City' of Arequipa and vibrant Cuzco with its wonderful Spanish colonial architecture are just two of its must-see sights. Its breathtaking scenery includes the amazing Colca Canyon and the high altiplano around the blue waters of Lake Titicaca, the highest navigable lake in the world. You can see all of these cultural attractions on our in-depth Colours of Peru cultural tour.
---
Key Facts
Capital city: Lima
Population: 31,377,000 (est 2015)
Size of country: 1,285,216 sq km
Currency: Peruvian nuevo sol
Power supply: 110 or 220 volts
Sockets: Round two-pin or flat two or three-pin sockets
Language: Spanish and Quechua
Time difference: GMT -5 hours
Visas: British nationals may visit Peru as a tourist with a valid passport without a visa for a maximum stay of 90 days
Religion: Roman Catholic 81.3%, Evangelical 12.5%, other 3.3%, unspecified or none 2.9% (2007 Census)
Popular dishes: Ceviche (seafood marinated in lime juice and chillies, served with sweet potato, corn and salad) or Cuy (roasted guinea pig)
Popular drinks: Pisco Sour (cocktail)
Did you know: The potato is originally from Peru and they produce over 3,000 varieties.
FCO advice: FCO travel advice
World Travel Guide: World Travel Guide / Peru
---
Climate
When is the best time to travel to Peru?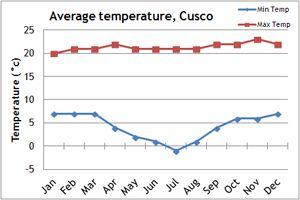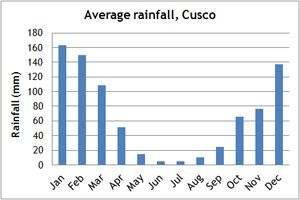 Our climate charts will give you an idea of the weather conditions of Peru. The best time to visit Machu Picchu and the Sacred Valley or complete an Inca Trail trek is between April and October whilst the best time to visit the Andes region of Peru is between the months of June to September. This is the best time to trek in Peru, as the temperature is warm and relatively dry. Temperature is affected by elevation, with temperatures decreasing the higher you go.
Between December and March, the Andes receives heavy rain, though you should go prepared for it to rain during the summer and be dry during the winter!

The jungle is hot and humid all year around, and the rain is heavier than in the Andes.

We organise our group holidays to depart during the best time of year for travel. If you can't make the dates of our group departures, then take a private departure on dates to suit you, or we can create a Tailor Made holiday to Peru, especially for you and your family or friends.